Thursday, May 22, 2014, 2:45 pm
One Step Forward, Two Steps Back for Trans Rights in Australia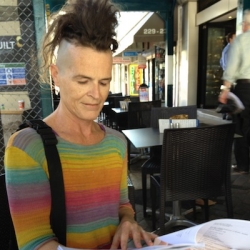 For transgender and gender-queer people, acquiring identification papers that reflect one's gender is rarely a straightforward endeavor. Asking gender-queer individuals, who by definition do not fully identify as either male or female, forces them to align themselves with a gender binary that doesn't describe them. And while there are many trans people who identify simply as male or female, there are others for whom those labels don't acceptably acknowledge one's trans identity.
An increasing number of governments now recognize the self-identified gender of trans people—as long as they fall into the already-established binary. But few governments make any accommodations for gender-nonconforming individuals who identify as neither men nor women. Such individuals are forced to fight not only for recognition of the right to affirm their own gender, but also for acknowledgment of the very existence of non-binary gender identities.
But several landmark rulings and new legislation instituted over the last few months have significantly changed the legal landscape for gender-nonconforming individuals seeking recognition of their self-affirmed gender. Much of this new policy, while a step in the right direction, is not without problem.
Last month, the Australian High Court affirmed Norrie May-Welby's right to be legally recognized as neither male nor female—concluding a four-year legal battle.
Norrie, 52, was assigned male at birth and answers to their first name only. Despite undergoing male-to-female sex reassignment surgery in 1989, they now identifies as neither male nor female. Norrie attempted to register as of a "non-specific sex" with the the New South Wales Registry of Births, Deaths and Marriages, which approved their application in 2010, but subsequently revoked the decision, as well as Norrie's new birth certificate, a few months later. Norrie was told that the birth certificate had been "issued in error."
The case went to the court of appeals in 2012 and then to the Australian High Court, whose quick and unanimous ruling in Norrie's favor is not appealable and sets a nation-wide standard applicable to New South Wales and all other jurisdictions. The judges ruled—in line with what activists have argued for years—that sex is not binary and that "a person may be other than male or female and therefore may be taken to permit the registration sought, as 'non-specific.'"
Norrie has publicly proclaimed the ruling a success. "Maybe people will understand there's more options than the binary," Norrie told reporters after the case was decided.
While recognition of non-binary variations of gender and sex is a step in the right direction for greater equality, one aspect of the ruling is troubling: The decision applies only to individuals who have undergone sex reassignment surgery, a step many people in the trans and gender-queer communities elect not to take. Anatomical sex is not equivalent to gender, and there is no reason to assume that any gender identity is indicative of a want or need for a sex reassignment.
Requiring or pressuring anyone to submit to surgery in order to obtain legal recognition of their gender or sex amounts to a dangerous form of gender policing. Mainstream culture is becoming more accepting of men and women that do not conform to nontraditional gender roles, but has been far slower to accept the notion of non-binary sex and gender. We can observe this in the way that doctors regularly perform surgeries to "correct" the ambiguous genitalia of intersex infants, as well as in laws that make sex reassignment surgery a requisite of a legal sex change (which in almost all cases really means a legal gender change).
This is not the first time an Australian jurisdiction has officially recognized non-binary sex/gender possibilities. The Australian Capital Territory (ACT) passed legislation in March that allows transgender and intersex individuals to change the sex listed on their birth certificates and allows for three categories: male, female or "X." There is a big difference between the ACT legislation and the ruling in Norrie's case: Surgery is not mandatory to register under the "X" option in ACT.
The Australian Commonwealth—one of the most LGBTQ-friendly governments in the world—has a long history of progressive LGBTQ politics. All Australian jurisdictions recognize transgender people's affirmed gender, though many do require sexual reassignment surgery in order to qualify for a legal sex change. The Commonwealth has issued passports with an "X" option since 2003. Unfortunately, only people with a medically confirmed intersex condition qualified—excluding trans and gender-queer persons—and sex affirmation surgery was a requirement.
In 2011, the Australian Commonwealth removed the surgery requirement following a recommendation from Australia's Human Rights Commission stating that "the definition of sex affirmation treatment should be broadened so that surgery is not the only criteria for a change in legal sex."
Given these precedents, the New South Wales ruling is confounding and regressive. The surgery stipulation imposes roadblocks for both intersex and gender-queer people who want identification documents that match their affirmed gender. This can be practically important, such as when dealing with law enforcement or insurance agencies, in addition to being a basic human right. Having to show identification documents that don't match one's presented gender can be inconvenient and humiliating, and can precipitate harassment and discrimination.
While a third non-binary registration option is very welcomed, limiting access to it based upon presumably binary distinctions about the applicant's genitals reinforces the very binary the policy purports to subvert. The notion that gender-queer people would, by default or definition, choose to alter their bodies and genitalia betrays the professed logic that underpins the reform: that gender is a continuum, not a binary.
In practice, the language of the decision arbitrarily excludes many—if not most—gender-queer, intersex and trans people from applying for new birth certificates under the law. That Norrie has undergone sex reassignment surgery is irrelevant to the case, and yet it is being made into a requirement for anyone applying for new documents under the law. Norrie has brown hair and eyes—should we require hair dye and colored contacts of the blond and blue-eyed of the world before they can obtain proper birth certificates?
But, of course, the ruling's focus on sex—as determined by genital appearance—is not arbitrary. The emphasis on sex reassignment surgery arises from, and reinforces, the oppressive notion that gender = genitals.
While the Australian laws specifically refer to registered sex, not gender, the common conflation of sex and gender (the Guardian and other media outlets refer to gender and sex interchangeably in reference to Norrie's case, and the ruling itself also appears to confuse the two) means that policy regarding one can really be policy regarding either or both. The deleterious effects of this can be observed in ham-handed policy that prescribes sex reassignment surgery for someone who does not identify with either sex or gender.
Governments everywhere need to do away with the idea of "legal sex" when what they are actually referring to are gender identities. Requests such as Norrie's are really more about gender identity than anatomical sex. The battle for gender recognition and autonomy over one's body and sexual anatomy are the battles that the LGBTQ advocates are actually fighting and it is counterproductive to allow debates to be framed inaccurately.
But there is an incentive for the LGBTQ movement to look the other way here. Fighting for non-binary gender recognition in a society that doesn't recognize sex and gender as discrete concepts creates a situation where activists don't always have the luxury of framing the debate accurately. It is understandably tempting, and probably good tactics (if not strategy), for advocates to accept and applaud half victories when they present themselves.
But, in the case of Norrie vs. NSW Registrar of Births, Deaths and Marriages, the result of failing to make important distinctions about sex and gender has resulted in a victory that benefits only a tiny fraction of the LGBTQ community.
Ultimately, the complexity and diversity of gender and sex might mean that fully and accurately encapsulating both spectrums is too much to expect from the tick-one-box format of birth certificates and passports. But such an admission only buoys the case for a nonspecific, unspecified option—one that is open to everyone, whether they have undergone sex affirmation surgery or not.
Lest this sound like an overambitious goal, we may finally have a real world model for such policy: the Supreme Court of India issued a ruling on April 15 that established a "third gender" and allows anyone to self-identify as male, female, or "third gender" regardless of anatomical sex—surgery not required.
View Comments