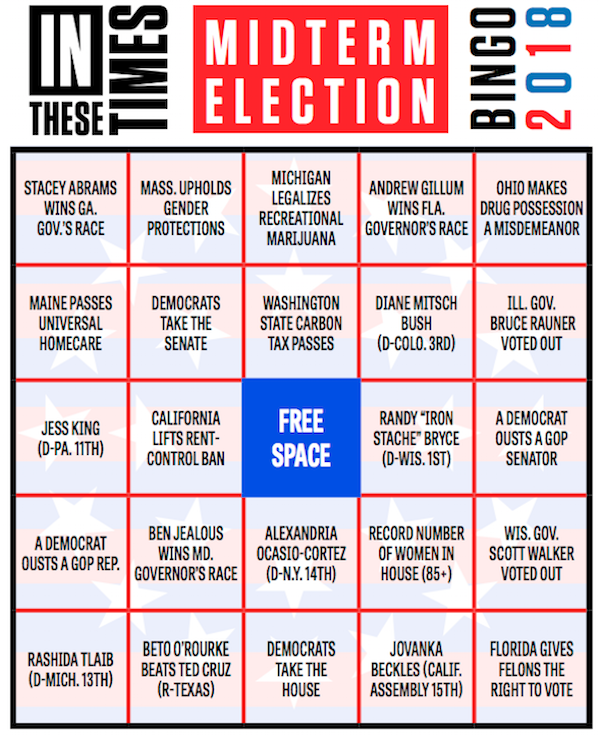 Web Only / Features » November 5, 2018
Announcing: Bingo for a Blue Wave
Use this list of progressive ballot initiatives and candidates and play election night bingo with In These Times!
With corporate donations, voter suppression and polarized misinformation causing outsized influence, U.S. elections can often feel like a rigged game: are we playing Russian Roulette, or dealing out democracy?
This midterm, In These Times invites you to play a real game: Election Night Bingo! Print out these cards at home, or join us at our Election Watch Party here in Chicago. All are invited to play.
We offer these bingo cards in the understanding that the first victor is not the only victor, for this is not the nature of the political game. If progressives achieve the blue wave they seek, by night's end we will all be shouting out in unison, bingo, bingo, BINGO!
It will be a national moment like that scene in "Network," where everyone yells out "I'm mad as hell and I'm not gonna take it anymore." In 2018, we say "BINGO" instead.
Here's a list of the races and ballot initiatives we're most excited about:
Ballot Initiatives
California gets rent control back. Housing rights activists are looking to pass Prop 10, which would repeal the Costa-Hawkins Rental Housing Act from 1995. The repeal would give 15 cities in California more freedom in how to apply rent control, a potential gamechanger for a state experiencing an affordable housing crisis.
Washington State creates carbon tax. The state of Washington might establish a historic carbon tax. If it passes, it will be the first carbon tax in the United States, and the first achieved by any government by ballot initiative, which could be a turning point for climate legislation.
Massachusetts upholds transgender anti-discrimination law. This would uphold the state's anti-discrimination law for transgender residents, an initiative made all the more urgent in the face of Trump's recent attack on transgender rights.
Chicago marijuana funds public schools. A referendum could get legalized marijuana profits funneled to Chicago public schools.
Chicago expands mental health services. A few neighborhoods could get mental health clinics back after Mayor Rahm Emanuel closed them down.
Florida gives felons the right to vote.
Ohio low-level drug cases tried as misdemeanors.
Maine creates universal free homecare for elderly and disabled.
Michigan legalizes marijuana.
North Dakota legalizes marijuana.
House/Senate Flips
Democrats take the House. As of this posting, FiveThirtyEight's election forecast shows Democrats have a 7 in 8 chance of regaining control of the House.
Democrats take the Senate. As of this posting, FiveThirtyEight's election forecast shows Democrats have only a 1 in 6 chance of regaining control of the Senate.
Historic number of women elected to House. This midterm might bring landmark representation for underrepresented groups including women, people of color and LGBTQ candidates. Women are already responsible for some of the biggest primary upsets, and a historic number of women candidates could also win House seats: 84 women currently hold a position, and 239 women are currently running for House seats.
Congressional Candidates
Alexandria Ocasio-Cortez (D-N.Y. 14th) would be the youngest woman elected to Congress at age 29.
Rashida Tlaib (D-Mich. 13th) and Ilhan Omar (D-Minn. 5th) could become the first Muslim women elected to Congress.
Deb Haaland (D-N.M. 1st) could be the first Native American woman elected to Congress.
Senatorial Candidates
Kyrsten Sinema (D-Ariz. 9th) could become Arizona's first female senator, and the first openly bisexual candidate in the upper chamber.
Beto O'Rourke (D-Texas 16th) might turn Texas blue if he can beat Ted Cruz's narrow lead for senator. Texas hasn't elected a Democrat to state office since 1994. O'Rourke is hoping his leftist platform, which includes universal health care and abortion rights, will appeal to a wider swath of voters in a state that routinely has lower voter turnout than national averages.
Heidi Heitkamp (D-N.D.) has been lagging in the polls in North Dakota, where tens of thousands of indigenous residents are disenfranchised due to a recent Supreme Court ruling upholding a controversial voter ID law. The law prohibits P.O. Boxes from being used as a valid address for voter registration, and many Native Americans do not have any other proof of address.
Gubernatorial Candidates
Christine Hallquist (D-Vt.) is the country's first openly transgender candidate nominated for a gubernatorial race by a major political party.
Paulette Jones (D-Idaho) might become the first Native American woman governor.
Stacey Abrams (D-Ga.) might become Georgia's first African-American woman governor. She's been neck-and-neck with her Republican opponent Brian Kemp, Georgia's current secretary of state. The state has become a voting rights battleground, as several voter suppression complaints have been waged against Kemp, who refuses to leave office during the election, which critics say is a big conflict of interest. Only weeks from the election, 53,000 voter registrations, 70 percent of them black applicants, were reported stalled in the system for failing to match identification records. Abrams has been pushing for an end to cash bail and a comprehensive voting rights platform, among other issues.
Andrew Gillum (D-Fla.) has already defied the odds in his gubernatorial bid against Trump supporter Ron DeSantis. If elected, Gillum, the Tallahassee mayor running on a progressive platform addressing criminal justice reform, gun control, statewide Medicare for All, and a plan to make Florida the country's "solar capital," would become the state's first African-American governor.
Other candidates to add to your bingo card:
Tony Evers (D-Wis.)
Jess King (D-Pa. 11th)
Diane Mitsch Bush (D-Colo. 3rd)
Jovanka Beckles (D-Calif.) for Assembly District 15
Randy "Iron Stache" Bryce (D-Wisc. 1st)
Ben Jealous (D-Md.)
Sharice Davids (D-Kan. 3rd)
Ammar Campa-Najjar (D-Calif. 50th)
Jacky Rosen (D-Nev. 3rd)
Bill Nelson (D-Fla.)
Claire McCaskill (D-Mo.)
Richard Ojeda (D-W.Va.)
Joe Donnelly (D-Ind.)
J.D. Scholten (D-Iowa)
Nate McMurray (D-N.Y.)
Julia Salazar (D-N.Y. 18th)
Michelle Lujan Grisham (D-N.M.)
Jared Polis (D-Colo. 2nd)
Richard Cordray (D-Ohio)
Phil Bredesen (D-Tenn.)
Sherrod Brown (D-Ohio)
Steve Sisolak (D-Nev.)
Summer Lee (D-Pa.)
Sara Innamorato (D-Pa. 21st)
Fred Hubbell (D-Iowa)
Cindy Axne (D-Iowa 3rd)
Fred Wooden (D-Mich. 3rd)
Ellen Lipton (D-Mich. 9th)
Mallory Hagan (D-Ala. 3rd)
Lee Auman (D-Ala. 4th)
Danner Kline (D-Ala. 6th)
Jade Bahr (D-Mont. 50th)
Amelia Marquez (D-Mont. 52nd)
Vaughn Stewart (D-Md. 19th)
Kristin Seale (D-Pa. 168th)
Gabriel Acevero (D-Md. 39th)
Chloe Maxmin (D-Maine 88th)
JB Pritzker (D-Ill.)
Kwame Raoul (D-Ill.)
Fritz Kaegi (D-Ill.)
Lauren Underwood (D-Ill. 14th)
---
Help In These Times Continue Publishing
Progressive journalism is needed now more than ever, and In These Times needs you.
Like many nonprofits, we expect In These Times to struggle financially as a result of this crisis. But in a moment like this, we can't afford to scale back or be silent, not when so much is at stake. If it is within your means, please consider making an emergency donation to help fund our coverage during this critical time.
Amelia Diehl
Amelia Diehl was a fall 2018 intern for In These Times. Her pieces are published or forthcoming in Jacobin, Geez and Audia Music News.
View Comments