Announcing: Bingo for a Blue Wave
Use this list of progressive ballot initiatives and candidates and play election night bingo with In These Times!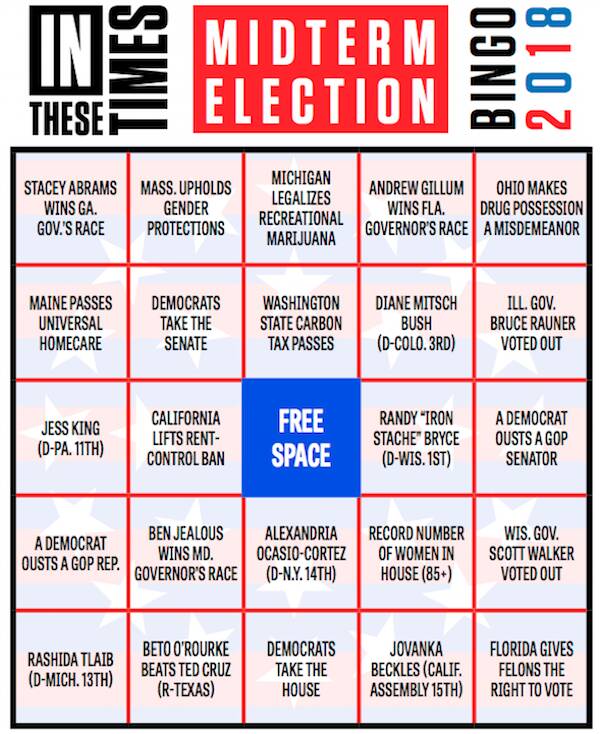 With cor­po­rate dona­tions, vot­er sup­pres­sion and polar­ized mis­in­for­ma­tion caus­ing out­sized influ­ence, U.S. elec­tions can often feel like a rigged game: are we play­ing Russ­ian Roulette, or deal­ing out democracy?
This midterm, In These Times invites you to play a real game: Elec­tion Night Bin­go! Print out these cards at home, or join us at our Elec­tion Watch Par­ty here in Chica­go. All are invit­ed to play.
We offer these bin­go cards in the under­stand­ing that the first vic­tor is not the only vic­tor, for this is not the nature of the polit­i­cal game. If pro­gres­sives achieve the blue wave they seek, by night's end we will all be shout­ing out in uni­son, bin­go, bin­go, BINGO!
It will be a nation­al moment like that scene in ​"Net­work," where every­one yells out ​"I'm mad as hell and I'm not gonna take it any­more." In 2018, we say ​"BIN­GO" instead.
Here's a list of the races and bal­lot ini­tia­tives we're most excit­ed about:
Bal­lot Initiatives
Cal­i­for­nia gets rent con­trol back. Hous­ing rights activists are look­ing to pass Prop

10

, which would repeal the Cos­ta-Hawkins Rental Hous­ing Act from

1995

. The repeal would give

15

cities in Cal­i­for­nia more free­dom in how to apply rent con­trol, a poten­tial gamechang­er for a state expe­ri­enc­ing an afford­able hous­ing crisis.
Wash­ing­ton State cre­ates car­bon tax. The state of Wash­ing­ton might estab­lish a his­toric car­bon tax. If it pass­es, it will be the first car­bon tax in the Unit­ed States, and the first achieved by any gov­ern­ment by bal­lot ini­tia­tive, which could be a turn­ing point for cli­mate legislation.
Mass­a­chu­setts upholds trans­gen­der anti-dis­crim­i­na­tion law. This would uphold the state's anti-dis­crim­i­na­tion law for trans­gen­der res­i­dents, an ini­tia­tive made all the more urgent in the face of Trump's recent attack on trans­gen­der rights.
Chica­go mar­i­jua­na funds pub­lic schools. A ref­er­en­dum could get legal­ized mar­i­jua­na prof­its fun­neled to Chica­go pub­lic schools.
Chica­go expands men­tal health ser­vices. A few neigh­bor­hoods could get men­tal health clin­ics back after May­or Rahm Emanuel closed them down.
Flori­da gives felons the right to vote.
Ohio low-lev­el drug cas­es tried as misdemeanors.
Maine cre­ates uni­ver­sal free home­care for elder­ly and disabled.
Michi­gan legal­izes marijuana.
North Dako­ta legal­izes marijuana.
House/​Senate Flips
Democ­rats take the House. As of this post­ing, FiveThirtyEight's elec­tion fore­cast shows Democ­rats have a

7

in

8

chance of regain­ing con­trol of the House.
Democ­rats take the Sen­ate. As of this post­ing, FiveThirtyEight's elec­tion fore­cast shows Democ­rats have only a

1

in

6

chance of regain­ing con­trol of the Senate.
His­toric num­ber of women elect­ed to House. This midterm might bring land­mark rep­re­sen­ta­tion for under­rep­re­sent­ed groups includ­ing women, peo­ple of col­or and LGBTQ can­di­dates. Women are already respon­si­ble for some of the biggest pri­ma­ry upsets, and a his­toric num­ber of women can­di­dates could also win House seats:

84

women cur­rent­ly hold a posi­tion, and

239

women are cur­rent­ly run­ning for House seats.
Con­gres­sion­al Candidates
Alexan­dria Oca­sio-Cortez (D‑N.Y.

14

th) would be the youngest woman elect­ed to Con­gress at age

29

.
Rashi­da Tlaib (D‑Mich.

13

th) and Ilhan Omar (D‑Minn.

5

th) could become the first Mus­lim women elect­ed to Congress.
Deb Haa­land (D‑N.M.

1

st) could be the first Native Amer­i­can woman elect­ed to Congress.
Sen­a­to­r­i­al Candidates
Kyrsten Sine­ma (D‑Ariz.

9

th) could become Arizona's first female sen­a­tor, and the first open­ly bisex­u­al can­di­date in the upper chamber.
Beto O'Rourke (D‑Texas

16

th) might turn Texas blue if he can beat Ted Cruz's nar­row lead for sen­a­tor. Texas hasn't elect­ed a Demo­c­rat to state office since

1994

. O'Rourke is hop­ing his left­ist plat­form, which includes uni­ver­sal health care and abor­tion rights, will appeal to a wider swath of vot­ers in a state that rou­tine­ly has low­er vot­er turnout than nation­al averages.
Hei­di Heitkamp (D‑N.D.) has been lag­ging in the polls in North Dako­ta, where tens of thou­sands of indige­nous res­i­dents are dis­en­fran­chised due to a recent Supreme Court rul­ing uphold­ing a con­tro­ver­sial vot­er ID law. The law pro­hibits P.O. Box­es from being used as a valid address for vot­er reg­is­tra­tion, and many Native Amer­i­cans do not have any oth­er proof of address.
Guber­na­to­r­i­al Candidates
Chris­tine Hal­lquist (D‑Vt.) is the country's first open­ly trans­gen­der can­di­date nom­i­nat­ed for a guber­na­to­r­i­al race by a major polit­i­cal party.
Paulette Jones (D‑Idaho) might become the first Native Amer­i­can woman governor.
Stacey Abrams (D‑Ga.) might become Georgia's first African-Amer­i­can woman gov­er­nor. She's been neck-and-neck with her Repub­li­can oppo­nent Bri­an Kemp, Georgia's cur­rent sec­re­tary of state. The state has become a vot­ing rights bat­tle­ground, as sev­er­al vot­er sup­pres­sion com­plaints have been waged against Kemp, who refus­es to leave office dur­ing the elec­tion, which crit­ics say is a big con­flict of inter­est. Only weeks from the elec­tion,

53

,

000

vot­er reg­is­tra­tions,

70

per­cent of them black appli­cants, were report­ed stalled in the sys­tem for fail­ing to match iden­ti­fi­ca­tion records. Abrams has been push­ing for an end to cash bail and a com­pre­hen­sive vot­ing rights plat­form, among oth­er issues.
Andrew Gillum (D‑Fla.) has already defied the odds in his guber­na­to­r­i­al bid against Trump sup­port­er Ron DeSan­tis. If elect­ed, Gillum, the Tal­la­has­see may­or run­ning on a pro­gres­sive plat­form address­ing crim­i­nal jus­tice reform, gun con­trol, statewide Medicare for All, and a plan to make Flori­da the country's ​

"

solar cap­i­tal," would become the state's first African-Amer­i­can governor.
Oth­er can­di­dates to add to your bin­go card:
Tony Evers (D‑Wis.)
Jess King (D‑Pa.

11

th)
Diane Mitsch Bush (D‑Colo.

3

rd)
Jovan­ka Beck­les (D‑Calif.) for Assem­bly Dis­trict

15

Randy ​

"

Iron Stache" Bryce (D‑Wisc.

1

st)
Ben Jeal­ous (D‑Md.)
Sharice Davids (D‑Kan.

3

rd)
Ammar Cam­pa-Naj­jar (D‑Calif.

50

th)
Jacky Rosen (D‑Nev.

3

rd)
Bill Nel­son (D‑Fla.)
Claire McCaskill (D‑Mo.)
Richard Oje­da (D‑W.Va.)
Joe Don­nel­ly (D‑Ind.)
J.D. Scholten (D‑Iowa)
Nate McMur­ray (D‑N.Y.)
Julia Salazar (D‑N.Y.

18

th)
Michelle Lujan Grisham (D‑N.M.)
Jared Polis (D‑Colo.

2

nd)
Richard Cor­dray (D‑Ohio)
Phil Bre­desen (D‑Tenn.)
Sher­rod Brown (D‑Ohio)
Steve Siso­lak (D‑Nev.)
Sum­mer Lee (D‑Pa.)
Sara Innamora­to (D‑Pa.

21

st)
Fred Hubbell (D‑Iowa)
Cindy Axne (D‑Iowa

3

rd)
Fred Wood­en (D‑Mich.

3

rd)
Ellen Lip­ton (D‑Mich.

9

th)
Mal­lo­ry Hagan (D‑Ala.

3

rd)
Lee Auman (D‑Ala.

4

th)
Dan­ner Kline (D‑Ala.

6

th)
Jade Bahr (D‑Mont.

50

th)
Amelia Mar­quez (D‑Mont.

52

nd)
Vaughn Stew­art (D‑Md.

19

th)
Kristin Seale (D‑Pa.

168

th)
Gabriel Acevero (D‑Md.

39

th)
Chloe Maxmin (D‑Maine

88

th)
JB Pritzk­er (D‑Ill.)
Kwame Raoul (D‑Ill.)
Fritz Kae­gi (D‑Ill.)
Lau­ren Under­wood (D‑Ill.

14

th)
Amelia Diehl
was a fall
2018
intern for In These Times. Her pieces are pub­lished or forth­com­ing in Jacobin, Geez and Audia Music News.