Trombones on the Picket Line: Lyric Opera Orchestra on Strike For the First Time in 50 Years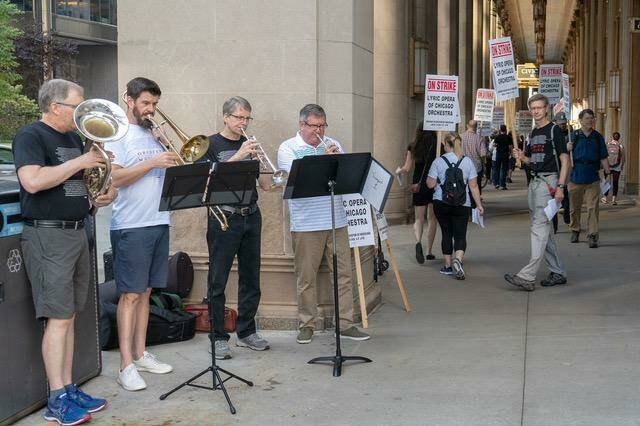 On Tues­day, the music stopped for the Lyric Opera of Chica­go just as the com­pa­ny began its 64th sea­son. Orches­tra mem­bers walked out on strike over a new pro­posed con­tract that would cut pay, reduce mem­ber­ship and per­for­mances, and can­cel radio broadcasts.
As a result of the strike, opera per­for­mances for the rest of the week have been can­celed. Yet the music hasn't stopped entire­ly: brass musi­cians took to the pick­et line with their instru­ments on Tues­day after­noon, play­ing tunes while per­form­ers and sup­port­ers marched out­side the Civic Opera House in down­town Chica­go. Morale among the strik­ers has been ​"tremen­dous," says Lewis Kirk, who has played bas­soon in the orches­tra for 31 years.
"We believe that this world-class opera com­pa­ny needs a world-class orches­tra," Amy Hess, a vio­list, tells In These Times. ​"The cuts that man­age­ment is demand­ing of us would for­ev­er dimin­ish the qual­i­ty of the orches­tra and there­fore of the opera com­pa­ny as a whole."
The musi­cians are rep­re­sent­ed by the Chica­go Fed­er­a­tion of Musi­cians Local 10 – 208 union, which is advo­cat­ing to pre­serve ben­e­fits and work­ing con­di­tions, and to win salary increas­es that reflect the rise in the cost of living.
Accord­ing to a state­ment released by the Amer­i­can Fed­er­a­tion of Musi­cians, of which Local 10 – 208 is a chap­ter, orches­tra play­ers have not seen their wages increase in spite of a major bud­get hike. While the Lyric Opera bud­get has increased from $60.4 mil­lion in 2012 to $84.5 mil­lion in 2017, the orchestra's slice of the bud­get decreased from 14.6 per­cent to 11.9 per­cent over the same time peri­od. Mean­while, Lyric's gen­er­al direc­tor, CEO and pres­i­dent Antho­ny Freud has seen his wages increase 18 per­cent from 2014 to 2017, and his cur­rent annu­al salary sits at $800,000. Accord­ing to a press release sent on Wednes­day from Lyric man­age­ment, the Lyric's pro­posed con­tract would offer each musi­cian an aver­age annu­al wage of $82,500.
The orches­tra is con­cerned that their week­ly salaries have only increased an aver­age of less than 1 per­cent per year since 2011. Tak­ing into account infla­tion, wages have actu­al­ly decreased by 5.1 per­cent since that time. Though the Lyric is offer­ing a nom­i­nal wage increase, the con­tract would still result in an 8 per­cent pay cut per year, because the pre­vi­ous con­tract com­pen­sat­ed musi­cians for 24 weeks, accord­ing to the orchestra's state­ment. The new con­tract would pay musi­cians for 22 weeks and decrease the num­ber of per­for­mances to 55, com­pared to about 85 a decade ago.
Freud tells In These Times that he is ​"very sad" and ​"dis­ap­point­ed" about the strike. He explained that the bud­get increas­es reflect the addi­tion of pro­gram­ming, such as more com­mu­ni­ty engage­ment and a musi­cal at the end of the season.
"The length of the opera sea­son has to short­en," to reflect ​"a soft­ness of demand", Freud says, adding that the Lyric wants to avoid pay­ing musi­cians for weeks they are not actu­al­ly performing.
The new con­tract would also remove five posi­tions from the 74-mem­ber orches­tra, which musi­cians say would com­pro­mise their per­for­mances. The Lyric would remove posi­tions through attri­tion rather than imme­di­ate lay­offs. ​"Once you lose a posi­tion it's hard to get it back, so we're fight­ing to keep those posi­tions," says Kirk. The orches­tra cut two mem­bers in 2009 because of con­tract nego­ti­a­tions, accord­ing to Hess. ​"If they keep cut­ting the num­ber of musi­cians it won't be a world-class orches­tra any­more," she says.
The Lyric has already can­celed its radio broad­cast pro­gram, which the opera used to adver­tise its per­for­mances world­wide through radio and online stream­ing. Musi­cians claim this is a blow to the orchestra's inter­na­tion­al exposure.
The pre­vi­ous con­tract expired on June 30, and the union had been nego­ti­at­ing the new con­tract over the course of 25 meet­ings since March, accord­ing to William Cer­no­ta, who has played cel­lo in the orches­tra for 36 years. After their usu­al sum­mer break, the orches­tra began rehearsals at the end of September.
The Lyric Opera orches­tra per­formed open­ing night on Octo­ber 6, ​"as a cour­tesy to our patrons and our donors, and we didn't want to deprive them of that expe­ri­ence," says Kath­leen Brauer, a vio­lin­ist who has played with the orches­tra for over 20 years.
Lyric Opera recent­ly set­tled a mul­ti-year con­tract with the Inter­na­tion­al Alliance of The­atri­cal Stage Employ­ees (which includes Stage­hands Local 2, Wardrobe Local 769, Hair and Make-Up Local 476 and Trea­sur­ers and Tick­et Sell­ers Local 750), while the Amer­i­can Guild of Musi­cal Artists (which rep­re­sents cho­rus singers, actors, dancers and stage man­agers) is wait­ing for mem­bers to rat­i­fy a new contract.
"This is with­out a doubt the worst nego­ti­a­tion I've ever par­tic­i­pat­ed in or wit­nessed from the side­lines," says Cer­no­ta, who has chaired the mem­ber­ship com­mit­tee for over 20 years.
The last time orches­tra musi­cians par­tic­i­pat­ed in a walk out of this mag­ni­tude was dur­ing a ​"dark sea­son" in 1967 – 68 in which a con­tract dis­pute pre­vent­ed them from play­ing, accord­ing to Hess. Cer­no­ta added that in 1997, the orches­tra was pre­vent­ed from play­ing for ​"about a week," due to anoth­er dis­pute, and the orches­tra threat­ened to strike in 2015, but reached an agree­ment with­in an hour.
Hours after musi­cians walked off the job, Lyric Opera respond­ed over Twit­ter call­ing the strike ​"unnec­es­sary and harm­ful". Man­age­ment cit­ed dimin­ish­ing audi­ence num­bers and declin­ing rev­enue to explain their cuts to pay and staff.
Freud recent­ly told the Chica­go Tri­bune, ​"We, as respon­si­ble man­agers of a busi­ness need to match sup­ply to demand. It's a nation­al trend that opera per­for­mances are hard­er and more expen­sive to sell than they ever have been. We're sched­ul­ing the max­i­mum num­ber of opera per­for­mances we believe we can sell."
The musi­cians, mean­while, claim the management's eco­nom­ic out­look is self-defeating.
"The orches­tra is actu­al­ly doing very well, and we saw no rea­son that this would be a time that they would be com­ing to us for cuts," says Hess. Tick­et sales have grown by almost $1 mil­lion from 2012 to 2018, and the house reg­u­lar­ly sells 84 per­cent of its tick­ets, which Hess claims is ​"phe­nom­e­nal" for an arts organization.
The strike has received an out­pour­ing of sup­port, with endorse­ments from labor rights groups like Chicago's Fight for 15 chap­ter and the Chica­go Teach­ers Union.
The Chica­go orches­tra strike comes amid a recent wave of local and nation­al labor unrest. In Sep­tem­ber, work­ers at 25 Chica­go hotels went on strike, and most of them have now won favor­able con­tracts. This sum­mer, Ama­zon work­ers in Europe dis­rupt­ed oper­a­tions for up to three days while over the spring, teach­ers in West Vir­ginia, Ari­zona and oth­er states walked off the job.
As of Wednes­day, upcom­ing Lyric Opera per­for­mances had been can­celed, includ­ing Puccini's ​"La Bohème," on Thurs­day, Friday's ​"Choir! Choir! Choir!" and Saturday's open­ing night for Mozart's ​"Idome­neo"
"We've made clear that we're ready to attend to the table at any point. I very much hope nego­ti­a­tions resume soon," Freud tells In These Times. The orches­tra musi­cians have said they are wait­ing for Lyric Opera man­age­ment to re-open negotiations.
"It will take as long it takes" to reach a con­tract, says Hess, not­ing that the orches­tra ​"feels very uni­fied in our resolve."
Cor­rec­tion: A pre­vi­ous ver­sion of this sto­ry mis­stat­ed that the Lyric Opera had recent­ly set­tled a con­tract with the Amer­i­can Guild of Musi­cal Artists, rather than the Inter­na­tion­al Alliance of The­atri­cal Stage Employ­ees. That error has been cor­rect­ed here.
Amelia Diehl
was a fall
2018
intern for In These Times. Her pieces are pub­lished or forth­com­ing in Jacobin, Geez and Audia Music News.