Trombones on the Picket Line: Lyric Opera Orchestra on Strike For the First Time in 50 Years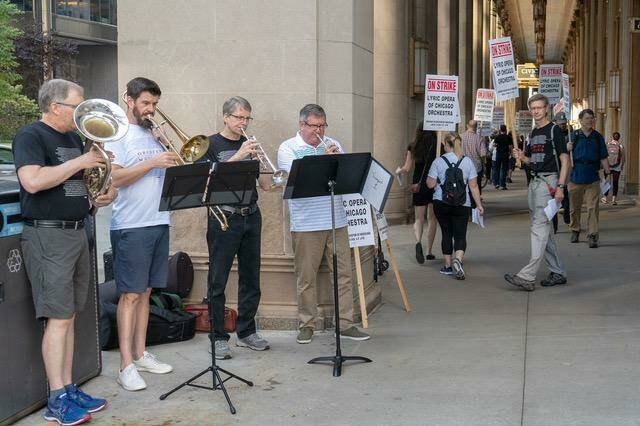 On Tuesday, the music stopped for the Lyric Opera of Chicago just as the company began its 64th season. Orchestra members walked out on strike over a new proposed contract that would cut pay, reduce membership and performances, and cancel radio broadcasts.
As a result of the strike, opera performances for the rest of the week have been canceled. Yet the music hasn't stopped entirely: brass musicians took to the picket line with their instruments on Tuesday afternoon, playing tunes while performers and supporters marched outside the Civic Opera House in downtown Chicago. Morale among the strikers has been ​"tremendous," says Lewis Kirk, who has played bassoon in the orchestra for 31 years.
"We believe that this world-class opera company needs a world-class orchestra," Amy Hess, a violist, tells In These Times. ​"The cuts that management is demanding of us would forever diminish the quality of the orchestra and therefore of the opera company as a whole."
The musicians are represented by the Chicago Federation of Musicians Local 10-208 union, which is advocating to preserve benefits and working conditions, and to win salary increases that reflect the rise in the cost of living.
According to a statement released by the American Federation of Musicians, of which Local 10-208 is a chapter, orchestra players have not seen their wages increase in spite of a major budget hike. While the Lyric Opera budget has increased from $60.4 million in 2012 to $84.5 million in 2017, the orchestra's slice of the budget decreased from 14.6 percent to 11.9 percent over the same time period. Meanwhile, Lyric's general director, CEO and president Anthony Freud has seen his wages increase 18 percent from 2014 to 2017, and his current annual salary sits at $800,000. According to a press release sent on Wednesday from Lyric management, the Lyric's proposed contract would offer each musician an average annual wage of $82,500.
The orchestra is concerned that their weekly salaries have only increased an average of less than 1 percent per year since 2011. Taking into account inflation, wages have actually decreased by 5.1 percent since that time. Though the Lyric is offering a nominal wage increase, the contract would still result in an 8 percent pay cut per year, because the previous contract compensated musicians for 24 weeks, according to the orchestra's statement. The new contract would pay musicians for 22 weeks and decrease the number of performances to 55, compared to about 85 a decade ago.
Freud tells In These Times that he is ​"very sad" and ​"disappointed" about the strike. He explained that the budget increases reflect the addition of programming, such as more community engagement and a musical at the end of the season.
"The length of the opera season has to shorten," to reflect ​"a softness of demand", Freud says, adding that the Lyric wants to avoid paying musicians for weeks they are not actually performing.
The new contract would also remove five positions from the 74-member orchestra, which musicians say would compromise their performances. The Lyric would remove positions through attrition rather than immediate layoffs. ​"Once you lose a position it's hard to get it back, so we're fighting to keep those positions," says Kirk. The orchestra cut two members in 2009 because of contract negotiations, according to Hess. ​"If they keep cutting the number of musicians it won't be a world-class orchestra anymore," she says.
The Lyric has already canceled its radio broadcast program, which the opera used to advertise its performances worldwide through radio and online streaming. Musicians claim this is a blow to the orchestra's international exposure.
The previous contract expired on June 30, and the union had been negotiating the new contract over the course of 25 meetings since March, according to William Cernota, who has played cello in the orchestra for 36 years. After their usual summer break, the orchestra began rehearsals at the end of September.
The Lyric Opera orchestra performed opening night on October 6, ​"as a courtesy to our patrons and our donors, and we didn't want to deprive them of that experience," says Kathleen Brauer, a violinist who has played with the orchestra for over 20 years.
Lyric Opera recently settled a multi-year contract with the International Alliance of Theatrical Stage Employees (which includes Stagehands Local 2, Wardrobe Local 769, Hair and Make-Up Local 476 and Treasurers and Ticket Sellers Local 750), while the American Guild of Musical Artists (which represents chorus singers, actors, dancers and stage managers) is waiting for members to ratify a new contract.
"This is without a doubt the worst negotiation I've ever participated in or witnessed from the sidelines," says Cernota, who has chaired the membership committee for over 20 years.
The last time orchestra musicians participated in a walk out of this magnitude was during a ​"dark season" in 1967-68 in which a contract dispute prevented them from playing, according to Hess. Cernota added that in 1997, the orchestra was prevented from playing for ​"about a week," due to another dispute, and the orchestra threatened to strike in 2015, but reached an agreement within an hour.
Hours after musicians walked off the job, Lyric Opera responded over Twitter calling the strike ​"unnecessary and harmful". Management cited diminishing audience numbers and declining revenue to explain their cuts to pay and staff.
Freud recently told the Chicago Tribune, ​"We, as responsible managers of a business need to match supply to demand. It's a national trend that opera performances are harder and more expensive to sell than they ever have been. We're scheduling the maximum number of opera performances we believe we can sell."
The musicians, meanwhile, claim the management's economic outlook is self-defeating.
"The orchestra is actually doing very well, and we saw no reason that this would be a time that they would be coming to us for cuts," says Hess. Ticket sales have grown by almost $1 million from 2012 to 2018, and the house regularly sells 84 percent of its tickets, which Hess claims is ​"phenomenal" for an arts organization.
The strike has received an outpouring of support, with endorsements from labor rights groups like Chicago's Fight for 15 chapter and the Chicago Teachers Union.
The Chicago orchestra strike comes amid a recent wave of local and national labor unrest. In September, workers at 25 Chicago hotels went on strike, and most of them have now won favorable contracts. This summer, Amazon workers in Europe disrupted operations for up to three days while over the spring, teachers in West Virginia, Arizona and other states walked off the job.
As of Wednesday, upcoming Lyric Opera performances had been canceled, including Puccini's ​"La Bohème," on Thursday, Friday's ​"Choir! Choir! Choir!" and Saturday's opening night for Mozart's ​"Idomeneo"
"We've made clear that we're ready to attend to the table at any point. I very much hope negotiations resume soon," Freud tells In These Times. The orchestra musicians have said they are waiting for Lyric Opera management to re-open negotiations.
"It will take as long it takes" to reach a contract, says Hess, noting that the orchestra ​"feels very unified in our resolve."
Correction: A previous version of this story misstated that the Lyric Opera had recently settled a contract with the American Guild of Musical Artists, rather than the International Alliance of Theatrical Stage Employees. That error has been corrected here.
Amelia Diehl
was a fall
2018
intern for In These Times. Her pieces are published or forthcoming in Jacobin, Geez and Audia Music News.