'$10.10 is Not Enough,' Federal Contract Workers Tell Obama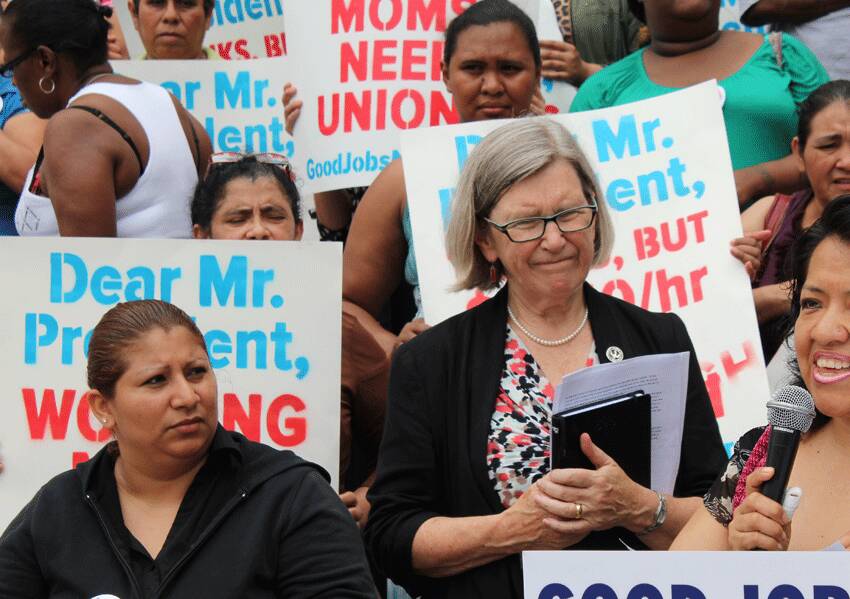 The labor federation Change to Win is urging President Barack Obama to do more to help low-wage workers employed by private contractors at federal installations.
Yesterday, some 50 workers and supporters involved with Change to Win's Good Jobs Nation campaign rallied at the entrance to the Smithsonian Institute's National Air & Space Museum. Chanting "$10.10 is not enough," the group called on Obama to issue a new executive order that would require private businesses with government contracts to negotiate union agreements with their workers.
Earlier this year, Obama issued a similar order raising the minimum wage to $10.10 an hour for federal contractors, following agitation by Good Jobs Nation. Now, the campaign is hoping that Obama will go further; according to Good Job Nation organizer Paco Fabian, an executive order encouraging union organizing has long been a goal of some labor activists, who point to cases where some anti-union government contractors have suppressed union organizing campaigns using public funds.
​"We need a living wage and benefits," says Yesenia Vega, a worker at a McDonald's restaurant located at the Pentagon office building right outside Washington, D.C. At her workplace, she tells Working In These Times, ​"the managers are always telling us they'll cut our hours," so a union contract is needed to ensure a stable income. She and other workers at the Pentagon's McDonald's are also seeking decent health insurance, vacation benefits and paid sick days, none of which are currently available to them. ​"We need a union to get these things," she says.
Vega and others workers addressing the rally did not specify which union they hoped to join. But it's likely that the Service Employees International Union (SEIU), one of the founding members of the Change to Win federation, would take the lead in organizing fast-food workers, as it has done in the ​"Fight for 15" campaign demanding a $15 minimum wage and a union at fast-food restaurants nationwide
Joining the workers was Sister Simone Campbell—a Catholic social justice activist best known as author of A Nun on the Bus: How All of Us Can Create Hope, Change, and Community—who delivered a statement backing the demonstrators:
I strongly support a key element of President Obama's agenda, which is to raise the minimum wage. Ultimately, the minimum wage should be a living wage – providing low-wage workers with what they need to rise out of poverty and care for their families. That is justice. I hope the president will now go further and allow these federal contract workers the freedom to form a union and bargain collectively with their employers.
​"Unions benefit women," Sister Campbell continued to cheers from the largely female crowd, asserting that unionized Hispanic and African American women earn better wages than non-union female workers.
Change to Win's Fabian explains that a new federal policy granting broader collective-bargaining rights to government contract workers has long been a goal of labor advocates because it could have broad impact in improving working conditions throughout the economy. Some worker activists were disappointed that such language was not included when the White House drafted the minimum wage executive order early this year, Fabian says, but were eager to see the wage proposal move forward as a first step.
​"We didn't think that complaining about the unionization part made a lot of sense when the president was getting ready to sign the executive order on $10.10," he says. ​"We are happy he did that and we appreciate it. But now it's time to move forward."
Bruce Vail
is a Baltimore-based freelance writer with decades of experience covering labor and business stories for newspapers, magazines and new media. He was a reporter for Bloomberg BNA's Daily Labor Report, covering collective bargaining issues in a wide range of industries, and a maritime industry reporter and editor for the Journal of Commerce, serving both in the newspaper's New York City headquarters and in the Washington, D.C. bureau.