10 Years Ago, Connecticut Got Big Money Out of Its Elections. Now Democrats Are Gutting the Program.
The landmark public financing system is under threat.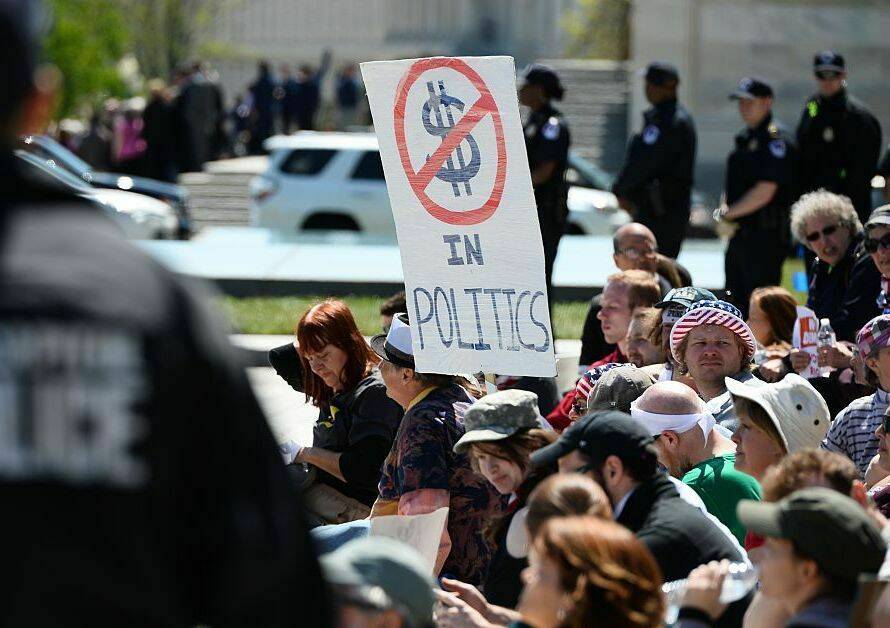 Most Amer­i­cans rec­og­nize that our democ­ra­cy is under assault by big mon­ey. Accord­ing to a 2015 NYT/CBS poll, a full 84 per­cent of Amer­i­cans believe mon­ey has too much influ­ence in our elec­tions, and 85 per­cent want fun­da­men­tal changes to our cam­paign financ­ing sys­tem. Last year, 10 bal­lot ini­tia­tives to enact democ­ra­cy reform passed across the coun­try, from lib­er­al cities such as Berke­ley and San Fran­cis­co to the deep red state of South Dakota.
Why would Democrats so readily put public financing on the chopping block?
These ini­tia­tives ranged from cam­paign con­tri­bu­tion lim­its to lob­by­ing restric­tions to arguably the most impor­tant method of clean­ing up our elec­tions: pub­lic financ­ing. This upswell is encour­ag­ing, but it is only the start. Those work­ing to clean up the sys­tem would do well to look toward the few states where cit­i­zens have already passed ground­break­ing and even fur­ther-reach­ing leg­is­la­tion to reduce the role of big, pri­vate mon­ey in state elec­tions. Among the top of the list is Con­necti­cut, a state that, with the intro­duc­tion of the Cit­i­zens' Elec­tion Pro­gram (CEP) in 2005, seri­ous­ly curbed the influ­ence of cor­po­ra­tions and the rich on state elections.
Yet, this bea­con of Amer­i­can democ­ra­cy could soon dim, as the state leg­is­la­ture is on the verge of gut­ting the law that gave the state its demo­c­ra­t­ic promise.
Giv­ing the rich the boot
In 2005, after a major cor­rup­tion scan­dal involv­ing then-Repub­li­can gov­er­nor John Row­land rocked the state, Con­necti­cut over­hauled its elec­tions process with the CEP. Based on sim­i­lar ini­tia­tives in Maine and Ari­zona, this pro­gram pro­vides full pub­lic financ­ing for eli­gi­ble can­di­dates seek­ing a state polit­i­cal office. These grants, unlike par­tial pub­lic financ­ing, cov­er all elec­tion-relat­ed costs. Can­di­dates qual­i­fy for CEP by col­lect­ing a spe­cif­ic num­ber of $5 to $100 dona­tions from cit­i­zens in their dis­trict or, if they are seek­ing statewide office, from any­one in Con­necti­cut. These dona­tions must be from indi­vid­u­als only, not cor­po­ra­tions or PACs. (The CT Mir­ror explains the qual­i­fi­ca­tion process and how much mon­ey is allo­cat­ed to each office in more detail here).
The CEP is fund­ed not by tax­es but by the sale of aban­doned prop­er­ty in Con­necti­cut. In total the pro­gram is allo­cat­ed an aver­age of $10 – 11 mil­lion a year, which is enough to cov­er all races in the state over a four-year cycle. Using CEP funds is vol­un­tary, but almost 90 per­cent of cur­rent Con­necti­cut state leg­is­la­tors and 100 per­cent of cur­rent state offi­cers (gov­er­nor, lieu­tenant gov­er­nor, sec­re­tary of the state, trea­sur­er, comp­trol­ler and attor­ney gen­er­al) chose CEP fund­ing for their elec­tion cam­paigns, accord­ing to an analy­sis by the League of Women Vot­ers of Con­necti­cut.
"The pas­sage of the Clean Elec­tions pro­gram in Con­necti­cut was an extra­or­di­nary achieve­ment," explains Nick Nyhart, who was involved in the orig­i­nal draft­ing of CEP and is now pres­i­dent and CEO of the good gov­ern­ment group Every Voice Cen­ter (for­mer­ly known as Pub­lic Cam­paign). ​"Thanks to unre­lent­ing grass­roots pres­sure, the state's polit­i­cal lead­ers came togeth­er across par­ti­san lines to enact sweep­ing reform. It was the first time in any state that incum­bent law­mak­ers had vot­ed to elim­i­nate big pri­vate dona­tions for their own seats, replac­ing that mon­ey with pub­lic funds and small dona­tions from their constituents."
The ben­e­fits of pub­lic financ­ing are count­less. As Con­necti­cut state sen­a­tor Gary Win­field puts it, pub­lic financ­ing ​"not only lev­eled the play­ing field, it com­plete­ly upend­ed the play­ing field." More­over, he recent­ly explained, CEP ​"opens up pol­i­tics to peo­ple who don't have access." The Amer­i­can Prospect reports that CEP ​"increased com­pe­ti­tion for leg­isla­tive seats. In both 2000 and 2004, at least one of the major par­ties failed to field a can­di­date in near­ly 40 per­cent of Connecticut's leg­isla­tive races. By 2010, that per­cent­age had fall­en to 29."
State Rep. Matthew Less­er ran for office in 2008, the year the CEP was launched, and was among the first can­di­dates to use the pub­lic financ­ing option. ​"I took on an incum­bent, and at the age of 25, nobody thought I had a chance," he says. ​"But the Cit­i­zens' Elec­tion Pro­gram made that and many oth­er improb­a­ble wins pos­si­ble. I under­stand that's threat­en­ing to incum­bents and spe­cial inter­ests, but it's impor­tant and we need to pro­tect it."
Pub­lic financ­ing also allows can­di­dates to spend more time talk­ing to vot­ers. Barnard Col­lege pro­fes­sor Michael Miller, author of Sub­si­diz­ing Democ­ra­cy: How Pub­lic Fund­ing Changes Elec­tions and How It Can Work in the Future, esti­mates that full pub­lic financ­ing leads to thou­sands more inter­ac­tions per elec­tion cycle between pub­licly financed can­di­dates and vot­ers. Accord­ing to his analy­sis, par­tic­i­pa­tion in such pro­grams reduces the pro­por­tion of time spent on fundrais­ing from 11 per­cent to 2 per­cent. Can­di­dates who were freed from fundrais­ing spent their time with voters.
Giv­en the Supreme Court deci­sions like Cit­i­zens Unit­ed, big mon­ey can still play a large role in elec­tions through inde­pen­dent expen­di­tures (spend­ing not coor­di­nat­ed with a cam­paign), espe­cial­ly in the guber­na­to­r­i­al race. But over­all the state has suc­ceed­ed in reduc­ing the cor­rup­tion — and the appear­ance there­of — that plagued the state before CEP.
Death by a thou­sand cuts
Over the years, how­ev­er, leg­is­la­tors have chipped away at the program's fund­ing. As Miller explained to In These Times: ​"One of the most com­mon tac­tics for oppo­nents of cam­paign finance laws is to incre­men­tal­ly weak­en the relat­ed laws and cre­ate loop­holes. It is a process of ​'death by a thou­sand cuts.'" In total, from 2009 to 2012, the leg­is­la­ture cut the program's fund­ing by 40 per­cent. Nev­er­the­less, at $10-$11 mil­lion a cycle, the pro­gram kept the bare min­i­mum need­ed to survive.
But in the last two years, CEP's very exis­tence has come under threat with bipar­ti­san vigor.
In fall 2015, fac­ing bud­get short­fall, the state Democ­rats advo­cat­ed for the sus­pen­sion of CEP to ​"save" mon­ey. But cit­i­zens across the state respond­ed with out­rage, flood­ing their rep­re­sen­ta­tives with angry calls. The board of the State Elec­tions Enforce­ment Com­mis­sion (SEEC), the five-mem­ber, bipar­ti­san cit­i­zens' com­mit­tee in charge of admin­is­ter­ing CEP, made the extra­or­di­nary move of approv­ing a res­o­lu­tion oppos­ing and con­demn­ing the plan.
"[The] Com­mis­sion unan­i­mous­ly oppos­es the Democ­rats' pro­posed bud­get that would sus­pend the suc­cess­ful and nation­al­ly rec­og­nized Cit­i­zens' Elec­tion Pro­gram for the 2016 elec­tion cycle," wrote the Com­mis­sion in a press release. ​"Such a sus­pen­sion would set the CEF on course for per­ma­nent under­fund­ing and would return our can­di­dates for elect­ed office back on the path to the reliance on spe­cial inter­est mon­ey for their cam­paigns and reverse a decade of progress."
The anti-CEP pro­pos­al also received vig­or­ous push­back from the bipar­ti­san Young Leg­is­la­tors Cau­cus, says Elona Vais­nys, who heads the League of Women Vot­ers of Connecticut's CEProud, a project to increase pub­lic aware­ness about CEP. All Young Leg­is­la­tors Cau­cus mem­bers were CEP recip­i­ents.
With­in a few days, the Democ­rats rescind­ed their plan.
The CEP appeared safe. Yet, few­er than two years lat­er, the Repub­li­can minor­i­ty has dropped CEP from its 2017 bud­get alto­geth­er, and the Demo­c­ra­t­ic major­i­ty wants to cut anoth­er $5 mil­lion from the pro­gram for each of the next two allo­ca­tion cycles (approx­i­mate­ly a 25 per­cent cut over four years).
Accord­ing to the SEEC, these cuts would slice at the heart of the pro­gram. A $10 mil­lion cut over two years ​"would dras­ti­cal­ly impact our abil­i­ty to award CEP grants in 2018 and beyond," says Michael Bran­di, exec­u­tive direc­tor and gen­er­al coun­sel of SEEC. ​"It's pret­ty sim­ple: With­out this mon­ey going for­ward, we esti­mate we will be about $10 mil­lion short of what's need­ed to oper­ate the clean elec­tions program."
Why would Democ­rats so read­i­ly put pub­lic financ­ing on the chop­ping block?
One rea­son might be that the pro­gram pro­vides the same amount of fund­ing for incum­bents and chal­lengers, which decreas­es the advan­tage of incum­bents. Stud­ies have shown that while full pub­lic financ­ing does not always dimin­ish the like­li­hood of incum­bents win­ning, it trans­lates to a small­er mar­gin of vic­to­ry. Tighter elec­tions can keep incum­bents more account­able to their con­stituents, for they real­ize reelec­tion is not always guar­an­teed and that any­one — regard­less of wealth — could mount a viable chal­lenge. The num­ber of pri­ma­ry chal­lengers also tends to increase, like­ly mak­ing incum­bents even uneasi­er. Not sur­pris­ing­ly, there­fore, incum­bents in the few states with pub­lic financ­ing are often the most will­ing to express oppo­si­tion to clean elec­tions pro­grams. In fact, Miller says his sur­vey found that many politi­cians often run with pub­lic funds in their first elec­tion, and then turn to pri­vate fund­ing sources in sub­se­quent elections.
"For years, cor­po­rate-backed leg­is­la­tors and spe­cial inter­ests in Con­necti­cut have exploit­ed our bud­get short­falls with attempts to gut clean elec­tions under the false pre­tense that our state can­not afford the pro­gram," says Lind­say Far­rell, exec­u­tive direc­tor of the CT Work­ing Fam­i­lies Par­ty. ​"What is uncon­scionable is that leg­is­la­tors who have used the pro­gram to run for office would con­sid­er under­min­ing the pro­gram for future candidates."
Connecticut's bud­get short­fall is grim, indeed. The state is pro­ject­ed to have a $5 bil­lion-plus deficit for the next two years. That said, cut­ting $5 mil­lion from the CEP or elim­i­nat­ing it alto­geth­er would only save a neg­li­gi­ble amount of dol­lars (accord­ing to the League of Women Vot­ers of Con­necti­cut, CEP rep­re­sents 0.0001 per­cent of the state bud­get) while also deal­ing a major blow to fair elec­tions in the state. And, in light of the ris­ing cit­i­zen anger toward big mon­ey in pol­i­tics, weak­en­ing CEP would be a bad polit­i­cal decision.
More­over, ​"cut­ting CEP will cost the state mon­ey, not save it," Miles Rapoport, for­mer Con­necti­cut sec­re­tary of the state, and cur­rent senior prac­tice fel­low in Amer­i­can democ­ra­cy at Harvard's Kennedy School, tells In These Times. ​"In addi­tion to all its advan­tages for democ­ra­cy, I have zero doubt that the pro­gram has saved Con­necti­cut hun­dreds of mil­lions of dol­lars, by avoid­ing the tax breaks, reg­u­la­to­ry tweaks, and hid­den sub­si­dies that lob­by­ists rou­tine­ly got through in the days when leg­is­la­tors depend­ed on them for cam­paign fund­ing. This makes no sense even in bud­get terms."
In 2012, Karen Hobert Fly­nn, then vice pres­i­dent of state oper­a­tions for Com­mon Cause—now the organization's pres­i­dent — gave a state­ment that rings even more true today. ​"I know these are dif­fi­cult times," she said, ​"but you can't put a price on clean gov­ern­ment. What's real­ly set Con­necti­cut apart so far is lead­er­ship that has been will­ing to make the hard choic­es need­ed to pre­serve clean elec­tions. If you lose that, you begin the slip­pery slide back to ​'Cor­rup­ti­cut.'"
It's now up to Con­necti­cut res­i­dents to fight for their gem of an elec­tions program.
Adam Eichen
is Cam­paigns Manger at Equal Cit­i­zens and co-author of Dar­ing Democ­ra­cy: Ignit­ing Pow­er, Mean­ing, and Con­nec­tion for the Amer­i­ca We Want (Bea­con Press,
2017
) with Frances Moore Lap­pé. Fol­low him on Twit­ter @adameichen.