100 Years Ago, Farmers and Socialists Established the Country's First Modern Public Bank
North Dakota's radical history carries valuable lessons for today's public banking movement.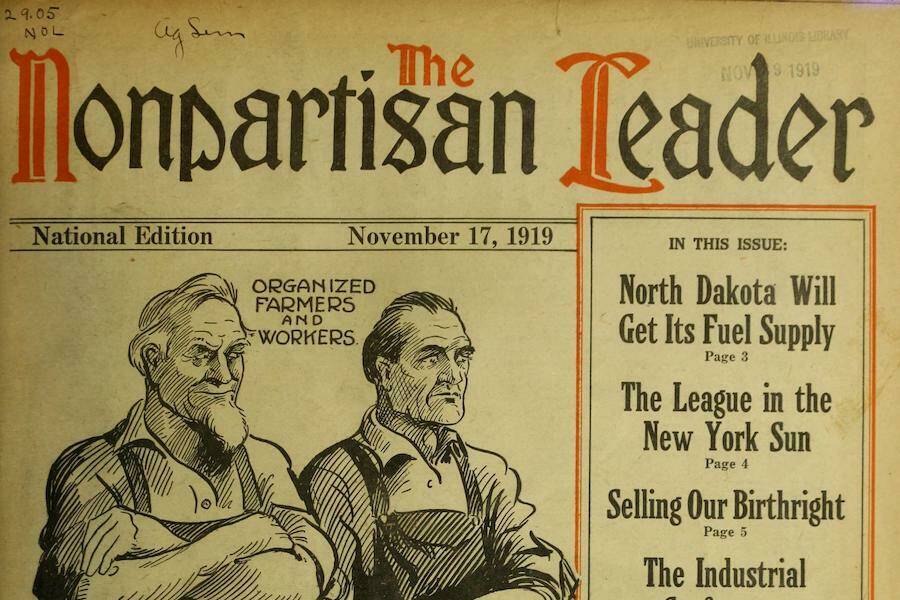 One hun­dred years ago July 28, a bank in Bis­mar­ck, N.D., opened its doors for the very first time. This would have been an unre­mark­able event, like­ly lost to his­to­ry, except for the fact that it was a pub­lic bank, owned by all the res­i­dents of the state. A cen­tu­ry on, the Bank of North Dako­ta (BND) is still the only pub­licly owned bank in the con­ti­nen­tal Unit­ed States (a sec­ond pub­lic bank was recent­ly estab­lished in Amer­i­can Samoa) — though poten­tial­ly not for long.
In the years since the financial crisis, vibrant campaigns for public banks have emerged all across the country.
The BND is enjoy­ing renewed time in the lime­light as activists look to the insti­tu­tion as an exam­ple of how to regain demo­c­ra­t­ic con­trol over finance, and in the process con­front a myr­i­ad of press­ing prob­lems from the cli­mate cri­sis to gen­tri­fi­ca­tion. Rather than hav­ing pub­lic funds be extract­ed from local com­mu­ni­ties to fuel Wall Street spec­u­la­tion, pub­lic banks can ensure that those funds are used to sta­bi­lize local economies and sup­port local pub­lic pri­or­i­ties. As Ellen Brown, chair of the Pub­lic Bank­ing Insti­tute, writes in her new book, Bank­ing on the Peo­ple, ​"a pub­lic bank­ing sys­tem … can fund the goods, ser­vices and infra­struc­ture required to sat­is­fy the needs of the peo­ple and the econ­o­my with­out unsus­tain­able debt, tax­a­tion or envi­ron­men­tal degradation."*
That a pub­lic bank is res­onat­ing with peo­ple across the Unit­ed States today shouldn't be sur­pris­ing. If we look back at the con­di­tions that led a diverse group of farm­ers, social­ists and pop­ulists to strug­gle against the odds to cre­ate the BND in the first place — cor­po­rate dom­i­na­tion, an econ­o­my hob­bled by debt bur­dens, gap­ing inequal­i­ties, inef­fec­tive reformists, bought politi­cians —we find they are remark­ably sim­i­lar to those we face today in our new ​"gild­ed age."
At the dawn of the 20th cen­tu­ry, the remote and rel­a­tive­ly new state of North Dako­ta was firm­ly under the con­trol of cor­po­rate inter­ests. Heav­i­ly indebt­ed small farm­ers and small busi­ness­peo­ple were behold­en to terms set by out-of-state rail­road com­pa­nies and grain monop­o­lies (both backed by big cor­po­rate banks) in order to access broad­er mar­kets. The rail­roads in par­tic­u­lar (which owned vast swathes of land in the state) were per­ni­cious tax avoiders, depriv­ing the gov­ern­ment of des­per­ate­ly need­ed devel­op­ment funds. The state gov­ern­ment was eas­i­ly cap­tured by these pow­er­ful inter­ests and was, for a time, essen­tial­ly under the con­trol of a cor­rupt for­mer rail­road agent named Alexan­der McKen­zie and the Repub­li­can polit­i­cal machine he ran. Ear­ly activist efforts to break this polit­i­cal and eco­nom­ic stran­gle­hold through reg­u­la­tion and legal action were under­mined by threat­ened cap­i­tal strikes (for exam­ple, cor­po­rate own­ers threat­ened to close their grain ele­va­tors when faced with reg­u­la­tion in 1891). Ulti­mate­ly, these reform efforts had no answer to the cen­tral prob­lem: that the large cor­po­ra­tions of the day had the pow­er to dic­tate eco­nom­ic con­di­tions and rela­tion­ships and the state lacked the finan­cial means to advance alternatives.
In 1915, for­mer Social­ist Par­ty orga­niz­er and flax farmer Arthur C. Town­ley formed the Non­par­ti­san League (NPL), which, among oth­er things, advo­cat­ed for worker's com­pen­sa­tion, a grad­u­at­ed state income tax, and pub­lic own­er­ship of banks, mills, ware­hous­es, insur­ance pro­grams and oth­er enter­pris­es as a way of wrest­ing eco­nom­ic pow­er from the cor­po­ra­tions. Buoyed by wide­spread sup­port among farm­ers, NPL-backed can­di­dates won elec­tions in 1916 and 1918, gain­ing con­trol of the state leg­is­la­ture and gov­er­nor­ship. Once in office, they began to imple­ment their rad­i­cal yet pop­u­lar eco­nom­ic agenda.
In July 1919, the BND was launched with $2 mil­lion in cap­i­tal and a require­ment that all state and local gov­ern­ment funds be deposit­ed in the bank. With these funds and pop­u­lar sup­port, the BND was able to endure an ear­ly Wall Street coun­ter­at­tack, name­ly a boy­cott of the state's bonds. The BND sur­vived, and ulti­mate­ly thrived, despite the fact that the NPL was not able to with­stand the polit­i­cal reac­tion to its suc­cess. Oppo­nents orga­nized the Inde­pen­dent Vot­ers Asso­ci­a­tion, a cor­po­rate-fund­ed effort that hoped to see the exper­i­ment dashed, declar­ing dur­ing the 1920 race that ​"the real issue in the cam­paign in the state is between Amer­i­can­ism and social­ism." NPL can­di­dates lost con­trol of the low­er house of the leg­is­la­ture after those elec­tions, the new law­mak­ers passed mea­sures under­min­ing NPL poli­cies and gov­er­nor Lynn Fra­zier was nar­row­ly recalled in 1921.
While the NPL's polit­i­cal for­tunes revived dur­ing the depres­sion of the 1930s and the par­ty exists to this day as part of the state's offi­cial Demo­c­ra­t­ic Par­ty affil­i­ate, the impor­tant les­son for activists today is how suc­cess­ful, pop­u­lar and ulti­mate­ly resilient insti­tu­tions like the BND (and the accom­pa­ny­ing pub­licly owned grain mill and ele­va­tor) became once they were established.
Between 1919 and 1933 the BND lent almost $41 mil­lion to more than 16,000 farm­ers in the state, and dur­ing the Great Depres­sion the bank helped the state unique­ly sus­tain itself and recov­er quick­ly (fore­shad­ow­ing sim­i­lar suc­cess in help­ing the state with­stand the 2008⁄09 finan­cial cri­sis). While school teach­ers across the coun­try were being paid essen­tial­ly in IOUs that were typ­i­cal­ly redeemed with a 15% loss, the BND was able to pay them in full. In the 1940s, farm­land that was fore­closed on dur­ing the Depres­sion was sold back, in many cas­es, to the same fam­i­lies that lost them.
In 1945, the bank began to return a por­tion of its prof­its to North Dakota's gen­er­al fund — the first of more than $1 bil­lion total that has been returned to the state over the decades, help­ing to fund var­i­ous state ser­vices. In 1967 it made its first fed­er­al­ly insured stu­dent loan, and today the bank admin­is­ters its own stu­dent loan pro­gram that pro­vides North Dako­ta res­i­dents (and those attend­ing North Dako­ta col­leges) with a vari­ety of ben­e­fits (includ­ing low/​competitive inter­est rates, no fees and refi­nanc­ing options after col­lege). Today, BND may not be the social­ist engine many NPL plan­ners had in mind (it works with rather than com­petes with or dis­places pri­vate sec­tor banks, for instance), but it is, as Gov. William Guy (D‑NPL) advo­cat­ed for in the 1960s, an ​"engine for eco­nom­ic devel­op­ment" in the pub­lic inter­est. Last year, BND report­ed $159 mil­lion in net earn­ings, with a total $7 bil­lion in assets and a loan port­fo­lio of $4.5 billion.
While the Bank of North Dakota's record is impres­sive, it is impor­tant not to lose per­spec­tive. As a pub­lic insti­tu­tion, it is ulti­mate­ly account­able to the demo­c­ra­t­ic insti­tu­tions of the state, a state that has changed con­sid­er­ably in the past 100 years and is now dom­i­nat­ed by the Repub­li­can Par­ty polit­i­cal­ly and increas­ing­ly by the oil and gas indus­try eco­nom­i­cal­ly. Recent­ly, the BND was wide­ly, and right­ly, crit­i­cized for lend­ing the state as much as $10 mil­lion to cov­er the costs of polic­ing the Amer­i­can Indi­an-led Stand­ing Rock protests against the Dako­ta Access Pipeline.
Yet despite these risks, it is this promise of demo­c­ra­t­ic con­trol of finance that is most appeal­ing to today's activists.
In the years since the finan­cial cri­sis, vibrant cam­paigns for pub­lic banks have emerged all across the coun­try, seek­ing to resist cor­po­rate dom­i­na­tion and elite con­trol and build new, more equi­table and sus­tain­able insti­tu­tions. Some of the most advanced cam­paigns are in Cal­i­for­nia. Fol­low­ing a 2018 ref­er­en­dum loss in Los Ange­les (where 42% — near­ly half a mil­lion peo­ple — vot­ed in favor of a pub­lic bank), activists have tak­en their fight to the state leg­is­la­ture. Recent­ly, a statewide bill to clear some road­blocks for the estab­lish­ment of local and region­al pub­lic banks passed the Gen­er­al Assem­bly and has moved on to the State Sen­ate (where it passed two key com­mit­tees in June and July).
What­ev­er the bill's ulti­mate fate, the cam­paign that the Cal­i­for­nia Pub­lic Bank­ing Alliance has put togeth­er is tru­ly remark­able. More than 100 orga­ni­za­tions rep­re­sent­ing 3.3 mil­lion Cal­i­for­ni­ans have endorsed the bill. These include labor unions (such as the Cal­i­for­nia Nurs­es Asso­ci­a­tion, SEIU Cal­i­for­nia, AFSCME Cal­i­for­nia and UFCW West­ern States Coun­cil), com­mu­ni­ty groups (such as Peo­ple Orga­niz­ing To Demand Envi­ron­men­tal and Eco­nom­ic Rights and Health­care for All- Cal­i­for­nia), envi­ron­men­tal groups (such as 350​.org, Friends of the Earth and the Local Clean Ener­gy Alliance) and polit­i­cal orga­ni­za­tions (such as the Cal­i­for­nia Demo­c­ra­t­ic Par­ty and the Green Par­ty of Cal­i­for­nia). More­over, 10 city gov­ern­ments have backed the effort, includ­ing Los Ange­les, San Fran­cis­co, Oak­land, and San Diego.
In Cal­i­for­nia and else­where in the coun­try, pub­lic bank­ing has very quick­ly moved from a fringe inter­est to a main­stream polit­i­cal issue. This is tes­ta­ment to both the long-term suc­cess of exam­ples like the Bank of North Dako­ta and to the efforts of a new gen­er­a­tion of activists and move­ment builders who, like their pre­de­ces­sors 100 years ago, under­stand how crit­i­cal­ly impor­tant con­trol of finance and cap­i­tal is to the hope of build­ing a more equi­table, just and demo­c­ra­t­ic world.
*Ellen Brown is also a fel­low at The Democ­ra­cy Col­lab­o­ra­tive, where the authors work, and Bank­ing on the Peo­ple was pub­lished by The Democ­ra­cy Collaborative.
Eds. note: An ear­li­er head­line inac­cu­rate­ly described the Bank of North Dako­ta as the coun­try's first pub­lic bank; in fact, pub­lic banks had exist­ed in pre­vi­ous cen­turies. How­ev­er, the Bank of North Dako­ta was the coun­try's first mod­ern pub­lic bank, and remains the only such insti­tu­tion in the con­ti­nen­tal Unit­ed States.
Thomas M. Han­na is research direc­tor at The Democ­ra­cy Col­lab­o­ra­tive and author of Our Com­mon Wealth: The Return of Pub­lic Own­er­ship in the Unit­ed States. Adam Simp­son is a pro­gram asso­ciate at The Democ­ra­cy Col­lab­o­ra­tive where he hosts The Next Sys­tem Pod­cast. He is also a co-host of the pod­cast Future Left.