15 Under-the-Radar Progressive Wins of Election 2013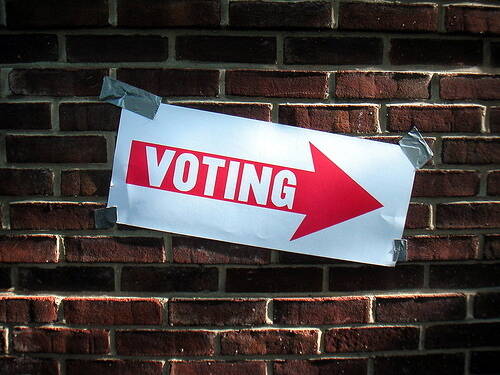 Pro­gres­sives have plen­ty to cel­e­brate after last night's off-off-year elec­tions. Some of those vic­to­ries were nation­al news: Bill de Blasio's win in the New York may­oral race, Mar­tin Walsh becom­ing the new pro-labor may­or of Boston and New Jer­sey vot­ers both rais­ing the Gar­den State's min­i­mum wage to $8.25 per hour and amend­ing the state's con­sti­tu­tion so it will rise with infla­tion in the future.
But there were oth­er, small­er wins in local races that got con­sid­er­ably less atten­tion. Many pit­ted grass­roots activists against deep pock­et­ed cor­po­rate inter­ests. You can't win them all, but here's a roundup of some under-the-radar pro­gres­sive vic­to­ries of elec­tion 2013…
New York City: Not only did Bill de Bla­sio win on a plat­form of reduc­ing inequal­i­ty and halt­ing NYPD's con­tro­ver­sial ​'stop-and-frisk' pro­gram, he'll also gov­ern with a more pro­gres­sive city coun­cil, as the 21 new mem­bers of the 51-seat body are expect­ed to dou­ble the council's pro­gres­sive cau­cus after aggres­sive cam­paign­ing by labor groups and the Work­ing Fam­i­lies Par­ty.
Sea-Tac: An aggres­sive cam­paign by busi­ness inter­ests wasn't enough to defeat a $15 per hour liv­ing wage ordi­nance for trans­porta­tion work­ers at Seattle's air­port and res­i­dents of the sur­round­ing community.
What­com Coun­ty, Wash.: In a vic­to­ry for the envi­ron­men­tal move­ment, pro­gres­sives seem to have swept What­com Coun­ty coun­cil elec­tions in a race that was wide­ly seen as a ref­er­en­dum on a pro­posed new coal port ter­mi­nal. (Nation­al Jour­nal called this race ​"an obscure coun­ty elec­tion that could change the planet.")
Tako­ma Park, Md.: It wasn't an elec­tion vic­to­ry per se, but it's always good to see the fran­chise expand­ed and yes­ter­day 16 year-olds vot­ed for the first time in this city's local elec­tions.
Col­orado: Three out of four Col­orado cities with anti-frack­ing ordi­nances on the bal­lot passed them. Cen­ten­ni­al State vot­ers also vot­ed in two new tax­es on legal mar­i­jua­na, strength­en­ing the mea­sure enact­ed last year.
Boul­der, Colo.: In a land­slide, res­i­dents of this Col­orado town vot­ed to buy out ener­gy giant Xcel Cor­po­ra­tion and imple­ment a long-term ener­gy plan that relies heav­i­ly on renewables.
Bridge­port, Conn.: The state's Work­ing Fam­i­lies Par­ty drubbed cor­po­rate ​"reform­ers" in the city's hot­ly con­test­ed school board elec­tions.
Oth­er may­oral races: Left-lean­ing can­di­dates won may­oral races in Char­lotte, N.C., and Day­ton, Ohio. Hous­ton, Texas re-elect­ed its first out-les­bian may­or.
Phoenix City Coun­cil: If the unof­fi­cial results hold up, Phoenix will have the first-ever pro­gres­sive major­i­ty on its city council.
Coralville, Iowa: The Koch broth­ers' Amer­i­cans for Pros­per­i­ty tried to make a local elec­tion in tiny Coralville, Iowa a ref­er­en­dum on gov­ern­ment spend­ing but their can­di­dates were defeat­ed by this town of 19,000.
Roy­al Oak, Mich.: Becomes the 30th munic­i­pal­i­ty in the state to bar dis­crim­i­na­tion against LGBT-Amer­i­cans by uphold­ing a human rights ordi­nance which passed this spring but was chal­lenged by con­ser­v­a­tive activists.
Mis­soula, Mont.: Six of the city's 12 coun­cil seats were up for grabs, and lib­er­als swept them, thanks in large part to the efforts of the New Par­ty, which was a pre­cur­sor of sorts to the Work­ing Fam­i­lies Party.
It's a big coun­try — did we miss any wins? Let us know in the com­ments if we did!
Reprint­ed with per­mis­sion from Bill​Moy​ers​.com.
Moy­ers

&

Com­pa­ny

is Bill Moy­ers' week­ly series of smart talk and new ideas aimed at help­ing view­ers make sense of our tumul­tuous times through the insight of America's strongest thinkers. Air­ing on pub­lic tele­vi­sion and radio sta­tions across the coun­try, the series con­tin­ues Moy­ers' long-run­ning con­ver­sa­tion with the Amer­i­can pub­lic by offer­ing a forum to poets, writ­ers, artists, jour­nal­ists, sci­en­tists, philoso­phers, and lead­ing schol­ars. Read more at

Bill​Moy​ers​.com.