20 Lessons from the 20th Century on How to Survive in Trump's America
A history professor looks to the past to remind us to do what we can in the face of the unthinkable.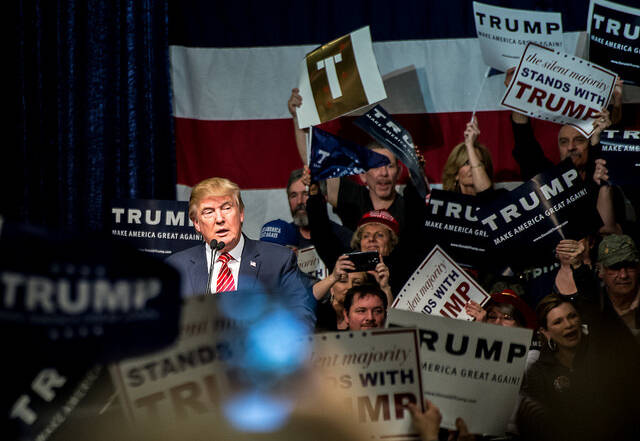 This arti­cle first appeared as a post on the author's Face­book page.
"Believe in truth. To abandon facts is to abandon freedom. If nothing is true, then no one can criticize power because there is no basis upon which to do so. If nothing is true, then all is spectacle."
Amer­i­cans are no wis­er than the Euro­peans who saw democ­ra­cy yield to fas­cism, Nazism or com­mu­nism. Our one advan­tage is that we might learn from their expe­ri­ence. Now is a good time to do so. Here are 20 lessons from across the fear­ful 20th cen­tu­ry, adapt­ed to the cir­cum­stances of today.
1. Do not obey in advance. Much of the pow­er of author­i­tar­i­an­ism is freely giv­en. In times like these, indi­vid­u­als think ahead about what a more repres­sive gov­ern­ment will want, and then start to do it with­out being asked. You've already done this, haven't you? Stop. Antic­i­pa­to­ry obe­di­ence teach­es author­i­ties what is pos­si­ble and accel­er­ates unfreedom.
2. Defend an insti­tu­tion. Fol­low the courts or the media, or a court or a news­pa­per. Do not speak of ​"our insti­tu­tions" unless you are mak­ing them yours by act­ing on their behalf. Insti­tu­tions don't pro­tect them­selves. They go down like domi­noes unless each is defend­ed from the beginning.
3. Recall pro­fes­sion­al ethics. When the lead­ers of state set a neg­a­tive exam­ple, pro­fes­sion­al com­mit­ments to just prac­tice become much more impor­tant. It is hard to break a rule-of-law state with­out lawyers, and it is hard to have show tri­als with­out judges.
4. When lis­ten­ing to politi­cians, dis­tin­guish cer­tain words. Look out for the expan­sive use of ​"ter­ror­ism" and ​"extrem­ism." Be alive to the fatal notions of ​"excep­tion" and ​"emer­gency." Be angry about the treach­er­ous use of patri­ot­ic vocabulary.
5. Be calm when the unthink­able arrives. When the ter­ror­ist attack comes, remem­ber that all author­i­tar­i­ans at all times either await or plan such events in order to con­sol­i­date pow­er. Think of the Reich­stag fire. The sud­den dis­as­ter that requires the end of the bal­ance of pow­er, the end of oppo­si­tion par­ties, and so on, is the old­est trick in the Hit­ler­ian book. Don't fall for it.
6. Be kind to our lan­guage. Avoid pro­nounc­ing the phras­es every­one else does. Think up your own way of speak­ing, even if only to con­vey that thing you think every­one is say­ing. (Don't use the Inter­net before bed. Charge your gad­gets away from your bed­room, and read.) What to read? Per­haps The Pow­er of the Pow­er­less by Václav Hav­el, 1984 by George Orwell, The Cap­tive Mind by Czesław Milosz, The Rebel by Albert Camus, The Ori­gins of Total­i­tar­i­an­ism by Han­nah Arendt, or Noth­ing is True and Every­thing is Pos­si­ble by Peter Pomerantsev.
7. Stand out. Some­one has to. It is easy, in words and deeds, to fol­low along. It can feel strange to do or say some­thing dif­fer­ent. But with­out that unease, there is no free­dom. And the moment you set an exam­ple, the spell of the sta­tus quo is bro­ken, and oth­ers will follow.
8. Believe in truth. To aban­don facts is to aban­don free­dom. If noth­ing is true, then no one can crit­i­cize pow­er because there is no basis upon which to do so. If noth­ing is true, then all is spec­ta­cle. The biggest wal­let pays for the most blind­ing lights.
9. Inves­ti­gate. Fig­ure things out for your­self. Spend more time with long arti­cles. Sub­si­dize inves­tiga­tive jour­nal­ism by sub­scrib­ing to print media. Real­ize that some of what is on your screen is there to harm you. Learn about sites that inves­ti­gate for­eign pro­pa­gan­da pushes.
10. Prac­tice cor­po­re­al pol­i­tics. Pow­er wants your body soft­en­ing in your chair and your emo­tions dis­si­pat­ing on the screen. Get out­side. Put your body in unfa­mil­iar places with unfa­mil­iar peo­ple. Make new friends and march with them.
11. Make eye con­tact and small talk. This is not just polite. It is a way to stay in touch with your sur­round­ings, break down unnec­es­sary social bar­ri­ers, and come to under­stand whom you should and should not trust. If we enter a cul­ture of denun­ci­a­tion, you will want to know the psy­cho­log­i­cal land­scape of your dai­ly life.
12. Take respon­si­bil­i­ty for the face of the world. Notice the swastikas and the oth­er signs of hate. Do not look away and do not get used to them. Remove them your­self and set an exam­ple for oth­ers to do so.
13. Hin­der the one-par­ty state. The par­ties that took over states were once some­thing else. They exploit­ed a his­tor­i­cal moment to make polit­i­cal life impos­si­ble for their rivals. Vote in local and state elec­tions while you can.
14. Give reg­u­lar­ly to good caus­es, if you can. Pick a char­i­ty and set up auto­pay. Then you will know that you have made a free choice that is sup­port­ing civ­il soci­ety help­ing oth­ers doing some­thing good.
15. Estab­lish a pri­vate life. Nas­ti­er rulers will use what they know about you to push you around. Scrub your com­put­er of mal­ware. Remem­ber that email is sky­writ­ing. Con­sid­er using alter­na­tive forms of the Inter­net, or sim­ply using it less. Have per­son­al exchanges in per­son. For the same rea­son, resolve any legal trou­ble. Author­i­tar­i­an­ism works as a black­mail state, look­ing for the hook on which to hang you. Try not to have too many hooks.
16. Learn from oth­ers in oth­er coun­tries. Keep up your friend­ships abroad, or make new friends abroad. The present dif­fi­cul­ties here are an ele­ment of a gen­er­al trend. And no coun­try is going to find a solu­tion by itself. Make sure you and your fam­i­ly have passports.
17. Watch out for the para­mil­i­taries. When the men with guns who have always claimed to be against the sys­tem start wear­ing uni­forms and march­ing around with torch­es and pic­tures of a Leader, the end is nigh. When the pro-Leader para­mil­i­tary and the offi­cial police and mil­i­tary inter­min­gle, the game is over.
18. Be reflec­tive if you must be armed. If you car­ry a weapon in pub­lic ser­vice, God bless you and keep you. But know that evils of the past involved police­men and sol­diers find­ing them­selves, one day, doing irreg­u­lar things. Be ready to say no. (If you do not know what this means, con­tact the Unit­ed States Holo­caust Memo­r­i­al Muse­um and ask about train­ing in pro­fes­sion­al ethics.)
19. Be as coura­geous as you can. If none of us is pre­pared to die for free­dom, then all of us will die in unfreedom.
20. Be a patri­ot. The incom­ing pres­i­dent is not. Set a good exam­ple of what Amer­i­ca means for the gen­er­a­tions to come. They will need it.
Tim­o­thy Sny­der
is a pro­fes­sor of his­to­ry at Yale Uni­ver­si­ty. He is also the author of
Black Earth: The Holo­caust as His­to­ry and Warn­ing.