A Record Number of Native Americans Are Running For Office in 2018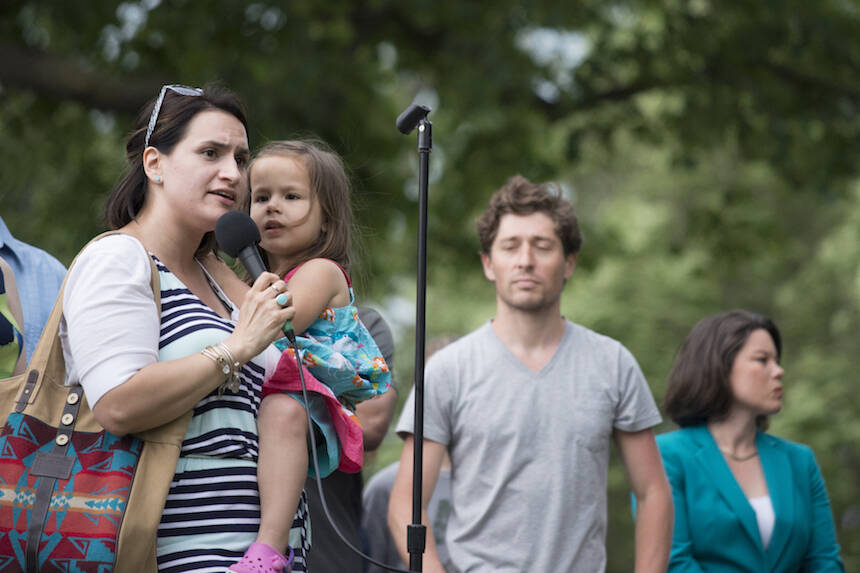 Patri­cia Roy­bal Caballero was a fresh­man law­mak­er in New Mexico's House of Rep­re­sen­ta­tives when she walked into a pop­u­lar San­ta Fe restau­rant in 2013 for a meet­ing with some of her col­leagues. Roy­bal Caballero, a com­mu­ni­ty and eco­nom­ic devel­op­er of Piro-Man­so-Tiwa ances­try, was by then used to deal­ing with neg­a­tive per­cep­tions about her race, but what hap­pened next astound­ed her.
"Before I had a chance to ask for a table, the host­ess said, ​'I am sor­ry, but we're not tak­ing appli­ca­tions right now,'" Roy­bal Caballero told me recently.
For that kind of encounter to hap­pen to a law­mak­er in the state cap­i­tal, in a city with so many peo­ple of col­or, was a reminder of the need for her to be a voice for mar­gin­al­ized peo­ple. Although there are 6.6 mil­lion Native Amer­i­cans and Alas­ka Natives in the coun­try, Roy­bal Caballero is one of only a few dozen Indige­nous state law­mak­ers. That's a dis­crep­an­cy worth con­sid­er­ing as we head toward 2018 midterm elections.
"If you look at our Indige­nous pop­u­la­tions in the state of New Mex­i­co, it is the voice of New Mex­i­co," she says. ​"We are what rep­re­sents the best and worst of his­to­ries of the state."
For Roy­bal Caballero, racial mis­con­cep­tions and ignored his­to­ries don't stop at local restau­rants. In a Decem­ber speech at a char­ter school con­fer­ence, the state's edu­ca­tion sec­re­tary, Christo­pher Ruszkows­ki, said Amer­i­ca was built on ​"free­dom, choice, com­pe­ti­tion, options, going West, Man­i­fest Des­tiny." Man­i­fest Des­tiny is a thorny 19th-cen­tu­ry con­cept — a jus­ti­fi­ca­tion of the expan­sion of Amer­i­can colo­nial­ism that destroyed count­less Indige­nous com­mu­ni­ties and lives — but here it was again, being glorified.
"It was one of those moments I refer to as an edu­ca­tion­al and teach­ing moment," Roy­bal Caballero says, ​"which I'm find­ing these days to be almost every moment, that we are sub­ject­ed to these kind of references."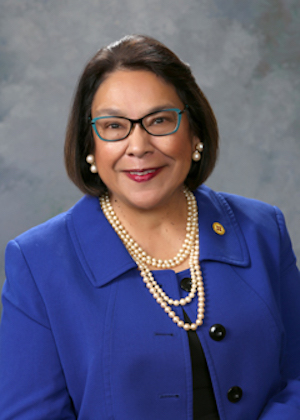 Patri­cia Roy­bal Caballero has rep­re­sent­ed Dis­trict

13

in New Mex­i­co's House of Rep­re­sen­ta­tives since

2013

.
(Image: hcn​.org)
Roy­bal Caballero says her mere phys­i­cal pres­ence can change the tone of a con­ver­sa­tion in the state­house, which in turn can change mis­con­cep­tions. That's why the upcom­ing fed­er­al elec­tions have caught her atten­tion, as at least four women across the coun­try are hop­ing to become the first Indige­nous women elect­ed to Con­gress: Sharice Davids, Deb Halaand, Eve Reyes-Aguirre and Aman­da Dou­glas. Three more Indige­nous women are run­ning for gov­er­nor in Ida­ho, Hawaii and Minnesota.
"Four in rela­tion to our pop­u­la­tion in this coun­try may not be seen as sig­nif­i­cant through the eyes of pow­er and author­i­ty, but through our eyes, we know that through our his­to­ry that just three or four of us can be resound­ing," Roy­bal Caballero says.
Native Amer­i­cans were not allowed to vote until 1924. It was only 40 years ago that Con­gress rec­og­nized the legal right of Indige­nous peo­ples to prac­tice their reli­gious beliefs. Need­less to say, Native com­mu­ni­ties have nev­er been prop­er­ly rep­re­sent­ed in Con­gress. That lega­cy of dis­en­fran­chise­ment con­tin­ues to this day, as Native Amer­i­cans across the coun­try face a vari­ety of chal­lenges access­ing the vot­ing booth and hav­ing their con­cerns met with action.
It isn't just Indige­nous can­di­dates that make this year feel dif­fer­ent. In one part of the Nava­jo Nation, there is hope that redis­trict­ing can begin to reverse gen­er­a­tions of vot­ing dis­en­fran­chise­ment. In Alas­ka, efforts are being made to cre­ate vot­ing bal­lots in sev­er­al Indige­nous lan­guages.
"This year seems organ­ic," says Mark Tra­hant, edi­tor-in-chief of Indi­an Coun­try Today. ​"Lots of folks who have decid­ed they must run — now." Tra­hant has been track­ing Native polit­i­cal can­di­dates for years now, and he says the unprece­dent­ed num­ber of Indige­nous state and fed­er­al can­di­dates has caused him to cre­ate a new cat­e­go­ry in his data set for first-time candidates.
Issues like the dra­mat­ic reduc­tion of Bears Ears Nation­al Mon­u­ment, a land sacred to Native peo­ples, many of whom suc­cess­ful­ly lob­bied to have it des­ig­nat­ed, have also gal­va­nized vot­er par­tic­i­pa­tion efforts. It prob­a­bly didn't hurt vot­ing efforts to have Pres­i­dent Don­ald Trump, who backed the reduc­tion, hang a por­trait in the Oval Office of Pres­i­dent Andrew Jack­son, a man whose embrace of geno­cide led to the Trail of Tears.
The voic­es of our peo­ple have always lacked a prop­er plat­form. We have long been mar­gin­al­ized. We have nev­er had a voice in Con­gress that reflects us as a peo­ple. As Roy­bal Caballero told me: ​"Even his­tor­i­cal­ly, we have had to be our own orga­niz­ers. We've had to lean back on our own tra­di­tions. We've had to rely on those in order to strength­en our own pres­ence because we have not had anyone."
Here's hop­ing our voic­es become too loud to ignore.
Wado.
("What the 2018 midterms could mean for Native vot­ing" was first pub­lished on High Coun­try News' web­site on March 23 and is repost­ed on Rur­al Amer­i­ca In These Times with per­mis­sion. For more infor­ma­tion about HCN's expand­ing cov­er­age of trib­al affairs across the West, click here.)
Gra­ham Lee Brew­er is a con­tribut­ing edi­tor at High Coun­try News and a mem­ber of the Chero­kee Nation. Fol­low him on Twit­ter @grahambrewer.