22 Arrested in New Wave of Resistance to Keystone XL Pipeline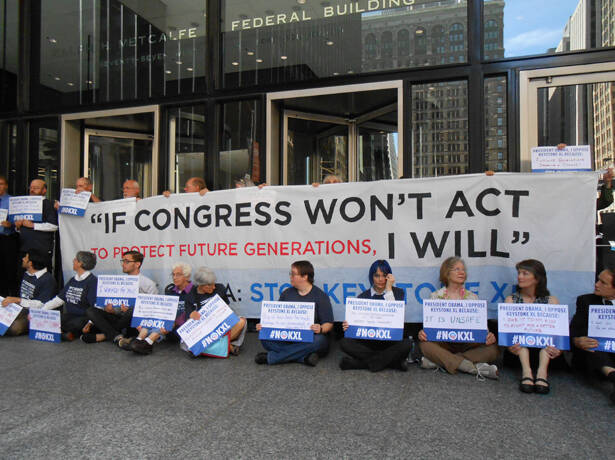 Twen­ty-two peo­ple were arrest­ed this morn­ing after stag­ing a sit-in at the U.S. State Department's Chica­go office to protest the Key­stone XL (KXL) pipeline. The action in Pres­i­dent Obama's home­town is the first of a series of planned acts of civ­il dis­obe­di­ence this sum­mer call­ing on the admin­is­tra­tion to reject the con­tro­ver­sial pipeline. All 22 demon­stra­tors have since been released.
Pro­posed by the Cana­di­an ener­gy cor­po­ra­tion Tran­sCana­da, the mul­ti-bil­lion-dol­lar pipeline would trans­port Alber­ta's tar sands oil to refiner­ies on the Gulf Coast, pass­ing through Mon­tana, South Dako­ta, Nebras­ka, Kansas, Okla­homa and Texas. Oppo­nents say the pipeline's envi­ron­men­tal impact would be dis­as­trous. Because the KXL would cross the U.S.-Canada bor­der, Obama's State Depart­ment has the last word on whether the megapro­ject is approved.
The new­ly launched KXL Pledge of Resis­tance cam­paign—led by pro­gres­sive orga­ni­za­tions CRE­DO, Rain­for­est Action Net­work and The Oth­er 98%, with endorse­ments from the Tar Sands Block­ade, 350​.org, Hip Hop Cau­cus, Oil Change Inter­na­tion­al and Bold Nebras­ka—calls upon sign­ers to engage in peace­ful civ­il dis­obe­di­ence ​"should it be nec­es­sary to stop the Key­stone XL." While many anti-KXL cam­paigns have focused their activ­i­ties in Wash­ing­ton, D.C. or in states the pipeline would pass through, the Pledge of Resis­tance is nation­al in scope, aim­ing to engage peo­ple all over the country.
Among those arrest­ed today were Oba­ma sup­port­ers, includ­ing for­mer cam­paign work­ers. Eli­jah Zarlin of CRE­DO was a Senior Nation­al Email Writer on the Oba­ma cam­paign in Chica­go in 2008. ​"I nev­er thought I'd have to come back to Chica­go and risk arrest in order to send a mes­sage to the pres­i­dent to ask him to do what he com­mit­ted to do," he says.
Sev­er­al were par­ents and grand­par­ents who said they risked arrest out of con­cern for the future of their chil­dren and grand­chil­dren. Rev­erend Ter­rence Gal­lagher, a min­is­ter for the Unit­ed Church of Christ and one of those arrest­ed today, says he oppos­es the KXL because he cares ​"about the future of kids around the world," includ­ing his own grand­chil­dren. ​"The future well-being of our kids deserves no less of a response" than civ­il dis­obe­di­ence, he says.
As ear­ly as Sep­tem­ber, the State Depart­ment will issue a report deter­min­ing whether con­struc­tion of the KXL is in the nation­al inter­est, which will like­ly fore­shad­ow the administration's deci­sion. Becky Bond, polit­i­cal direc­tor of CRE­DO, promis­es that if the report rec­om­mends approval, it will trig­ger ​"the biggest burst of civ­il dis­obe­di­ence in mod­ern Amer­i­can his­to­ry." She says that over 62,000 peo­ple have signed the campaign's ​"Pledge of Resis­tance" promis­ing to risk arrest in civ­il dis­obe­di­ence actions across the coun­try if the State Depart­ment rec­om­mends approval.
​"This sum­mer there are train­ings going on in 25 cities across the coun­try, get­ting hun­dreds, if not thou­sands, of protests like this [the one in Chica­go] ready," says Aman­da Star­buck of Rain­for­est Action Network.
Accord­ing to State Depart­ment fig­ures, the con­struc­tion of the pipeline would cre­ate 42,100 jobs. But this would plum­met to just 35 per­ma­nent jobs for pipeline main­te­nance while emit­ting the equiv­a­lent of 51 coal plants' worth of car­bon a year, accord­ing a report released this April by envi­ron­men­tal group Oil Change Inter­na­tion­al. Because it will guar­an­tee con­tin­ued extrac­tion of Canada's vast tar sands deposits — an extreme­ly car­bon-inten­sive process — retired NASA cli­mate sci­en­tist James Hansen has described KXL as ​"game over for the cli­mate." In addi­tion to the KXL's dev­as­tat­ing cli­mate impact, oppo­nents also fear the poten­tial for dis­as­ters sim­i­lar to ExxonMobil's Pega­sus pipeline rup­ture that spilled about 5,000 bar­rels of tar sands crude in Mayflower, Ark. this spring.
Oppo­si­tion to the KXL has already inspired a wave of non­vi­o­lent direct action, includ­ing block­ades and tree sits in Texas and Okla­homa, where the south­ern por­tion of the pipeline is now under con­struc­tion. In 2011, envi­ron­men­tal activist Bill McK­ibben and over 1,000 oth­ers were arrest­ed in front of the White House protest­ing the megapro­ject. February's ​"For­ward on Cli­mate" ral­ly in Wash­ing­ton, D.C. was the largest anti-pipeline action to date, attend­ed by some 40,000 peo­ple. A play on Obama's 2012 cam­paign slo­gan, ​"For­ward," the ral­ly was intend­ed to pres­sure the pres­i­dent — although, iron­i­cal­ly, dur­ing the ral­ly Oba­ma was in Flori­da golf­ing with oil indus­try big­wigs.
Activists see a dis­con­nect between the president's words and deeds. At his inau­gu­ra­tion in Jan­u­ary — an event par­tial­ly fund­ed by Exxon­Mo­bil—the pres­i­dent declared, ​"We will respond to the threat of cli­mate change, know­ing that the fail­ure to do so would betray our chil­dren and future gen­er­a­tions." Three weeks lat­er at his State of the Union address, Oba­ma promised that if Con­gress would not take action on cli­mate change, he would.
Despite such promis­es, the admin­is­tra­tion appears ready to approve con­struc­tion of the KXL. In March, the State Depart­ment released an envi­ron­men­tal impact state­ment oppo­nents say plays down the risks posed by the pipeline. The con­sul­tants who helped pre­pare the report had pre­vi­ous­ly worked for Tran­sCana­da and oth­er oil giants, a fact the State Depart­ment hid from the pub­lic.
​"Pres­i­dent Oba­ma has said some real­ly good words," says Gal­lagher. ​"What he needs to under­stand is we're past the time just for words, we're at the point that we have to take action."
Zarlin says, ​"The pres­i­dent hasn't stepped up and led on cli­mate change in the way he said he would and in the way that's necessary."
Tran­sCana­da appears to be anx­ious about the mount­ing tide of oppo­si­tion, going so far as to advise law enforce­ment agen­cies to regard anti-pipeline activists as ​"ter­ror­ists." Star­buck says this is ​"incred­i­bly decep­tive" of the oil com­pa­ny, not­ing that protests against the KXL have been open and transparent.
​"I've been called many things in my life, but ​'ter­ror­ist' hasn't been one of them," says Rev­erend Gal­lagher. ​"I'm here in the spir­it of Gand­hi and Mar­tin Luther King. There is no ounce of ter­ror­ism in this. There's a lot of love, a lov­ing care that says, ​'I'm will­ing to sac­ri­fice so that oth­ers might live.'"
Jeff Schuhrke has been a Work­ing In These Times con­trib­u­tor since 2013. He has a Ph.D. in His­to­ry from the Uni­ver­si­ty of Illi­nois at Chica­go and a Master's in Labor Stud­ies from UMass Amherst. Fol­low him on Twit­ter: @JeffSchuhrke