Beyond Fluorescent Bulbs: 4 Things Millennials Can Do To Fight Climate Change
From running for office to taking direct action, an imperiled generation must take matters into its own hands.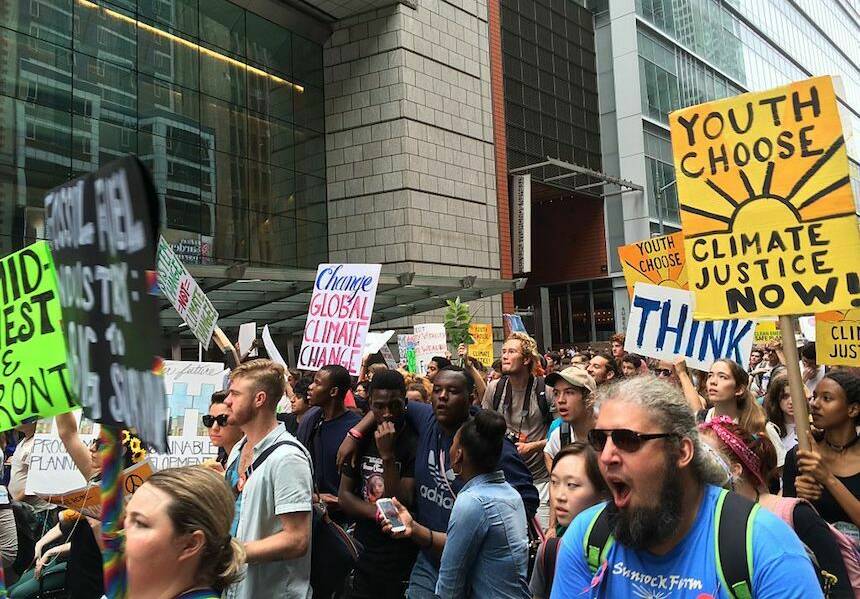 About 252 mil­lion years ago, the Per­mi­an-Tri­as­sic extinc­tion event killed ​"90 per­cent of the planet's species," accord­ing to Nation­al Geo­graph­ic, and exter­mi­nat­ed 96 per­cent of marine species. The cul­prit? Some sci­en­tists say run­away cli­mate change played a role. Today, we once again stand on the brink of cli­mate cat­a­stro­phe, and it may pose a sim­i­lar exis­ten­tial threat.
While there's certainly nothing wrong with going vegan, buying fluorescent bulbs or riding bicycles, these will not be sufficient to mitigate climate change. Only collective action can do that.
"Run­away" cli­mate change refers to non­lin­ear warm­ing, when a chain reac­tion of phys­i­cal process­es trig­ger and accel­er­ate each oth­er, mak­ing the Earth unbear­ably warm for most life. We are already see­ing such feed­back loops in action. For exam­ple, Arc­tic per­mafrost — frozen soil — has begun to melt, send­ing methane into the atmos­phere, which makes the earth warmer, which melts more per­mafrost, which makes the Earth warmer, and so on.
We don't know when these feed­back loops will become unstop­pable. James Hansen, one of the world's fore­most cli­mate sci­en­tists, has sug­gest­ed run­away cli­mate change could induce what he calls ​"Venus syn­drome" if we burn all of the earth's avail­able fos­sil fuels, mak­ing the plan­et about as unin­hab­it­able as Venus. Oth­er sci­en­tists find this unlike­ly, and argue that focus­ing on these worst-case sce­nar­ios is unhelp­ful. What is cer­tain, how­ev­er, is that even if we man­age to avoid run­away cli­mate change, we are already suf­fer­ing the desta­bi­liz­ing impacts of exist­ing cli­mate dis­rup­tion. And that will inevitably grow worse, regard­less of our interventions.
The upshot, for mil­len­ni­als, is that we'll spend our lives watch­ing the Earth become less and less suit­able for humans and many oth­er life forms — and pos­si­bly for civ­i­liza­tion as we know it. The next gen­er­a­tion will wit­ness even fur­ther risk of col­lapse. Per­haps Gen­er­a­tion Z is a most apt name for them.
I recent­ly wrote that cli­mate change inspires resent­ment in mil­len­ni­als toward Baby Boomers, par­tic­u­lar­ly those elite Boomers who bear the great­est respon­si­bil­i­ty for cli­mate change, those who com­mand a vast major­i­ty of the world's cap­i­tal and vir­tu­al­ly all of the world's polit­i­cal pow­er. Those Boomers are most equipped to pre­vent cli­mate change, but many stub­born­ly refuse to even acknowl­edge its exis­tence. It seems unlike­ly they will sud­den­ly change course and start doing some­thing about the problem.
So it's up to the young. The task before us will require the full atten­tion of state force and eco­nom­ic pro­duc­tion, deployed in coor­di­na­tion, to over­see the glob­al ener­gy tran­si­tion required to avoid human extinc­tion. This is an engi­neer­ing and tech­ni­cal feat on a scale no humans have ever attempt­ed; chan­nel­ing the nec­es­sary resources into solv­ing that tech­ni­cal prob­lem is an admin­is­tra­tive chal­lenge on a scale no nations have ever endeav­ored. This blows America's war mobi­liza­tion or Europe's post­war rebuild­ing out of the water.
The most crit­i­cal chal­lenge now con­fronting mil­len­ni­als and Gen Z, atom­ized, pre­car­i­ous and hope­less as we are, is how we seize pow­er quick­ly enough to pre­vent run­away cli­mate change from mak­ing earth unsuit­able for civ­i­liza­tion, or even human life.
Cor­po­rate media and neolib­er­al insti­tu­tions have tried to con­vince peo­ple that the best way to con­front glob­al issues like cli­mate change is through iso­lat­ed per­son­al actions like adopt­ing new pur­chas­ing habits and lifestyles. While there's cer­tain­ly noth­ing wrong with going veg­an, buy­ing flu­o­res­cent bulbs or rid­ing bicy­cles — in fact, they are prob­a­bly good things to do regard­less — these will not be suf­fi­cient to mit­i­gate cli­mate change. Only col­lec­tive action can do that.
So what does that look like? Here are four actions we young peo­ple can take togeth­er, though it's cer­tain­ly not an exhaus­tive list.
First and most impor­tant­ly, we must take con­trol of the gov­ern­ment, in what­ev­er coun­try we reside. In the Unit­ed States, mil­len­ni­als must start run­ning for office and win­ning, en masse. Many new can­di­dates are run­ning, but not near­ly enough. There are good rea­sons we're not, from eco­nom­ic inse­cu­ri­ty to (jus­ti­fied) polit­i­cal cyn­i­cism. But some are eschew­ing pub­lic ser­vice out of banal self­ish­ness, pur­su­ing pres­tige careers in finance and con­sult­ing, or sex­i­er jobs at Sil­i­con Val­ley startups.
This must end if we're going to sur­vive. Apps won't save us. Those of us who can, must get our­selves elect­ed and make cli­mate change cen­tral to our plat­forms. This means putting aggres­sive ener­gy tran­si­tion at the top of the pol­i­cy­mak­ing agen­da. Some of the most pro­gres­sive can­di­dates now have admirably giv­en a 100 per­cent tran­si­tion to renew­ables a place on their plat­forms. But 2050 is the dead­line Sen. Bernie Sanders and oth­ers have set. This is woe­ful­ly inad­e­quate. The gov­ern­ment must pro­pel imme­di­ate, aggres­sive tran­si­tion to 100 per­cent non-car­bon ener­gy not by 2050, but as soon as phys­i­cal­ly possible.
Car­bon cap­ture and seques­tra­tion will also like­ly be nec­es­sary to avoid cat­a­stroph­ic cli­mate change. The mar­ket alone can­not deliv­er these engi­neer­ing feats in time. At the rate of mar­ket-dri­ven ener­gy tran­si­tion today, it will take 400 years to get where we need to be in ten or twen­ty, accord­ing to MIT Tech­nol­o­gy Review. Suf­fi­cient ener­gy pol­i­cy will be essen­tial for sur­vival, and mil­len­ni­als must devel­op and insti­tu­tion­al­ize that policy.
Sec­ond, mil­len­ni­als should help orga­nize com­mu­ni­ty renew­able ener­gy projects. These projects are pop­ping up around the world in which neigh­bor­hoods, cities and orga­ni­za­tions are build­ing new renew­able ener­gy pro­duc­tion that they own and gov­ern. In Scot­land, for exam­ple, some com­mu­ni­ties on the Isle of Skye and else­where have band­ed togeth­er to found non­prof­its that raise funds for, over­see, and ulti­mate­ly gov­ern new wind farm projects, and then dis­trib­ute rev­enues to those mem­bers who helped invest. Projects like this are up and run­ning all over the Unit­ed States, too. The small town of North­port, Mich., for exam­ple, has set a goal of 100 per­cent renew­able elec­tric­i­ty derived from local­ly owned wind and solar initiatives.
There are many ben­e­fits to orga­niz­ing these kinds of groups. They pro­vide civic orga­ni­za­tions the means to bring dis­parate indi­vid­u­als togeth­er around a con­crete project and forge social cap­i­tal nec­es­sary for polit­i­cal change. They can give com­mu­ni­ties con­trol of the means of their ener­gy pro­duc­tion, which is one of the most impor­tant ways of build­ing demo­c­ra­t­ic poli­ties and free and fair economies. They can fund com­mu­ni­ty renew­al projects and social ser­vices for under­served peo­ple. They can under­mine the cen­tral­iz­ing impact of oil and gas pro­duc­tion on wealth and pow­er. Mil­len­ni­als who know Boomers with mon­ey and prop­er­ty — or who them­selves have mon­ey or prop­er­ty — can begin the process of orga­niz­ing their com­mu­ni­ties, whether apart­ment build­ings, city blocks or sub­urbs, to go in togeth­er on build­ing new solar and wind infrastructure.
Third, mil­len­ni­als need to talk about cli­mate and ener­gy con­stant­ly. It's hard to talk about; it's daunt­ing, depress­ing, some­times bor­ing, and tech­ni­cal. We have to learn a lot of new infor­ma­tion to talk about it with flu­en­cy. But if we are going to get the peo­ple with pow­er and mon­ey to care about this, going to get our friends to care about it, get our gov­ern­ment to care about it, and our par­ents, grand­par­ents and skep­ti­cal uncles to care about it, we have to talk about it. We have to edu­cate oth­ers and make them know we want this pri­or­i­tized. The fact that even young Repub­li­cans are vocal about cli­mate change is good indi­ca­tion that this issue can uni­fy our gen­er­a­tion — our very lives are at stake. We need to have good faith dis­cus­sions with each oth­er about how to solve it, and extend those con­ver­sa­tions to old­er folks who don't believe or care that it's happening.
Final­ly, we need to orga­nize and com­mit to direct action. We need to scale up acts of courage and self­less­ness, and build com­mu­ni­ties of sol­i­dar­i­ty and mutu­al com­mit­ment in our uni­ver­si­ties, our work­places, our church­es and our fam­i­lies. Many activists, young and old, are putting their bod­ies in dan­ger to pre­vent oil pipeline devel­op­ment around the world. Many stu­dents have won bat­tles against their uni­ver­si­ties to divest endow­ment assets from fos­sil fuel devel­op­ment. A group of teens has waged a land­mark cli­mate change case against the gov­ern­ment; a fed­er­al appeals court recent­ly ruled in their favor, enabling the case to go to tri­al. Many oth­er such cas­es are being tried around the world. These actions should be rec­og­nized for what they are: nec­es­sary and heroic.
But too few are cur­rent­ly engaged in this move­ment to suf­fi­cient­ly nudge car­bon emis­sion lev­els, or dis­lodge the immense pow­er of the fos­sil fuel indus­try. These actions must scale up from the nich­es they cur­rent­ly inhab­it to a mass move­ment. Many, many more of us must refuse to par­tic­i­pate in our own destruc­tion. This is eas­i­er said than done; it requires unusu­al hero­ism on a gen­er­a­tional scale. But if a crit­i­cal mass of us fail to band togeth­er to force our insti­tu­tions into imme­di­ate, dra­mat­ic change, we all may face dis­as­ter, and soon­er than many dare imagine.
Samuel Miller-McDon­ald
is man­ag­ing edi­tor at Activist​Lab​.org, a doc­tor­al can­di­date at Uni­ver­si­ty of Oxford and a writer. Fol­low him on Twit­ter @sjmmcd.