40,000 AT&T Workers Begin 3-Day Strike
This story has been updated with the start of the strike.
Around 40,000 members of the Communications Workers of America (CWA) at AT&T walked off their jobs Friday, for a three-day strike, as pressure continues to mount on the corporation to settle fair contracts.
In California and Nevada, around 17,000 AT&T workers who provide phone, landline and cable services have been working without a contract for more than a year. Last year, they voted to authorize a strike with more than 95 percent support. And in February, an estimated 21,000 AT&T Mobility workers in 36 states voted to strike as well, with 93 percent in favor.
Workers had issued an ultimatum, giving company executives until 3 p.m. ET on Friday to present serious proposals. They didn't; the workers walked.
It isn't the first strike at AT&T. Some 17,000 workers in California and Nevada walked off the job in late March to protest company changes in their working conditions in violation of federal law. After a one-day strike, AT&T agreed not to require technicians to perform work assignments outside of their expertise. Nevertheless, the biggest issues for workers remained unresolved.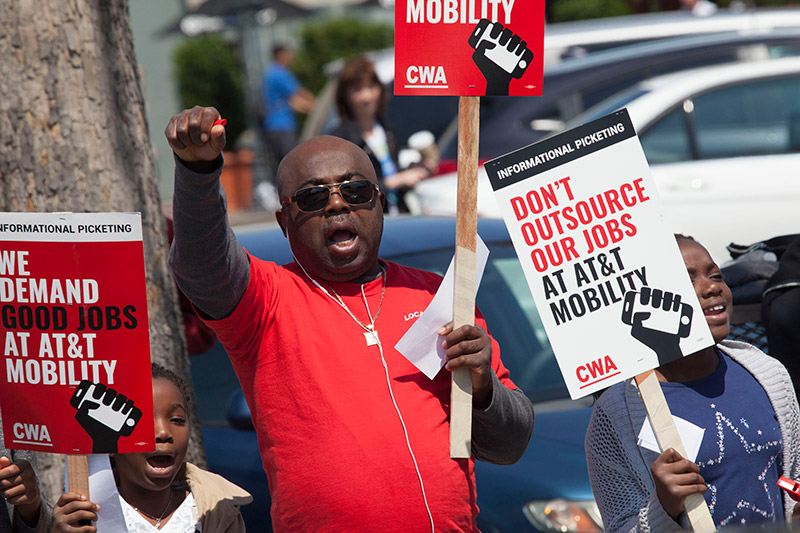 AT&T has proposed to cut sick time and force long-time workers to pay hundreds of dollars more for basic healthcare, according to CWA. At a huge April rally in Silicon Valley, CWA District 9 vice president Tom Runnion fumed, ​"The CEO of AT&T just got a raise and now makes over $12,000 an hour. And he doesn't want to give us a raise. He wants to sabotage our healthcare then wants us to pay more for it. Enough is enough!"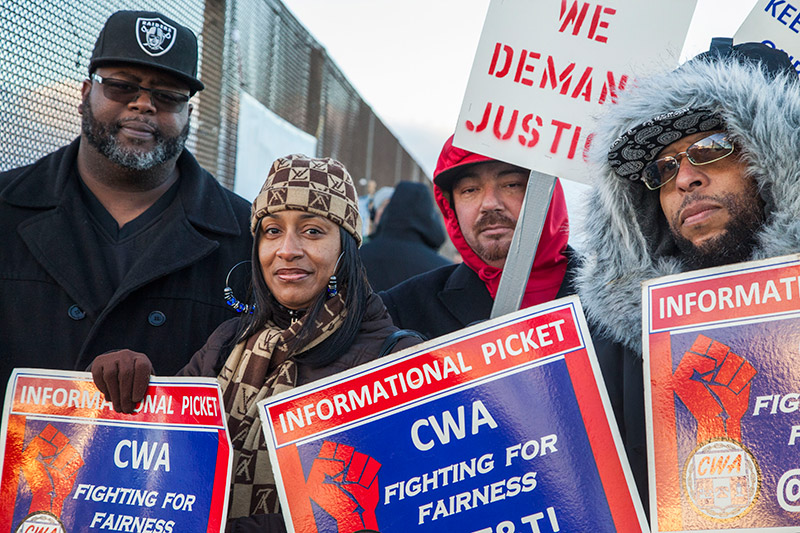 AT&T is the largest telecommunications company in the country with $164 billion in sales and 135 million wireless customers nationwide. It has eliminated 12,000 call center jobs in the United States since 2011, representing more than 30 percent of its call center employees, and closed more than 30 call centers. Meanwhile, the company has outsourced the operation of more than 60 percent of its wireless retail stores to operators who pay much less than the union wage, according to CWA.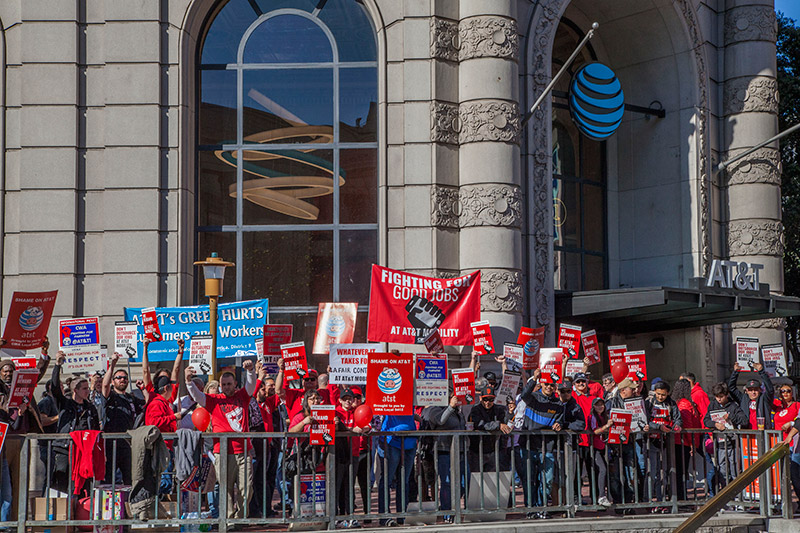 The relocation of jobs to call centers in Mexico, the Philippines, the Dominican Republic and other countries is one of the main issues in negotiations. A recent CWA report charges that in the Dominican Republic, for instance, where it uses subcontractors, wages are $2.13-$2.77/hour. Workers have been trying to organize a union there and accuse management of firing union leaders and making threats, accusations and intimidating workers. Several members of Congress sent a letter to President Donald Trump this year demanding that he help protect and bring call center jobs back to the United States.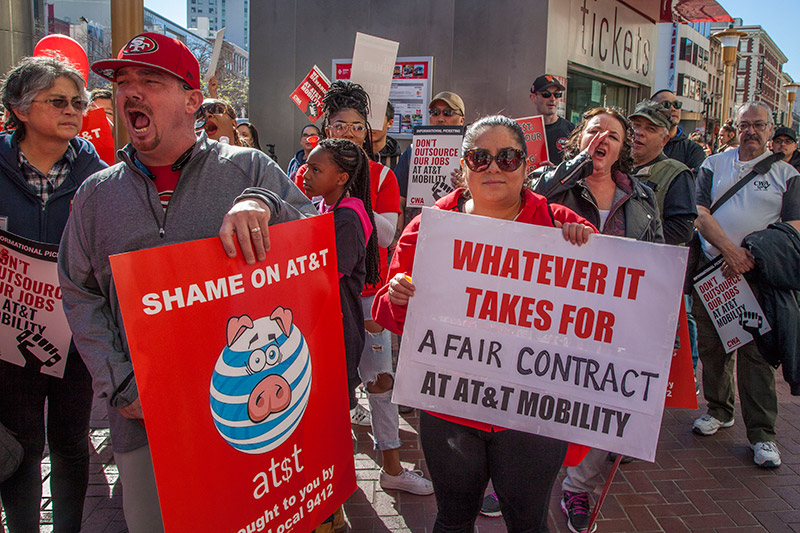 "We've been bargaining with AT&T for over a year," CWA president Chris Shelton told the rally in Silicon Valley. ​"They can easily afford to do what people want and instead are continuing to send jobs overseas."
According to Dennis Trainor, vice president of CWA District 1, ​"AT&T is underestimating the deep frustration wireless retail, call center and field workers are feeling right now with its decisions to squeeze workers and customers, especially as the company just reported more than $13 billion in annual profits."
"The clock is ticking for AT&T to make good on their promise to preserve family-supporting jobs for more than 40,000 workers," Trainor said before the start of the strike. ​"We have made every effort to bargain in good faith with AT&T, but have only been met with delays and excuses. Now, AT&T is facing the possibility of closed stores for the first time ever. Our demands are clear and have been for months: fair contract or strike."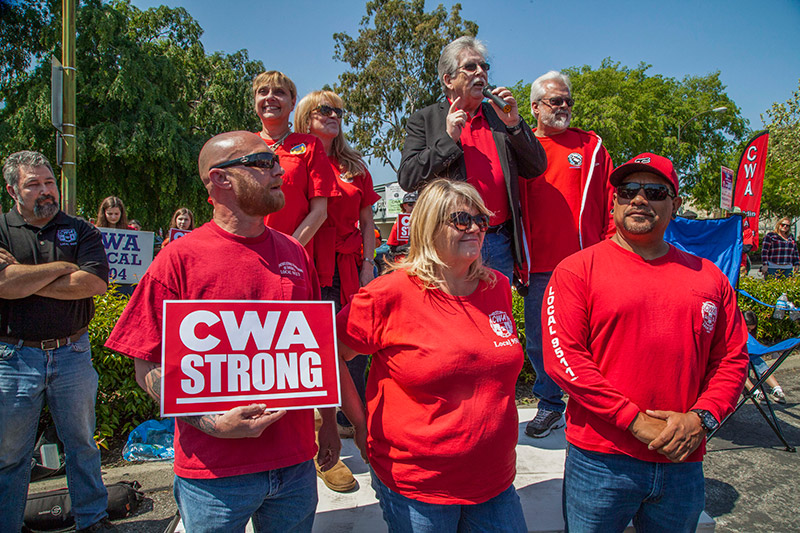 Last year, CWA members at Verizon were on strike for 49 days, finally gaining a contract with greater job protections and winning 1,300 new call center jobs. Since December, AT&T workers have picketed retail stores in San Francisco, New York, Boston, Seattle, Chicago, San Diego and other cities, hung banners on freeway overpasses, organized rallies and marches and confronted the corporation at its annual meeting in Dallas.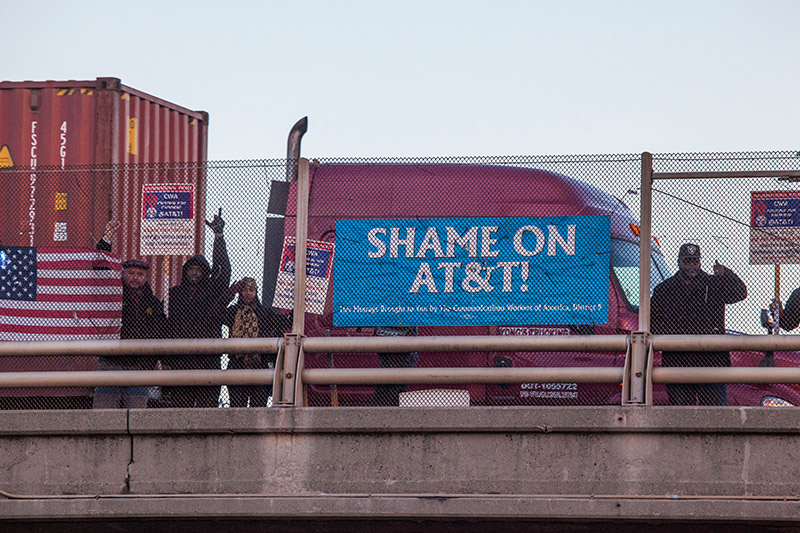 "Americans are fed up with giant corporations like AT&T that make record profits but ask workers to do more with less and choose to offshore and outsource jobs," said Nicole Popis, an AT&T wireless call center worker in Illinois. ​"I've watched our staff shrink from 200 employees down to 130. I'm a single mother and my son is about to graduate. I voted yes to authorize a strike because I'm willing to do whatever it takes to show AT&T we're serious."
Full disclosure: In These Times staff are members of the Communication Workers of America, and the union is a sponsor of the magazine. Sponsors play no role in editorial content.
Win a trip for two to Cascais, Portugal!
Don't miss your chance to win! Get your raffle tickets today for Saturday's raffle, with a chance to win a vacation for two to Cascais, Portugal!
One lucky raffle winner will receive a $3,000 gift card to cover the costs of two flights, as well as a stay in a 5-star boutique hotel, housed in a 17th century fortress with medieval architecture and décor. You can schedule the trip on your timeline!
All raffle ticket sales support ongoing In These Times reporting, just like the article you just finished reading. Get your raffle tickets now.
The winner will be selected on the night of September 30, at the In These Times 47th Anniversary Celebration. You do not need to be present at the drawing to win.
David Bacon
is a writer, photographer and former union organizer. He is the author of The Right to Stay Home: How US Policy Drives Mexican Migration (
2013
), Illegal People: How Globalization Creates Migration and Criminalizes Immigrants (
2008
), Communities Without Borders (
2006
), and The Children of NAFTA: Labor Wars on the US/​Mexico Border (
2004
). His website is at dba​con​.igc​.org.