40,000 AT&T Workers Begin 3-Day Strike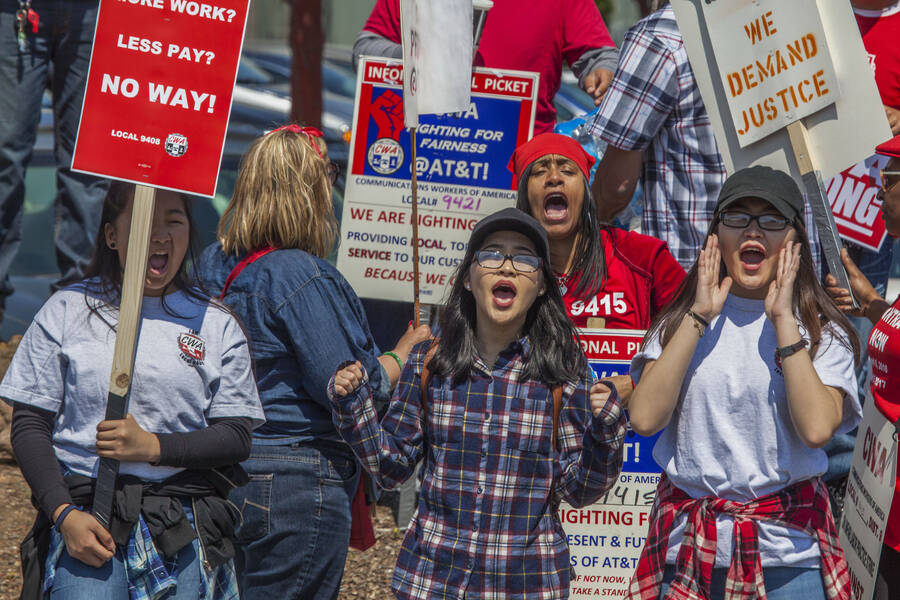 This sto­ry has been updat­ed with the start of the strike.
Around 40,000 mem­bers of the Com­mu­ni­ca­tions Work­ers of Amer­i­ca (CWA) at AT&T walked off their jobs Fri­day, for a three-day strike, as pres­sure con­tin­ues to mount on the cor­po­ra­tion to set­tle fair contracts.
In Cal­i­for­nia and Neva­da, around 17,000 AT&T work­ers who pro­vide phone, land­line and cable ser­vices have been work­ing with­out a con­tract for more than a year. Last year, they vot­ed to autho­rize a strike with more than 95 per­cent sup­port. And in Feb­ru­ary, an esti­mat­ed 21,000 AT&T Mobil­i­ty work­ers in 36 states vot­ed to strike as well, with 93 per­cent in favor.
Work­ers had issued an ulti­ma­tum, giv­ing com­pa­ny exec­u­tives until 3 p.m. ET on Fri­day to present seri­ous pro­pos­als. They did­n't; the work­ers walked.
It isn't the first strike at AT&T. Some 17,000 work­ers in Cal­i­for­nia and Neva­da walked off the job in late March to protest com­pa­ny changes in their work­ing con­di­tions in vio­la­tion of fed­er­al law. After a one-day strike, AT&T agreed not to require tech­ni­cians to per­form work assign­ments out­side of their exper­tise. Nev­er­the­less, the biggest issues for work­ers remained unresolved.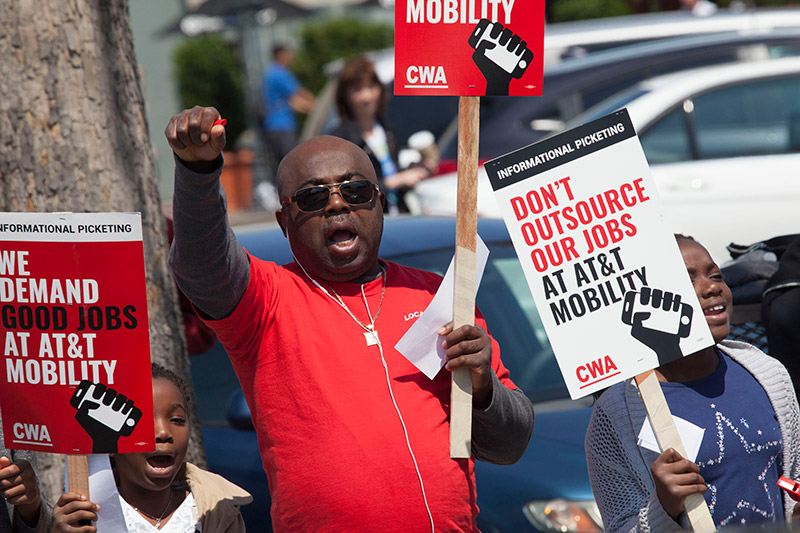 AT&T has pro­posed to cut sick time and force long-time work­ers to pay hun­dreds of dol­lars more for basic health­care, accord­ing to CWA. At a huge April ral­ly in Sil­i­con Val­ley, CWA Dis­trict 9 vice pres­i­dent Tom Run­nion fumed, ​"The CEO of AT&T just got a raise and now makes over $12,000 an hour. And he does­n't want to give us a raise. He wants to sab­o­tage our health­care then wants us to pay more for it. Enough is enough!"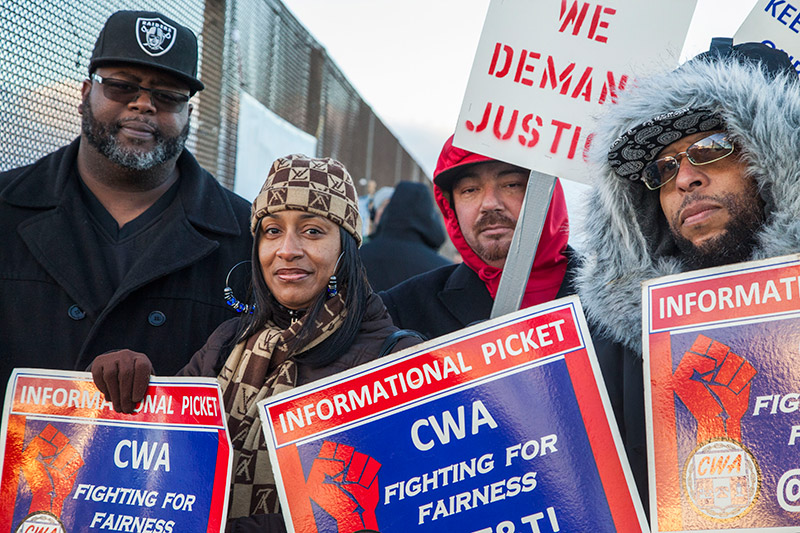 AT&T is the largest telecom­mu­ni­ca­tions com­pa­ny in the coun­try with $164 bil­lion in sales and 135 mil­lion wire­less cus­tomers nation­wide. It has elim­i­nat­ed 12,000 call cen­ter jobs in the Unit­ed States since 2011, rep­re­sent­ing more than 30 per­cent of its call cen­ter employ­ees, and closed more than 30 call cen­ters. Mean­while, the com­pa­ny has out­sourced the oper­a­tion of more than 60 per­cent of its wire­less retail stores to oper­a­tors who pay much less than the union wage, accord­ing to CWA.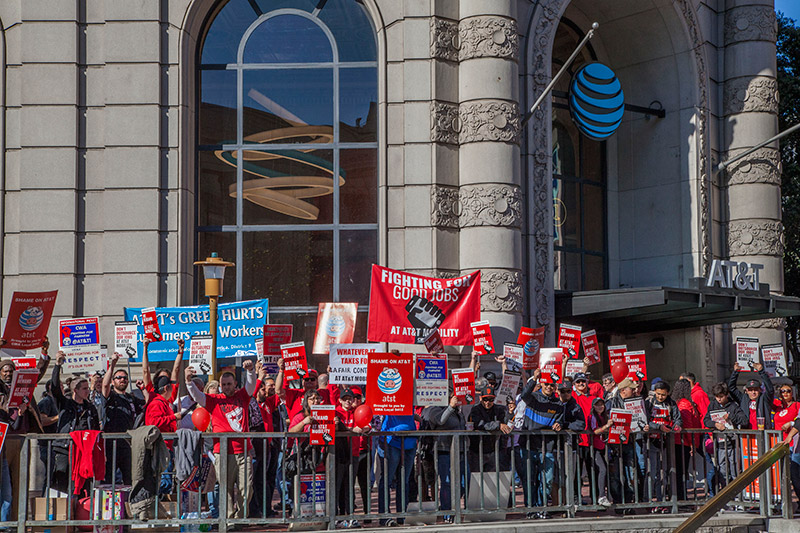 The relo­ca­tion of jobs to call cen­ters in Mex­i­co, the Philip­pines, the Domini­can Repub­lic and oth­er coun­tries is one of the main issues in nego­ti­a­tions. A recent CWA report charges that in the Domini­can Repub­lic, for instance, where it uses sub­con­trac­tors, wages are $2.13-$2.77/hour. Work­ers have been try­ing to orga­nize a union there and accuse man­age­ment of fir­ing union lead­ers and mak­ing threats, accu­sa­tions and intim­i­dat­ing work­ers. Sev­er­al mem­bers of Con­gress sent a let­ter to Pres­i­dent Don­ald Trump this year demand­ing that he help pro­tect and bring call cen­ter jobs back to the Unit­ed States.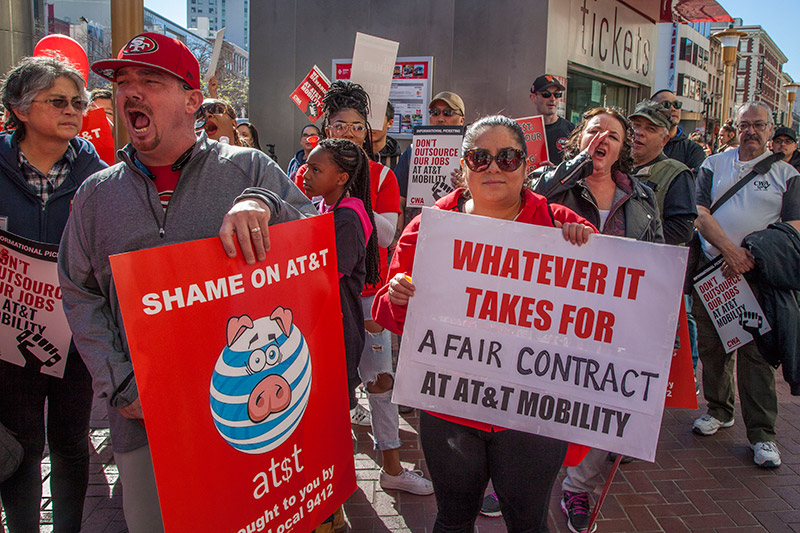 "We've been bar­gain­ing with AT&T for over a year," CWA pres­i­dent Chris Shel­ton told the ral­ly in Sil­i­con Val­ley. ​"They can eas­i­ly afford to do what peo­ple want and instead are con­tin­u­ing to send jobs overseas."
Accord­ing to Den­nis Train­or, vice pres­i­dent of CWA Dis­trict 1, ​"AT&T is under­es­ti­mat­ing the deep frus­tra­tion wire­less retail, call cen­ter and field work­ers are feel­ing right now with its deci­sions to squeeze work­ers and cus­tomers, espe­cial­ly as the com­pa­ny just report­ed more than $13 bil­lion in annu­al profits."
"The clock is tick­ing for AT&T to make good on their promise to pre­serve fam­i­ly-sup­port­ing jobs for more than 40,000 work­ers," Train­or said before the start of the strike. ​"We have made every effort to bar­gain in good faith with AT&T, but have only been met with delays and excus­es. Now, AT&T is fac­ing the pos­si­bil­i­ty of closed stores for the first time ever. Our demands are clear and have been for months: fair con­tract or strike."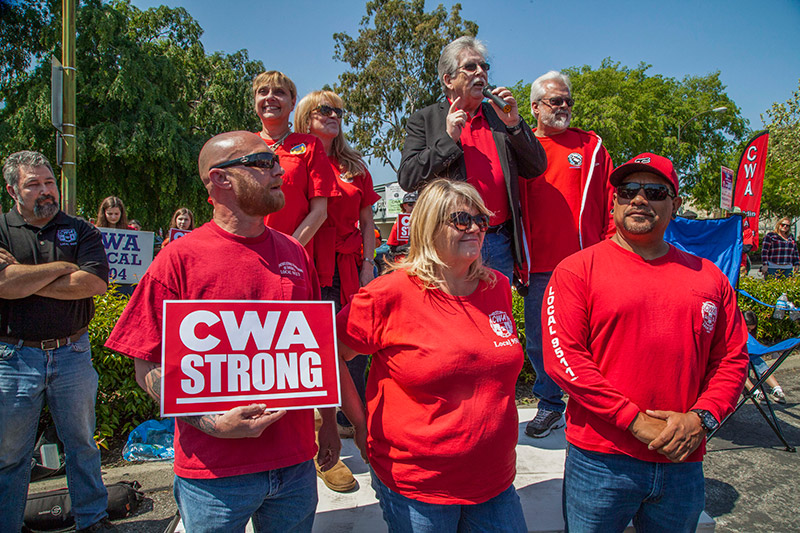 Last year, CWA mem­bers at Ver­i­zon were on strike for 49 days, final­ly gain­ing a con­tract with greater job pro­tec­tions and win­ning 1,300 new call cen­ter jobs. Since Decem­ber, AT&T work­ers have pick­et­ed retail stores in San Fran­cis­co, New York, Boston, Seat­tle, Chica­go, San Diego and oth­er cities, hung ban­ners on free­way over­pass­es, orga­nized ral­lies and march­es and con­front­ed the cor­po­ra­tion at its annu­al meet­ing in Dallas.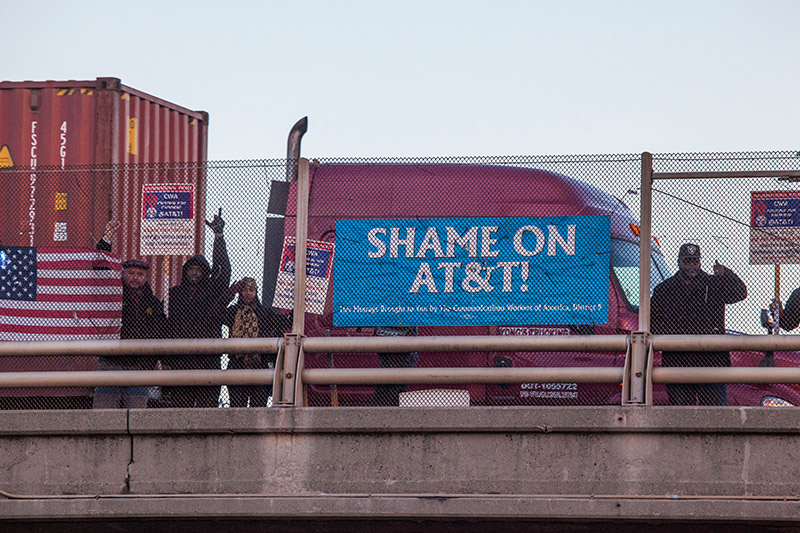 "Amer­i­cans are fed up with giant cor­po­ra­tions like AT&T that make record prof­its but ask work­ers to do more with less and choose to off­shore and out­source jobs," said Nicole Popis, an AT&T wire­less call cen­ter work­er in Illi­nois. ​"I've watched our staff shrink from 200 employ­ees down to 130. I'm a sin­gle moth­er and my son is about to grad­u­ate. I vot­ed yes to autho­rize a strike because I'm will­ing to do what­ev­er it takes to show AT&T we're serious."
Full dis­clo­sure: In These Times staff are mem­bers of the Com­mu­ni­ca­tion Work­ers of Amer­i­ca, and the union is a spon­sor of the mag­a­zine. Spon­sors play no role in edi­to­r­i­al content.
David Bacon
is a writer, pho­tog­ra­ph­er and for­mer union orga­niz­er. He is the author of The Right to Stay Home: How US Pol­i­cy Dri­ves Mex­i­can Migra­tion (
2013
), Ille­gal Peo­ple: How Glob­al­iza­tion Cre­ates Migra­tion and Crim­i­nal­izes Immi­grants (
2008
), Com­mu­ni­ties With­out Bor­ders (
2006
), and The Chil­dren of NAF­TA: Labor Wars on the US/​Mexico Bor­der (
2004
). His web­site is at dba​con​.igc​.org.