50 Years On, King's Fight Against Racism and Poverty Remains Our Fight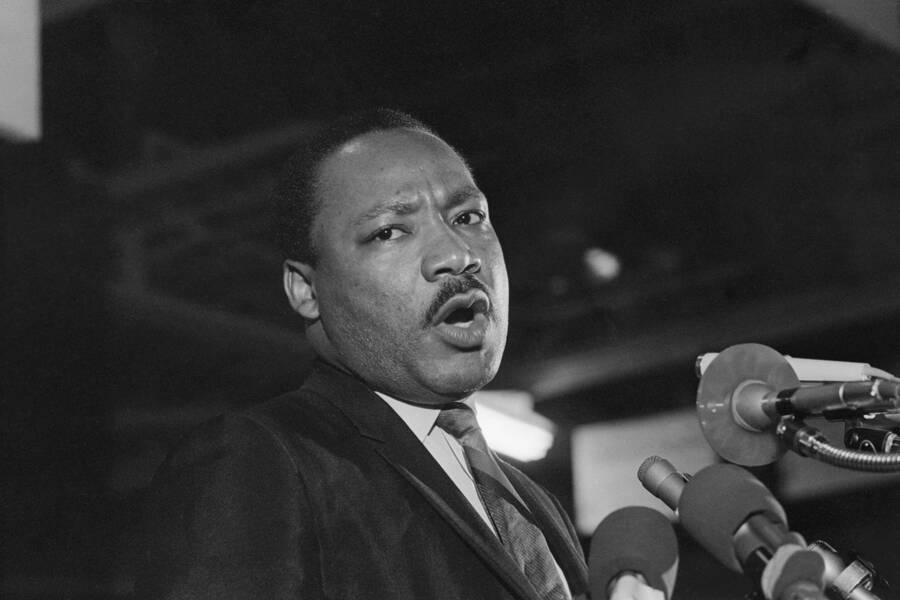 On April 4th, 1968, 50 years ago today, Mar­tin Luther King Jr. was assas­si­nat­ed amidst the strug­gle for work­ers' rights in Mem­phis, Ten­nessee. After long­stand­ing ten­sions mount­ed between Black san­i­ta­tion work­ers and the City of Mem­phis, work­ers refused to report to work. The men used non­vi­o­lent tac­tics in protest of low wages and dan­ger­ous work­ing con­di­tions. They etched their cause in the minds of mil­lions with signs that read ​"I Am A Man". Orga­niz­ers called on cler­gy, includ­ing Mar­tin Luther King Jr., to ampli­fy the voic­es of the work­ers. King told work­ers that they were ​"remind­ing, not only Mem­phis, but [they were] remind­ing the nation that it is a crime for peo­ple to live in this rich nation and receive star­va­tion wages."
King's pres­ence in the Mem­phis San­i­ta­tion Work­ers' fight was indica­tive of his sup­port for union­ism as a vehi­cle for racial and eco­nom­ic jus­tice for Black peo­ple. His sup­port, how­ev­er, was not with­out cri­tique. In a 1961 speech to the AFL- CIO, King rec­og­nized that many unions denied Black peo­ple mem­ber­ship or access to voca­tion­al pro­grams. He urged labor lead­ers to see the impor­tance of a uni­fied move­ment, inclu­sive of all people.
King rad­i­cal­ly shaped the Civ­il Rights Move­ment and clear­ly defined the struc­tur­al bar­ri­ers pro­hibit­ing upward mobil­i­ty for Black and poor peo­ple in the U.S. In his speech to the san­i­ta­tion work­ers he declared, ​"all work has dig­ni­ty". He rhetor­i­cal­ly asked, ​"Do you know that most of the poor peo­ple in our coun­try are work­ing every day? And they are mak­ing wages so low that they can­not begin to func­tion in the main­stream of the eco­nom­ic life of our nation". King chid­ed gov­ern­ment offi­cials for allow­ing poor hous­ing con­di­tions, low wages, mass unem­ploy­ment and inad­e­quate schools in Black com­mu­ni­ties through­out the country.
Wash­ing­ton, DC con­tin­ues to strug­gle with the per­va­sive racial and eco­nom­ic inequal­i­ty that dis­turbed King and inspired his work.
Income Inequal­i­ty: Over the last ten years, the pre­dom­i­nate­ly Black wards east of the riv­er have not seen unem­ploy­ment rates drop below

10

per­cent. In

2016

alone, the unem­ploy­ment rate was

10

.

6

per­cent in Ward

7

and

13

per­cent in Ward

8

, as com­pared to the unem­ploy­ment rates in Ward

2

(

4

.

2

per­cent) and Ward

3

(

3

.

9

per­cent), which are pre­dom­i­nate­ly white.
Afford­able Hous­ing and Home­less­ness: Some

26

,

000

extreme­ly low-income house­holds in the Dis­trict spend more than half their income on rent and face a greater risk of becom­ing home­less. Near­ly all of these house­holds are head­ed by a per­son of color.
Edu­ca­tion: There are dis­tress­ing dif­fer­ences between the edu­ca­tion­al out­comes for white stu­dents and stu­dents of col­or in the Dis­trict. In high school Eng­lish,

87

per­cent of white stu­dents are col­lege and career ready, com­pared to only

21

per­cent of Black students.
Health: Despite a city­wide reduc­tion in the District's infant mor­tal­i­ty rate over time, the rate is near­ly six times high­er for Black babies than white babies, with a rate of

9

.

9

deaths per

1

,

000

live births in DC's Black community.
Work­place Inequal­i­ty: Many work­ers in the Dis­trict con­tin­ue to be vic­tims of wage theft, espe­cial­ly on con­struc­tion sites. Even with laws in place, the gov­ern­ment fails to use strate­gic enforce­ment to pro­tect work­ers from employ­er misconduct.
King left peo­ple not only with impas­sioned words, but with tan­gi­ble solu­tions. The Civ­il Rights Move­ment expe­ri­enced wins with the pas­sage of The Civ­il Rights Act of 1964 and the Vot­ing Rights Act of 1965, but more still need­ed to be accom­plished. In 1968, lead­ers of the South­ern Chris­t­ian Lead­er­ship Con­fer­ence (SCLC) launched the 1968 Poor People's Cam­paign. The cam­paign includ­ed direct actions and pol­i­cy pro­pos­als for lawmakers.
In Feb­ru­ary 1968 lead­ers draft­ed the Eco­nom­ic and Social Bill of Rights. The doc­u­ment con­tex­tu­al­ized the expe­ri­ences of the poor and pro­posed the following:
Decent jobs in high demand indus­tries for all employ­able cit­i­zens and a uni­ver­sal min­i­mum income
Decent hous­ing for all peo­ple and free choice of neigh­bor­hoods, regard­less of class or race
Com­pre­hen­sive edu­ca­tion pro­grams that sup­port the growth and suc­cess of every student
Full ben­e­fits and health care cov­er­age through a social secu­ri­ty system
To fund these pro­pos­als, the authors urged the gov­ern­ment to repur­pose Viet­nam war funds for social pro­grams to ensure poor Amer­i­cans received basic necessities.
The assas­si­na­tion of Mar­tin Luther King Jr. lim­it­ed the suc­cess of the Poor People's cam­paign. Led by King's suc­ces­sor Rev­erend Ralph Aber­nathy, thou­sands marched on Wash­ing­ton and par­tic­i­pat­ed in the planned Res­ur­rec­tion City Action. Ulti­mate­ly, lead­ers were unable to sim­pli­fy the many inter­ests of involved groups and the SCLC nev­er for­mal­ly adopt­ed the Eco­nom­ic and Social Bill of Rights. Because of this, the cam­paign was unable to achieve any leg­isla­tive wins. How­ev­er, the cam­paign rep­re­sent­ed a piv­otal shift in the Civ­il Rights Move­ment. Lead­ers made no attempt to pri­or­i­tize class or race, but instead rec­og­nized the fun­da­men­tal impor­tance of both.
Many of the campaign's pro­posed anti-pover­ty poli­cies could only be achieved with bold invest­ments and fund­ing, and this remains true today. Advo­ca­cy and activist cir­cles through­out the Dis­trict con­tin­ue to push for anti-pover­ty poli­cies and fund­ing mech­a­nisms that will allow all res­i­dents to ben­e­fit from the District's recent growth and pros­per­i­ty. While progress has been made with the help of time­less lead­ers such as Mar­tin Luther King Jr., an action-ori­ent­ed fight for racial and eco­nom­ic jus­tice must continue.
Brit­tany Alston
joined the DC Fis­cal Pol­i­cy Insti­tute in
2018
as a Pol­i­cy Ana­lyst focus­ing on work­force devel­op­ment in DC. She holds a B.A. in urban pol­i­cy and plan­ning from Rut­gers Uni­ver­si­ty and a Master's degree in city plan­ning from Uni­ver­si­ty of Pennsylvania's School of Design.