6 Reasons Why Donald Trump Won't Save American Jobs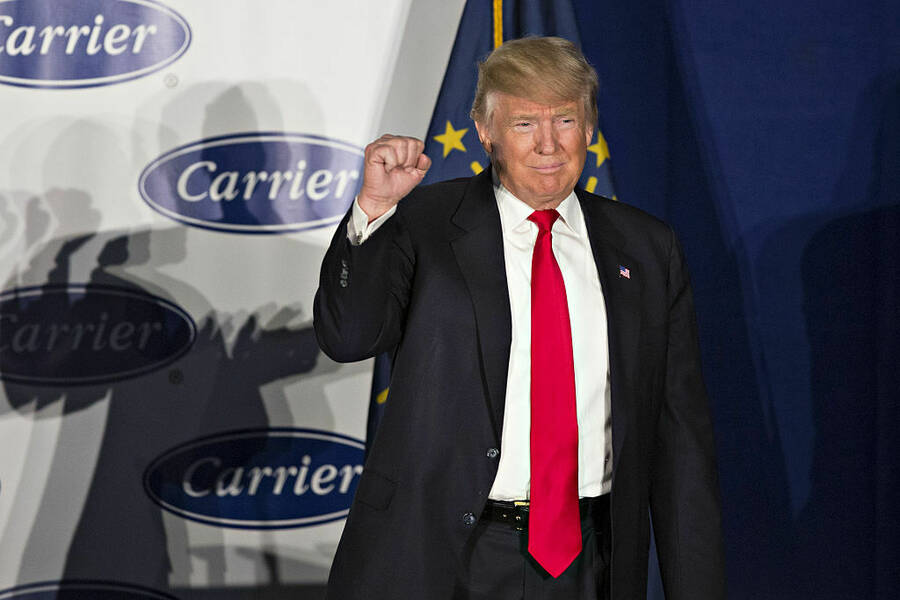 This arti­cle was first post­ed by Alternet.
Don­ald J. Trump believes he can bul­ly and bribe com­pa­nies into keep­ing jobs in Amer­i­ca. Short­ly after his elec­tion, he ​"per­suad­ed" Car­ri­er, an Indi­anapo­lis divi­sion of Unit­ed Tech­nolo­gies, to refrain from export­ing 700 jobs to Mex­i­co. Mean­while, Rexnord, a mak­er of bear­ings and ball bear­ings also in Indi­anapo­lis, announced its deci­sion to move 300 jobs to Mon­ter­rey, Mex­i­co. Trump, of course, expect­ed that after a tweet or two, Rexnord, a tiny com­pa­ny, would quick­ly capit­u­late. Not happening.
The most pow­er­ful man in the world is get­ting a rude awak­en­ing about cor­po­rate pow­er. Rexnord is thumb­ing its nose at the pres­i­dent by actu­al­ly mov­ing every one of those jobs … and the bul­ly-in-chief can't stop them. Why is that?
1

. Trump is trumped by finan­cial strip-mining.

Rexnord is mov­ing for obvi­ous rea­sons: The new Mex­i­can work­ers will make $3 an hour while the Indi­anapo­lis work­ers make $25 an hour. But the real moti­va­tion for mov­ing stems from Wall Street's favorite pas­time — strip­ping a com­pa­ny of its wealth through stock buybacks.

To please demand­ing financiers, Rexnord, in 2015, agreed to buy back $300 mil­lion of its own stock. By going into the mar­ket to buy its own shares, the price of the stock ris­es, there­by enrich­ing these hedge fund investors vir­tu­al­ly overnight. (Nine­teen hedge funds hold about $200 mil­lion in Rexnord stock.) The stocks rise because 1) the act of buy­ing large amounts of them in the open mar­ket bids up their price; and 2) the com­pa­ny's total earn­ings are now spread over few­er shares.

The move to Mex­i­co isn't just about prof­its; it's about financ­ing the stock buybacks.
2

. Trump's dereg­u­la­tion agen­da empow­ers the finan­cial strip-miners.

From the New Deal until 1982, stock buy­backs were vir­tu­al­ly out­lawed. They were con­sid­ered a dan­ger­ous form of stock manip­u­la­tion — a lead­ing cause of the 1929 Wall Street crash.

Dur­ing the Rea­gan admin­is­tra­tion, stock buy­backs were legal­ized and finan­cial strip-min­ing took off with a vengeance. Trump's dereg­u­la­to­ry mantra means stock buy­backs will con­tin­ue unabat­ed as will the pres­sure to move jobs to low-wage areas.
3

. Trump ignores (or is clue­less) about the mas­sive extent of finan­cial strip-mining.

In 1980, a mere 2 per­cent of cor­po­rate prof­its went to stock buy­backs. By the crash of 2007-'08, more than 75 per­cent of ALL cor­po­rate prof­its went to buy back the com­pa­nies' own shares. Our entire econ­o­my is being finan­cial­ly strip-mined by such stock manip­u­la­tion. (Unfor­tu­nate­ly, Trump does not have the atten­tion span to read William Lazon­ick­'s excel­lent analy­sis, ​"Prof­its With­out Prosperity.")
4

. Trump does­n't dare chal­lenge how CEOs are paid.

Not only do hedge funds prof­it from finan­cial strip-min­ing, they are aid­ed and abet­ted by cor­po­rate exec­u­tives who often derive more than 90 per­cent of their pay from stock incen­tives. As a result, CEOs run their com­pa­nies with only one goal in mind — raise the price of the stock.

With those incen­tives in place, Rexnord exec­u­tives could not care less about Trump's tweets. They are mov­ing to Mex­i­co to fund the stock buy­backs that enrich the val­ue of their own stock incentives.
5

. Trump's admin­is­tra­tion is loaded with Gold­man Sachs strip-miners.

Trump's eco­nom­ic advi­sors, near­ly all pro­duced by Wall Street, could care less about Rexnord mov­ing to Mex­i­co. After all, they grew fab­u­lous­ly rich by financ­ing such moves, press­ing com­pa­nies for stock buy­backs and prof­it­ing from trade deals. Rexnord knows that Trump's eco­nom­ic team has no inter­est at all in lim­it­ing the stock buy­back scam.
6

. Trump can bul­ly immi­grants but not Wall Street.

It is fright­en­ing to see Trump unleash ICE on pow­er­less immi­grants, but bend over back­ward to pla­cate finan­cial elites. A bul­ly attacks the weak and cow­ers before the powerful.

To repeat, stock buy­backs are how Wall Street makes mon­ey in a hur­ry — mon­ey that is squeezed out of the work­force by shift­ing jobs to low­er-wage areas. Wall Street will not tol­er­ate any inter­fer­ence in the way it strip-mines com­pa­nies. And Trump knows it.

Work­ing peo­ple will soon know it as well. The Rexnord work­ers once believed Trump would come to their res­cue, espe­cial­ly after he sup­pos­ed­ly saved 700 jobs at Car­ri­er just up the road. He did­n't and they no longer do.

Mil­lions more vot­ed for Trump because they believed he would save their jobs from a sim­i­lar fate. But as finan­cial strip-min­ing con­tin­ues unabat­ed, these work­ers will learn that Pres­i­dent Trump is not pres­i­dent of Wall Street. Their jobs will be sac­ri­ficed on the altar of stock buy­backs. You can't tweet away finan­cial strip-mining.

Nei­ther Don­ald Trump, nor even Bernie Sanders, can stop finan­cial strip-min­ing on their own. It's a pow­er­ful process that has been in motion for near­ly 40 years. To reverse the run­away inequal­i­ty it cre­ates will require noth­ing short of a ded­i­cat­ed mass move­ment, the likes of which we haven't seen for more than a generation.

As his­to­ri­an Michael Mer­rill points out, there have been four great strug­gles in Amer­i­can history:
The strug­gle against roy­al pow­er which was replaced by the pow­er of a new con­sti­tu­tion­al democracy.
The bat­tle against slave pow­er which through a civ­il war was replaced by pow­er of free labor.
The bat­tle against cor­po­rate pow­er which was tamed by gov­ern­ment reg­u­la­tion and union/​worker pow­er on the job.
The fourth great bat­tle is hap­pen­ing right now: It's the bat­tle against finan­cial pow­er, with the out­come very much in doubt.
These pre­vi­ous vic­to­ries, always par­tial with bat­tles still ongo­ing, were not the result of spon­ta­neous upris­ings. They required vision, lead­er­ship, edu­ca­tion, orga­ni­za­tion, and mass involve­ment. Each required a sus­tained effort over many decades.
Today we need to relearn the art of build­ing mass move­ments like those cre­at­ed by the abo­li­tion­ists, the Pop­ulists, the labor move­ment, and the civ­il rights movement.
To make any progress at all against finan­cial pow­er, we must come out of our issue silos and join togeth­er in a com­mon move­ment. We need to rec­og­nize that the finan­cial strip-min­ing of our soci­ety neg­a­tive­ly impacts near­ly every issue we care about. We need to rec­og­nize that the bat­tle against finan­cial pow­er and the run­away inequal­i­ty it cre­ates, links us together.
Is such a mass effort emerg­ing right now as tens of thou­sands of peo­ple take to the streets and come togeth­er in town hall meet­ings all over the coun­try? Per­haps. But only if these dis­parate resis­tance efforts coa­lesce into a pow­er­ful uni­fied move­ment to take back our coun­try from the pow­er of finance. We have no choice but to try.
Les Leopold
is the co-founder and direc­tor of two non­prof­it edu­ca­tion­al orga­ni­za­tions: The Labor Insti­tute and the Pub­lic Health Insti­tute. He is the author of
The Loot­ing of Amer­i­ca: How Wall Street's Game of Fan­ta­sy Finance Destroyed Our Jobs, Pen­sions, and Pros­per­i­ty — and What We Can Do About It
(
2209
) and
The Man Who Hat­ed Work and Loved Labor: The Life and Times of Tony Maz­zoc­chi
(
2008
), both pub­lished by
Chelsea Green
.