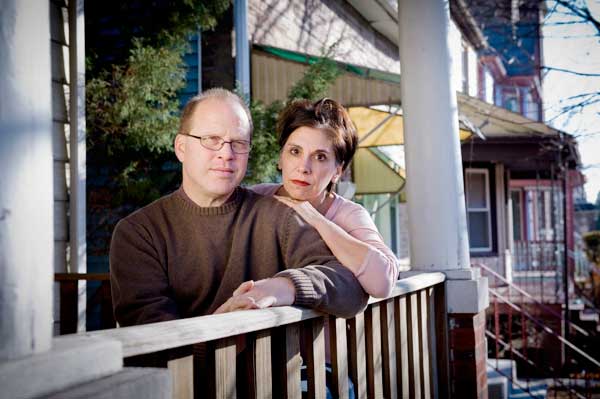 Features » December 13, 2010
Terrorist by Association
The Justice Department targets nonviolent solidarity activists.
'Anyone who does international solidarity or anti-war work, anyone who goes against the grain of American politics, is affected by this,' says activist Mick Kelly, whose home was raided by the FBI.
September 24 began like any other Friday for Joe Iosbaker and Stephanie Weiner. Then, at 7 a.m., FBI agents knocked on the door of the Chicago couple's house in the city's North Side.
Armed with a search warrant, more than 20 agents examined the couple's home, photographing every room and combing through notebooks, family videos and books, even their children's drawings. Some items were connected to their decades of anti-war and international solidarity activism, but others were not. "Folders were opened, letters were pulled out of envelopes," says Weiner, an adult education professor at Wilbur Wright College. "They had rubber gloves and they went through every aspect of our home." (See video interview with Weiner and Iosbaker below.)
Ten hours after their arrival, as television news crews filmed and activist supporters stood on the sidewalk, the agents drove away with nearly 30 boxes of material, including t-shirts and a photograph of Malcolm X. By that time, Iosbaker and Weiner had been served subpoenas to appear before a grand jury investigating "material support" for "foreign terrorist organizations." And they knew theirs wasn't the only home invaded that day. More than 70 FBI agents had raided seven residences in Chicago and Minneapolis and questioned activists in Michigan, California and North Carolina, serving subpoenas to 11 people. A few days later, the Justice Department subpoenaed members of the Minnesota Anti-War Committee (AWC), whose office was also raided on September 24, raising the number to 14. (Editor's note: five additional Chicago-area activists were subpoenaed in early December; see update below.)
The grand jury and FBI are looking for evidence that connects the 14 activists and their "potential co-conspirators" to two organizations: the Revolutionary Armed Forces of Colombia (FARC) and the Popular Front for the Liberation of Palestine (PFLP), which are both on the State Department's "Foreign Terrorist Organizations" list. None of the 14 has been charged with a crime, and all deny providing "material support," including money, to any foreign organization.
Citing the Fifth Amendment, all 14 are refusing to testify before the grand jury, which they say is a secretive arm of a government intent on silencing critics. (The U.S. Attorney's office conducting the investigation declined to comment. The search warrant affidavits justifying the FBI raids remain under seal.)
Most of those subpoenaed, including Weiner and Iosbaker, have been active in the labor movement and/or are members of the Freedom Road Socialist Organization (FRSO), a self-described "socialist and Marxist-Leninist organization" with about 100 members. But affiliations vary: 71-year-old great-grandmother Sarah Martin belongs to the Minneapolis-based group Women Against Military Madness; Hatem Abudayyeh is executive director of the Arab American Action Network, a Chicago social services agency; others are connected to Students for a Democratic Society (SDS), the Palestine Solidarity Group-Chicago and the Colombia Action Network, which has protested U.S. military aid to Colombia and the assassinations of unionists there. The only connection they all have in common is that they all participated in an AWC-organized rally outside the 2008 Republican National Convention in St. Paul.
Except for Mick Kelly and Tom Burke, FRSO members who have interviewed PFLP leaders, and Jess Sundin, who met with FARC members 10 years ago during a visit to Colombia, none of those subpoenaed say they have communicated directly with members of FARC or PFLP. But many of the activists are sympathetic to those organizations' goals and some have traveled to Colombia and Palestine as part of solidarity delegations.
"Anyone who does international solidarity or anti-war work, anyone who goes against the grain of American politics, is affected by this," says Kelly, a University of Minnesota cook and Teamster. "It's extremely important to push back against this repression. It affects the movement as a whole."
The Supreme Court's 'deeply chilling effect'
The phrase "material support for terrorism" brings to mind money and weapons, or other goods and services that directly support a terrorist organization's violent objectives or actions. But in June, the Supreme Court in Holder v. Humanitarian Law Project upheld a much broader definition of material support–one that criminalizes speech advocating peace and human rights if it is "coordinated" with an official terrorist organization. It is this ruling that sets the stage for September's raids.
"For the first time, [the court] actually says it's criminal to speak out, to associate," says Michael Deutsch, an attorney with the Chicago-based People's Law Office and one of the National Lawyers Guild members working with the activists. "The ruling criminalizes First Amendment activity. It's quite ominous."
Material support for terrorism was first criminalized by the Anti-Terrorism and Effective Death Penalty Act of 1996. The 2001 PATRIOT Act broadened the definition of "material support" to include "expert advice or assistance" and provided a maximum sentence of 15 years. (The American Taliban fighter John Walker Lindh was charged with, but not convicted of, providing material support to al Qaeda.) In 1998 the Humanitarian Law Project went to federal court to challenge the material support statute. The nonprofit group wanted to assist the Kurdistan Workers' Party (PKK) with conflict resolution and human rights monitoring. It was later joined in the lawsuit by Tamil-American organizations wishing to provide medical assistance to victims of the 2004 South Asian tsunami, which would have required working with the now-defeated Tamil Tigers, which, like the PKK, is a State Department-listed terrorist group.
The Humanitarian Law Project argued that the material support law violated the First Amendment's right to free speech. But a majority of the Supreme Court accepted the government's argument–made by then-Solicitor General and current Justice Elena Kagan–that all nonviolent aid is properly illegal because it "frees up other resources within the organization that may be put to violent ends" and "legitimates" foreign terrorist groups. Writing for the majority, Chief Justice John Roberts clarified that the law only criminalizes speech "under the direction of, or in coordination with foreign groups," leaving "independent advocacy" on the right side of the law.
Justices Stephen Breyer, Ruth Bader Ginsburg and Sonia Sotomayor strongly disagreed, writing: "Not even the 'serious and deadly problem' of international terrorism can require automatic forfeiture of First Amendment rights."
University of Chicago law professor Aziz Huq takes issue with the court's distinction between "independent" and "coordinated" speech–a critical distinction if any of the 14 activists are charged with "material support" of FARC and PFLP. "There is some kind of speech that is not possible to do independently," Huq says. "There are speech interests that are squelched here."
Deutsch agrees: "It creates a chilling effect on people who are challenging U.S. foreign policy. If you speak out for the rights of Palestinians or question the government of Colombia, or are supportive of the Kurds' right to their homeland, you've invariably going to come into contact with these groups. You're going to be advocating some of the things that they're promoting."
That's a point familiar to former anti-apartheid activists, who organized to end white supremacy in South Africa. The anti-apartheid movement took direction from the African National Congress (ANC), which was called a terrorist organization by President Reagan in 1986. If the material support statute had been in place in the 1970s, the thousands of people who led anti-apartheid protests across the United States could have been considered criminals. (The ANC and its leader, Nelson Mandela, were not removed from the U.S. list of foreign terrorist organizations until 2008, 15 years after Mandela won the Nobel Peace Prize.)
"This is almost the 1950s coming back. It's overreaching," says Jim Fennerty, another attorney assisting the subpoenaed activists. Similarly, he adds, former U.S. President Jimmy Carter could be charged with "material support" for monitoring Lebanon's 2009 elections, which involved coordinated activity with Hezbollah, an official terrorist organization that was on the ballot.
In February, when the Supreme Court heard Holder v. Humanitarian Law Project, David Cole, the Center for Constitutional Rights attorney sparred with Justice Antonin Scalia:
Cole: The New York Times, the Washington Post, and the L.A.Times…published op-eds by Hamas spokespersons…thereby providing a benefit to Hamas. [Under this statute,] they're all criminals…President Carter–

Scalia: [Interrupting]: Well, we–we can cross that bridge when we come to it.
---
Help In These Times Continue Publishing
Progressive journalism is needed now more than ever, and In These Times needs you.
Like many nonprofits, we expect In These Times to struggle financially as a result of this crisis. But in a moment like this, we can't afford to scale back or be silent, not when so much is at stake. If it is within your means, please consider making an emergency donation to help fund our coverage during this critical time.
View Comments