Documenting the Rise and Fall of Chicago's Cabrini-Green Public Housing Projects
A new film traces the history of America's most famous—and infamous—housing projects.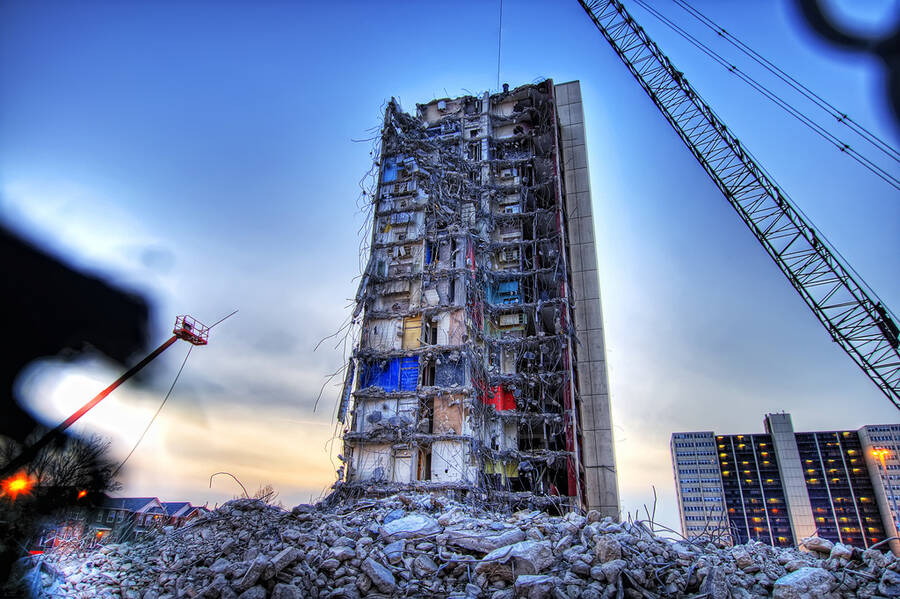 From the moment it was com­plet­ed, the pub­lic hous­ing devel­op­ment known as Cabri­ni-Green has been cap­tured in still and mov­ing pic­tures. The devel­op­ment was not only icon­ic to Chica­go, but a sym­bol of pub­lic hous­ing all over the coun­try, from its hope-filled foun­da­tion to its con­tentious demolition.
The projects weren't supposed to be a place where you lived in the past. They were designed as temporary waystations to permanent homes, built on the cheap, meant at first for high turnover and later for warehousing a population that wasn't wanted anywhere else. But even as more and more families became stuck in the projects for lack of better housing opportunities, Cabrini-Green and other developments became home over time.
Eng­lish-born film­mak­er Ronit Beza­lel arrived in Chica­go from Cana­da in the 1990s and began film­ing at Cabri­ni-Green almost imme­di­ate­ly. Her first movie, a 30-minute doc­u­men­tary called Voic­es of Cabri­ni (1999) cap­tures the devel­op­ment at the start of the decade of demo­li­tions that would rad­i­cal­ly reshape the city's phys­i­cal and social land­scape. This month, Beza­lel is screen­ing a fea­ture-length fol­low-up, 70 Acres in Chica­go: Cabri­ni Green, a film that both tells the his­to­ry of the development's birth and shows us the 20-year meta­mor­pho­sis of the neigh­bor­hood from the City's worst fear to its desired vision of itself.
The sto­ry of Cabri­ni-Green begins in in 1941, with the con­struc­tion of the Frances Cabri­ni Homes, also known as the Cabri­ni Row­hous­es. These two-sto­ry beige brick build­ings can still be seen in their neat rows as one dri­ves down Chica­go Avenue toward the Chica­go River.
Built for war work­ers, the Row­hous­es were the first inte­grat­ed pub­lic hous­ing project in the city. But the land where they were erect­ed was not vacant and the peo­ple who moved into the 586 apart­ments were not the poor­est of the poor. Before the CHA began its con­struc­tion this part of town was known as Lit­tle Hell — a pre­dom­i­nant­ly Sicil­ian neigh­bor­hood with shod­dy hous­ing stock and ram­pant crime.
As MIT Urban Design and Plan­ning pro­fes­sor Lawrence Vale chron­i­cles in his book Purg­ing the Poor­est, the build­ing of pub­lic hous­ing in this neigh­bor­hood was adver­tised as a way to uplift the poor entrapped in its insalu­bri­ous ten­e­ments. In the end, how­ev­er, the new pub­lic hous­ing wasn't real­ly for them. They were con­sid­ered to be too poor and moral­ly degen­er­ate to be entrust­ed with the nice, new apart­ments. Instead, the Chica­go Hous­ing Author­i­ty pop­u­lat­ed its projects with reli­ably employed fam­i­lies who, with the Authority's strict super­vi­sion and assis­tance, took good care of the build­ings and did not linger long. No one knows what hap­pened to the slum dwellers of Lit­tle Hell; any fight against the city's dev­as­ta­tion of their neigh­bor­hood and way of life went undocumented.
The post-war con­struc­tion and pop­u­la­tion boom brought a dire need for afford­able hous­ing and CHA soon expand­ed its foot­print in the old slums west of the Gold Coast by build­ing mid- and high-rise projects. In 1955, when con­struc­tion on the Cabri­ni Exten­sion — the 15 red-brick build­ings between Chica­go and Divi­sion — began, the Row­hous­es were no longer as diverse as they once were and the new build­ings were filled most­ly with work­ing black fam­i­lies. This trend con­tin­ued as the last part of the devel­op­ment — the 8 white build­ings of the William Green Homes, north of Divi­sion — were com­plet­ed in 1962.
By the mid-1960s, CHA projects across the city were hous­ing almost exclu­sive­ly African-Amer­i­cans. But the seg­re­ga­tion embod­ied by these build­ings and spurred on by bet­ter, sub­ur­ban hous­ing oppor­tu­ni­ties for whites, was not yet cou­pled with dev­as­tat­ing pover­ty. The pop­u­lar notion of the projects as hous­ing for the poor­est of the poor, as ware­hous­es of mis­ery and pathol­o­gy, did not begin to take hold until the ear­ly 1970s.
For Chicagoans who knew and lived in pub­lic hous­ing in those years, 1968 was a turn­ing point — par­tic­u­lar­ly for Cabri­ni-Green. After the assas­si­na­tion of Mar­tin Luther King, riot­ing broke out across the city and was strict­ly con­fined by police to the African-Amer­i­can neigh­bor­hoods. This cor­don­ing off, as Vale notes in his book, was par­tic­u­lar­ly strict­ly enforced around Cabri­ni, due to its prox­im­i­ty to the wealthy, white lake­front neigh­bor­hoods. Cabri­ni-Green, which had always been sur­round­ed by a vari­ety of busi­ness­es and ameni­ties, emerged from the riots as a shad­ow of its for­mer self.
The dev­as­ta­tion of the neigh­bor­hood econ­o­my was close­ly tailed by a series of fed­er­al hous­ing pol­i­cy reforms which were intend­ed to pri­or­i­tize pub­lic hous­ing access for the poor­est — sin­gle moth­ers on wel­fare and the home­less. Though well-inten­tioned, these reforms sharply reduced rental income for the CHA, an agency already plagued by man­age­r­i­al and fis­cal incom­pe­tence. Thus, just as the most dis­ad­van­taged Chicagoans began mov­ing into pub­lic hous­ing in ever larg­er num­bers, the man­age­ment of the prop­er­ties was for­sak­en. Garbage shoots were over­fill­ing and incin­er­a­tors break­ing less than a mile away in the lux­u­ry con­do­mini­ums, too. But at Cabri­ni-Green, no one was com­ing to fix them.
Left to their own devices the res­i­dents — over­whelm­ing­ly chil­dren and teens — orga­nized, gov­erned, and cared for them­selves the best way they knew how. Drug deal­ers preyed on the young, gangs took hold of pub­lic spaces. After two cops were killed by a sniper in the devel­op­ment in 1970, the project's noto­ri­ety grew and the City gave up treat­ing its res­i­dents like cit­i­zens alto­geth­er. One-sixth of the development's pop­u­la­tion moved out by 1971.
Around the same time, spurred by over­whelm­ing­ly neg­a­tive local media atten­tion, Cabri­ni-Green gained a broad­er cul­tur­al cur­ren­cy in fic­tion­al­ized por­tray­als such as the TV sit­com Good Times and the film Coo­ley High. In 1992 these depic­tions hit a ter­ri­fy­ing nadir in Can­dy­man, a hor­ror film set in Cabri­ni-Green. Direc­tor Bernard Rose said that he chose the loca­tion ​"because it was a place of such pal­pa­ble fear." An irra­tional fear, he admit­ted, a fear of out­siders towards African-Amer­i­cans and the poor.
Ray­mond McDon­ald, who is a cen­tral char­ac­ter in Bezalel's 70 Acres grew up know­ing this fear and see­ing it shape his world. His neigh­bor­hood ​"had a neg­a­tive stig­ma to it — don't go there: killers, rob­bers, black peo­ple," he said at a recent screen­ing of Bezalel's first film.
Through­out 70 Acres we watch McDon­ald watch the neigh­bor­hood he knows and loves give way to a new com­mu­ni­ty designed to exclude him. In the mid-90s the fed­er­al gov­ern­ment cre­at­ed a new pro­gram that gave local hous­ing author­i­ties mil­lions of dol­lars to demol­ish severe­ly dete­ri­o­rat­ed pub­lic hous­ing build­ings and build new homes in their stead. Much like the projects were in their ear­ly years, these new com­mu­ni­ties were premised on the idea of uplift­ing the poor. How­ev­er, hav­ing giv­en up on the idea that archi­tec­ture and design could save the poor from their pover­ty, plan­ners and politi­cians turned to the con­cepts of ​"mixed-income hous­ing." The thing that would sure­ly save the poor, they thought, was prox­im­i­ty to rich­er neighbors.
Cabri­ni-Green was the first site of this exper­i­ment, but by the ear­ly 2000s it was tak­en to scale across Chica­go under May­or Richard M. Daley's $1.5 bil­lion Plan for Trans­for­ma­tion. The footage in 70 Acres book­ends this tumul­tuous peri­od for the city's poor­est res­i­dents. It begins at the begin­ning, as the first of the Cabri­ni-Green high-ris­es are torn down in 1995 and ends at the end, when the last of Chicago's pub­lic hous­ing tow­ers, Cabrini-Green's 1230 N. Burl­ing is demolished.
At the start of the film, the film's crew cap­tures live­ly scenes at com­mu­ni­ty meet­ings as city lead­ers pitched their vision of the future while pub­lic hous­ing res­i­dents respond­ed with skep­ti­cism and dis­be­lief. They had a feel­ing that what was com­ing to ​"uplift" wasn't real­ly meant for them.
"This new com­mu­ni­ty is not about exclu­sion, it's not about kick­ing every­body out," says a rep­re­sen­ta­tive from May­or Daley's office, show­ing ren­der­ings of the future of the neigh­bor­hood — town­homes and a con­do build­ing along a tree-lined street. ​"We can't afford that!" yells some­one from the audi­ence. The rep­re­sen­ta­tive tries to con­tin­ue his rehearsed speech despite grow­ing clam­or. ​"I'm sick of oppres­sion and mov­ing black peo­ple out of these com­mu­ni­ties," a woman says loudly.
At anoth­er meet­ing a com­mu­ni­ty activist crit­i­cizes a city offi­cial for not con­sult­ing with Cabri­ni-Green res­i­dents before launch­ing into demo­li­tions. She chas­tis­es the man for inter­rupt­ing her. ​"You inter­rupt­ed a way of life over here lady!" he yells back.
As the demo­li­tions con­tin­ued through the ear­ly 2000s, large groups of res­i­dents marched, pick­et­ed, and even sued the city to win the right to take part in the plan­ning for the new neigh­bor­hood. But despite their efforts very few were able to return and live at the new mixed-income devel­op­ments that have been built in Near North.
Just as Lit­tle Hell had been purged of its poor­est res­i­dents, so was the Cabri­ni-Green neigh­bor­hood. Only the choic­est fam­i­lies who met a strict set of require­ments were allowed to return to the new hous­ing with idyl­lic names like Park­side of Old Town. As one such res­i­dent, Deirdre Brew­ster puts it in 70 Acres, to come back to the com­mu­ni­ty ​"you actu­al­ly have to be a nun. There's no room for mess-ups. But I think it's kind of dehumanizing."
For Brew­ster the apart­ment at Park­side came at the expense of her rela­tion­ship with her eigh­teen-year-old daugh­ter. Because the girl had a mis­de­meanor on her record for a fight at school she could not be on Brewster's lease. Guests at pub­lic hous­ing apart­ments in her com­mu­ni­ty were also strict­ly mon­i­tored. Brewster's daugh­ter had to stay with rel­a­tives. ​"God for­bid she ends up home­less," Brew­ster says in the film, ​"what am I sup­posed to do as a mom — not let her in?"
The idea of mixed-income hous­ing was part­ly inspired by archi­tec­tur­al New Urban­ism (which favored low-rise res­i­den­tial and com­mer­cial archi­tec­ture woven into city street grids), and part­ly by neolib­er­al notions of com­pe­ti­tion and self-real­iza­tion. The poor would pick them­selves up out of pover­ty if they just lived next to more afflu­ent peo­ple who could offer them a pos­i­tive exam­ple of how to live and work, the rea­son­ing went. David Simon's recent HBO minis­eries on Yonkers cap­tures how these ideas took hold of city plan­ners.
"There was this whole belief that if so-called pub­lic hous­ing residents…move next door to such afflu­ent neigh­bors that would make them bet­ter peo­ple, which was very insult­ing," says Brew­ster in 70 Acres.
McDon­ald is just fif­teen when he first appears in footage from 2007, but he is artic­u­late about what the loss of the pub­lic hous­ing build­ings means. ​"May­or Daley is mov­ing us out to get a high­er class of peo­ple in," he says.
In an unex­pect­ed encounter, McDon­ald and his friends are able to speak to Daley direct­ly. ​"How do you think we feel about the com­mu­ni­ty, the build­ings being torn down?" McDon­ald asks. Daley bum­bles, ​"In the long run pub­lic high ris­es will be tak­en down all over the coun­try." But McDonald's friend press­es the may­or: ​"If you grew up in Cabri­ni would you want them to take your memories?"
Daley wax­es poet­ic. ​"Mem­o­ry always stays with­in the mind, but every com­mu­ni­ty changes. You can't live in the past. No one lives in the past."
Liv­ing in the past. In Amer­i­can cul­ture this phrase sig­ni­fies a kind of back­ward­ness, some­thing anath­e­ma to the nation­al spir­it of progress. But if we're talk­ing about quite lit­er­al­ly liv­ing in the past — liv­ing in fam­i­ly homes, neigh­bor­hoods where one is root­ed, much as the Daleys are in Bridge­port — it is a pleas­ant real­i­ty afford­ed to many wealthy and mid­dle class peo­ple. What was the point of build­ing sub­urbs if not to allow fam­i­lies to anchor them­selves to a piece of land, to live a life root­ed in space and time? After the Sec­ond World War the fed­er­al gov­ern­ment real­ized that liv­ing in and with the past is a great way to build a sta­ble soci­ety, to reduce the like­li­hood of social unrest by pin­ning peo­ple to homes they wouldn't want to risk losing.
The projects weren't sup­posed to be a place where you lived in the past. They were designed as tem­po­rary waysta­tions to per­ma­nent homes, built on the cheap, meant at first for high turnover and lat­er for ware­hous­ing a pop­u­la­tion that wasn't want­ed any­where else. But even as more and more fam­i­lies became stuck in the projects for lack of bet­ter hous­ing oppor­tu­ni­ties, Cabri­ni-Green and oth­er devel­op­ments became home over time.
This is what McDon­ald felt acute­ly as he reflect­ed on the loss of his com­mu­ni­ty. Gen­er­a­tions of fam­i­lies lived there and built their mem­o­ries in those apart­ments despite the vio­lence, dete­ri­o­ra­tion, and stig­ma sur­round­ing their neigh­bor­hoods. Lest one think they had no right to do so on the pub­lic dime, it is worth remem­ber­ing that the major­i­ty of Amer­i­cans did so as well, out in the sub­urbs, sub­si­dized by gov­ern­ment-insured mort­gages and tax deductions.
But the loss of com­mu­ni­ty is not the only thing to lament as we con­sid­er the demise of Cabri­ni-Green. As Chica­go gave up on its pub­lic hous­ing so too did it give up on the idea of pro­vid­ing per­ma­nent­ly afford­able homes. Of course the polit­i­cal cli­mate had changed dras­ti­cal­ly since the New Deal, and those in pow­er were not inter­est­ed in this mis­sion any­more. But the rea­sons for the shift were and con­tin­ue to be repeat­ed like a mantra — we tried this and it didn't work. The answer sug­gest­ed by the col­lu­sive forces of elect­ed offi­cials, financiers, and devel­op­ers was that pri­vate enti­ties would do a bet­ter job of build­ing and man­ag­ing hous­ing for the poor.
The fact is, though, that the CIty nev­er real­ly tried to make it work. Else­where in the coun­try, such as New York, where pub­lic hous­ing has always been seen by the author­i­ties as a neces­si­ty and a pub­lic good, it has worked. While it has not been with­out its prob­lems, New York's pub­lic hous­ing, con­sist­ing of 2,600 most­ly high-rise build­ings (some taller than 25 floors) today hous­es some 400,000 res­i­dents in over 178,500 apart­ments . Mean­while, Chica­go failed to main­tain its prop­er­ties even though there were nev­er more than 40,000 apart­ments in the CHA's care. The agency's fail­ures were blamed on the residents.
Out­siders accused pub­lic hous­ing res­i­dents of not tak­ing care of their homes, not car­ing about their com­mu­ni­ties. But pub­lic hous­ing devel­op­ments had tight net­works of social rela­tions, many inter­nal orga­ni­za­tions, sys­tems of liv­ing to com­bat the psy­cho­log­i­cal pres­sure of race and class-based stig­ma, to over­come the total aban­don­ment by city ser­vices and the preda­to­ry incur­sion of both gangs and police. Need­less to say, indi­vid­u­als' main­te­nance of their homes in these devel­op­ments var­ied as much as they do any­where else. When these res­i­dents protest­ed their dis­place­ment from homes that had been hard won, the out­siders said they had no right to the hous­ing that was nev­er theirs to begin with.
The point that home could inspire both com­fort and fear, frus­tra­tion and joy, that, as Beza­lel puts it, Cabri­ni was fraught with con­tra­dic­tions ​"like all places," was lost on Daley and the Chicagoans who called relent­less­ly for the dis­man­tling of pub­lic hous­ing. It was assumed that the build­ings had no val­ue because they weren't worth any­thing. And it was assumed, as soci­ol­o­gist Mary Patil­lo points out in the film, that the way poor peo­ple did things and what they val­ued was wrong.
In the first decade of the 21st cen­tu­ry, as the red and white build­ings dis­ap­peared from the 70 acres of land between Wells St. and the Chica­go Riv­er, tens of thou­sands of peo­ple were dis­placed away from the area. One short­fall of the film is that we do not get to see what hap­pened to those who end­ed up with Sec­tion 8 vouch­ers instead of per­ma­nent hous­ing units — a fate that befell most high-rise project res­i­dents around the city as a result of the Plan for Trans­for­ma­tion. Those who did not leave Chica­go alto­geth­er end­ed up in poor, seg­re­gat­ed neigh­bor­hoods on the South and West sides where they could find land­lords to take their vouch­ers, or in the pau­per­iz­ing inner-ring sub­urbs. Mean­while, Near North has gen­tri­fied with the help of the mixed-income com­mu­ni­ties erect­ed in Cabrini-Green's stead, and Beza­lel poignant­ly cap­tures this social transformation.
One white man from a mar­ket-rate home in the new neigh­bor­hood assumed that the peo­ple in sub­si­dized homes did not know ​"how to earn a liv­ing, or be proud of your­self, and be proud of what you have." Anoth­er was frus­trat­ed that they did not pay close enough atten­tion to the park­ing spot assign­ments. As more and more white peo­ple arrived in the area, Black res­i­dents were increas­ing­ly exclud­ed from parks and playgrounds.
Cather­ine Crouch, the film's edi­tor and writer, clev­er­ly jux­ta­pos­es scenes of class-cod­ed inter­ac­tions around pub­lic space. Par­tic­u­lar­ly strik­ing is footage of a sparse­ly attend­ed block par­ty orga­nized by mixed-income home­own­ers con­trast­ed with Cabri­ni Green reunion pic­nics which brought hun­dreds of peo­ple week­ly to Seward Park.
For most of its his­to­ry, peo­ple with cam­eras have not treat­ed Cabri­ni-Green kind­ly. Between lurid hor­ror film, and no-less lurid news footage, between real tragedies like the shoot­ing death of Dantrell Davis and the tragi­com­e­dy of Coo­ley High, this project became the dis­graced and dis­turb­ing image of pub­lic hous­ing in Amer­i­ca. The orga­niz­ing efforts, opin­ions, and aspi­ra­tions of its res­i­dents were lost among sen­sa­tion­al news accounts of their vio­lence and delin­quen­cy. Beza­lel, an out­sider not just to pub­lic hous­ing and to Chica­go, but to the coun­try, does not attempt to dimin­ish the suf­fer­ing and chaos res­i­dents endured. But she cap­tures them in con­text, in action, in rela­tion with a city that wants them gone and with a home that's hard to let go. Like the dis­placed res­i­dents of Lit­tle Hell, the res­i­dents of Cabri­ni-Green are most­ly gone. But thanks to Bezalel's doc­u­men­ta­tion efforts of the past 20 years, they will not be forgotten.
Beza­lel is also striv­ing to make the film an occa­sion for the com­mu­ni­ty to engage in a dis­cus­sion about pub­lic hous­ing. There were pan­el dis­cus­sions with McDon­ald, Brew­ster, and the film's writer and edi­tor Cather­ine Crouch at the first round of screen­ings in August. She has also brought her first film from the vault for a screen­ing and dis­cus­sion dur­ing the Archi­tec­ture Bien­ni­al. And, after com­mu­ni­ty mem­bers crit­i­cized the lack of ref­er­ences to the Row­house res­i­dents' con­tin­ued legal fight to save their homes, added an epi­logue to 70 Acres.
70 Acres is not an exhaus­tive his­to­ry of Cabri­ni-Green, but it cov­ers as much ground as a one-hour film can. Espe­cial­ly to those audi­ences unfa­mil­iar with its his­to­ry, ithe film will be high­ly edu­ca­tion­al. For those who lived this his­to­ry, it is a record of their pres­ence on a land from which they have been erased. It reminds all of us that the attach­ment to home is a priv­i­lege in this coun­try, one that the poor are con­sid­ered to have no right to.
70 Acres in Chica­go: Cabri­ni Green will be screen­ing at the Gene Siskel Film Cen­ter Novem­ber 13 – 19.