Transforming Society as Capitalism Crumbles: Lessons from Brazil's Peasant Movement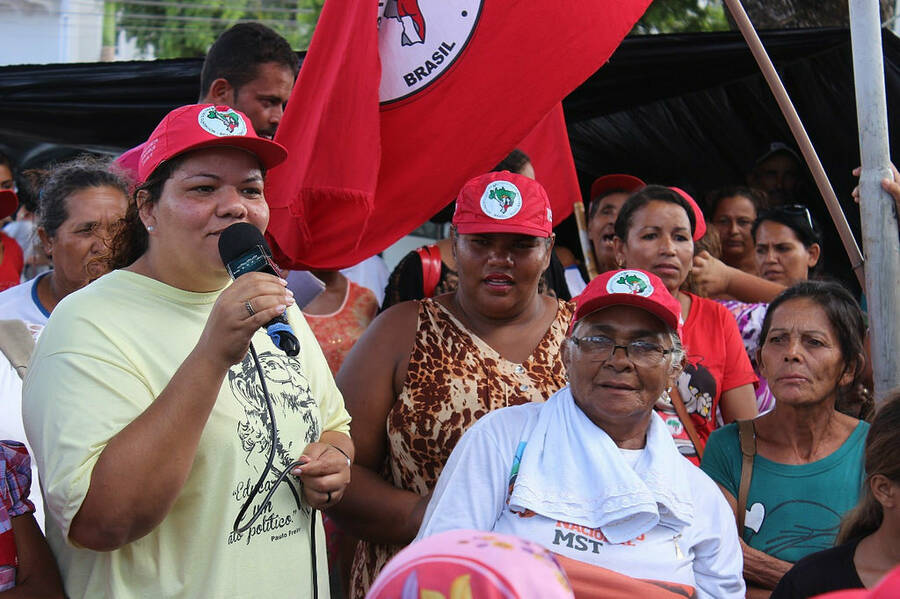 Brazil is fac­ing a pro­found polit­i­cal and eco­nom­ic cri­sis since a coup d'etat over­turned Dil­ma Roussef's gov­ern­ment in March of 2016. The new gov­ern­ment is unrolling aus­ter­i­ty poli­cies that are erod­ing work­ing fam­i­lies' polit­i­cal gains by dis­man­tling labor pro­tec­tions and social ser­vices and unleash­ing human rights abus­es, includ­ing esca­lat­ing assas­si­na­tions of peas­ants and indige­nous peo­ple. This polit­i­cal con­text — which shares char­ac­ter­is­tics with the U.S. cli­mate under Don­ald Trump — is defined by a cri­sis of cap­i­tal­ism that resur­faced with the eco­nom­ic melt­down in the Glob­al North that was ini­ti­at­ed in 2008.
Rafael Sori­ano, a mem­ber of MST's Com­mu­ni­ca­tions Col­lec­tive, dis­cussed this polit­i­cal cli­mate with Déb­o­ra Nunes, mem­ber of the Nation­al Direc­to­ry of Brazil's Land­less Work­ers Move­ment, or Movi­men­to dos Tra­bal­hadores Rurais Sem Ter­ra, wide­ly known by its Por­tuguese acronym MST. This social move­ment of peas­ants, rur­al work­ers and land­less fam­i­lies reclaims land rights and strug­gles for a gen­uine agrar­i­an reform that would ben­e­fit all Brazil­ians — and strives for deep social and polit­i­cal transformation.
In this inter­view, Nunes reflects on the dan­ger and poten­tial of this cur­rent moment, high­light­ing oppor­tu­ni­ties to build alter­na­tives to cap­i­tal­ism as the cur­rent eco­nom­ic sys­tem floun­ders. Nunes under­scores that peo­ple in Brazil ​"have great chal­lenges to face the coup and its con­se­quences," and it is nec­es­sary to ​"bet­ter com­mu­ni­cate and orga­nize the masses."
Rafael Sori­ano: What are the cur­rent chal­lenges in the strug­gle for access to land, and against the con­cen­tra­tion of land in few hands, in Brazil after the 2016 coup?
Déb­o­ra Nunes: The issue of access to land in Brazil by rur­al fam­i­lies orig­i­nat­ed a long time ago, and until now it has not been solved. In fact, the con­tra­dic­tions cre­at­ed by the con­cen­tra­tion of land own­er­ship in a few hands have deep­ened and cre­at­ed harm­ful con­se­quences, in rela­tion to land­less peas­ants, indige­nous peo­ples, afro-descen­dants (quilom­bo­las), river­ine peo­ple (ribeir­in­hos) and oth­er social seg­ments. And increas­ing­ly, this con­flict has gained more vio­lent traits as result of the inten­si­fy­ing class strug­gle. This is what we cur­rent­ly live in Brazil after the par­lia­men­tary coup d'etat of 2016.
After the coup, the Brazil­ian agrar­i­an bour­geoisie and the agribusi­ness com­pa­nies gained even more pow­er in the cur­rent and ille­git­i­mate admin­is­tra­tion of Michael Temer, as well as in oth­er gov­ern­ment sec­tors. They are push­ing for an even more con­ser­v­a­tive and vio­lent agen­da for the Nation­al Con­gress of Brazil, espe­cial­ly through the agribusi­ness cau­cus in Brazil's Nation­al Con­gress, by remov­ing rights, deny­ing peas­ant fam­i­lies' access to land and fuel­ing vio­lence that often results in deaths of land­less peasants.
Recent­ly, we have faced two bru­tal mas­sacres against peas­ants in dif­fer­ent regions of Brazil. One of them took place in Col­niza, Mato Grosso, where 9 rur­al work­ers were killed just five days after the 20th anniver­sary of the infa­mous mas­sacre of Eldo­ra­do dos Cara­jás, in the Ama­zon­ian state of Pará. This is the same state where, on May 24, 9 men and one woman — the pres­i­dent of the local union — occu­pied some land and then were bru­tal­ly mur­dered by police in the dis­tant local­i­ty of Pau D'Ar­co. This case shocked the soci­ety for its cru­el­ty. Before being shot point-blank, all them where psy­cho­log­i­cal­ly and phys­i­cal­ly tortured.
This wave of vio­lence sig­nals an advance of the cap­i­tal­ist mod­el over work­ers' rights and over the nat­ur­al resources, land, min­er­als and water. This advance is accel­er­at­ed by the coup we are liv­ing here in Brazil and its counter-reforms, includ­ing remov­ing indige­nous and black tra­di­tion­al pop­u­la­tions' land rights, chang­ing all leg­is­la­tion about agrar­i­an reform lands, and even open­ing the pos­si­bil­i­ty of big land sells to for­eign cap­i­tal — there­by threat­en­ing our nation­al sovereignty.
This polit­i­cal agen­da is tak­ing shape on dif­fer­ent fronts. At the end of 2016, the gov­ern­ment sent Exec­u­tive Order 759 to the Nation­al Con­gress. This deals with rur­al and urban land use. It was sanc­tioned July 11, and now it is law. The main con­se­quence of this law is the fur­ther con­cen­tra­tion of land own­er­ship and the pri­va­ti­za­tion of pub­lic lands. With the titling process imposed by the gov­ern­ment, farm­land that was dis­trib­uted through an agrar­i­an reform process and is cur­rent­ly con­trolled by rur­al fam­i­lies can be eas­i­ly put back in the mar­ket or sold. This makes it like­ly that it will be returned to the hands of wealthy fam­i­lies and agribusinesses.
In addi­tion to favor­ing the con­cen­tra­tion of land own­er­ship in few­er hands, the new law exempts the State from its respon­si­bil­i­ties to the land­less fam­i­lies who ben­e­fit­ed from the agrar­i­an reform pro­gram. After issu­ing the land title to the small-scale farm­ers, the Nation­al Insti­tute for Col­o­niza­tion and Agrar­i­an Reform (INCRA), the gov­ern­ment depart­ment that set­tles land trans­fer cas­es, is no longer respon­si­ble for imple­ment­ing poli­cies that will cre­ate bet­ter liv­ing con­di­tions for the fam­i­lies ben­e­fit­ed by the land re-dis­tri­b­u­tion. In the same direc­tion, the law favors the land grab­bing of ter­ri­to­ries belong­ing to quilom­bo­las and indige­nous peo­ples — mak­ing it hard­er for local fam­i­lies to achieve the legal recog­ni­tion of their ances­tral areas.
Also, the gov­ern­ment has stopped the set­tle­ment of new fam­i­lies by elim­i­nat­ing the Min­istry of Agrar­i­an Devel­op­ment and dis­man­tling the INCRA, the main gov­ern­ment depart­ment for the imple­men­ta­tion of the agrar­i­an reform.
Rafael: Was the big-agribusi­ness eco­nom­ic mod­el strength­ened by the coup d'etat?
Déb­o­ra: The agribusi­ness­es indus­try was very much empow­ered. At this moment, the ​"agribusi­ness cau­cus" in the Nation­al Con­gress has suc­cess­ful­ly pushed for the approval of laws that pro­tect the inter­ests of com­pa­nies and large landown­ers, rang­ing from rolling back the rights of land­less peas­ants, afro-descen­dant and indige­nous peo­ples to allow­ing land own­er­ship by for­eign­ers and pri­va­ti­za­tion of nat­ur­al resources.
In sum, every law that still exists to lim­it the irre­spon­si­ble and unre­strict­ed action of the cap­i­tal in agri­cul­ture is being relaxed. There is also a com­plete dis­man­tling of remain­ing poli­cies that ben­e­fit small-scale farmers.
Rafael: Vio­lence in the coun­try­side has increased. Is there a direct rela­tion­ship with the polit­i­cal conjuncture?
Déb­o­ra: The increase of vio­lence in rur­al areas this year is alarm­ing. Undoubt­ed­ly, it has a direct rela­tion­ship with the cur­rent polit­i­cal con­text. The coup gov­ern­ment — with the sup­port of the agribusi­ness cau­cus — is rolling back eco­nom­ic, social and cul­tur­al rights, which pre­vents the strength­en­ing of the peas­ant work­ing class. It is also pro­vid­ing polit­i­cal cov­er for the grow­ing vio­lence, as the res­o­lu­tion of land con­flicts are tac­it­ly neglect­ed by the local powers.
The cur­rent moment is a con­tin­u­a­tion of what has his­tor­i­cal­ly been done in Brazil: the use of tru­cu­lence as the only strat­e­gy of con­flict res­o­lu­tion. This is car­ried out by the state through its police appa­ra­tus going to the coun­try­side to kill, fuel con­flicts and gen­er­ate deaths on the side of the work­ers. It is also car­ried out by armed mili­tias, gun­ning and pri­vate secu­ri­ty com­pa­nies, which have impuni­ty to do jus­tice with their own hands: They evict, muti­late, tor­ture and kill.
There is a sharp increase in the vio­lence against the lives of those who fight and resist for land rights in the coun­try­side. This year alone, dozens of peo­ple have been mur­dered in rur­al areas, includ­ing the mas­sacres in Conilza, Mato Grosso state and Pau Dar­co, Pará state.
Rafael: How has the MST and the oth­er social move­ments faced this set­back in the rights of the work­ing class, which vio­lent­ly hit the peasantry?
Déb­o­ra: First, we need to be aware that we live a coup d'etat coor­di­nat­ed by con­ser­v­a­tive sec­tors of the Brazil­ian elite, the judi­cia­ry, the fed­er­al pub­lic pros­e­cu­tion, the nation­al con­gress, the mass media out­lets and impe­ri­al­is­tic pow­ers. To have this under­stand­ing is fun­da­men­tal to fac­ing this sit­u­a­tion. This enables us to under­stand that our ene­mies are large and well-coor­di­nat­ed, and it is only pos­si­ble to con­front them with uni­ty among the work­ing class and pro­gres­sive sec­tors of our society.
That is why we have ded­i­cat­ed our ener­gy to the strength­en­ing of spaces and strug­gles that point in this direc­tion, like the Pop­u­lar Brazil Front (Frente Brasil Pop­u­lar), a broad front that has been built with hun­dreds of orga­ni­za­tions — not only to have a shared analy­sis, but to car­ry out joint struggles.
But we still have great chal­lenges to face as a result of the coup and its con­se­quences. We need to bet­ter com­mu­ni­cate and orga­nize the mass­es. Polit­i­cal for­ma­tion is also a need, so every­one can under­stand what is at stake and face this rul­ing class that plun­dered our coun­try and mas­sa­cred our peo­ple since colonization.
Rafael: What are the next steps for the move­ment in con­fronting the coup?
Déb­o­ra: It does not mat­ter who is in the driver's seat of the gov­ern­ment. Rather, we should be pay­ing atten­tion to what is hap­pen­ing when it comes to neolib­er­al labor and social secu­ri­ty reforms, elim­i­na­tion of labor pro­tec­tions, land own­er­ship by for­eign­ers and set­backs in social, eco­nom­ic and polit­i­cal rights.
Rafael: What alliances have been built on a glob­al lev­el in the strug­gle against the cap­i­tal­ist sys­tem, and what are the next steps in this strug­gle? Can we see prac­ti­cal alter­na­tives to the system?
Déb­o­ra: Just as we have worked hard in Brazil to build alliances to face this dif­fi­cult moment that we cross in the polit­i­cal con­junc­ture, through dif­fer­ent fronts of strug­gle, we are in tune with oth­er move­ments around the globe. We see La Via Campesina as a great inter­con­ti­nen­tal alliance of peas­ants against the encroach­ment of cap­i­tal­ism in agri­cul­ture and the pri­va­ti­za­tion of water and forests. Anoth­er impor­tant ini­tia­tive that deserves our atten­tion is the coor­di­na­tion of social move­ments with Pope Fran­cis II that orga­nizes the Inter­na­tion­al Encounter of Pop­u­lar Movements.
It is an ini­tia­tive from Vat­i­can, under Pope Fran­cis II, who is cer­tain­ly a human con­cerned about the des­tiny of the poor­est of the world and the Earth itself. In the first glob­al meet­ing of pop­u­lar move­ments in the Vat­i­can — the World Meet­ing of Pop­u­lar Move­ments in 2014 — MST and oth­er Brazil­ian move­ments joined with Pope Fran­cis II. They released the state­ment: ​"No fam­i­ly with­out a home, no peas­ant with­out land, no work­er with­out rights."
After this first per­son­al gath­er­ing of activists from all over the plan­et, a sec­ond edi­tion of the event took place in 2015, in San­ta Cruz de La Sier­ra, Bolívia. There was anoth­er gath­er­ing at the Vat­i­can in 2016. Through this artic­u­la­tion, work­ers and peo­ples that who bear the brunt of cap­i­tal­ist fail­ures across con­ti­nents are shar­ing analy­ses and build­ing a com­mon agen­da for their struggle.
A nec­es­sary step is the con­struc­tion of mas­sive uni­fied strug­gles at a glob­al lev­el that can tru­ly oppose and respond to the dev­as­ta­tion wrought by the cap­i­tal­ist sys­tem through­out the world, not only in the appro­pri­a­tion of nature but also in the dis­missal of rights and destruc­tion of sov­er­eign­ty. We can build move­ments that set the exam­ple, like the resis­tance of the peo­ple of Cuba and the strug­gle through­out Latin Amer­i­ca and oth­er parts of the world. Although these expe­ri­ences are dis­joint­ed today, the chal­lenge is pre­cise­ly the need to artic­u­late the var­i­ous resis­tances in a sin­gle process, in a glob­al artic­u­la­tion and action that can face capitalism.
For us in the MST, sol­i­dar­i­ty is key to our resis­tance. Along with peas­ants around the world, we are build­ing this inter­na­tion­al alliance we call La Via Campesina. We study togeth­er, we face the same men­aces in our ter­ri­to­ries, and we strug­gle together.
Saulo Araújo, a mem­ber of the U.S. Friends of MST, con­tributed to this article.
Rafael Sori­ana is a mem­ber of the com­mu­ni­ca­tions col­lec­tive for Brazil's Land­less Work­ers Move­ment.Déb­o­ra Nunes is a mem­ber of the Nation­al Direc­to­ry of Brazil's Land­less Work­ers Movement.