Socialism and Faygo: Why the DSA Is Down for the Struggalo
A conversation with Allison Hrabar of Metro D.C. DSA.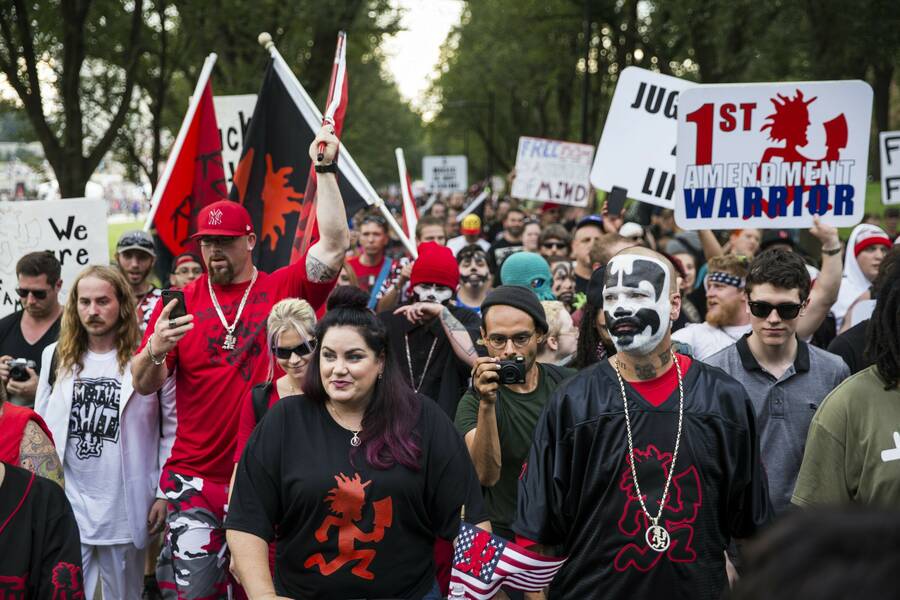 Last week­end in Wash­ing­ton, D.C., the jug­ga­los — fans of the band Insane Clown Posse and their record label — marched against their crim­i­nal­iza­tion. In 2011, the FBI clas­si­fied the jug­ga­los as a ​"hybrid gang," mean­ing that their love for a par­tic­u­lar musi­cal act marked them as threats. Jug­ga­los are often writ­ten off by the rest of soci­ety, but to some left­ist polit­i­cal orga­ni­za­tions, the march was an oppor­tu­ni­ty to demon­strate sol­i­dar­i­ty and build con­nec­tions with a group of peo­ple politi­cized by their out­cast treat­ment. Alli­son Hrabar of Metro D.C. Demo­c­ra­t­ic Social­ists of Amer­i­ca was part of a sol­i­dar­i­ty del­e­ga­tion to the Jug­ga­lo March
Finding a network that can support you when the state fails is really important.
Alli­son Hrabar: I am Alli­son Hrabar, and I am a rank-and-file mem­ber of Metro D.C. DSA.
Sarah Jaffe: This past week­end, you were part of the DSA con­tin­gent that was at the Jug­ga­lo March. Tell us about your per­cep­tions of the march. How did it go?
Alli­son: It was one of my favorite days in Wash­ing­ton, D.C. this year. We have a lot of march­es, and they have start­ed to feel repet­i­tive. This was a real­ly new group of peo­ple, and it was also the friend­liest group of peo­ple I have been around in a while. We showed up at 1:00 p.m. Our Fay­go was gone by 1:30 p.m. We had some real­ly great con­ver­sa­tions with peo­ple about the march.
Sarah: You say up that march­es have start­ed to get repet­i­tive. I would like to hear a lit­tle bit more about why this one felt dif­fer­ent and fresh.
Alli­son: For one, it was a lot of peo­ple com­ing from out­side of Wash­ing­ton, D.C. At a cer­tain point, the peo­ple who are able to march are pro­fes­sion­als who aren't work­ing on the week­ends, or just peo­ple who might be able to afford to trav­el and fly in. The jug­ga­los typ­i­cal­ly are a white, work­ing-class move­ment. They real­ly crowd­fund to be able to trav­el when they might not be able to oth­er­wise. Also, they have clown face paint on, which is not a nor­mal look by the Lin­coln Memorial.
Sarah: Yes, I imag­ine that's not what the tourists expected.
Alli­son: Yes, there were some tourists who were walk­ing up the mall from the Wash­ing­ton Mon­u­ment towards the Lin­coln Memo­r­i­al. Watch­ing them nav­i­gate through the crowd with their fam­i­lies was very fun.
Sarah: Give us a lit­tle back­ground on the march, the demands and the basis for why the jug­ga­los marched on Wash­ing­ton, D.C.
Alli­son: In 2011, the FBI clas­si­fied jug­ga­los as a loose­ly affil­i­at­ed hybrid gang, which means that all of their fan mark­ers became gang sym­bols overnight. So, if you have a hatch­et man tat­too, if you have the Psy­cho­path­ic Records logo on your car as a stick­er, if you have pho­tos of your­self on social media in face paint, then you are adver­tis­ing your­self as a gang mem­ber in the eyes of law enforce­ment. As this clas­si­fi­ca­tion hap­pened, jug­ga­los start­ed to have this brought up in cus­tody bat­tles, and they say they were los­ing cus­tody of their chil­dren. They say they were los­ing jobs. Basi­cal­ly, because they liked a cer­tain band, that is admit­ted­ly very weird, they weren't able to par­tic­i­pate in life, because that has been deemed a crime.
Sarah: Any of us might have t‑shirts of bands that peo­ple don't par­tic­u­lar­ly under­stand in our clos­ets. Yet, these can sud­den­ly become a mark­er of crim­i­nal­i­ty, and this is some­thing we don't expect.
Alli­son: And a lot of peo­ple have ignored that, because this issue is sort of treat­ed as a joke. Like, if Nick­el­back sud­den­ly became a gang sym­bol, that would be very fun­ny. It would also be a problem.
Sarah: We are also just not used to that hap­pen­ing to a group of most­ly white people.
Alli­son: Yes, espe­cial­ly in pro­gres­sive and lib­er­al cir­cles, a lot of us know how increased police sur­veil­lance affects peo­ple of col­or or queer peo­ple. The peo­ple this is affect­ing may not be used to being tar­get­ed by police, and this may awak­en them to the prob­lems of state repres­sion and sud­den­ly see­ing how that affects their lives.
Sarah: Talk about why it was impor­tant for DSA to be involved in this.
Alli­son: There are a few rea­sons. We were excit­ed about it as soon as we heard about it. The idea of the jug­ga­los march­ing on Wash­ing­ton is an excit­ing idea. I think every­one on the inter­net can relate to that. When we heard about the actu­al issues, we knew it was some­thing we ide­o­log­i­cal­ly sup­port­ed. As social­ists, we don't like state repres­sion. We don't like the abus­es that law enforce­ment inflicts on our cit­i­zens. At our recent DSA con­ven­tion in August, actu­al­ly, we passed a res­o­lu­tion about dis­man­tling the police state and abol­ish­ing pris­ons. So this falls in line with our par­ty assessed ideas.
Also, we want to build a move­ment that actu­al­ly reflects what the nation looks like. The Wash­ing­ton, D.C. chap­ter of DSA tends to lean white, and it tends to lean pro­fes­sion­al. We thought it was a good idea to reach out to a group of work­ing-class peo­ple who have actu­al­ly been affect­ed by police.
Sarah: You men­tioned before that the iden­ti­ty of jug­ga­lo is built around the idea of cre­at­ing a cho­sen fam­i­ly. I would love for you to talk a lit­tle bit more about that con­cept and its rel­e­vance to polit­i­cal organizing.
Alli­son: One of the chants you heard a lot at the march was ​"Fam­i­ly! Fam­i­ly!" That is sort of this jug­ga­lo idea that your jug­ga­los and your jug­galettes are your broth­ers and sis­ters, and you come togeth­er because of this shared iden­ti­ty. That is some­thing I relate to as a queer per­son find­ing my cho­sen fam­i­ly in that com­mu­ni­ty. As part of DSA, I've been able to find peo­ple who are con­nect­ed because of this ide­o­log­i­cal rea­son. We come togeth­er, and we have real­ly formed this social cir­cle around that. Find­ing a net­work that can sup­port you when the state fails is real­ly impor­tant. I think a lot of peo­ple have built their lives around that in some way. With the jug­ga­los, that is happening.
Sarah: Tell us a lit­tle bit about the back­ground work you did before going to the march to make sure that you could be there and not intrude on the family.
Alli­son: We didn't want to show up and hand out copies of the Com­mu­nist Man­i­festo. We worked through what would be well received. I reached out to a jug­ga­lo named Kit­ty Stryk­er. They are one of the found­ing mem­bers of the Strug­ga­lo Cir­cus. They are a group that is orga­niz­ing left­ists with­in the jug­ga­lo com­mu­ni­ty, and they are jug­ga­los them­selves. We were real­ly impressed by what they are doing. I end­ed up con­tact­ing Kit­ty on Twit­ter. I asked, ​"What kind of mes­sages might the jug­ga­los want to hear? How might they be open to hear­ing this idea that we are bring­ing them? We are not jug­ga­los our­selves. We are not going to pre­tend to be, but we want to reach out to them."
They gave some real­ly good advice. They said that a lot of jug­ga­los that are polit­i­cal, and some are apo­lit­i­cal. Some of them are right-wing. They said that those who might be open to our mes­sage already lean towards being anar­chists or lib­er­tar­i­ans, so we should focus on those aspects of being a social­ist and meet them where they are. If they care about lib­er­tar­i­an­ism, what are the lib­er­tar­i­an social­ist ideas we can bring them? If they care about dis­man­tling the state, what are the anar­cho-com­mu­nist ideas we can bring them?
Sarah: How did your inter­ac­tions with folks go on the day of the march?
Alli­son: They were all incred­i­bly pos­i­tive. We showed up right when the gath­er­ing start­ed, when jug­ga­los were basi­cal­ly start­ing to mill around the mall. It was sort of like a meet-up until the actu­al speech­es start­ed. We had a big sign that said ​"Fay­go and Snacks" and had all these posters that said ​"Fay­go not Fas­cism." The ques­tion that every­body asked us was whether we actu­al­ly had Faygo.
Sarah: And for peo­ple who don't know what Fay­go is, tell us why Fay­go is important.
Alli­son: It is the offi­cial soda of the jug­ga­los. I don't actu­al­ly know the back sto­ry there. But, it is this real­ly sweet soda. They spray it at their con­certs over the crowd, and peo­ple go wild. So, we had to get it. We got Fay­go, and peo­ple were real­ly excit­ed. I gave peo­ple drinks and then we had bags of chips to hand out.
Then we said, ​"Oh, also, we have some pro­pa­gan­da for you if you are inter­est­ed." Every­one I offered a pam­phlet to said ​"yes," which is usu­al­ly not the case when tabling at an event. A cou­ple of peo­ple were like, ​"Oh, what is with the rose?" We put a rose on the lit­tle hatch­et man logo. Peo­ple were like, ​"What is DSA? Why are you guys out here?" We explained. At one point, a park ranger didn't want us sit­ting still on the mall and just camp­ing out, so we took our box­es and start­ed wan­der­ing through the crowd. Peo­ple were crazy about the posters, and peo­ple were real­ly appre­cia­tive of the water. It was a real­ly great day overall.
Sarah: I won­der if you could talk a lit­tle bit about the impor­tance of sub­cul­tur­al groups being politi­cized, par­tic­u­lar­ly in the Trump era.
Alli­son: I think what we are see­ing right now with the jug­ga­los is that their con­scious­ness is being raised. They are sud­den­ly the tar­get of the State. Some of them already have been for oth­er rea­sons, but now they are tar­gets of the state because of this group, and they are reach­ing out­side for sup­port. I think you see that with a lot of mar­gin­al­ized groups across his­to­ry. If you are being tar­get­ed for a cer­tain part of your iden­ti­ty, you are going to look for sol­i­dar­i­ty with peo­ple in that identity.
We talk about how the punk scene rad­i­cal­ized a lot of peo­ple at the time. Pol­i­tics are part of your dai­ly life, right? If you are cast out for being a weirdo, or because you paint your face like a clown, you might start to won­der why soci­ety is able to do that to you. Why are you able to lose your job because of stuff you like? I think this is a real­ly com­mon thing across the state that we are see­ing, and I think it is reach­ing a new pop­u­la­tion for the first time.
Sarah: Of course, this was hap­pen­ing on the same day as a sup­pos­ed­ly ​"moth­er of all Trump ral­lies," which I heard didn't actu­al­ly turn out to be very big. Was there inter­ac­tion between the two, as far as you know?
Alli­son: Not that I saw. The jug­ga­los were very insis­tent that this was not an anti-Trump march. They were not respond­ing to the moth­er of all ral­lies. They did not want to inter­act, because they want­ed it to be a very peace­ful day. It was a very peace­ful day. No arrests. No violence.
Inter­views for Resis­tance is a project of Sarah Jaffe, with assis­tance from Lau­ra Feuille­bois and sup­port from the Nation Insti­tute. It is also avail­able as a pod­cast on iTunes. Not to be reprint­ed with­out permission.
Sarah Jaffe
is a for­mer staff writer at
In These Times
and author of
Nec­es­sary Trou­ble: Amer­i­cans in Revolt
, which Robin D.G. Kel­ley called ​
"
The most com­pelling social and polit­i­cal por­trait of our age." You can fol­low her on Twit­ter
@sarahljaffe
.