Why Defending Workers' Rights Means Fighting ICE's Deportation Machine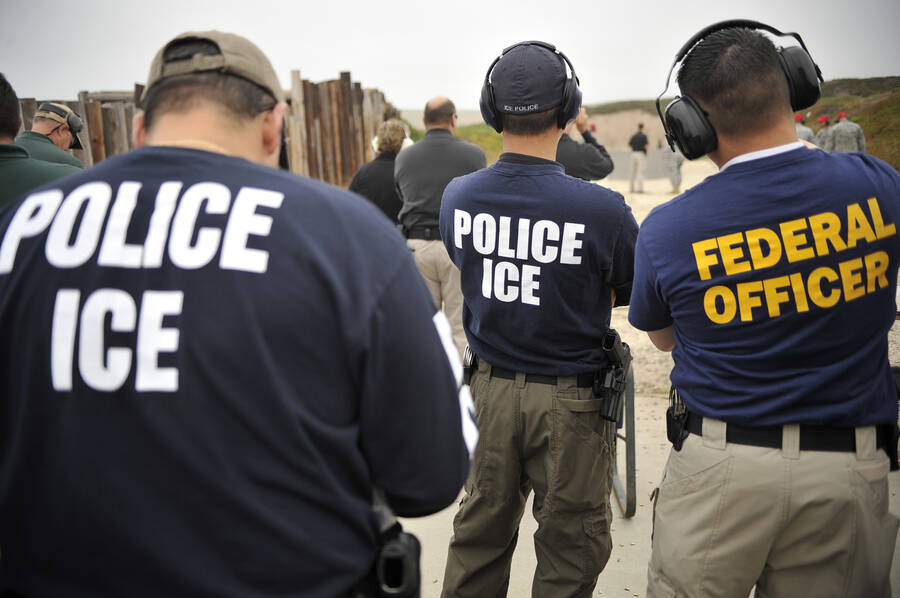 Last month, Cal­i­for­nia Labor Com­mis­sion­er Julie Su dis­trib­uted a memo instruct­ing her staff to turn away any Immi­gra­tion and Cus­toms Enforce­ment (ICE) agents who show up at labor offices with­out a fed­er­al war­rant. This action came in response to three recent cas­es in which ICE sought work­ers' infor­ma­tion short­ly after they filed claims against their employ­ers. Su told The Los Ange­les Times that, in two of these cas­es, ICE offi­cials showed up at the employ­ees' labor hear­ing. In case ICE con­tin­ues to show up at such hear­ings, Su pro­vid­ed sug­gest­ed scripts to guide the inter­ac­tion. ​"Would you please leave our office? The Labor Com­mis­sion­er does not con­sent to your entry or search of any part of our office," reads one por­tion of the text.
ICE's tar­get­ing of labor hear­ings falls into a much broad­er pat­tern of work­place immi­gra­tion raids. The sec­ond term of the George W. Bush admin­is­tra­tion saw a boom in such poli­cies, with author­i­ties car­ry­ing out hun­dreds of sweeps tar­get­ing work­ers. In May of 2008, hun­dreds of Home­land Secu­ri­ty agents swooped into Postville, Iowa and arrest­ed 389 employ­ees at a kosher meat­pack­ing plant. Near­ly 300 of those work­ers spent five months in jail before being deport­ed. In a town with a pop­u­la­tion of just 2,300 peo­ple, this meant that more than 10 per­cent of all res­i­dents were incar­cer­at­ed as the result of one raid. ​"They don't go after employ­ers. They don't put CEOs in jail," said Postville Com­mu­ni­ty Schools super­in­ten­dent David Strudthoff at the time. "[This] is like a nat­ur­al dis­as­ter — only this one is man-made. In the end, it is the greater pop­u­la­tion that will suf­fer and the work­force that will be held accountable."
While Barack Oba­ma deport­ed more peo­ple than any oth­er pres­i­dent, the tac­tic of tar­get­ing work­ers fluc­tu­at­ed on his watch. Data from ICE indi­cates that work­place immi­gra­tion arrests peaked for Oba­ma in 2011 — but nev­er reached the lev­els seen under Bush. The Nation­al Employ­ment Law Project's (NELP) Haey­oung Yoon told In These Times that, while we haven't seen wide­spread exam­ples of work­place raids under the Trump admin­is­tra­tion, this doesn't mean they're not com­ing even­tu­al­ly. ​"These efforts take a lot of time to plan," said Yoon.
Under­scor­ing Yoon's point, 55 undoc­u­ment­ed work­ers were detained in Feb­ru­ary in a series of Mis­sis­sip­pi restau­rant raids. After the arrests, ICE pub­lic affairs offi­cer Thomas Byrd said that the fed­er­al search war­rants were part of a year-long inves­ti­ga­tion.
State orga­ni­za­tions like the Illi­nois Busi­ness Immi­gra­tion Coali­tion are train­ing employ­ers to pre­pare for the pos­si­bil­i­ty of such sweeps. NELP and the Nation­al Immi­gra­tion Law Cen­ter have cre­at­ed a help­ful guide for busi­ness­es con­cerned about ICE raids, which includes details on how to keep agents out, what to do if they enter and what actions can be tak­en after they leave. ​"Employ­ers and their employ­ees have rights when it comes to immi­gra­tion enforce­ment in the work­place," wrote NELP staff attor­ney Lau­ra Huizar short­ly after the guide was pub­lished. ​"Employ­ers can and should take steps now to pro­tect those rights and do what's best for their busi­ness and their teams."
In Cal­i­for­nia, where almost half of the state's farm­work­ers are undoc­u­ment­ed, there have been recent leg­isla­tive efforts to com­bat work­place raids. The SEIU-spon­sored Immi­grant Work­er Pro­tec­tion Act (AB 450) is a bill, intro­duced this March, that would require all employ­ers to demand a fed­er­al war­rant if ICE shows up. The leg­is­la­tion, which was intro­duced by San Fran­cis­co Assem­bly­mem­ber David Chiu, would also pre­vent busi­ness­es from hand­ing over per­son­al employ­ee infor­ma­tion unless they were subpoenaed.
But what is to be done about employ­ers who will­ing­ly col­lude with ICE? While explain­ing her memo, Julie Su told the Los Ange­les Times that she sus­pect­ed busi­ness­es of tip­ping agents off to labor hear­ings, events where only the employ­er and employ­ee would be aware of the sched­uled time. Ear­li­er this year, Jose Flo­res, a 37-year-old Mass­a­chu­setts man, was arrest­ed by ICE short­ly after a work­ers' com­pen­sa­tion meet­ing. Flo­res' lawyers believe that the arrest might have been retal­i­a­tion from Flo­res' employ­er, Tara Con­struc­tion, look­ing for a way to get out of pay­ing out the claim. Stephen Mur­ray, a lawyer for Tara Con­struc­tion, insists that his client made no con­tact with ICE and had no rea­son to believe Flo­res' was undocumented.
A recent inves­ti­ga­tion by ProP­ub­li­ca and NPR reveals that this is hard­ly an iso­lat­ed case. Their review focus­es on Flori­da, where a 2003 law made it ille­gal to for work­ers to file com­pen­sa­tion claims using false iden­ti­fi­ca­tion. In the 14 years since, at least 130 injured work­ers were arrest­ed under the law. At least one in four of those work­ers was detained by ICE or deport­ed. ​"State fraud inves­ti­ga­tors have arrest­ed injured work­ers at doc­tor's appoint­ments and at depo­si­tions in their work­ers' comp cas­es," reads the report. ​"Some were tak­en into cus­tody with their arms still in slings."
The report also points out that the Flori­da mod­el could be a pre­view of wide­spread things to come under the Trump admin­is­tra­tion. If this is true, then the labor move­ment could end up tak­ing a clos­er look at Tom Cat Bak­ery in Queens, where a Home­land Secu­ri­ty inquiry and promise of sub­se­quent fir­ings sparked rad­i­cal protests. Employ­ers who open­ly col­lude with Trump's depor­ta­tion machine might soon be tar­gets of the same resistance.
"
Michael Arria
is the U.S. cor­re­spon­dent for Mon­doweiss. Fol­low him on Twit­ter: @michaelarria.