With All Eyes on DACA, the Trump Administration Is Quietly Killing Overtime Protections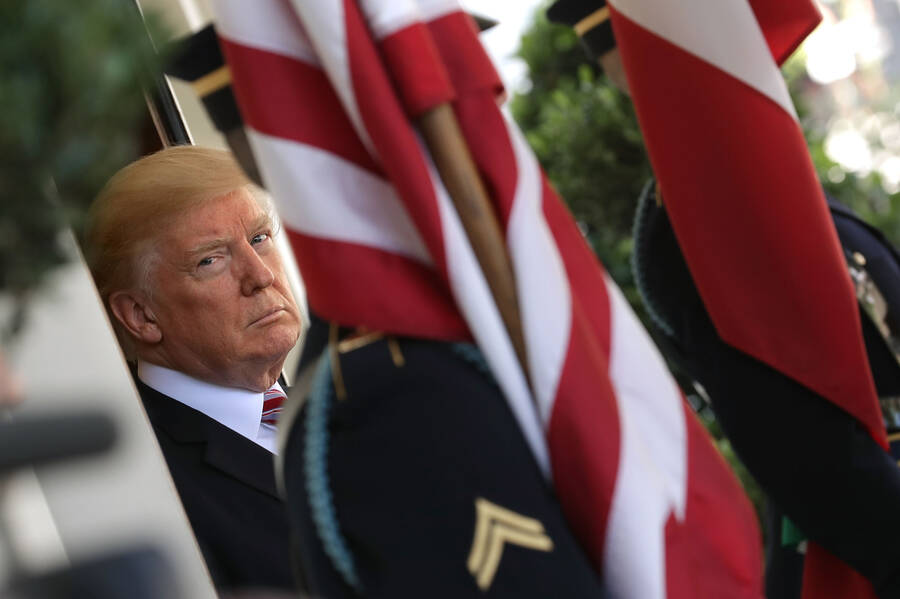 On Sep­tem­ber 5, the admin­is­tra­tion of Don­ald Trump for­mal­ly announced that they won't try to save Obama's over­time rule, effec­tive­ly killing a poten­tial raise for mil­lions of Amer­i­cans. This dis­turb­ing devel­op­ment has large­ly slipped under the radar dur­ing a busy news week, marked by Trump's scrap­ping of the Deferred Action for Child­hood Arrivals (DACA) program.
Twen­ty-one states and a num­ber of busi­ness groups sued the Oba­ma admin­is­tra­tion last Sep­tem­ber, after the Depart­ment of Labor (DOL) announced the new rule, accus­ing the for­mer pres­i­dent of overreach.
That law­suit led to Amos Maz­zant, a fed­er­al Oba­ma-appoint­ed judge in Texas, putting the rule on hold last Novem­ber, short­ly before it was set to become law. On August 31, Maz­zant struck the rule down, and — less than a week lat­er — Trump's Depart­ment of Jus­tice (DOJ) declined to chal­lenge the Dis­trict Court's deci­sion. In a court fil­ing, a DOJ lawyer said that the admin­is­tra­tion would not appeal.
The Oba­ma administration's rule would have raised the over­time salary thresh­old con­sid­er­ably. The thresh­old hadn't been increased by any admin­is­tra­tion to ade­quate­ly reflect wage growth or infla­tion, which means that many work­ers only see over­time pay if they make less than about $23,660 a year. Oba­ma had sched­uled that num­ber to be bumped up to about $47,476 after review­ing 300,000 com­ments on the subject.
"The over­time rule is about mak­ing sure mid­dle-class jobs pay mid­dle-class wages," for­mer Labor Sec­re­tary Tom Perez told reporters on a call after the rule was announced in May 2016. ​"Some will see more mon­ey in their pock­ets … Some will get more time with their fam­i­ly … and every­body will receive clar­i­ty on where they stand, so that they can stand up for their rights."
While the over­time rule faced pre­dictable oppo­si­tion from Repub­li­cans and busi­ness groups, it also received back­lash from some lib­er­al advo­ca­cy orga­ni­za­tions. In May 2016, U.S. PIRG, the pop­u­lar fed­er­a­tion of non-prof­it orga­ni­za­tions, released a state­ment crit­i­ciz­ing Obama's deci­sion. ​"Orga­ni­za­tions like ours rely on small dona­tions from indi­vid­u­als to pay the bills. We can't expect those indi­vid­u­als to dou­ble the amount they donate," said the group.
Crit­ics of the state­ment point­ed out that U.S. PIRG's oppo­si­tion sug­gests they have employ­ees not being paid for over­time despite their low wages. The group was slammed by pro­gres­sives for sup­port­ing a regres­sive pol­i­cy when it ben­e­fit­ed their eco­nom­ic interests.
The DOL claimed that the rule would mean a pay increase for about 4.2 mil­lion Amer­i­cans, but the Eco­nom­ic Pol­i­cy Insti­tute (EPI) con­tends that the DOL's fig­ure is far too low. Accord­ing to EPI, the DOL's analy­sis fails to take the impact of George W. Bush's over­time poli­cies into account and relies heav­i­ly on sta­tis­tics that were gen­er­at­ed before he took pow­er. EPI esti­mates that, because of changes to employ­ee clas­si­fi­ca­tions in 2004, rough­ly 6 mil­lion work­ers had their right to over­time destroyed.
The EPI's study of the over­time rule deter­mined that about 12.5 mil­lion work­ers would have been impact­ed if it had been imple­ment­ed. A wide range of work­ers would have poten­tial­ly seen a pay increase, includ­ing 6.4 mil­lion women, 1.5 mil­lion African Amer­i­cans and 2.0 mil­lion Lati­nos, the EPI concludes.
"Once again, the Trump admin­is­tra­tion has sided with cor­po­rate inter­ests over work­ers, in this case, sid­ing with busi­ness groups who care more about cor­po­rate prof­its than about allow­ing work­ing peo­ple earn over­time pay," Hei­di Shier­holz, who leads the EPI's Perkins Project on Work­er Rights and Wages, told In These Times.
The Trump administration's move might be dis­ap­point­ing for work­ers' rights advo­cates, but it's hard­ly sur­pris­ing. As a pres­i­den­tial can­di­date in 2016, Trump vowed to kill the over­time rule if elect­ed. ​"We have to address the issues of over-tax­a­tion and over­reg­u­la­tion and the lack of access to cred­it mar­kets to get our small busi­ness own­ers thriv­ing again," he said in an inter­view. ​"Rolling back the over­time reg­u­la­tion is just one exam­ple of the many reg­u­la­tions that need to be addressed to do that."
While many pun­dits have focused on Trump's unre­lent­ing series of fail­ures and scan­dals, his admin­is­tra­tion has qui­et­ly waged a fair­ly suc­cess­ful war on labor. In addi­tion to nix­ing one of Obama's most notable pol­i­cy achieve­ments, the Trump admin­is­tra­tion is also poised to stack the Nation­al Labor Rela­tions Board with a pro-busi­ness major­i­ty, has pro­posed major cuts to the Labor Depart­ment and has rolled back safe­ty pro­tec­tions for workers.
Last month, Bloomberg report­ed that Trump's Labor Depart­ment had cre­at­ed an office specif­i­cal­ly designed to recon­sid­er gov­ern­ment reg­u­la­tions. The office will be run by Nathan Mehrens, the anti-union lawyer who is also in charge of the department's pol­i­cy shop.
Trump geared much of his cam­paign rhetoric toward the U.S. work­er, vow­ing to dis­man­tle exploita­tive trade agree­ments and bring back jobs. How­ev­er, his admin­is­tra­tion has sim­ply embold­ened the anti-labor forces that have dic­tat­ed eco­nom­ic pol­i­cy for decades.
"
Michael Arria
is the U.S. cor­re­spon­dent for Mon­doweiss. Fol­low him on Twit­ter: @michaelarria.