Americans Are Realizing They've Been Scammed By the GOP Tax Bill: Most Report Zero Pay Boost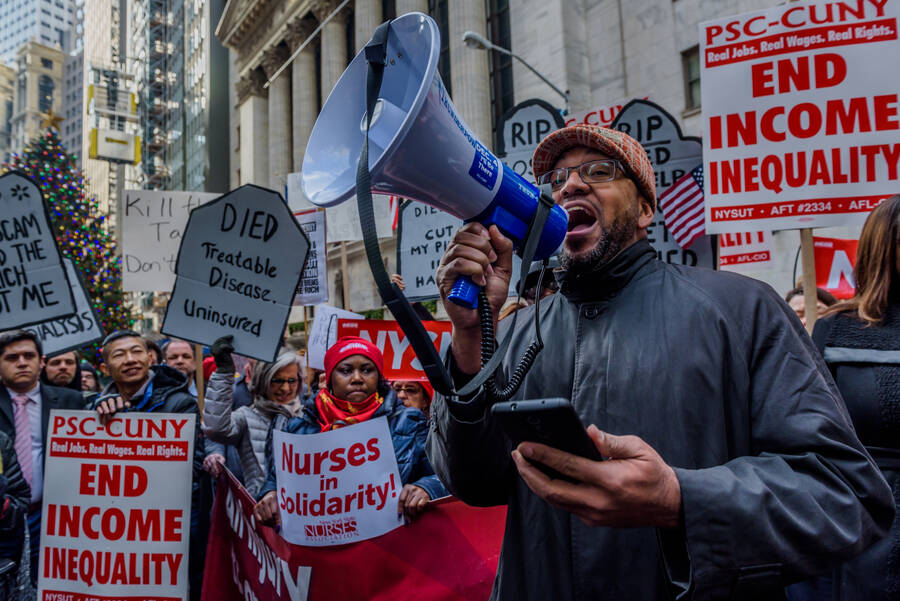 This arti­cle first appeared on Com­mon Dreams.
The #GOP­TaxS­cam is liv­ing up to the moniker it earned from crit­ics last year, accord­ing to a new poll that shows the major­i­ty of Amer­i­cans are not see­ing pay­check increas­es from the plan that Repub­li­cans forced through Con­gress in December.
A new CNBC poll found that less than a third of those sur­veyed ear­li­er this month report­ed tak­ing home more mon­ey because of the new tax code, com­pared with 16 per­cent who said they were unsure and 52 per­cent who said their take-home pay did not go up.
There were clear income lev­el and par­ti­san divides in the results. Of those who report­ed an increase, more than 42 per­cent earn over $75,000 per year, and 52 per­cent of Repub­li­cans claimed they saw an increase, com­pared with only 20 per­cent of Democ­rats and 19 per­cent of Independents.
While CNBC reporter Steve Lies­man claimed the results were ​"quite aston­ish­ing," they did not shock many eco­nom­ics experts who warned last year that the plan was designed to pri­mar­i­ly ben­e­fit deep-pock­et­ed cam­paign donors at the expense of work­ing families.
"Am I sur­prised? Of course not!" declared Helaine Olen, a finance blog­ger for the Wash­ing­ton Post. ​"This was entire­ly pre­dictable — despite Repub­li­can claims to the con­trary last year."
Michael Lin­den, pol­i­cy and research direc­tor for the Hub Project and a Roo­sevelt Insti­tute fel­low, out­lined in a tweet why the results were ​"not sur­pris­ing at all."
Point­ing to analy­sis from the Tax Pol­i­cy Cen­ter, which pre­dict­ed that the aver­age mid­dle-income house­hold would take in an extra $930 — or less than $18 per week — because of the GOP tax plan, Olen wrote, ​"That's enough for an extra lunch at Chipo­tle (aver­age check: $12) but won't even cov­er a steak din­ner at Out­back Steakhouse."
CNBC​'s find­ings align with a Politico/​Morning Con­sult poll released last month, which found that only 25 per­cent of reg­is­tered vot­ers polled saw an increase in their income, while 51 per­cent had not. And, like the CNBC respon­dents, Morn­ing Con­sult's co-founder and chief research offi­cer Kyle Dropp said, ​"Our polling shows high-income earn­ers are more like­ly to have noticed an increase in their pay­checks as a result of the tax bill."
While low- and mid­dle-income work­ers aren't see­ing the ​"laugh­ably untrue" ben­e­fits promised to them by GOP law­mak­ers who fought for the tax scam, the plan — which slashed the cor­po­rate tax rate from 35 to just 21 per­cent — has been a boon to busi­ness­es, par­tic­u­lar­ly those in the fos­sil fuel indus­try, accord­ing to recent analy­sis.
"Per­haps Repub­li­cans can take com­fort from the long view: The indi­vid­ual tax cuts are set to expire at the end of 2025, even as the cor­po­rate cuts, which over­whelm­ing­ly ben­e­fit the wealthy, con­tin­ue," quipped Olen. ​"Maybe ordi­nary vot­ers won't notice that their tax cut dis­ap­peared even as those enjoyed by the rich live on in perpetuity. "
Jes­si­ca Cor­bett
, a for­mer In These Times intern, is a Maine-based staff writer at Com­mon Dreams. Fol­low her on Twit­ter at @corbett_jessica.