Americans Are Realizing They've Been Scammed By the GOP Tax Bill: Most Report Zero Pay Boost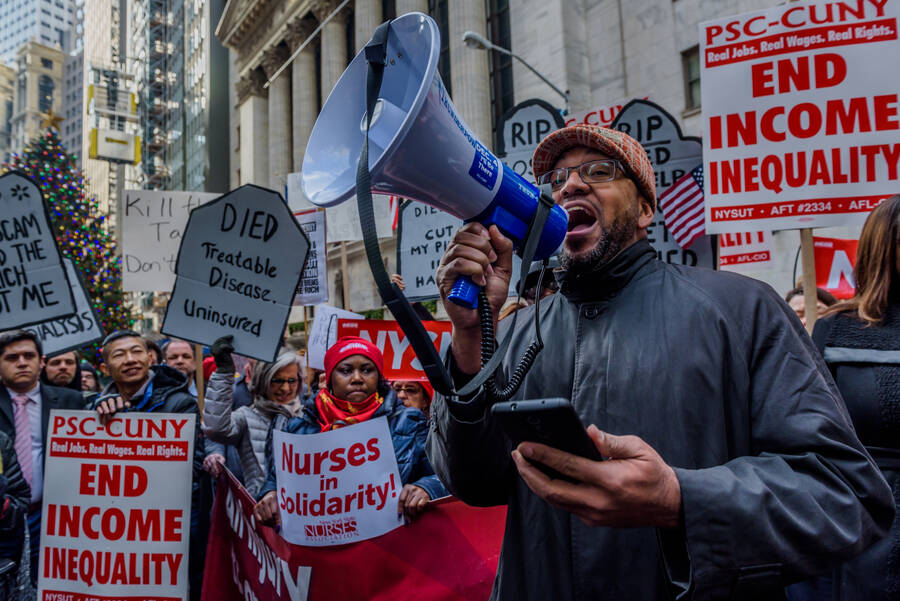 This article first appeared on Common Dreams.
The #GOPTaxScam is living up to the moniker it earned from critics last year, according to a new poll that shows the majority of Americans are not seeing paycheck increases from the plan that Republicans forced through Congress in December.
A new CNBC poll found that less than a third of those surveyed earlier this month reported taking home more money because of the new tax code, compared with 16 percent who said they were unsure and 52 percent who said their take-home pay did not go up.
There were clear income level and partisan divides in the results. Of those who reported an increase, more than 42 percent earn over $75,000 per year, and 52 percent of Republicans claimed they saw an increase, compared with only 20 percent of Democrats and 19 percent of Independents.
While CNBC reporter Steve Liesman claimed the results were ​"quite astonishing," they did not shock many economics experts who warned last year that the plan was designed to primarily benefit deep-pocketed campaign donors at the expense of working families.
"Am I surprised? Of course not!" declared Helaine Olen, a finance blogger for the Washington Post. ​"This was entirely predictable — despite Republican claims to the contrary last year."
Michael Linden, policy and research director for the Hub Project and a Roosevelt Institute fellow, outlined in a tweet why the results were ​"not surprising at all."
Pointing to analysis from the Tax Policy Center, which predicted that the average middle-income household would take in an extra $930 — or less than $18 per week — because of the GOP tax plan, Olen wrote, ​"That's enough for an extra lunch at Chipotle (average check: $12) but won't even cover a steak dinner at Outback Steakhouse."
CNBC​'s findings align with a Politico/​Morning Consult poll released last month, which found that only 25 percent of registered voters polled saw an increase in their income, while 51 percent had not. And, like the CNBC respondents, Morning Consult's co-founder and chief research officer Kyle Dropp said, ​"Our polling shows high-income earners are more likely to have noticed an increase in their paychecks as a result of the tax bill."
While low- and middle-income workers aren't seeing the ​"laughably untrue" benefits promised to them by GOP lawmakers who fought for the tax scam, the plan — which slashed the corporate tax rate from 35 to just 21 percent — has been a boon to businesses, particularly those in the fossil fuel industry, according to recent analysis.
"Perhaps Republicans can take comfort from the long view: The individual tax cuts are set to expire at the end of 2025, even as the corporate cuts, which overwhelmingly benefit the wealthy, continue," quipped Olen. ​"Maybe ordinary voters won't notice that their tax cut disappeared even as those enjoyed by the rich live on in perpetuity. "
Did you know?
Many nonprofits have seen a big dip in support in the first part of 2021, and here at In These Times, donation income has fallen by more than 20% compared to last year. For a lean publication like ours, a drop in support like that is a big deal.

After everything that happened in 2020, we don't blame anyone for wanting to take a break from the news. But the underlying causes of the overlapping crises that occurred last year remain, and we are not out of the woods yet. The good news is that progressive media is now more influential and important than ever—but we have a very small window to make change.

At a moment when so much is at stake, having access to independent, informed political journalism is critical. To help get In These Times back on track, we've set a goal to bring in 500 new donors by July 31. Will you be one of them?
Jessica Corbett
, a former In These Times intern, is a Maine-based staff writer at Common Dreams. Follow her on Twitter at @corbett_jessica.
Here's how you can help
In These Times is funded entirely by readers like you, but through the first half of 2021, reader donations are down 20% compared to last year. If that continues, it could spell real trouble for In These Times. We're running a short fundraising drive (from now until July 31) to get things back on track. Will you chip in?