To Fight Back Against Companies Like Uber, Workers Need Organizing—Not Technocratic Fixes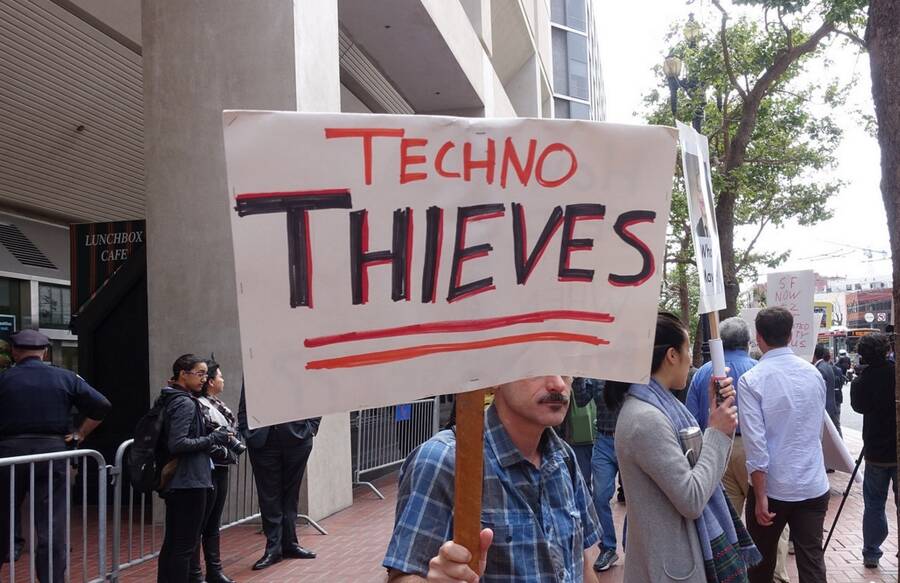 What are U.S. work­ers to do about the prob­lems pre­sent­ed by the gig economy?
The past year saw a num­ber of promi­nent lib­er­als offer pol­i­cy ideas to mit­i­gate the worst ele­ments of pre­car­i­ous employ­ment. For­mer U.S. Labor Sec­re­tary Robert Reich pro­posed that com­pa­nies pay into a com­mon ben­e­fit fund for the gig work­ers they employ. Left-lean­ing think-tank exec­u­tives, aca­d­e­mics and even a few union lead­ers signed on to a man­i­festo declar­ing that portable ben­e­fits were the solu­tion to eas­ing the lives of pre­car­i­ous workers.
They're off the mark. A last­ing solu­tion can't sim­ply address the obvi­ous lack of ben­e­fits — it must tack­le the real prob­lem: the pow­er dif­fer­en­tial between gig econ­o­my work­ers and the big busi­ness­es that con­trol their labor.
For a good exam­ple of how to address that prob­lem, look to Seat­tle. Last month, after more than a year of orga­niz­ing, com­mu­ni­ty protests and grass­roots lob­by­ing by dri­vers for Uber and oth­er app-based com­pa­nies, the Seat­tle City Coun­cil unan­i­mous­ly adopt­ed a new law grant­i­ng dri­vers the right to col­lec­tive­ly bar­gain over their wages and work­ing conditions.
As 2016 gets under­way, work­ers else­where are begin­ning to take note of the Seat­tle rights vic­to­ry, and Cal­i­for­nia leg­is­la­tors are con­sid­er­ing sim­i­lar leg­is­la­tion for all gig econ­o­my work­ers in the Gold­en State. 2016 could emerge as the year that work­er orga­niz­ing rights — not just bet­ter wages — re-gain a much-need­ed focus in the nation­al discourse.
The first-in-the-nation win for Seattle's app-based dri­vers rep­re­sents an impor­tant break­through for those advo­cat­ing just work­ing con­di­tions in the mod­ern econ­o­my. And it rep­re­sents a dis­tinct shift from focus­ing on the eco­nom­ic inequal­i­ties embed­ded in the new pre­car­i­ous employ­ment rela­tion­ships. The Seat­tle bar­gain­ing law rec­og­nizes that poli­cies around bet­ter pay or man­dat­ed ben­e­fits alone won't solve mat­ters. Since the prob­lem orig­i­nates from the over­whelm­ing pow­er and con­trol held by Uber and its ilk, the solu­tion is for work­ers to win a voice to counter cor­po­rate control.
Where our work­er-friend­ly poli­cies come from
Emerg­ing tech­nolo­gies can be tools for social good — lev­el­ing wealth, improv­ing ser­vices, reduc­ing the work­week, giv­ing work­ing fam­i­lies much-need­ed flex­i­bil­i­ty — or they can be employed to squeeze work­ers and accel­er­ate cor­po­rate prof­it-tak­ing. The ven­ture cap­i­tal­ists and exec­u­tives behind Uber and its tech-dri­ven cousins rec­og­nize that they can turn these tech­nolo­gies into immense prof­it machines, but only by tilt­ing pow­er in employ­er-work­er rela­tions. They set out to do pre­cise­ly that.
For the past 80 years, the dom­i­nant work arrange­ment in the U.S. has been between employ­ers and work­ers. Pow­er lay with employ­ers, who coerced work­er dis­ci­pline through their abil­i­ty to hire and fire. Indi­vid­u­al­ly, work­ers had lit­tle pow­er in this arrangement.
Work­ers coun­tered employ­ers prin­ci­pal­ly by band­ing togeth­er and exer­cis­ing their col­lec­tive pow­er: Hence the labor move­ment. And over the years through polit­i­cal and eco­nom­ic pres­sure, unions and allies won a spate of fed­er­al and state laws that pro­vid­ed impor­tant rights and ben­e­fits — union orga­niz­ing rights, unem­ploy­ment and work­ers com­pen­sa­tion, over­time lim­its, anti-dis­crim­i­na­tion pro­tec­tion, Social Secu­ri­ty and Medicare.
Most of these rights were inad­e­quate, dilut­ed over time by polit­i­cal lead­ers keen to cozy up to busi­ness, and uneven­ly enforced by gov­ern­ment agen­cies and courts. But at least they exist­ed and, under the prop­er cir­cum­stances, could be tak­en up as effec­tive tools to com­pel employ­ers to respect basic rights and stan­dards. They rep­re­sent­ed a brake on unfet­tered prof­i­teer­ing and exploitation.
The Uber busi­ness mod­el dis­rupts this entire sys­tem. It declares its work­ers to be inde­pen­dent con­trac­tors (fac­tu­al evi­dence notwith­stand­ing), there­by plac­ing them out­side pro­tec­tion of these laws. In doing so it also removes busi­ness from the lia­bil­i­ties and risks that come with employ­ing people.
A gen­er­a­tion ago, U.S. labor ral­lied against cor­po­ra­tions that bust­ed unions and moved jobs to the non-union South and to oth­er coun­tries where work­ers had even few­er rights and gov­ern­ment over­sight was min­i­mal. Uber's busi­ness mod­el goes beyond those cor­po­rate fore­run­ners, seek­ing to ship the work beyond the legal reach of any mean­ing­ful over­sight, in the U.S. or elsewhere.
Uber hires and fires its dri­vers, sets their fares, col­lects the mon­ey, and takes a per­cent­age of dri­ver income. But Uber makes the dri­vers pay for their own cars, insur­ance and gas, and resists lia­bil­i­ty should a dri­ver, pas­sen­ger or pedes­tri­an be injured in the course of work. Uber requires dri­vers to sign away their rights in non-nego­tiable contracts.
The rise of Uber
How did Uber shoot up so rapid­ly? The for-hire taxi indus­try was ripe for dis­rup­tion. For decades, taxis in most cities oper­at­ed as reg­u­lat­ed monop­o­lies. Gov­ern­ments set fares, lim­it­ed the num­ber of dri­vers, made sure dri­vers and vehi­cles were safe, and col­lect­ed licens­ing fees and tax­es. Cus­tomers groused about ser­vice and the fixed rates. Dri­vers were unhap­py with the high cost of enter­ing the busi­ness, the tight mar­gins and the long hours.
The taxi mod­el of the last cen­tu­ry didn't fit the needs of today's cities. It bad­ly need­ed to be changed.
Backed by bil­lions in financ­ing from the likes of Microsoft, Google and Gold­man Sachs, Uber flood­ed into cities, recruit­ing far more dri­vers than were need­ed, push­ing down prices for cus­tomers and bump­ing taxis to the curb. But Uber's cel­e­brat­ed tech­nol­o­gy is not what's dis­rup­tive; you can, after all, hail a Yel­low Cab on your smart­phone just as you can request a ride from Uber‑X.
What's dif­fer­ent is that Uber has replaced pub­lic reg­u­la­tion over rates and labor sup­ply with pri­vate reg­u­la­tion. And by con­trol­ling prices, the com­pa­ny can move swift­ly from mar­ket entry to dom­i­nance much the same way that Wal­mart dri­ves local stores out of busi­ness to gain monop­oly mar­ket con­trol. Once the bil­lion­aires decid­ed to wrest con­trol of the for-hire indus­try, it was nev­er a fair con­test: With Uber's mar­ket val­u­a­tion list­ed at more than $62 Bil­lion, the taxis didn't stand a chance.
There's very lit­tle that's new-fan­gled about this. It's just old-fash­ioned cor­po­rate greed, recy­cled for the 21st cen­tu­ry and wear­ing a hip­ster mask.
In lais­sez-faire eco­nom­ic the­o­ry, the cap­i­tal­ist is enti­tled to reward because by putting up his cap­i­tal, he's risk­ing loss along with poten­tial gain. Yet Uber's mod­el offloads not just busi­ness costs such as the cost of com­pen­sat­ing and pro­tect­ing work­ers ade­quate­ly, but also the down­side risks inher­ent in run­ning a business.
Gas prices rise? That's on the work­ers. Get into an acci­dent while dri­ving for Uber? You'd bet­ter have good insur­ance. Last month, Uber dis­trib­uted new con­tracts to its work­force that required dri­vers to give up their legal rights to band togeth­er in class-action lawsuits.
And, of course, it's not just new lines of busi­ness, free­lancers and task-rab­bits that are hon­ing new pre­car­i­ous employ­ment rela­tion­ships. That FedEx dri­ver who deliv­ered your hol­i­day pack­age? An inde­pen­dent con­trac­tor. That new Nis­san car that drove past you? Built in Mis­sis­sip­pi, most­ly by long-term temp workers.
What's remark­able about these new busi­ness mod­els is not the use of tech­nol­o­gy. It's how pro­found­ly the mod­els have slant­ed the play­ing field in favor of employ­ers and against work­ers. The fix is in: The boss­es are play­ing a game they can't pos­si­bly lose — and work­ers can't pos­si­bly win.
No quick fixes
Into this breach in eco­nom­ic rela­tions step pol­i­cy ideas to cush­ion the blow for work­ers in the gig economy.
For­mer Labor Sec­re­tary Robert Reich has pro­posed that for work­ers with mul­ti­ple employ­ers, the one pay­ing more than 50 per­cent of the worker's pay should shoul­der the cost of ben­e­fits and job pro­tec­tions. The idea has popped up on the pres­i­den­tial cam­paign trail. And this fall, a group of 39 busi­ness and labor exec­u­tives and think-tank lead­ers issued a set of prin­ci­ples, ​"Com­mon ground for inde­pen­dent work­ers," in which they called for portable ben­e­fits for all work­ers, regard­less of employ­ment status.
The prin­ci­ples riff off of a sum­mer 2015 Democ­ra­cy arti­cle by David Rolf, an SEIU vice pres­i­dent and founder of a labor ​"inno­va­tion lab," and ven­ture cap­i­tal­ist Nick Hanauer. The two pro­pose ​"Shared Secu­ri­ty Accounts" to pro­vide gig econ­o­my work­ers with basic ben­e­fits like sick and vaca­tion days, health insur­ance, unem­ploy­ment and work­ers com­pen­sa­tion pro­tec­tion, Social Secu­ri­ty and Medicare. Under their pro­pos­al, the accounts would be uni­ver­sal across all forms of employ­ment, and they would be portable so that ben­e­fits fol­low the work­er from job to job.
There's noth­ing wrong, of course, with advo­cat­ing ben­e­fits to cov­er basic human need. If any­thing, it points out the eco­nom­ic inequities and inse­cu­ri­ty inher­ent in Uber's busi­ness mod­el. But these pro­pos­als make the same mis­take as Oba­macare by dou­bling down on the idea of link­ing ben­e­fits to employ­ment and trust­ing busi­ness to respect the law. In doing so, the pro­pos­als sur­ren­der on the fun­da­men­tal ques­tion of whether basic social pro­tec­tions are human rights wor­thy of uni­ver­sal appli­ca­tion, or nar­row­ly-con­strued ben­e­fits tied to an employ­ment rela­tion­ship. And in today's econ­o­my, what good are employ­er-fund­ed vaca­tion days and health­care insur­ance if you've just been fired — ​"de-acti­vat­ed," in Orwellian Uber-speak?
Tak­ing these pro­pos­als a step fur­ther, Hanauer and Rolf sug­gest that ​"Shared Secu­ri­ty Accounts" could be admin­is­tered, if not by gov­ern­ment, then by pri­vate insti­tu­tions ​"anal­o­gous to the old Blue Cross and Blue Shield." Or, they sug­gest, ​"It might even be the bank or the cred­it union with which you've already set up a direct deposit." You can imag­ine where this is head­ed. Have they learned noth­ing in the last eight years from what hap­pens when pri­vate inter­ests con­trol our retire­ment funds and health­care system?
No, work­ers do not need anoth­er Rube Gold­berg ben­e­fits machine con­jured up with scant atten­tion to the vital role of work­ers' col­lec­tive voic­es. What work­ers need is to build a pow­er­ful move­ment to chal­lenge the Uber busi­ness model.
Beyond a pauci­ty of ben­e­fits, work­ers in the gig econ­o­my face a wide range of prob­lems far beyond what any of the gov­ern­ment poli­cies being pro­posed by these lib­er­al reform­ers can address — uni­lat­er­al pay cuts, unjust fir­ings, abu­sive super­vi­sors, capri­cious sched­ul­ing, a lack of prop­er train­ing and equip­ment and unsafe work­ing con­di­tions, among oth­ers. Want to fix those, along with ben­e­fit and income inequal­i­ty? Stand with work­ers to win orga­niz­ing rights.
Work­ers have the power
The good news is that Uber's dis­rup­tion of eco­nom­ic rela­tions forces the labor move­ment to con­front a fun­da­men­tal ques­tion: What sort of econ­o­my are we fight­ing for? Is labor con­tent to focus on harm reduc­tion for work­ers, or does it have an affir­ma­tive vision for a just economy?
What's need­ed is not new pub­lic pol­i­cy that con­cedes the per­ma­nence of Uber's busi­ness mod­el — and the per­ma­nence of pre­car­i­ous lives for work­ers — but a vision that offers a pow­er­ful counter-nar­ra­tive: Tech­nol­o­gy that serves soci­ety, sta­bi­lizes jobs, and improves the lives of work­ers and their fam­i­lies, along with uni­ver­sal social ben­e­fits and protections.
That starts with work­er orga­niz­ing, because it's the front­line work­ers who are best posi­tioned to artic­u­late how to har­ness tech­nol­o­gy to serve the pub­lic good. Col­lec­tive­ly, they're the ones who pro­duce the wealth for Uber's exec­u­tives and investors. They have pow­er — if they unite and exer­cise it.
Social ben­e­fits that most peo­ple take for grant­ed these days — Social Secu­ri­ty, min­i­mum wage laws, child labor laws, anti-dis­crim­i­na­tion pro­tec­tions — did not drop out of the sky, con­ceived by cre­ative think tank experts and grant­ed by munif­i­cent polit­i­cal lead­ers. They came into being because work­ers orga­nized, fought for, and demand­ed these things from the polit­i­cal establishment.
The ben­e­fits were polit­i­cal con­ces­sions to pop­u­lar move­ments that were unafraid to strike, march and dis­rupt eco­nom­ic and polit­i­cal life to advance their bold ideas of a more just soci­ety. The imper­fec­tions in those ben­e­fits mere­ly reflect where pop­u­lar move­ments bucked up against the resis­tance of polit­i­cal and busi­ness elites. The ben­e­fits con­tin­ue today only to the degree that pop­u­lar will com­pels politi­cians to hon­or them.
Like­wise, the strug­gle with Uber is about pow­er. The eco­nom­ic inequal­i­ty that we see in the Uber busi­ness mod­el is sim­ply a prod­uct of pow­er inequal­i­ty. It will take work­er orga­niz­ing, not ben­e­fit pol­i­cy fix­es, to rebal­ance that power.
A lit­tle more than two years ago in Seat­tle, dri­vers for Uber, Lyft and oth­er for-hire com­pa­nies began orga­niz­ing with sup­port from the Team­sters union. Dri­vers ral­lied, held street protests, lob­bied elect­ed offi­cials, and even con­duct­ed brief strikes. When the work­ers pre­sent­ed their call for bar­gain­ing rights to elect­ed offi­cials, it was backed by a broad swath of com­mu­ni­ty groups and the local labor move­ment (includ­ing Rolf's union, SEIU 775).
The dri­vers' bar­gain­ing rights emerged as an impor­tant lit­mus test in last fall's elec­tion, in which all nine City Coun­cil seats were up. Giv­en the strength of grass­roots work­er orga­niz­ing, the Council's unan­i­mous approval of the new law in ear­ly Decem­ber was not surprising.
It gets hard­er from here, of course. Uber and oth­er busi­ness inter­ests have pledged to fight the new­ly won work­er rights in court. But the Seat­tle dri­vers already have won an impor­tant vic­to­ry, regard­less of the lit­i­ga­tion: They have changed the pub­lic con­ver­sa­tion about what's need­ed, and demand­ed a voice in the new economy.
The dri­vers also have raised expec­ta­tions among their col­leagues well beyond Seat­tle. In the days fol­low­ing the Seat­tle win, ​"Our office was flood­ed with calls from dri­vers around the coun­try want­i­ng to know what we were doing here and want­i­ng to repli­cate it," said Leonard Smith, orga­niz­ing direc­tor of the Seat­tle-based Team­sters Local 117.
That's impor­tant, too, beyond the U.S. Uber is a glob­al com­pa­ny, seek­ing to impose its will in India, Chi­na, Latin Amer­i­ca, Europe and Aus­tralia. If gig econ­o­my work­ers in the Unit­ed States demon­strate that it's pos­si­ble to fight back, that a future of per­ma­nent pre­car­i­ous­ness is not inevitable, they will inspire and give hope to their coun­ter­parts around the globe.
As oth­er local and state orga­niz­ing efforts draw inspi­ra­tion from the Seat­tle law and take up sim­i­lar bar­gain­ing demands, either direct­ly to the com­pa­nies or through leg­is­la­tion, we could see in 2016 renewed nation­al atten­tion on the right of work­ers to orga­nize, framed with­in a bold vision of a dif­fer­ent sort of econ­o­my — one designed to ben­e­fit work­ing peo­ple and com­mu­ni­ties, not big business.
That would rep­re­sent a wel­come advance. The 39 busi­ness and labor exec­u­tives, in issu­ing their dec­la­ra­tion on portable ben­e­fits last fall, argued that ​"soci­ety and the econ­o­my are served best when work­ers have both sta­bil­i­ty and flex­i­bil­i­ty." True enough. Yet sta­bil­i­ty and flex­i­bil­i­ty won't be achieved through clever pol­i­cy fix­es con­ferred by gov­ern­ment. To win those things — and much more — it will take work­ers orga­niz­ing to claim pow­er and a voice in the gig economy.
Jonathan Rosen­blum
is the author of Beyond $
15
: Immi­grant Work­ers, Faith Activists, and the Revival of the Labor Move­ment (Bea­con Press). A mem­ber of UAW Local
1981
(Nation­al Writ­ers Union), he also works as a com­mu­ni­ty orga­niz­er for the office of Seat­tle City Coun­cilmem­ber Kshama Sawant.