Momentum Builds for Massive West Coast May Day Strike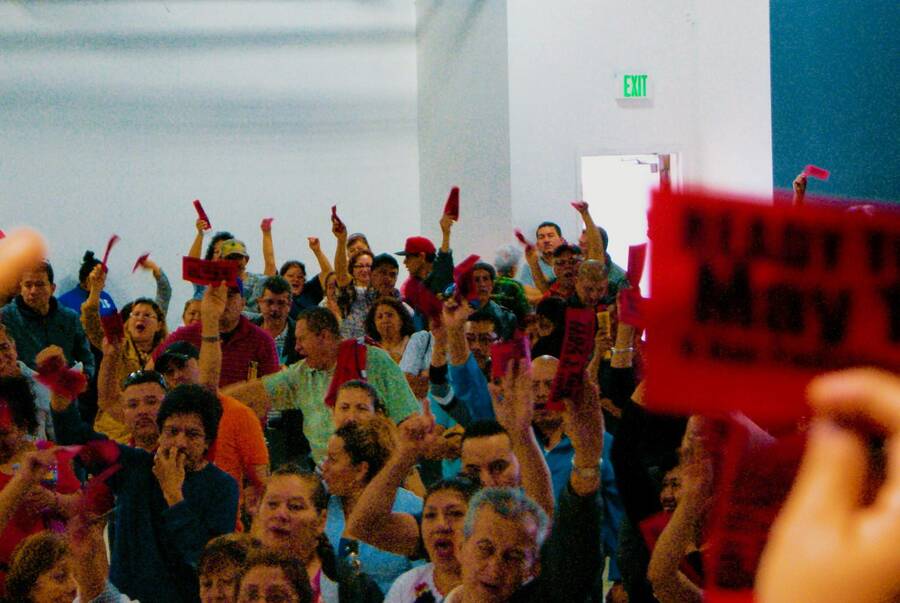 This arti­cle was first post­ed by Labor Notes.
Shop stew­ard Tomas Mejia sensed some­thing was dif­fer­ent when 600 jan­i­tors streamed into the Los Ange­les union hall Feb­ru­ary 16 — far more than for a reg­u­lar mem­ber­ship meet­ing. Chant­i­ng ​"Huel­ga! Huel­ga!" ("Strike! Strike!"), they vot­ed unan­i­mous­ly to strike on May Day.
This won't be a strike against their employ­ers. The jan­i­tors of SEIU Unit­ed Ser­vice Work­ers West felt dri­ven, Mejia says, ​"to strike with the com­mu­ni­ty" against the raids, threats, and immi­grant-bash­ing hate speech that the Trump admin­is­tra­tion has unleashed.
"The pres­i­dent is attack­ing our com­mu­ni­ty," said Mejia, a mem­ber of his union's exec­u­tive board. ​"Immi­grants have helped form this coun­try, we've con­tributed to its beau­ty, but the pres­i­dent is attack­ing us as criminal."
Fol­low­ing the Los Ange­les vote, union jan­i­tors else­where in Cal­i­for­nia have also vot­ed to ​"strike with the com­mu­ni­ty" on May 1. As the meet­ings gath­ered steam, Mejia reports, work­ers in schools, gro­cery stores, restau­rants, and farms start­ed talk­ing about join­ing the walk­out too.
And the strike is going on the road: SEIU-USWW is part­ner­ing with the human rights group Glob­al Exchange, work­er cen­ters, the South­ern Bor­der Com­mu­ni­ties Coali­tion, and faith groups to orga­nize a ​"Car­a­van against Fear" that will tour Cal­i­for­nia, Ari­zona, New Mex­i­co, and Texas in April, stag­ing ral­lies, cul­tur­al events, direct action train­ings, and com­mu­ni­ty strike votes lead­ing up to May Day.
The biggest yet
In recent years, May Day has seen demon­stra­tions to sup­port immi­grant rights. This year's mobi­liza­tions will cen­ter on defend­ing immi­grants, but weave in oth­er issues as well, such as cli­mate jus­tice and the de-fund­ing of pub­lic education.
Up and down the West Coast, we are like­ly to see the largest May Day strikes since hun­dreds of thou­sands of immi­grant work­ers walked off the job in 2006.
A thou­sand miles to the north of Mejia's home city, lead­ers of the unions rep­re­sent­ing Seat­tle pub­lic school teach­ers, grad­u­ate employ­ees at the Uni­ver­si­ty of Wash­ing­ton, and staff at Seattle's com­mu­ni­ty col­leges have called for a strike to protest the Trump administration's attacks on immi­grants, Mus­lims, work­ers, women, and mem­bers of the LGBT com­mu­ni­ty. The pub­lic school teach­ers and UW grad­u­ate employ­ees are sched­ul­ing strike votes in the com­ing weeks.
"We're hor­ri­fied about what Trump has done," said Alex Bacon, a com­mu­ni­ty col­lege admin­is­tra­tive assis­tant and mem­ber of AFSCME Local 304. And giv­en the Trump administration's sup­port for ​"right-to-work" leg­is­la­tion and slash­ing health care and retire­ment pro­grams, he said, ​"even if we're not in the crosshairs this sec­ond, we're next."
"

Sum­mer of resistance"

A March meet­ing orga­nized by the coun­ty labor coun­cil and Seat­tle City Coun­cilmem­ber Kshama Sawant brought togeth­er immi­grant com­mu­ni­ty lead­ers and rep­re­sen­ta­tives from two dozen Seat­tle-area unions — includ­ing Labor­ers, Team­sters, Boe­ing Machin­ists, stage­hands, hotel work­ers, and city and coun­ty work­ers — to plan a May Day of mass resis­tance. Par­tic­i­pants acknowl­edged the need for cre­ativ­i­ty rather than a one-size-fits-all approach.

A week lat­er, the labor coun­cil com­mit­ted its sup­port for an immi­grant-led May Day march, in a res­o­lu­tion urg­ing unions ​"to con­sid­er all forms of action on May 1, 2017, whether strik­ing, walk­ing out, tak­ing sick days, extend­ed lunch hours, exer­cis­ing rights of con­science, orga­niz­ing demon­stra­tions or teach-ins, or any oth­er acts of col­lec­tive expres­sion that builds sol­i­dar­i­ty across communities."

Labor Coun­cil head Nicole Grant described May Day as just the begin­ning of a ​"sum­mer of resis­tance," show­ing that work­ing peo­ple can and will respond to Trump's attacks with dis­rup­tive action. ​"We won't take down this pres­i­dent in one day," added Sawant. ​"But on May Day we are tak­ing our resis­tance to anoth­er level."

Cli­mate jus­tice activists are also fold­ing into the May Day move­ment. In Wash­ing­ton state, the Sier­ra Club and oth­er envi­ron­men­tal orga­ni­za­tions are call­ing for an ​"Earth Day to May Day Action Week," blend­ing Earth Day April 22 and a ​"March for Sci­ence" into a full week of work­shops and protests cul­mi­nat­ing in a big May 1 mobilization.
Local con­nec­tions
Nation­al­ly, many union lead­ers haven't weighed in on the May Day strike move­ment, in part because their con­tracts with employ­ers include no-strike clauses.
Mejia acknowl­edges the risk of strik­ing, but says, ​"The gov­ern­ment is crim­i­nal­iz­ing us." The big­ger risk, he says, would be to not fight back, because inac­tion will only embold­en Trump and his bil­lion­aire backers.
Key to suc­cess­ful May Day strikes, many activists point out, is con­nect­ing local fights to anti-Trump resis­tance activ­i­ties. At the Uni­ver­si­ty of Wash­ing­ton, for instance, where one-third of the grad­u­ate employ­ees are inter­na­tion­al stu­dents, union mem­bers are demand­ing that uni­ver­si­ty admin­is­tra­tors bar­gain with them over the impact of Trump's Mus­lim ban and oth­er exec­u­tive orders. And they are press­ing the uni­ver­si­ty to declare itself a ​"sanc­tu­ary cam­pus" and to waive a dis­crim­i­na­to­ry fee it now impos­es on inter­na­tion­al students.
Jonathan Rosen­blum
is the author of Beyond $
15
: Immi­grant Work­ers, Faith Activists, and the Revival of the Labor Move­ment (Bea­con Press). A mem­ber of UAW Local
1981
(Nation­al Writ­ers Union), he also works as a com­mu­ni­ty orga­niz­er for the office of Seat­tle City Coun­cilmem­ber Kshama Sawant.