The Blue-Collar Hellscape of the Startup Industry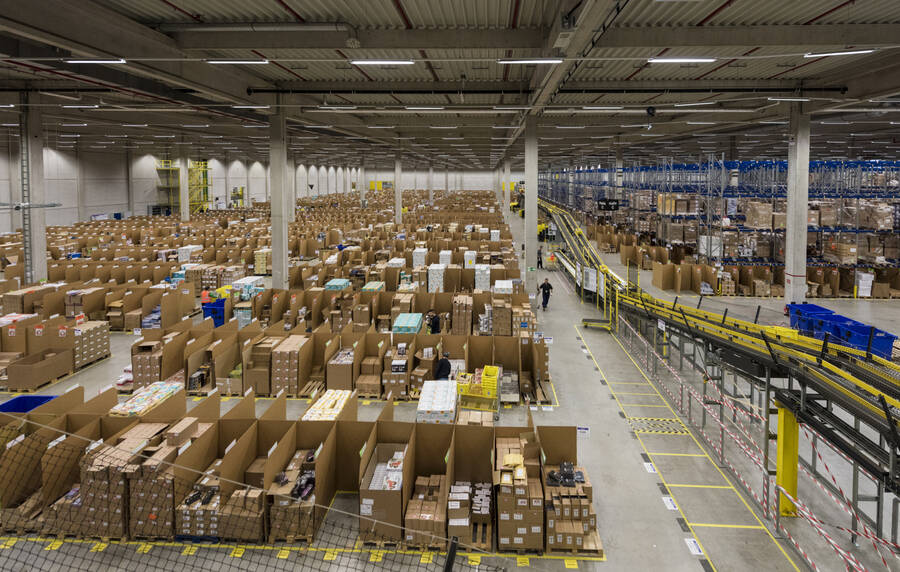 On Novem­ber 13, Mar­cus Vaughn filed a class-action law­suit against his for­mer employ­er. Vaughn, who'd worked in the Fre­mont, Cal­i­for­nia fac­to­ry for elec­tric automak­er Tes­la, alleged that the man­u­fac­tur­ing plant had become a ​"hotbed for racist behav­ior." Employ­ees and super­vi­sors, he assert­ed, had rou­tine­ly lobbed racial epi­thets at him and his fel­low Black colleagues.
Vaughn said he com­plained in writ­ing to the company's human resources depart­ment and CEO Elon Musk, but Tes­la neglect­ed to inves­ti­gate his claims. In true tech exec­u­tive fash­ion, Musk deflect­ed Vaughn's mis­giv­ings, shift­ing the blame to the assailed work­er. ​"In fair­ness, if some­one is a jerk to you, but sin­cere­ly apol­o­gizes, it is impor­tant to be thick-skinned and accept that apol­o­gy," he wrote in a May email. In late Octo­ber, accord­ing to Vaughn's suit, he was fired for ​"not hav­ing a pos­i­tive atti­tude."
The news of ran­corous work­ing con­di­tions for Tes­la employ­ees is mere­ly the lat­est in a series. Vaughn's case sig­nals the broad­er social and phys­i­cal per­ils of couch­ing tra­di­tion­al fac­to­ry mod­els with­in the fren­zied, break­neck tech-start­up frame­work of high demand, long hours and antipa­thy toward regulation.
Tesla's Fre­mont facil­i­ty has bred a num­ber of alle­ga­tions of abuse, from dis­crim­i­na­tion to phys­i­cal harm. Vaughn's is at least the third dis­crim­i­na­tion suit filed this year by Black Tes­la work­ers alleg­ing racism. A for­mer third-par­ty con­tract­ed fac­to­ry work­er, Jorge Fer­ro, has tak­en legal action to com­bat alleged homo­pho­bic harass­ment. The cru­el­ty wasn't strict­ly ver­bal: Not long before, in an osten­si­bly unre­lat­ed but sim­i­lar­ly alarm­ing turn of events, reports sur­faced that pro­duc­tion-floor employ­ees sus­tained such work-relat­ed mal­adies as loss of mus­cle strength, faint­ing and her­ni­at­ed discs.
In response to Ferro's alle­ga­tions, Tes­la told In These Times that it ​"takes any and every form of dis­crim­i­na­tion or harass­ment extreme­ly seri­ous­ly." But the com­pa­ny denied respon­si­bil­i­ty on the grounds that Fer­ro was con­trac­tor, not an employee.
Tesla's fac­to­ry con­di­tions evoke those report­ed at anoth­er Sil­i­con Val­ley dar­ling: Blue Apron. In the fall of 2016, Buz­zFeed detailed the con­se­quences of the lax hir­ing prac­tices and safe­ty stan­dards gov­ern­ing the food-deliv­ery company's Rich­mond, Calif. ware­house. Employ­ees report­ed pain and numb­ness from the frigid indoor tem­per­a­tures and injuries from ware­house equip­ment. Many filed police reports stat­ing co-work­ers had punched, choked, bit­ten or groped them, amid threats of vio­lence with knives, guns and bombs.
At the time of these com­plaints, both com­pa­nies had ful­ly ingra­ti­at­ed them­selves to investors. Tesla's report­ed worth is so astro­nom­i­cal even the most tech­no­crat­ic cor­po­rate media—and Musk him­self—ques­tion it. Blue Apron, which went pub­lic this year, snagged a $2 bil­lion val­u­a­tion in 2015. (Blue Apron has since seen a marked decline, a devel­op­ment that maybe have been spurred by Buz­zFeed​'s report.) As a result, both com­pa­nies have habit­u­al­ly placed esca­lat­ing pres­sure upon their employ­ees to gen­er­ate prod­uct, their exec­u­tives eye­ing the poten­tial profits.
Pre­dictably, these com­pa­nies' legal com­pli­ance appears to have fall­en to the way­side in the name of expe­di­en­cy. Tes­la and Blue Apron fac­to­ry employ­ees have found them­selves work­ing 12-hour shifts, in some cas­es more than five days a week. Tes­la employ­ee Jose Moran wrote of ​"exces­sive manda­to­ry over­time" and ​"a con­stant push to work faster to meet pro­duc­tion goals."
In 2015, Blue Apron appeared to vio­late a litany of OSHA reg­u­la­tions, rang­ing from wiring to chem­i­cal stor­age. It also hired local tem­po­rary work­ers via third-par­ty staffing agen­cies — like­ly to cir­cum­vent the costs of such ben­e­fits as health insur­ance. As Buz­zFeed not­ed, these staffing agen­cies inde­pen­dent­ly screened can­di­dates in lieu of inter­nal back­ground checks. Com­pound­ing the prob­lem, the com­pa­ny expect­ed temps to oper­ate machin­ery they were unqual­i­fied to han­dle. (Blue Apron has since euphem­ized its OSHA vio­la­tions and claimed to have axed these staffing agen­cies. The com­pa­ny has not respond­ed to requests for comment.)
Aggra­vat­ing an already fraught atmos­phere, the com­pa­nies appear to have used puni­tive tac­tics to coerce labor­ers into greater pro­duc­tiv­i­ty. While some Tes­la work­ers are placed in low­er-pay­ing ​"light duty" pro­grams after report­ing their injuries, oth­ers are chid­ed for them. One pro­duc­tion employ­ee, Alan Ochoa, relayed to the Guardian a quote from his man­ag­er in response to his pain com­plaint: ​"We all hurt. You can't man up?"
Equal­ly cul­pa­ble is e‑commerce goliath Ama­zon. Bloomberg report­ed that the com­pa­ny mounts flat-screen tele­vi­sions in its ful­fill­ment cen­ters to dis­play anti-theft pro­pa­gan­da relat­ing the sto­ries of ware­house work­ers ter­mi­nat­ed for steal­ing on the job. (This offers a blue-col­lar com­ple­ment to the 2016 New York Times exposé on its dra­con­ian treat­ment of office employ­ees.) Accord­ing to a for­mer employ­ee, man­agers upbraid work­ers who fail to pack 120 items per hour, height­en­ing their quo­tas and, in some cas­es, requir­ing them to work an extra day. Those who don't accept over­time shifts, mean­while, lose vaca­tion time.
Ama­zon told In These Times, ​"We sup­port peo­ple who are not per­form­ing to the lev­els expect­ed with ded­i­cat­ed coach­ing to help them improve."
It's no won­der, then, that Blue Apron and Ama­zon ware­hous­es gen­er­ate high turnover. In fact, this is like­ly by design. By cre­at­ing work­ing con­di­tions that not only extract vast amounts of labor at low costs, but also dri­ve work­ers away, tech com­pa­nies can skirt the oblig­a­tion to reward employ­ees with rais­es and pro­mo­tions. A com­pan­ion to the prof­it-mon­ger­ing schemes of Uber, Lyft and now Ama­zon (through its Ama­zon Flex deliv­ery ver­ti­cal) to clas­si­fy work­ers as con­trac­tors, this form of labor arbi­trage ensures that own­ers of cap­i­tal avoid the risk of los­ing wealth to hourly work­ers — a class they deem thor­ough­ly disposable.
Tes­la has caused sim­i­lar work­force tumult, fir­ing employ­ees for the fog­gy offense of under­per­for­mance. Of the hun­dreds of ter­mi­nat­ed employ­ees from both its Palo Alto, Calif. head­quar­ters and its Fre­mont facil­i­ty, many were union sym­pa­thiz­ers who'd been in talks with the Unit­ed Auto Work­ers. The move has thus aroused sus­pi­cions that the com­pa­ny sought to purge dis­si­dents — a reflec­tion of the anti-union pos­ture that has char­ac­ter­ized Sil­i­con Val­ley for decades.
If the near-ubiq­ui­ty of fac­to­ry and ware­house work­er exploita­tion in the news cycle is any indi­ca­tion, tech cap­i­tal­ists — through their reg­u­la­to­ry neg­li­gence and tooth­less ​"solu­tions" — have fos­tered a cul­ture of bar­barism. Low-wage labor­ers have lit­tle to no recourse: They're either left to endure immi­nent social and phys­i­cal harm, or, should they seek pro­tec­tions against the anguish they've borne, are stripped of their livelihood.
The blue-col­lar hellscape Tes­la, Blue Apron and Ama­zon have wrought is what lais­sez-faire, start­up-styled late cap­i­tal­ism looks like. At a time of such dis­re­gard for the fun­da­men­tal health, safe­ty and human­i­ty of low-tier work­ers, the tech-exec­u­tive class has proven noth­ing is sacred — except, of course, the urge to scale.
Julianne Tveten
writes about tech­nol­o­gy, labor, and cul­ture, among oth­er top­ics. Her work has appeared in The Nation, Cap­i­tal
&
Main, KPFK Paci­fi­ca Radio, and elsewhere.