Don't Punish the Dreamers—Punish the Corporations Driving Forced Migration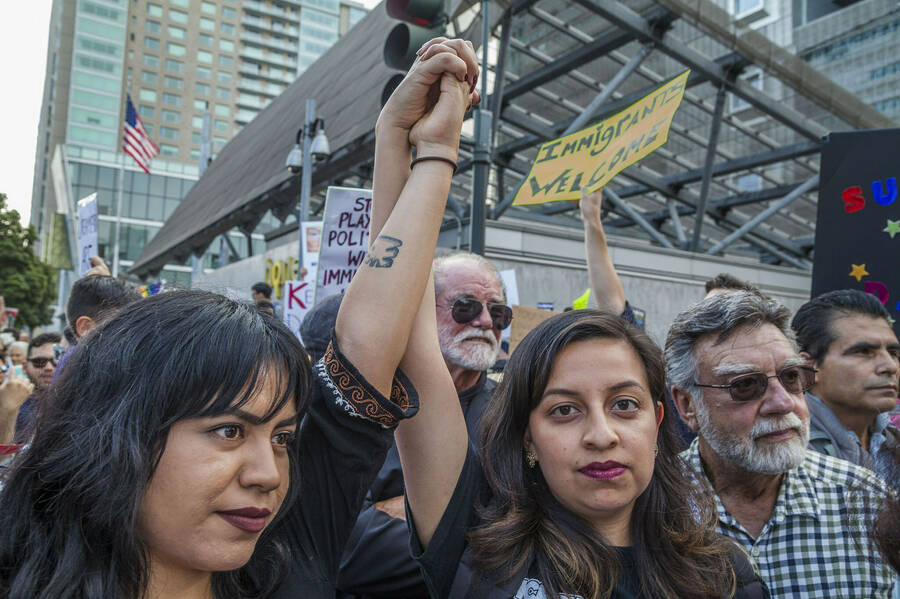 The ​"dream­ers," young recip­i­ents of the Deferred Action for Child­hood Arrivals (DACA) pro­gram — are the true chil­dren of the North Amer­i­can Free Trade Agree­ment (NAF­TA). More than any­one, they have paid the price for the agree­ment. Yet they are the ones pun­ished by the admin­is­tra­tion of Pres­i­dent Don­ald Trump, as it takes away their legal sta­tus, abil­i­ty to work and right to live in this coun­try with­out fear of arrest or depor­ta­tion. At the same time, those respon­si­ble for the fact they grew up in the Unit­ed States walk away unpun­ished — and even bet­ter off.
I'm not talk­ing about their par­ents. It's com­mon for lib­er­al politi­cians — and even Trump him­self, on occa­sion — to say these young peo­ple should­n't be pun­ished for the ​"crimes" of their par­ents, who brought their chil­dren with them when they crossed the bor­der with­out papers. But par­ents aren't crim­i­nals any more than their chil­dren are. They chose sur­vival over hunger, and sought to keep their fam­i­lies togeth­er and give them a future.
The per­pe­tra­tors of the ​"crime" are those who wrote the trade treaties and the eco­nom­ic reforms that made forced migra­tion the only means for fam­i­lies to sur­vive. The ​"crime" was NAFTA.
In a just world, U.S. trade nego­tia­tors would rewrite the treaty to repair the dam­age done to com­mu­ni­ties on both sides of the bor­der, espe­cial­ly in Mex­i­co. They would ensure that those forced to migrate — dream­ers and oth­er immi­grants — have legal res­i­dence where they now live. They would change the rules of the rela­tion­ship between the Unit­ed States and Mex­i­co, so that the income and lives of work­ing peo­ple and the poor aren't sac­ri­ficed to pro­duce prof­it oppor­tu­ni­ties for big cor­po­ra­tions. And their new agree­ment would pun­ish those cor­po­ra­tions respon­si­ble for the vast increase in pover­ty fol­low­ing NAF­TA's passage.
While the Trump admin­is­tra­tion and a Repub­li­can Con­gress are cer­tain­ly not going to nego­ti­ate any changes like these, the first step in mak­ing change pos­si­ble is telling the truth.Nowhere is this more impor­tant than in rela­tion to NAF­TA and immi­gra­tion pol­i­cy. It's impos­si­ble to under­stand the out­ra­geous injus­tice of deport­ing the dream­ers with­out acknowl­edg­ing the rea­sons why they live in the Unit­ed States to begin with.
The treaty had an enor­mous impact on Mex­i­co, pro­duc­ing a wave of forced migra­tion of mil­lions of peo­ple. The World Bank in 2005 found that the extreme rur­al pover­ty rate of 35 per­cent from 1992 to 1994, pri­or to NAF­TA, jumped to 55 per­cent from 1996 to 1998, after NAF­TA took effect. By 2010, 53 mil­lion Mex­i­cans were liv­ing in pover­ty, and about 20 per­cent live in extreme pover­ty, almost all in rur­al areas.
Peo­ple were migrat­ing from Mex­i­co to the Unit­ed States long before NAF­TA, but the treaty put migra­tion on steroids. In 1990, 4.4 mil­lion Mex­i­can migrants had come to the Unit­ed States. A decade lat­er, that pop­u­la­tion more than dou­bled to 9.75 mil­lion, and in 2008 it peaked at 12.67 mil­lion. About 9 per­cent of all Mex­i­cans now live in the Unit­ed States. About 5.7 mil­lion were able to get some kind of visa, but anoth­er 7 mil­lion couldn't.
In the first year of NAF­TA, one mil­lion Mex­i­cans lost their jobs, by the government's count.Jeff Faux, found­ing direc­tor of the Eco­nom­ic Pol­i­cy Insti­tute, told In These Times that ​"the peso crash of Decem­ber, 1994, was direct­ly con­nect­ed to NAFTA."
The treaty then forced yel­low corn grown by Mex­i­can farm­ers with­out sub­si­dies to com­pete in Mexico's own mar­ket with corn from huge U.S. pro­duc­ers, sub­si­dized by the U.S. farm bill. Corn imports rose from around 2 mil­lion to more than 10 mil­lion tons from 1992 to 2008. Mex­i­co import­ed 30,000 tons of pork in 1995, and by 2010, this num­ber jumped to 811, 000 tons. As a result, pork prices dropped 56 per­cent, and Mex­i­co lost over 120,000 jobs in pork production.
NAF­TA pro­hib­it­ed price sup­ports, with­out which hun­dreds of thou­sands of small farm­ers found it impos­si­ble to sell corn or oth­er farm prod­ucts for what it cost to pro­duce them. The CONA­SUPO sys­tem — in which the Mex­i­can gov­ern­ment bought corn at sub­si­dized prices, turned it into tor­tillas and sold them in state-fran­chised gro­cery stores at sub­si­dized low prices — was abol­ished. The price of corn to farm­ers fell by 66 per­cent, and the price of tor­tillas jumped by 279 per­cent in NAF­TA's first decade.
In Dreams Deport­ed, pub­lished by the UCLA Labor Cen­ter, dream­ers describe their mem­o­ries of forced migra­tion, retold in their fam­i­lies. Vick­y's fam­i­ly in Mex­i­co ​"was too poor to pay for her mother's med­ica­tion and Vicky could­n't find a job to sup­port her par­ents." Rena­ta Teodoro remem­bers, ​"My father had been work­ing in the Unit­ed States for many years, and we sur­vived on the mon­ey he sent us."
Rufi­no Dominguez, for­mer direc­tor of the Oax­a­can Insti­tute for Atten­tion to Migrants, said in 2014, ​"NAF­TA forced the price of corn so low that it's not eco­nom­i­cal­ly pos­si­ble to plant a crop any­more. We come to the U.S. to work because we can't get a price for our prod­uct at home. There's no alter­na­tive." About 2.5 mil­lion rur­al Mex­i­can farm­ers and farm­work­ers were dri­ven out of work or off their land.
Urban work­ers felt NAF­TA's impact as well. The aver­age Mex­i­can wage was 23 per­cent of the U.S. man­u­fac­tur­ing wage in 1975. By 2002, it was less than an eighth. In the 20 years after NAF­TA went into effect, the buy­ing pow­er of Mex­i­can wages dropped, and the min­i­mum wage fell by 24 per­cent. A U.S. autowork­er earns $21.50 an hour, and a Mex­i­can autowork­er $3. A gal­lon of milk costs more in Mex­i­co than it does in the Unit­ed States. It takes a Mex­i­can autowork­er over an hour's work to buy a pound of ham­burg­er, while a work­er in Detroit can buy it after 10 min­utes. But Mex­i­can work­ers in the GM plant mak­ing the Son­ic, Sil­ver­a­do, and Sier­ra pro­duce the same num­ber of cars per hour that the work­ers do in U.S. plants. The dif­fer­ence means prof­it for GM, pover­ty for Mex­i­can work­ers and the migra­tion of those who can't survive.
Con­gress was warned that NAF­TA might increase pover­ty and fuel migra­tion. When the deal passed the Immi­gra­tion Reform and Con­trol Act (IRCA) in 1986, Con­gress set up a Com­mis­sion for the Study of Inter­na­tion­al Migra­tion and Coop­er­a­tive Eco­nom­ic Devel­op­ment to study immi­gra­tion's caus­es. Its 1990 report rec­om­mends nego­ti­at­ing a free trade agree­ment between the Unit­ed States, Mex­i­co and Cana­da. But it cau­tioned, ​"It takes many years — even gen­er­a­tions — for sus­tained growth to achieve the desired effect." Mean­while, the study warned of years of ​"tran­si­tion­al costs in human suf­fer­ing." Nev­er­the­less, the nego­ti­a­tions that led to NAF­TA start­ed with­in months.
In a state­ment giv­ing its cur­rent posi­tion on the trade talks, the AFL-CIO argued that ​"all work­ers, regard­less of sec­tor, have the right to receive wages suf­fi­cient for them to afford … a decent stan­dard of liv­ing," and to pro­hib­it export of prod­ucts made by com­pa­nies pay­ing less. Pro­gres­sive Mex­i­can unions and com­mu­ni­ty orga­ni­za­tions sup­port this prin­ci­ple, because it would give work­ers and farm­ers a future at home, where they live.
Gas­par Rivera-Sal­ga­do, a leader of the Bina­tion­al Front of Indige­nous Orga­ni­za­tions, which fights for immi­grants' rights in the Unit­ed States, told In These Times, ​"We need the abil­i­ty to stay home with jobs and incomes that can sup­port fam­i­lies — the right to not migrate." But with­out chang­ing U.S. trade pol­i­cy and end­ing pro-cor­po­rate eco­nom­ic reforms, mil­lions of dis­placed peo­ple will con­tin­ue to migrate, no mat­ter how many walls are built on the bor­der. If peo­ple bring their chil­dren with them, that's no more than any of us would do to avoid the breakup of our families.
Defend­ing the dream­ers and the rights of all migrants in the Unit­ed States is inti­mate­ly con­nect­ed with chang­ing the poli­cies that uproot com­mu­ni­ties and force fam­i­lies into the dan­ger­ous jour­ney through the desert and across this coun­try's south­ern bor­der. Tear­ing down the wall instead of build­ing a new one, and clos­ing the deten­tion cen­ters instead of fill­ing them with dream­ers, is as much a part of rene­go­ti­at­ing NAF­TA as ensur­ing that Archer Daniels Mid­land and Cargill nev­er again dri­ve farm­ers off their land, or forc­ing Gen­er­al Motors to pay a wage that won't send work­ers home to hun­gry families.
David Bacon
is a writer, pho­tog­ra­ph­er and for­mer union orga­niz­er. He is the author of The Right to Stay Home: How US Pol­i­cy Dri­ves Mex­i­can Migra­tion (
2013
), Ille­gal Peo­ple: How Glob­al­iza­tion Cre­ates Migra­tion and Crim­i­nal­izes Immi­grants (
2008
), Com­mu­ni­ties With­out Bor­ders (
2006
), and The Chil­dren of NAF­TA: Labor Wars on the US/​Mexico Bor­der (
2004
). His web­site is at dba​con​.igc​.org.