How a Scrappy Campus Union Saved Tennessee From Privatization
The Southern victory could be a blueprint for defending the public sector.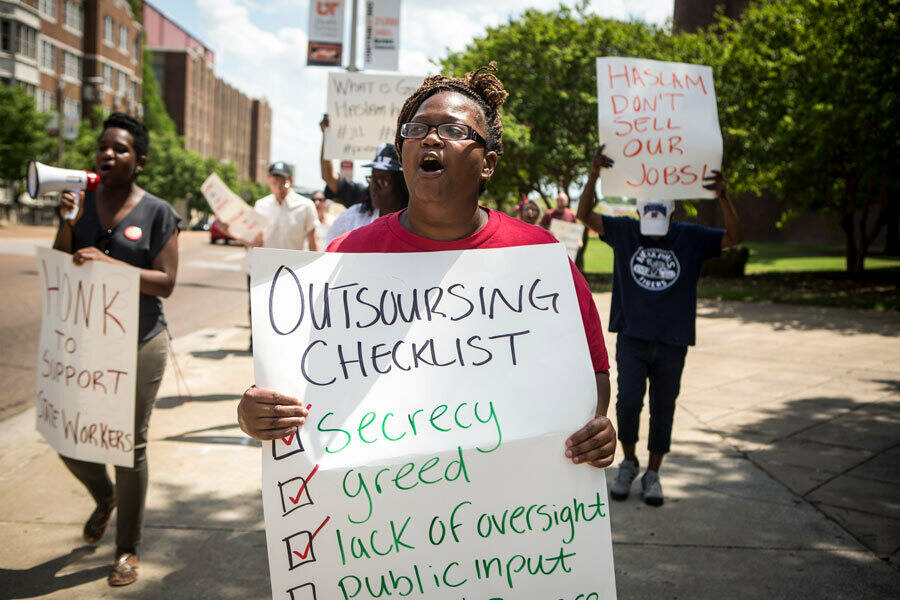 Tak­ing the podi­um in her fresh­ly pressed, light-blue work uni­form, Doris Con­ley looked out onto the faces of the Mem­phis City Council.
"It blows the minds of state legislators to meet a union delegation with a guy who milks cows in the dairy barn, a professor emeritus in philosophy, custodians and students."
For 17 years she has worked as a cus­to­di­an at the Child Research Cen­ter at the Uni­ver­si­ty of Mem­phis. Her days start ear­ly, at 5:30 a.m., and she will have cleaned and san­i­tized three sets of bath­rooms, four class­rooms and the kitchen before 85 chil­dren arrive at 8. She spends the rest of the day run­ning between two build­ings, clean­ing up mess­es and help­ing the teach­ers man­age the chil­dren. It's a tough job, but one the 64-year-old loves and takes pride in.
It's also a job that she and her fam­i­ly rely on. Conley's hus­band passed away in 2016, and her income has to stretch far enough to pro­vide for her­self and the grand­daugh­ter she is help­ing to raise.
Which is why, after a long day on her feet in Sep­tem­ber 2017, the life­long Mem­phi­an was moved to tears as she explained her sit­u­a­tion to the Coun­cil: ​"The state is try­ing to sell me and my co-work­ers out to a pri­vate company."
Two years ear­li­er, Tennessee's bil­lion­aire Repub­li­can gov­er­nor, Bill Haslam, had secret­ly con­vened a com­mit­tee of high­ly paid gov­ern­ment appointees and cor­po­ra­tions, with the goal of con­coct­ing a state-wide pri­va­ti­za­tion plan.
The com­mit­tee said it was using ​"vest­ed out­sourc­ing," a con­tro­ver­sial process in which the cor­po­ra­tions that want to bid for a pub­lic con­tract work with gov­ern­ment lead­ers to draft it. The result­ing $1.9 bil­lion con­tract was the largest in Ten­nessee gov­ern­ment his­to­ry, and pri­va­tized the main­te­nance and man­age­ment of up to 90 per­cent of state-run facil­i­ties, includ­ing state and uni­ver­si­ty build­ings. It was award­ed to Jones Lang LaSalle (JLL), a multi­na­tion­al with a his­to­ry of bribery accusations.
The con­tract did not guar­an­tee that state employ­ees at out­sourced facil­i­ties would keep their posi­tions, and it required them to sub­mit to addi­tion­al screen­ings, which led the UCW to believe work­ers would have to reap­ply for their jobs. JLL could impose any back­ground checks or drug tests it chose. The com­pa­ny also had the dis­cre­tion to trans­fer rehired employ­ees to posi­tions up to 50 miles away. Employ­ees would also imme­di­ate­ly see high­er health insur­ance premiums.
Ter­ry Cowles, direc­tor of the Office of Cus­tomer Focused Gov­ern­ment — a depart­ment launched by Haslam as part of his plan to run the state like a busi­ness — has bragged on video that 15 oth­er state gov­ern­ments ​"from all over the coun­try" were watch­ing to see whether Tennessee's exper­i­ment in whole­sale pri­va­ti­za­tion might be worth import­ing. To that end, Ten­nessee offi­cials and JLL orga­nized a round­table in Nashville in May 2017 to pro­mote the Ten­nessee ​"case study" to oth­er states.
With a Repub­li­can gov­er­nor and the GOP in con­trol of the state House and Sen­ate, the out­sourc­ing scheme should have been a walk in the (soon-to-be-pri­va­tized) park.
What the pri­va­tiz­ers didn't plan for was the Unit­ed Cam­pus Work­ers (UCW), a scrap­py high­er edu­ca­tion union affil­i­at­ed with the Com­mu­ni­ca­tion Work­ers of Amer­i­ca (CWA). Pub­lic-sec­tor unions in Ten­nessee are legal­ly barred from engag­ing in col­lec­tive bar­gain­ing, and the state has no oblig­a­tion to rec­og­nize or nego­ti­ate with them. Instead, the union relies on a mix­ture of leg­isla­tive advo­ca­cy, work­place actions and mass mobilizations.
Few unions exist in a harsh­er polit­i­cal and legal envi­ron­ment, yet the UCW is punch­ing far above its weight, increas­ing its mem­ber­ship while secur­ing vic­to­ries against bet­ter-fund­ed foes.
EXPLOIT­ING GOP TENSIONS
Gov. Haslam's rad­i­cal out­sourc­ing plan posed an exis­ten­tial threat to the UCW, which esti­mat­ed that 10,000 state employ­ees would be affected.
The response was all hands on deck as the union pub­licly launched its #TNis­NOT­for­Sale cam­paign in August 2015.
"The first real task was to go back and talk to every­one on cam­pus about what was hap­pen­ing," says Ed McDaniel, a lock­smith who has worked at the Uni­ver­si­ty of Ten­nessee, Knoxville, for 10 years and is now pres­i­dent of the union. ​"We all went out and tried to get more peo­ple to join because we knew that the union was going to be lead­ing this fight." The effort brought hun­dreds of new mem­bers into UCW.
The union sound­ed the alarm about the pri­va­ti­za­tion plan through ral­lies, press con­fer­ences, edi­to­ri­als and town halls. It fact-checked Haslam's claims about the sup­posed ben­e­fits of pri­va­ti­za­tion. It ampli­fied explo­sive media reports about his finan­cial ties to JLL and the ways he might per­son­al­ly ben­e­fit from the deal. While run­ning for gov­er­nor, Haslam had dis­closed a ​"major invest­ment" in JLL, of an unspec­i­fied amount. (After his elec­tion, his invest­ments were placed in a blind trust, and Haslam claimed he did not know whether or not he would per­son­al­ly prof­it from the out­sourc­ing contract.)
With ample evi­dence to show that pri­va­ti­za­tion sel­dom deliv­ers the full ben­e­fits promised by its pro­po­nents, the union was well posi­tioned to make its case using empir­i­cal facts.
"We had a lit­tle of every­thing," Doris Con­ley says. ​"We did fly­ers and cards. We were out on the high­way, in park­ing lots, in the mall, on cam­pus get­ting folks to sign post­cards for their legislators."
UCW also col­lect­ed over 5,000 sig­na­tures on a peti­tion oppos­ing outsourcing.
"We put them on a sheet of paper that was 150 feet long and 3 feet wide," McDaniel says. ​"We took it to the leg­isla­tive plaza and rolled it down the hall, chant­i­ng ​'Ten­nessee is not for sale.' The leg­is­la­tors were com­ing out of their offices and com­mit­tee meet­ings to see what was hap­pen­ing. Leg­is­la­tors were try­ing to get by and they were hav­ing to jump over the scroll."
The most cru­cial strate­gic deci­sion of the cam­paign was to hone in on pop­ulist Repub­li­can sus­pi­cion of rich elites by choos­ing the gov­er­nor as the tar­get. Many leg­is­la­tors were sym­pa­thet­ic to work­ing-class con­stituents who could have their jobs pri­va­tized by a com­pa­ny in which the bil­lion­aire gov­er­nor had invested.
"It turns out that class is a big issue inside the Repub­li­can Par­ty," says Jef­frey Licht­en­stein, UCW sec­re­tary and part-time work­er at the UT Health Sci­ence Cen­ter. ​"Even Repub­li­cans saw the gov­er­nor as mis­us­ing his office to strip away jobs and per­son­al­ly enrich him­self. It split the par­ty open."
Dur­ing a GOP cau­cus retreat just a few months after the launch of UCW's cam­paign, con­ser­v­a­tive state Sen. Jan­ice Bowl­ing told the gov­er­nor blunt­ly, ​"You've said you want to run the state like a pri­vate busi­ness, but we don't want a busi­ness to run the state."
"We actu­al­ly have a lot of direct access and lever­age with Repub­li­cans [because] we have mem­bers in rur­al and sub­ur­ban areas through­out Repub­li­can dis­tricts," explains Thomas Walk­er, a for­mer rank-and-file mem­ber who now works as the union's com­mu­ni­ca­tions coordinator.
UCW mem­bers met with law­mak­ers in their dis­tricts and capi­tol offices to build a bipar­ti­san coali­tion to stop out­sourc­ing. Twen­ty-eight Democ­rats and 47 Repub­li­cans, more than half of the state leg­is­la­ture, signed a let­ter authored by the UCW call­ing for a halt to the outsourcing.
Repub­li­can law­mak­ers even spon­sored leg­is­la­tion — inspired by UCW mod­el lan­guage, accord­ing to Licht­en­stein — that begins to pro­vide greater scruti­ny of the out­sourc­ing process. It passed both hous­es of the state leg­is­la­ture unanimously.
Under mount­ing pres­sure, Haslam agreed to give state agen­cies and col­leges a choice to opt in or out of pri­va­ti­za­tion. So the UCW took the fight back to its home turf of col­lege and uni­ver­si­ty towns, get­ting local gov­ern­ments and busi­ness­es to weigh in and tip the scales against out­sourc­ing. In August 2017, the state agency respon­si­ble for man­ag­ing the state's parks aban­doned the plan. Two months lat­er, the entire Uni­ver­si­ty of Ten­nessee sys­tem pub­licly opt­ed out. To date, the only col­lege to opt in is Austin Peay Uni­ver­si­ty in Clarksville, which had already out­sourced its jan­i­to­r­i­al services.
In These Times con­tact­ed the state to find out whether any oth­er state agen­cies had agreed to out­sourc­ing. A media inquiry received no response, and the phone num­ber for the governor's Trans­par­ent Ten­nessee Ini­tia­tive was disconnected.
The UCW's vic­to­ry is now spurring more orga­niz­ing efforts by oth­er pub­lic work­ers in the South, where many states have put severe lim­its on pub­lic employ­ee union­iza­tion. If pub­lic sec­tor union mem­ber­ship across the coun­try becomes com­plete­ly vol­un­tary, allow­ing work­ers to receive the ben­e­fits of union­iza­tion with­out being a mem­ber or pay­ing any union fees — as is expect­ed when the Supreme Court rules on the Janus case — many unions will need to adopt rad­i­cal­ly dif­fer­ent strate­gies to sur­vive. They can learn a great deal from unions in states like Ten­nessee and Texas that have been work­ing with­in these con­straints for decades, and have grown their unions and won mate­r­i­al improve­ments in spite of the hos­tile legal and polit­i­cal terrain.
UNIT­ING JAN­I­TORS AND PROFESSORS
The UCW has its roots in the high-pro­file liv­ing wage cam­paigns of the 1990s. In Knoxville, the Ten­nessee Indus­tri­al Renew­al Net­work (TIRN) worked with Jobs with Jus­tice of East Ten­nessee to launch an unsuc­cess­ful liv­ing wage cam­paign for city workers.
The cam­paign didn't raise wages for city work­ers, but it did catch the eye of activists in the Uni­ver­si­ty of Tennessee's Pro­gres­sive Stu­dent Alliance, who received train­ing through the AFLCIO's 1999 ​"union sum­mer" pro­gram. The stu­dent orga­niz­ers began to talk with cam­pus work­ers, espe­cial­ly in the house­keep­ing depart­ment, where many stu­dents had sum­mer jobs.
"At the time [2000] we had gone four years with­out a raise," says Sandy Hicks, 66, who worked in house­keep­ing at the uni­ver­si­ty for over 25 years and was the UCW's first pres­i­dent. ​"The uni­ver­si­ty had been down­siz­ing to the point that the work was too much for us to han­dle. We were dis­gust­ed and didn't think there was any way out."
A fac­ul­ty mem­ber authored a study show­ing that 7 out of every 10 hourly employ­ees on cam­pus made less than a liv­ing wage. Stu­dents and cam­pus work­ers orga­nized mas­sive actions. In the sum­mer of 2000, the uni­ver­si­ty buck­led and agreed to a 4.75 per­cent min­i­mum pay raise — up to 12 per­cent for the low­est paid employ­ees on cam­pus, who were receiv­ing $6.25 an hour.
"Short­ly after that, we decid­ed to become a union," Hicks says.
The new­ly formed inde­pen­dent union quick­ly real­ized that to expand to oth­er cam­pus­es, they would require support.
After dis­cus­sions with the Unit­ed Elec­tri­cal Work­ers and oth­er unions, they chose CWA, which was will­ing to both fund a full-time orga­niz­er for two years and give the fledg­ling union com­plete pro­gram­mat­ic con­trol. Equal­ly impor­tant was the suc­cess of the Texas State Employ­ees Union (TSEU), which had been orga­nized by the CWA 20 years ear­li­er and rep­re­sents state employ­ees in mul­ti­ple agen­cies, uni­ver­si­ties and hos­pi­tals. As in Ten­nessee, Texas state work­ers have extreme­ly restrict­ed col­lec­tive bar­gain­ing rights, so the union is in a con­stant hus­tle to orga­nize and mobilize.
The CWA sup­ports TSEU and UCW for both ide­o­log­i­cal and prac­ti­cal rea­sons. The union rec­og­nized that the clout their most­ly pri­vate sec­tor mem­bers have in any par­tic­u­lar state cor­re­lates with the over­all health of the labor move­ment in that state. A weak labor move­ment weak­ens the strongest unions. So to shift the over­all bal­ance of pow­er, the union put more resources into orga­niz­ing the unor­ga­nized, espe­cial­ly in the South.
By all accounts, TSEU is a suc­cess. Despite being barred by state law, like UCW, from col­lec­tive bar­gain­ing, the union has used pub­lic pres­sure to win across-the-board rais­es for state employ­ees and pro­tec­tions against arbi­trary or unfair dis­ci­pline or ter­mi­na­tion for school employ­ees. It has also kept Med­ic­aid eli­gi­bil­i­ty offices open and fend­ed off state attempts at privatization.
The TSEU, which has 11,000 mem­bers and is finan­cial­ly self-sus­tain­ing, advised UCW on how it could grow by chang­ing its mem­ber­ship mod­el. At first, only hourly wage cam­pus work­ers could be mem­bers of UCW.
"I was afraid if we opened up the union's mem­ber­ship, then all these left-lean­ing fac­ul­ty like me would be drawn to it and wouldn't be able to keep their mouths shut, and it wouldn't be home to all the hourly wage peo­ple on cam­pus who it was cre­at­ed to sup­port," says Fran Ans­ley, a for­mer pro­fes­sor at the Uni­ver­si­ty of Ten­nessee law school and a found­ing mem­ber of the UCW. ​"I have been con­vinced since then that this was the right move."
On TSEU's advice, the UCW opened up its mem­ber­ship and orga­nized chap­ters on 19 state col­lege cam­pus­es across the state: from Chat­tanooga, Nashville and Mem­phis to rur­al areas like Mar­tin. The union now has 1,873 mem­bers, or 7 per­cent of all eli­gi­ble cam­pus workers.
"It blows the minds of state leg­is­la­tors to meet a union del­e­ga­tion with a guy who milks cows in the dairy barn, a pro­fes­sor emer­i­tus in phi­los­o­phy, cus­to­di­ans and stu­dents," says Ansley.
If it hadn't been for the expan­sion from a home­grown inde­pen­dent union of hourly work­ers to a statewide CWA affil­i­ate orga­niz­ing all state hourly and salaried employ­ees, the #TNis­NOT­for­Sale cam­paign would nev­er have been possible.
ORGA­NIZE THE SOUTH!
"Every time I talk to some­one about the union, I men­tion the suc­cess that UCW Ten­nessee has had, espe­cial­ly the Ten­nessee Is Not for Sale cam­paign," says Eric Rose, who has worked at the Uni­ver­si­ty of Geor­gia library for a decade. ​"They had all the odds against them, they were up against a Repub­li­can-dom­i­nat­ed leg­is­la­ture and these big-monied inter­ests with incred­i­ble pow­er — and they won."
Rose is part of a cohort of union activists who have worked with the CWA to orga­nize their own UCW local in Geor­gia. Like Ten­nessee and Texas, Geor­gia restricts state employ­ees from col­lec­tive bar­gain­ing, yet the small union has quick­ly grown to 94 mem­bers in four months. UCW GA has been hold­ing reg­u­lar meet­ings and is start­ing to ramp up its own cam­paigns, focus­ing on broad-based issues like expen­sive park­ing fees for cam­pus employees.
"We have a dream to orga­nize the entire Uni­ver­si­ty of Geor­gia sys­tem, just like UCW Ten­nessee has," says Joe Fu, a tenured math pro­fes­sor. ​"And we hope the UCW mod­el expands beyond Georgia."
That hope is well placed. Accord­ing to the CWA, orga­niz­ing com­mit­tees are being formed at sev­er­al oth­er South­east­ern Con­fer­ence schools in the South.
At a time when labor is shrink­ing, the CWA's sup­port for South­ern orga­niz­ing has been critical.
The South is a prov­ing ground for cor­po­rate Amer­i­ca. Low-wage non-union work­ers in the South are pit­ted against union­ized work­ers in oth­er parts of the coun­try, as when Boe­ing offered an ulti­ma­tum to union­ized work­ers in Seat­tle: Either accept con­tract con­ces­sions or have your jobs shipped to South Car­oli­na. States like Ten­nessee have also been a stag­ing ground for rad­i­cal cor­po­rate exper­i­ments to extract prof­its from pub­lic ser­vices, includ­ing pris­ons, K‑12 edu­ca­tion and every­thing in between. If Haslam's mass pri­va­ti­za­tion plan had suc­ceed­ed, it like­ly would have spread to oth­er states.
Orga­niz­ing in such con­di­tions has taught vet­er­an activists like Doris Con­ley that val­ue of tenac­i­ty. She's in it for the long haul.
"The peo­ple down here are hard work­ing and we don't quit," Con­ley says. ​"You push us back two steps and we will fight back and take four. We won't go away. We won't give up."
CLAR­I­FI­CA­TION: This sto­ry orig­i­nal­ly said that the state con­tract with JLL would require state employ­ees at out­sourced facil­i­ties to reap­ply for their jobs. The con­tract did not explic­it­ly state this; it was the union's inter­pre­ta­tion of a clause about addi­tion­al screen­ings. The text has been updat­ed to reflect.
Chris Brooks is a for­mer com­mu­ni­ty and labor orga­niz­er from Ten­nessee. He is a grad­u­ate of the Union Lead­er­ship and Activism pro­gram at the Uni­ver­si­ty of Mass­a­chu­setts at Amherst and works for Labor Notes in New York City.Rebec­ca Kolins Givan is an asso­ciate pro­fes­sor of labor stud­ies and employ­ment rela­tions at Rut­gers. She is the author of The Chal­lenge to Change: Reform­ing Health Care on the Front Line in the Unit­ed States and the Unit­ed King­dom (Cor­nell Uni­ver­si­ty Press,
2016
).