Iraq War Ends, and a 2002 Rally Comes Full Circle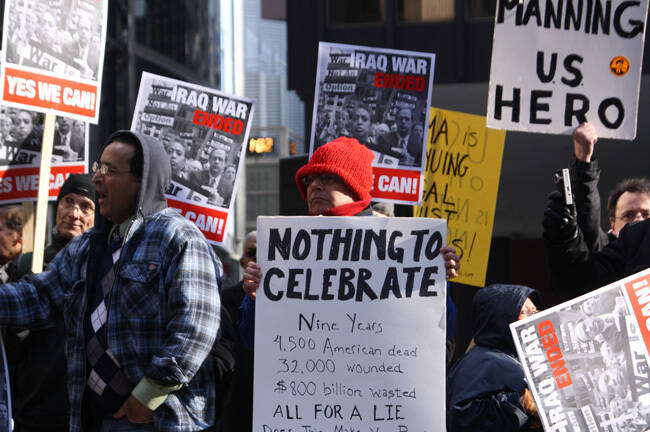 CHICAGO — In the same downtown plaza where, nine years earlier, then-state senator Barack Obama rallied thousands of protesters against the imminent invasion of Iraq, about fifty people gathered Friday morning to mark President Obama
&
rsquo;s announcement that the war had officially come to an end.Minutes before the rally was to begin, though, Richard Reilly and Tony Shafton stood just feet from the speakers
&
rsquo; podium, debating whether there should be any celebration at all.
&
ldquo;This is a sham,
&
rdquo; said Reilly, who is involved with the organization Chicago Coalition against War and Racism.
&
ldquo;No one has been as aggressive as Obama
&
rdquo; in terms of foreign policy, he continued, pointing to the ongoing war in Afghanistan, as well as military involvement in countries like Libya and Yemen. He also cited a New York Times report on Thursday that the White House may re-enter negotiations with the Iraqi government to keep more U.S. troops in the country as advisors.
Shafton, while acknowledging those conflicts, disagreed, replying:
&
ldquo;He followed through on his promise [to end the war].
&
rdquo;The rally followed a ceremony on Thursday in Baghdad, where American officials took down the flag that had flown over U.S. Forces headquarters as the mission in Iraq ended. Almost all of the roughly
4
,
000
troops stationed in Iraq are scheduled to leave by the end of the year, leaving a few hundred military personnel behind to work with the U.S. embassy. Troop levels in Iraq peaked in
2007
at
170
,
000
.As soldiers have left Iraq, however, tens of thousands have been deployed to Afghanistan as part of President Obama
&
rsquo;s
&
ldquo;surge
&
rdquo; strategy. Earlier this month, the President announced that about
33
,
000
of the more than
100
,
000
American soldiers stationed in Afghanistan would return to the U.S. by next summer, bringing troop levels roughly to where they were when he took office in
2009
. All American troops are scheduled to leave by
2014
.While refraining from any criticism of Obama, many of the official speakers in Chicago also took a conflicted tone.
&
ldquo;This effort does not end today,
&
rdquo; said Juan Andrade, president of the United States Hispanic Leadership Institute, as he called on the audience to continue working to end America
&
rsquo;s other military engagements. William McNary, president of USAction, told the audience:
&
ldquo;We are here to commend the President for ending this war, but also to commit ourselves to ending the war in Afghanistan.
&
rdquo;McNary echoed other speakers, too, when he asked that Americans remember the
&
ldquo;thousands of U.S. soldiers and hundreds of thousands of Iraqis who died
&
rdquo; in the war, as well as veterans returning home with few prospects.
&
ldquo;It's shameful
&
nbsp;[when the government doesn't provide care]
&
nbsp;for soldiers who survived Fallujah to come home and suffer from P.T.S.D., and even succumb to suicide," said Ilya Sheyman, a Democrat running for Congress in Illinois'
10
th
district. Eugene Cherry, with Iraq Veterans Against the War, criticized some politicians for ​
"
ignoring" mentally ill, homeless and jobless veterans, ​
"
as if they're some crazy uncle."Between speakers, a handful of hecklers shouted,
&
ldquo;There
&
rsquo;s nothing to celebrate!
&
rdquo; and,
&
ldquo;Obama is continuing the war!
&
rdquo;No one behind the podium openly acknowledged the dissent in their speech, but several people defended the idea that the end of the war represented a triumph worth celebrating.
&
ldquo;The anti-war movement made it possible, even necessary, for Obama to follow through
&
rdquo; and withdraw troops, said Tom Hayden of the Progressive Democrats of America. McNary also pointed to Obama
&
rsquo;s victory in the
2008
presidential election as a turning point:
&
ldquo;Because we made that choice, we are no longer [in Iraq].
&
rdquo;Marilyn Katz
&
mdash;whose previous activism includes a leadership role in the
2002
event, as well as protests during the Vietnam era
&
mdash;helped organize the rally, and said the anti-war left
&
rsquo;s relationship to Obama is complicated.
&
ldquo;We have such little experience as external loyal opposition,
&
rdquo; she explained. Still, she called the anti-war movement a success.
&
ldquo;The early rallies were critical in exposing the lies the war was based on and opening up public debate. When Bush didn
&
rsquo;t listen, we took power
&
mdash;Obama was elected, and he kept his promise to end the war.
&
rdquo;Officially,
4
,
483
Americans and over
300
soldiers from other countries in the invading coalition died in Iraq. There are no definitive statistics for Iraqi victims, but U.S. military documents released by WikiLeaks estimated
109
,
032
Iraqis were killed between
2004
and
2010
, of whom
85
,
048
were not considered
&
ldquo;Enemies.
&
rdquo; The British journal The Lancet conducted a survey in mid-
2006
that estimated over
600
,
000
Iraqi deaths.In the Afghanistan war, more than
1
,
774
Americans,
1
,
000
soldiers from other nations, and more
10
,
000
Afghanis have been killed.
Daniel Hertz
is a senior fellow at City Observatory, an urban public policy think tank.