A Brief, Bikeable 150-Year History of Labor Uprisings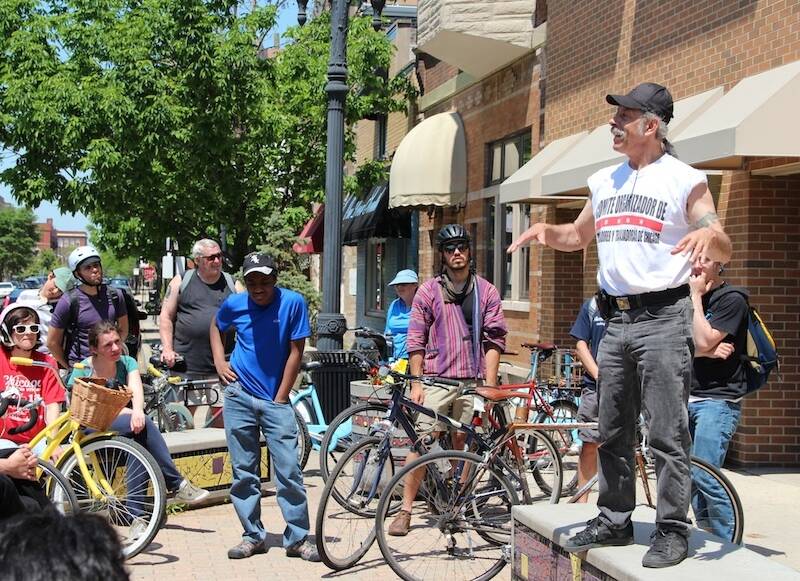 It's not much to look at today: a cracked, weedy side­walk in Chicago's Pilsen neigh­bor­hood, just south­west of down­town. Above it run ele­vat­ed rail­road tracks and along­side it, a con­crete wall dec­o­rat­ed with col­or­ful yet crum­bling murals. But in 1877, it was the site of the Bat­tle of the Viaduct, a leg­endary chap­ter of labor his­to­ry where­in thou­sands of work­ers — large­ly Irish, Ger­man and oth­er immi­grants — chased police out of the neigh­bor­hood as part of a nation­al upris­ing against rail­road wage cuts.
The site was show­cased Sun­day, in the spir­it of Memo­r­i­al Day, on a labor his­to­ry bike tour that dou­bled as a fundrais­er for a promi­nent work­ers' rights leader chal­leng­ing the ward's long-time alder­man in the Feb­ru­ary 2015 election.
Jorge Muji­ca, an orga­niz­er for the work­ers' rights group Arise Chica­go, is run­ning as an inde­pen­dent social­ist against Alder­man Dan­ny Solis, a one-time com­mu­ni­ty orga­niz­er now known as a major pro­po­nent of pri­va­ti­za­tion and a close ally of May­or Rahm Emanuel.
Mujica's sup­port­ers hope his cam­paign can recap­ture even a mod­est reflec­tion of the fear­less, uncom­pro­mis­ing and sem­i­nal work­ers' rights move­ments that once roiled this neighborhood.
Dur­ing the 1877 bat­tle, Ger­man social­ists and Com­mu­nists streamed into the viaduct from the east and a legion of Irish stock­yard work­ers came up Hal­st­ed Street from the south. Police shot into the crowd of pro­test­ers, who ini­tial­ly tried to flee but then became enraged as police fol­lowed them and kept shooting.
That was the turn­ing point. ​"The peo­ple real­ized they had the pow­er of num­bers, so they turned and chased the police with rocks and cleavers and what­ev­er they had handy," explained Jer­ry Boyle, a well-known Chica­go civ­il lib­er­ties lawyer, to the bike tour group. ​"You're stand­ing on his­toric ground. The after­math was that Chica­go was radicalized."
A few blocks south on Hal­st­ed Street, the bike tour stopped at a grassy lot next to a hulk­ing, boxy brick build­ing. A cen­tu­ry ago, the lot was the site of a Hart, Schaffn­er & Marx gar­ment shop, and the adja­cent build­ing housed a sim­i­lar oper­a­tion, part of a gar­ment dis­trict where most­ly Euro­pean immi­grant women toiled long hours for pal­try wages in dan­ger­ous con­di­tions. Here, too, a labor upris­ing took root. In 1910, Han­nah Shapiro, a teenage Ukrain­ian Jew­ish immi­grant work­ing at Hart, Schaffn­er & Marx, refused to accept a quar­ter-cent pay cut. The women at the fac­to­ry stopped work in sol­i­dar­i­ty, launch­ing weeks of strikes and march­es by tens of thou­sands of the union­ized gar­ment work­ers. While the Unit­ed Gar­ment Work­ers Union did not back the action (lead­ing some mem­bers to split off and found the pro­gres­sive Amal­ga­mat­ed Cloth­ing Work­ers of Amer­i­ca), the strike gained sup­port from com­mu­ni­ty and labor groups, and became a sym­bol of women's poten­tial pow­er in the labor movement.
Orga­niz­er and writer Trish Kahle not­ed to the tour group that there were high­ly sex­ist over­tones to the attacks on strik­ers; and that male fel­low work­ers were ini­tial­ly slow to embrace the movement.
Police and pri­vate secu­ri­ty guards ​"man­han­dled the women to show that women had no place in the work­force," Kahle explained. ​"They yelled that they should go home to wash dishes."
The next stop was just south­west of the gar­ment dis­trict, near the Chica­go San­i­tary and Ship Canal: the for­mer site of McCormick Reaper Works, a fac­to­ry that made agri­cul­tur­al machines. The bik­ers gath­ered at a busy com­mer­cial cor­ner to com­mem­o­rate the con­fronta­tion in 1886 that was the spark for the noto­ri­ous Hay­mar­ket Affair. Employ­ees at the Reaper Works had been on strike since Feb­ru­ary. On May 1, strikes and demon­stra­tions nation­wide called for an eight-hour day — the gen­e­sis of Inter­na­tion­al Work­ers' Day. On May 3, con­flict broke out by the Reaper Works pick­et line as union lum­ber shovers joined up in sol­i­dar­i­ty to heck­le scabs. Police fired on the crowd of strik­ers, and up to six work­ers were killed (accounts of the events vary).
The inci­dent led to the call for the ral­ly the next day that became the Hay­mar­ket Affair —a defin­ing moment in labor his­to­ry when police offi­cers were killed dur­ing a mêlée, promi­nent anar­chist orga­niz­ers were blamed despite a dearth of evi­dence, and four of them were ulti­mate­ly hanged. Speak­er Stavroula Haris­sis read an excerpt from a leaflet com­posed by Hay­mar­ket mar­tyr-to-be August Spies after the Reaper Works con­fronta­tion, describ­ing work­ers slaugh­tered because they ​"dared to be dis­sat­is­fied with the lot which your oppres­sors have assigned to them. … They demand­ed bread, and they gave them lead for an answer."
The group also stopped in Dvo­rak Park, one of the neighborhood's few small green spaces, across the street from the Fisk coal-fired pow­er plant. The plant closed in 2012 after a decade-long cam­paign by res­i­dents and nation­al envi­ron­men­tal groups, who denounced the fact that such a heav­i­ly pol­lut­ing oper­a­tion was locat­ed right in the midst of a work­ing-class, most­ly Lati­no immi­grant neighborhood.
Jer­ry Mead Lucero, a leader of the Pilsen Envi­ron­men­tal Rights and Reform Orga­ni­za­tion, point­ed out sev­er­al oth­er envi­ron­men­tal jus­tice vic­to­ries in the neigh­bor­hood, includ­ing a smelter forced to reduce its emis­sions and anoth­er for­mer smelter site reme­di­at­ed. But he warned of plans backed by Alder­man Solis for a new met­al recy­cling oper­a­tion on the riv­er. Oppo­nents believe the recy­cling plant would have a seri­ous health and envi­ron­men­tal impact, includ­ing health risks posed by fine dust that results from met­al shredding.
​"Unfor­tu­nate­ly it seems like every time we have a vic­to­ry, some­thing new comes up," said Mead Lucero.
​"Can you imag­ine in [the upscale sub­urb of] Wil­mette or any wealthy neigh­bor­hood in Chica­go, [some­one] say­ing, ​'Hey, let's build a met­al shred­der here?' " asked tour orga­niz­er and author Joe Allen. He not­ed that Karen Lewis, the promi­nent pres­i­dent of the Chica­go Teach­ers Union, has spo­ken out against the pro­posed shredder.
Next to the Pilsen neigh­bor­hood is Chicago's Chi­na­town, part of the same alder­man­ic ward. In Chi­na­town, the bike tour fea­tured Den­nis Kosuth, an emer­gency room union nurse at the pub­lic coun­ty hos­pi­tal, speak­ing about the his­to­ry of Chi­nese work­ers in the city. He not­ed that Chi­nese immi­grants came to Chica­go after work­ing on the rail­roads, and also flee­ing racism on the west coast — fueled in part by labor unions that didn't want to com­pete with Chi­nese immi­grants for jobs.
The bike tour also high­light­ed how the hard­scrab­ble yet high­ly orga­nized work­ers and fam­i­lies in Pilsen fought suc­cess­ful­ly for basic rights and ser­vices, and to cre­ate an indeli­ble mark on their neigh­bor­hood. The group stopped at Ben­i­to Juarez Com­mu­ni­ty Acad­e­my, a high school built in 1977 as a result of a mass move­ment demand­ing a new school. The tour viewed Pilsen's famous pub­lic murals and mosaics, which cel­e­brate the immi­grant com­mu­ni­ty, pop­u­lar strug­gles and every­day life. And the tour start­ed at a local library named for Rudy Lozano, a leader with the Inter­na­tion­al Ladies Gar­ment Work­ers Union and immi­grants rights activist, who was slain in his home in 1983. Muji­ca not­ed that city offi­cials planned to name the library for a for­mer Mex­i­can offi­cial who played a role in the end of the bracero work­er pro­gram in 1964 and the wave of depor­ta­tions that fol­lowed. The com­mu­ni­ty demand­ed the library be named to com­mem­o­rate Lozano instead.
​"Rudy Lozano's death exem­pli­fied the abrupt end to rad­i­cal pol­i­tics in Chica­go in that era," activist Mario Car­de­nas told the group. Four years lat­er, leg­endary African Amer­i­can May­or Harold Wash­ing­ton — whom Lozano had helped elect — died in office. In 1989, May­or Richard M. Daley was elect­ed, and Chica­go embraced an agen­da of pri­va­ti­za­tion while the pow­er of unions and pop­u­lar move­ments declined – reflect­ing the nation­al trends start­ing in the 1980s under Pres­i­dent Ronald Rea­gan. But with today's ongo­ing elec­toral cam­paign and oth­er con­tem­po­rary strug­gles, orga­niz­ers and res­i­dents in Pilsen hope to revive pop­u­lar move­ments in the months and years to come.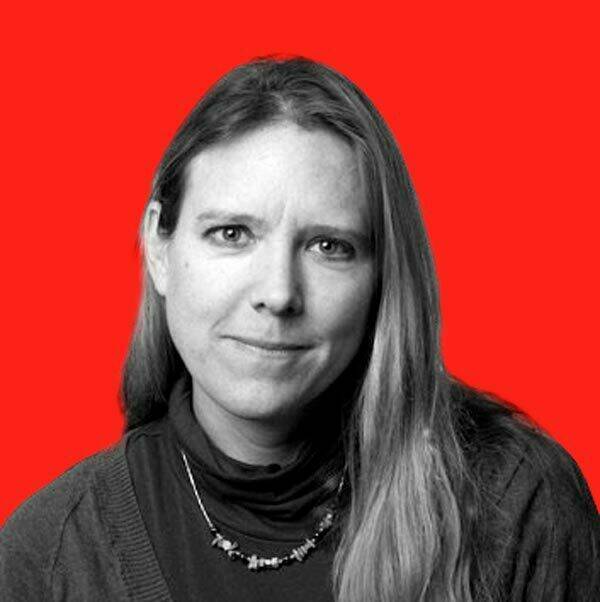 Kari Lyder­sen
is a Chica­go-based reporter, author and jour­nal­ism instruc­tor, lead­ing the Social Jus­tice
&
amp; Inves­tiga­tive spe­cial­iza­tion in the grad­u­ate pro­gram at North­west­ern Uni­ver­si­ty. She is the author of May­or
1
%: Rahm Emanuel and the Rise of Chicago's
99
%.