A Bronx School Tale
A new book shows how grassroots community organizing and persistence turned around one of the country's most corrupt school districts.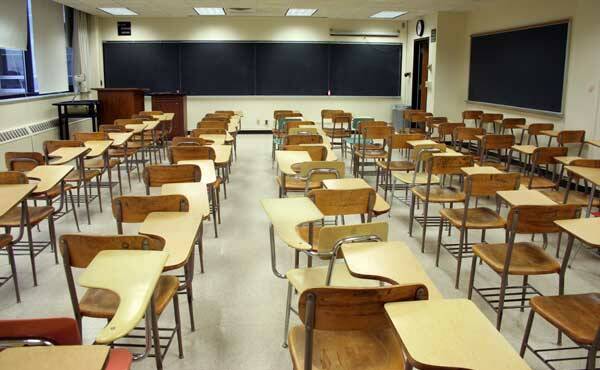 No admo­ni­tion is more like­ly to piss off an orga­niz­er than, ​"Hey. Let's not get stuck in the weeds."
It's among the weeds that orga­niz­ers spend their work­ing lives, and South Bronx Com­mu­ni­ty School Dis­trict 9, the set­ting for Michael B. Fabricant's Orga­niz­ing for Edu­ca­tion­al Jus­tice: The Cam­paign for Pub­lic School Reform in the South Bronx (Uni­ver­si­ty of Min­neso­ta Press), is about as far into the weeds as you can get.
This is the sto­ry of com­mu­ni­ty orga­niz­ing and edu­ca­tion­al reform in one of the nation's most cor­rupt school dis­tricts. Occu­py­ing a two-square mile patch of turf run­ning east­ward from the Harlem Riv­er to Cro­tona Park, and north from 161st to 180th streets, Dis­trict 9 com­pris­es one of the poor­est neigh­bor­hoods in New York, with his­tor­i­cal­ly high rates of vio­lent crime and arson, and low-per­form­ing schools.
Over three decades, Com­mu­ni­ty School Board 9 cul­ti­vat­ed a cul­ture of cor­rup­tion that saw the con­vic­tion of three board mem­bers for mis­con­duct, self-deal­ing, shake­downs and theft that, on two sep­a­rate occa­sions, result­ed in the mass sus­pen­sion of the entire board.
Edu­ca­tion­al achieve­ment among Dis­trict 9's 31,000 pupils – 98 per­cent of whom are His­pan­ic or African Amer­i­can, with 90 per­cent qual­i­fy­ing for free or sub­si­dized lunch­es – was the worst in New York. In 1999, an appalling 17 per­cent of fourth graders scored at grade lev­el on stan­dard­ized read­ing tests.
Ear­ly parental reform efforts had involved ad hoc con­fronta­tion­al cam­paigns to remove inef­fec­tive prin­ci­pals or redress indi­vid­ual school griev­ances. But vet­er­ans of these strug­gles came to under­stand that last­ing reform required a sys­temic approach that reached beyond the walls of any sin­gle dys­func­tion­al school or the capa­bil­i­ties of any sin­gle com­mu­ni­ty organization.
How six com­mu­ni­ty orga­ni­za­tions came togeth­er to form the Com­mu­ni­ty Col­lab­o­ra­tive to Improve Dis­trict 9 Schools (CC9) into a pow­er­ful coali­tion to pro­mote edu­ca­tion­al achieve­ment in the South Bronx is at the heart of Fabricant's story.
With­in three years of its estab­lish­ment in ear­ly 2001, CC9 had announced a plat­form cen­tered on every child's right to a qual­i­ty pub­lic edu­ca­tion, devised a plan for cre­at­ing and demon­strat­ing an inde­pen­dent base of parental pow­er, obtained $400,000 in foun­da­tion grants for hir­ing orga­niz­ers and defeat­ed a scheme for ger­ry­man­der­ing select­ed Dis­trict 9 schools to neigh­bor­ing districts.
The cen­ter­piece of CC9's plat­form was the estab­lish­ment of a ​"Lead Teacher" pro­gram for attract­ing high­ly qual­i­fied vet­er­an edu­ca­tors to serve as pro­fes­sion­al men­tors for teach­ers in 10 Dis­trict 9 schools. The aim was to bol­ster stu­dent achieve­ment by improv­ing instruc­tion­al pro­fi­cien­cy through focused pro­fes­sion­al devel­op­ment, and to improve teacher reten­tion by fos­ter­ing a school-based cul­ture of col­le­gial engage­ment. Lead teach­ers car­ried a reduced class sched­ule, allow­ing them to devote half of their time to men­tor­ing col­leagues. Lead teacher salaries were increased by $10,000.
By the autumn of 2004, CC9, New York City and the Unit­ed Fed­er­a­tion of Teach­ers (UFT) had attract­ed foun­da­tion fund­ing of more than $1.6 mil­lion for imple­ment­ing the Lead Teacher pro­gram in 10 CC9 schools. Out of 200 appli­cants, 36 Lead Teach­ers were selected.
Two years into the pro­gram, teacher turnover rates fell sig­nif­i­cant­ly in sev­en of the first 10 pilot schools. Test score gains exceed­ed those of stu­dents in all of New York City. The per­cent­age of fourth graders read­ing at grade lev­el increased from 17 per­cent to 47 per­cent – still not where it need­ed to be, but a dra­mat­ic improve­ment in a short time.
By 2006, the Lead Teacher pro­gram was expand­ed to more than 100 schools through­out the city, an addi­tion­al $30 mil­lion in grants to low per­form­ing mid­dle schools was secured, and more than $400 mil­lion had been obtained for strength­en­ing sci­ence instruc­tion in mid­dle schools and high schools.
What makes this more than a feel-good sto­ry of strug­gle and achieve­ment is Fabricant's deter­mi­na­tion to explore the how along with the what. That's why Orga­niz­ing for Edu­ca­tion­al Jus­tice is instruc­tive to any­one inter­est­ed in mak­ing change, not just pro­nounc­ing it.
CC9 mem­bers went door to door seek­ing sup­port. The group enabled work­ing par­ents to attend evening meet­ings by serv­ing fam­i­ly meals and pro­vid­ing child­care. Ice-break­er exer­cis­es were built into every agen­da to put new mem­bers at ease. Sol­i­dar­i­ty chants closed every meet­ing to build group cohe­sion. Trans­la­tors enabled all to par­tic­i­pate on an equal foot­ing. Before every pub­lic event or meet­ing with New York City Depart­ment of Edu­ca­tion offi­cials or the press, CC9 con­duct­ed inten­sive for­mal prepa­ra­tion ses­sions where par­tic­i­pants rehearsed argu­ments and built con­fi­dence for think­ing on their feet.
All this helped CC9 build a struc­ture capa­ble of increas­ing parental turnout at pub­lic events from less than two dozen to more than 500, and for col­lect­ing 10,000 peti­tion sig­na­tures in short order and deliv­er­ing them when promised.
Fab­ri­cant describes a dra­mat­ic sit­u­a­tion where New York City Depart­ment of Edu­ca­tion Chan­cel­lor Joel Klein test­ed the strength of the com­mu­ni­ty-teacher alliance by invit­ing CC9, but not the union, to a cru­cial meet­ing CC9 had been attempt­ing to set up for months. The meeting's pur­pose was to present and work out details of the Lead Teacher pro­gram, and obtain Klein's approval. Los­ing this meet­ing would have delayed and pos­si­bly killed the program.
In the end, the UFT agreed that CC9 should attend alone, but that for any sub­se­quent meet­ings on this issue CC9 and the union would go togeth­er. CC9 rec­og­nized that the Lead Teacher pro­gram could not sur­vive or flour­ish with­out the UFT's active par­tic­i­pa­tion. The union's lead­er­ship under­stood that win­ning reforms that were good for kids and fair to teach­ers required a strong par­ent-teacher-com­mu­ni­ty alliance.
Fab­ri­cant, a pro­fes­sor at the City Uni­ver­si­ty of New York and an elect­ed union offi­cer, has pro­duced a street man­u­al for pol­i­cy wonks, a pol­i­cy guide for orga­niz­ers and a down-to-earth read for every­one in between.