A Corrupted Election
Despite what you may have heard, the exit polls were right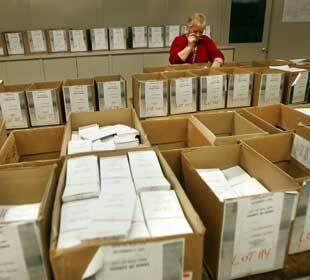 Recall the Elec­tion Day exit polls that sug­gest­ed John Ker­ry had won a con­vinc­ing vic­to­ry? The media read­i­ly dis­missed those polls and lit­tle has been heard about them since.
Many Amer­i­cans, how­ev­er, were sus­pi­cious. Although Pres­i­dent Bush pre­vailed by 3 mil­lion votes in the offi­cial, tal­lied vote count, exit polls had pro­ject­ed a mar­gin of vic­to­ry of 5 mil­lion votes for Ker­ry. This unex­plained 8 mil­lion vote dis­crep­an­cy between the elec­tion night exit polls and the offi­cial count should raise a Chi­nese May Day of red flags.
The U.S. vot­ing sys­tem is more vul­ner­a­ble to manip­u­la­tion than most Amer­i­cans real­ize. Tech­nolo­gies such as elec­tron­ic vot­ing machines pro­vide no con­fir­ma­tion that votes are count­ed as cast, and high­ly par­ti­san elec­tion offi­cials have the pow­er to sup­press votes and oth­er­wise dis­tort the count.
Exit polls are high­ly accu­rate. They remove most of the sources of poten­tial polling error by iden­ti­fy­ing actu­al vot­ers and ask­ing them imme­di­ate­ly after­ward who they had vot­ed for.
The reli­a­bil­i­ty of exit polls is so gen­er­al­ly accept­ed that the Bush admin­is­tra­tion helped pay for them dur­ing recent elec­tions in Geor­gia, Belarus and Ukraine. Tes­ti­fy­ing before the House Com­mit­tee on Inter­na­tion­al Rela­tions Dec. 7, John Tefft, deputy assis­tant sec­re­tary of state for Euro­pean and Eurasian affairs, explained that the Bush admin­is­tra­tion fund­ed exit polls because they were one of the ​"ways that would help to expose large-scale fraud." Tefft point­ed to the dis­crep­an­cy between exit polls and the offi­cial vote count to argue that the Nov. 22 Ukraine elec­tion was stolen.
Grasp­ing at explanations
Last Novem­ber in the Unit­ed States, as in Ukraine, the dis­crep­an­cy between the pres­i­den­tial exit polls and the tal­lied count was far beyond the mar­gin for error. At the time, Edi­son Media Research and Mitof­sky Inter­na­tion­al, the two com­pa­nies hired to do the polling for the Nation­al Elec­tion Pool (a con­sor­tium of the nation's five major broad­cast­ers and the Asso­ci­at­ed Press), didn't pro­vide an expla­na­tion for how this hap­pened. They promised, how­ev­er, that a full expla­na­tion would be forthcoming.
On Jan. 19, on the eve of the inau­gu­ra­tion, Edi­son and Mitof­sky released their report, ​"Eval­u­a­tion of Edison/​Mitofsky Elec­tion Sys­tem 2004," which gen­er­at­ed head­lines such as MSNBC's ​"Exit Polls Prove That Bush Won." But, the report does noth­ing of the sort. It restates a the­sis that the poll­sters pre­vi­ous­ly inti­mat­ed — that the dis­crep­an­cy was ​"most like­ly due to Ker­ry vot­ers par­tic­i­pat­ing in the exit polls at a high­er rate than Bush vot­ers." But the body of the report offers no data to sub­stan­ti­ate this posi­tion. In fact, data pre­sent­ed in the report serve to rebut the the­sis, and bol­ster sus­pi­cions that the offi­cial vote count was way, way off.
The report states that the dif­fer­ence between exit polls and offi­cial tal­lies was far too great to be explained by chance ("sam­pling error"), and that a sys­tem­at­ic bias is implicated.
With that state­ment the poll­sters con­firm the dis­crep­an­cy we ini­tial­ly doc­u­ment­ed. The exit polls were based on more than 70,000 con­fi­den­tial ques­tion­naires com­plet­ed by ran­dom­ly select­ed vot­ers as they exit­ed the polling place. The over­all mar­gin of error should have been under 1 per­cent. But the offi­cial result devi­at­ed from the poll pro­jec­tions by more than 5 per­cent — a sta­tis­ti­cal impossibility.
The poll­sters report that the precincts were appro­pri­ate­ly cho­sen for sam­pling, in that the aggre­gat­ed offi­cial results from the sam­pled precincts accu­rate­ly reflect­ed the offi­cial statewide bal­lot counts.
In say­ing this, Mitof­sky and Edi­son vin­di­cate a key piece of their method­ol­o­gy — the rep­re­sen­ta­tive­ness of their sam­ples. If the fault indeed lies with the exit polls, the range of pos­si­bil­i­ties for error is there­fore narrowed.
Final­ly, they report that the source of error is, in fact, with­in-precinct error (WPE), the dif­fer­ence between offi­cial precinct tal­lies and the exit poll sam­ples from those same precincts. On aver­age, across the coun­try, the Pres­i­dent did 6.5 per­cent bet­ter in the offi­cial vote count, rel­a­tive to Ker­ry, than the exit polls projected.
This admis­sion fur­ther nar­rows the range of pos­si­bil­i­ties. If the polling data are accu­rate, the only remain­ing pos­si­bil­i­ties are ​"non-response bias" (i.e., Bush vot­ers dis­pro­por­tion­ate­ly did not par­tic­i­pate in the exit polls) and/​or errors in the offi­cial tally.
How­ev­er, hav­ing got­ten to this point in their argu­ment, Mitof­sky and Edi­son sum­mar­i­ly dis­miss the pos­si­bil­i­ty that the offi­cial count was wrong. They reject the elec­tion fraud hypoth­e­sis because, they say, ​"precincts with touch screen and opti­cal vot­ing have essen­tial­ly the same error rates as those using punch-card systems."
Indeed, they do. But this fact mere­ly sug­gests that all three of these sys­tems may have been cor­rupt­ed. Indeed, there is lit­tle ques­tion about prob­lems asso­ci­at­ed with both punch card sys­tems (recall the Flori­da deba­cle in 2000) and mechan­i­cal vot­ing machines, which are gen­er­al­ly unre­li­able, vul­ner­a­ble to tin­ker­ing and leave no paper trail. That's why both sys­tems have been slat­ed for ter­mi­na­tion under the Help­ing Amer­i­ca Vote Act of 2002.
Notably, Mitof­sky and Edi­son unsucess­ful­ly try to explain away the fact that, accord­ing to their data, only in precincts that used old-fash­ioned, hand-count­ed paper bal­lots did the offi­cial count and the exit polls fall with­in the nor­mal sam­pling mar­gin of error.
Fur­ther, data that are under­played in the report pro­vide sup­port for the hypoth­e­sis that the elec­tion was stolen.
First, the report acknowl­edges that the dis­crep­an­cy between the exit polls and the offi­cial count was con­sid­er­ably greater in the crit­i­cal swing states. And while that fact is con­sis­tent with alle­ga­tions of fraud (if you are going to steal an elec­tion you go after votes most vig­or­ous­ly where they are most need­ed), Mitof­sky and Edi­son sug­gest, with­out pro­vid­ing any data or the­o­ry to back up their claim, that this dis­crep­an­cy is some­how relat­ed to media coverage.
Sec­ond, in light of the charges that the 2000 elec­tion was not legit­i­mate, the Bush/​Cheney cam­paign would have want­ed to pre­vail in the pop­u­lar vote. If fraud was afoot, it would make sense that the president's men would steal votes in their strong­holds, where the like­li­hood of detec­tion is small. Lo and behold, the report pro­vides data that strong­ly bol­ster this the­o­ry. In those precincts that went at least 80 per­cent for Bush, the aver­age with­in-precinct-error (WPE) was a whop­ping 10.0 — the numer­i­cal dif­fer­ence between the exit poll pre­dic­tions and the offi­cial count. That means that in Bush strong­holds, Ker­ry, on aver­age, received only about two-thirds of the votes that exit polls pre­dict­ed. In con­trast, in Ker­ry strong­holds, exit polls matched the offi­cial count almost exact­ly (an aver­age WPE of 0.3).
Oth­er report data under­mine the argu­ment that Ker­ry vot­ers were more like­ly to com­plete the exit poll inter­view than Bush vot­ers. If this were the case, then one would expect that in precincts where Ker­ry vot­ers pre­dom­i­nat­ed, the coop­er­a­tion rate would be high­er than in pro-Bush precincts. But in fact, the data sug­gest that Bush vot­ers were slight­ly more like­ly to com­plete the sur­vey: 56 per­cent of vot­ers com­plet­ed the sur­vey in the Bush strong­holds, while 53 per­cent coop­er­at­ed in Ker­ry strongholds.
Corol­lary evidence
The exit polls them­selves are a strong indi­ca­tor of a cor­rupt­ed elec­tion. More­over, the exit poll dis­crep­an­cy must be inter­pret­ed in the con­text of more than 100,000 offi­cial­ly logged reports of irreg­u­lar­i­ties dur­ing Elec­tion Day 2004. For many Amer­i­cans, if not most, mass-scale fraud in a U.S. pres­i­den­tial elec­tion is an unthink­able pos­si­bil­i­ty. But tak­en togeth­er, the alle­ga­tions, the sub­se­quent­ly doc­u­ment­ed irreg­u­lar­i­ties, sys­tem­at­ic vul­ner­a­bil­i­ties, and implau­si­ble num­bers sug­gest a coher­ent sto­ry of fraud and deceit.
What's more, the exit poll dis­par­i­ty doesn't tell the whole sto­ry. It doesn't count those vot­ers who were dis­en­fran­chised before they even got to the polls. The vot­ing machine short­ages in Demo­c­ra­t­ic dis­tricts, the fraud­u­lent felony purges of vot­er rolls, the bar­ri­ers to reg­is­tra­tion, and the unmailed, lost, or cav­a­lier­ly reject­ed absen­tee bal­lots all rep­re­sent dis­tor­tions to the vote count above and beyond what is mea­sured by the exit poll dis­par­i­ty. The exit polls, by design, sam­ple only those vot­ers who have already over­come these hurdles.
The the­sis of the Mitofsky/​Edison exit poll report and the head­lines that it gen­er­at­ed are curi­ous­ly detached from the num­bers in the report itself. Sta­tis­ti­cians who have stud­ied the exit polls find sub­stan­tial evi­dence to sup­port the the­sis that the vote counts — not the exit polls — were inaccurate.
Appar­ent­ly, the poll­sters at Mitof­sky and Edi­son have found it more expe­di­ent to pro­vide an expla­na­tion unsup­port­ed by the­o­ry, data or prece­dent than to impugn the machin­ery of Amer­i­can democ­ra­cy. Unfor­tu­nate­ly, their patrons in the media find it cor­re­spond­ing­ly prefer­able to latch onto a non-con­fronta­tion­al the­sis, how­ev­er implau­si­ble, than to even sug­gest the pos­si­bil­i­ty of foul play.
A com­pre­hen­sive analy­sis of the Edison/​Mitofsky report has been post­ed here.
Steve Free­man
is on the fac­ul­ty of the Cen­ter for Orga­ni­za­tion­al Dynam­ics at the Uni­ver­si­ty of Penn­syl­va­nia, where he teach­es research method­ol­o­gy. Freeman's research on the
2004
elec­tion will be pub­lished in a book — co-writ­ten with
In These Times
Edi­tor Joel Blei­fuss — by Sev­en Sto­ries Press this spring.
Josh Mit­tel­dorf
teach­es sta­tis­tics at Tem­ple Uni­ver­si­ty and is a vol­un­teer at USCountVotes​.org.