A Dangerous Legacy
Bush's "ownership society" champions a hyper-individualism that threatens the commons.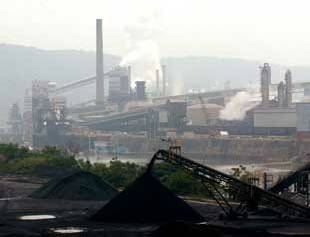 It would be dif­fi­cult for a pres­i­dent to express more dis­re­gard for the envi­ron­ment than George W. Bush. Bush refused to act on glob­al warm­ing, declar­ing the Kyoto treaty dead. He refused to con­tin­ue the Super­fund pro­gram, stick­ing Amer­i­cans with a mul­ti-bil­lion-dol­lar tab for clean­ing up cor­po­rate tox­ic waste. He refused to enforce the Clean Air Act and shelved years worth of legal work by the Envi­ron­men­tal Pro­tec­tion Agency to hold pow­er plants account­able for break­ing pol­lu­tion laws. From the down­right absence of dis­cus­sion of the envi­ron­ment in his State of the Union address to his deci­sion to appoint anti-reg­u­la­tion oil and gas indus­try lob­by­ist J. Steven Griles as Deputy Sec­re­tary of the Inte­ri­or, his con­sis­tent hos­til­i­ty has sent shiv­ers down the spine of every nature-lov­ing American.
Although Bush's attacks on the envi­ron­ment vir­tu­al­ly match those con­duct­ed against the rest of Amer­i­ca, the envi­ron­ment stands apart from these oth­er issues. Unlike a Bush-appoint­ed fed­er­al judge who even­tu­al­ly will retire or an ill-con­ceived tax pol­i­cy that can be reversed, once the envi­ron­ment is sac­ri­ficed it can­not be revived.
But Bush's most insid­i­ous action to date has been chang­ing the terms of the debate on the envi­ron­ment, effec­tive­ly mak­ing extrem­ism the new standard.
The suc­cess of the Bush administration's assault on the envi­ron­ment sug­gests a much larg­er fail­ure in what we col­lec­tive­ly assumed was an unstop­pable march toward greater respect for our fel­low humans and the broad­er nat­ur­al world. Facts about mis­deeds alone are no longer enough to stop the encroach­ment on nature, our bod­ies and our civ­il rights. Many pro­gres­sives can't com­pre­hend why the major­i­ty of Amer­i­cans con­tin­ue to think the pres­i­dent is a strong leader and at the same time admit that he gets the facts wrong, whether it's weapons of mass destruc­tion in Iraq or call­ing an increase in mer­cury releas­es in the air an envi­ron­men­tal achieve­ment. Even more alarm­ing is the rapid decline in sup­port for envi­ron­men­tal­ism that pre­dates Bush. From 1996 to 2000 the per­cent­age of Amer­i­cans will­ing to accept high­er pol­lu­tion in the future to pre­serve jobs rose from 17 per­cent to 25 per­cent, accord­ing to an in-depth nation­al val­ues sur­vey con­duct­ed by Envi­ron­ics. At the same time the num­ber of Amer­i­cans who believe that peo­ple who belong to envi­ron­men­tal groups are extrem­ists rose from 32 per­cent to 41 per­cent. While the 2004 results of this sur­vey have yet to be released, the num­bers like­ly will con­tin­ue to sug­gest that the age of envi­ron­men­tal­ism is waning.
The core of the prob­lem lies in the pro­gres­sive approach to solv­ing prob­lems through pol­i­cy ini­tia­tives, rather than refo­cus­ing the debate on the under­ly­ing val­ues that are being attacked. The Bush admin­is­tra­tion has spo­ken plain­ly about their val­ues project: The cre­ation of an own­er­ship society.
The CATO Insti­tute, the pre­em­i­nent cham­pi­on of the own­er­ship soci­ety, defines it as fol­lows: ​"An own­er­ship soci­ety val­ues respon­si­bil­i­ty, lib­er­ty and prop­er­ty. Indi­vid­u­als are empow­ered by free­ing them from depen­dence on gov­ern­ment hand­outs and mak­ing them own­ers instead, in con­trol of their own lives and des­tinies. In the own­er­ship soci­ety, patients con­trol their own health care, par­ents con­trol their own children's edu­ca­tion, and work­ers con­trol their retire­ment savings."
The val­ues rep­re­sent­ed by a soci­ety where indi­vid­u­als own every­thing are anath­e­ma to the col­lec­tive val­ues of stew­ard­ship and eco­log­i­cal pro­tec­tion that sci­ence tells us we must fos­ter to sus­tain nat­ur­al sys­tems bur­dened by the size and con­sump­tion pat­terns of the glob­al pop­u­la­tion. In an own­er­ship soci­ety, every­one has the right to own the most-pol­lut­ing sports util­i­ty vehi­cle; in a soci­ety with com­mons val­ues, those peo­ple who buy pol­lut­ing SUVs are respon­si­ble for pay­ing high­er tax­es to com­pen­sate soci­ety for tak­ing from the com­mon atmos­pher­ic resource we share. The com­mons val­ues that we have relied upon since the Great Depres­sion have been the under­pin­ning of the eco­nom­ic and cul­tur­al growth of Amer­i­ca. From Social Secu­ri­ty to pub­lic edu­ca­tion to the Clean Water Act, the frame­work for pro­gres­sive polit­i­cal action has been the commons.
Today, the com­mons frame­work is under attack, and the indi­vid­ual move­ments that pro­gres­sives have cre­at­ed to main­tain our com­mons val­ues are impo­tent to fight the larg­er bat­tle through the lens of indi­vid­ual issues. Most envi­ron­men­tal­ists would not think that fight­ing against school vouch­ers and pri­va­tiz­ing pub­lic edu­ca­tion are the most impor­tant bat­tle­fronts for the pro­tec­tion of our forests. But if the bat­tle is for the val­ue of own­er­ship ver­sus the val­ue of the com­mons, win­ning the fight over pub­lic edu­ca­tion in a way that rais­es the pro­file of com­mons val­ues may very well be the best bat­tle that envi­ron­men­tal­ists can fight. Like­wise, cam­paign finance reform advo­cates may find their most effec­tive bat­tle to be the rein­ing in of the oil and coal indus­tries' attempts to seize pub­lic min­er­al rights, for there is no bet­ter exam­ple of pri­vate greed sub­vert­ing the Amer­i­can polit­i­cal system.
The Bush administration's great­est vic­to­ry over the envi­ron­men­tal move­ment has been chang­ing in the terms of debate. Our chal­lenge is not to cre­ate spe­cif­ic pol­i­cy ini­tia­tives to counter each of the administration's cor­po­rate give­aways, but to change the val­ues frame­work that allows them to get away with it. If pro­gres­sives can counter the advance of the own­er­ship soci­ety, we'll stand a bet­ter chance of stop­ping envi­ron­men­tal insults, and in the process, we might save pub­lic edu­ca­tion as well.
Adam Wer­bach
is the exec­u­tive direc­tor of the Com­mon Assets Defense Fund and a mem­ber of the San Fran­cis­co Pub­lic Util­i­ties Com­mis­sion. He is a for­mer pres­i­dent of the Sier­ra Club, a posi­tion to which he was elect­ed at the age of
23
.