A Day in the Life of a Cuban Dissident
On the 50th anniversary of the Revolution, a blogger is kidnapped and beaten.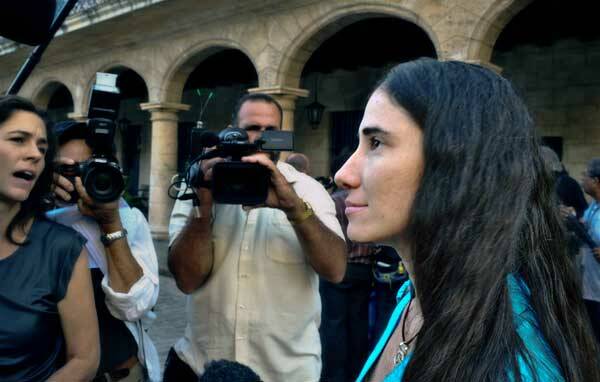 EDITOR'S NOTE: On Nov. 5, 2009, In These Times pub­lished ​"Inside Cuba: Voic­es from the Island." In that spe­cial issue, which was edit­ed by Con­tribut­ing Edi­tor Achy Obe­jas to mark the Cuban Revolution's 50th anniver­sary, blog­ger Orlan­do Luis Par­do Lazo wrote ​"Guer­ril­la Blog­ging: A Vir­tu­al Democ­ra­cy Against All Odds," in which he described the per­se­cu­tion faced by famed Cuban blog­ger Yoani Sánchez and oth­er writ­ers. The day after we went to press, Par­do Lazo and Sánchez were abduct­ed, beat­en and dumped on the out­skirts of Havana. (Par­do Lazo wasn't the only In These Times writer to suf­fer. After agree­ing to write an arti­cle about LGBT rights in Cuba for the mag­a­zine, activist Mario Jose Del­ga­do Gon­za­les was arrest­ed and jailed, osten­si­bly for try­ing to orga­nize a ​"Mr. Gay Havana" con­test.) In her new book Havana Real: One Woman Fights to Tell the Truth About Cuba Today (Melville House, May), which com­piles posts from her blog Gen­er­aćion Y, Sánchez tells the sto­ry of that abduc­tion and the days that followed.
Lacking economic openness, more food on the plate, structural changes, or long-awaited relaxations, Raúl Cas­tro's government seems to have chosen punishment as the formula for self-preservation.
A gang­land-style kid­nap­ping, Novem­ber
7
Near 23rd Street, we saw a black Chi­nese-make car pull up with three heav­i­ly built strangers. ​"Yoani, get in the car," one told me, grab­bing my wrist. The oth­er two sur­round­ed Clau­dia Cade­lo, Orlan­do Luis Par­do Lazo and a friend who was accom­pa­ny­ing us to the march against vio­lence. It was an evening of punch­es, shouts and obscen­i­ties on what should have been a day of peace and har­mo­ny. The ​"aggres­sors" called for a patrol car to take two of my com­pan­ions, while Orlan­do and I were forced into the car with yel­low plates, the ter­ri­fy­ing world of lawlessness.
I refused to get into the car and demand­ed that they show us iden­ti­fi­ca­tion or a war­rant, but they refused to show us any papers to prove the legit­i­ma­cy of our arrest. To curi­ous onlook­ers crowd­ed around I shout­ed, ​"Help, these men want to kid­nap us!," but those who tried to inter­vene were stopped with a shout that revealed the ideologi­cal pur­pose of the oper­a­tion: ​"Don't mess with it, these are counterrevolutionaries!"
In response to our ver­bal resis­tance they made a phone call to ask some­one who must have been the boss. ​"What do we do? They don't want to get in the car." I imag­ine the answer from the oth­er side was unequiv­o­cal, because then with a flur­ry of punch­es and push­es, they pushed my head down to force me into the car. I held onto the door and received blows to my knuck­les. I man­aged to grab a paper one of them had in his pock­et and put it in my mouth. Anoth­er flur­ry of punch­es so I would return the doc­u­ment to them.
Orlan­do was already inside, with his head to the floor, immo­bi­lized by a karate hold. One man put his knee in my chest and the oth­er, reach­ing back from the front seat, hit me in my kid­neys and then punched me in the head to make me open my mouth and spit out the paper. At one point I felt I would nev­er leave that car.
"This is as far as you're going, Yoani, I've had enough of your antics," said one, while pulling my hair. My legs were stick­ing up, my face red from the pres­sure, my body aching, while on the oth­er side Orlan­do, brought down by a pro­fes­sion­al bel­liger­ent. In an act of des­per­a­tion I man­aged to grab the testi­cles of one of them through his trousers. I dug my nails in, think­ing he was going to crush my chest. ​"Kill me now!" I screamed, with my last breath. The one in front warned the younger one, ​"Let her breathe."
I was lis­ten­ing to Orlan­do pant­i­ng as the blows con­tinued to rain down on us. I want­ed to open the door and throw myself out, but there was no han­dle on the inside. We were at their mer­cy. Hear­ing Orlando's voice encour­aged me. Lat­er he told me it was the same for him hear­ing my chok­ing words – it let him know, ​"Yoani is still alive." Final­ly they left us lying in a street in Tim­ba [a Havana neigh­bor­hood], ach­ing. A woman approached, ​"What hap­pened?" ​"A kidnap­ping," I man­aged to say. We cried in each other's arms in the mid­dle of the side­walk. I thought about my son Teo: For God's sake, how am I going to explain all these bruis­es? How am I going to tell him that we live in a coun­try where this can hap­pen? How will I look at him and tell him that his moth­er has been beat­en up on a pub­lic street for writ­ing a blog, for putting her opin­ions in kilo­bytes? How can I describe the despot­ic faces of those who forced us into that car, their vis­i­ble enjoy­ment as they beat us, their lift­ing my skirt as they dragged me half-naked to the car?
I man­aged to see, how­ev­er, the degree of fright in our assailants, a fear of the new, of what they can­not destroy because they don't under­stand it, the blus­ter­ing ter­ror of those who know their days are numbered.
A brief med­ical report, Novem­ber
8
I am recov­er­ing from the injuries inflict­ed dur­ing the abduc­tion of last Fri­day. The bruis­es are less­en­ing. What both­ers me most now is a sharp pain in my low­er back. I am using a crutch. Last night I went to the clin­ic where I was treat­ed for pain and inflam­ma­tion. It's noth­ing that my youth and good health can­not over­come. For­tu­nate­ly, the blow with which they forced my head to the floor of the car did not affect my eye, only my cheek­bone and brow. I hope to recov­er in a few days.
A thank you to friends and fam­i­ly who have looked af­ter me. The effects are fad­ing, even the psy­cho­log­i­cal ones, which are the hard­est. Orlan­do and Clau­dia are still in shock, but they are incred­i­bly strong and also will over­come it. We have already begun to smile, the best med­i­cine against abuse. The prin­ci­pal ther­a­py for me remains this blog and the thou­sands of top­ics still wait­ing to be writ­ten about.
 Shad­ow beings, Novem­ber
12
My rela­tion­ship with the movies has always been from the seats, hear­ing the whir of an old pro­jec­tor. Then I start­ed to live in my own movie, a type of thriller with pur­suers and the pur­sued, where it is up to me to escape and hide. The rea­son for this sud­den change from specta­tor to pro­tag­o­nist has been this blog, locat­ed in the wide space that is the Inter­net. Two years ago, I woke up with the desire to write the true script of my days, not the rosy com­e­dy shown in the offi­cial news­pa­pers. I went, then, from watch­ing movies to inhab­iting one.
I have my doubts whether some­day I'll see the cur­tain come down and be able to leave the movie the­ater alive. The decades-long film we've been liv­ing in Cuba doesn't seem to be close to the cred­it roll and a blank screen. How­ev­er, spec­tators are no longer inter­est­ed in the inter­minable film­strip shown by the autho­rized pro­jec­tion­ist. Rather, they seem cap­ti­vat­ed by the vision of those who cre­ate a blog, a blank page that records the ques­tions, frus­tra­tions and joys of actu­al citizens.
Believ­ing myself a Kubrick or a Taran­ti­no, I have begun to post images of these crea­tures who watch and harass us. Beings from the shad­ows who, like vam­pires, feed on our human hap­pi­ness and fill us with ter­ror through punch­es, threats and black­mail. Indi­vid­u­als, trained in coer­cion, who did not antic­i­pate their con­ver­sion from hunters to hunt­ed, their faces trapped on cam­eras, mobile phones or in the curi­ous eyes of a cit­i­zen. Accus­tomed to gath­er­ing evi­dence for dossiers, records com­piled on each of us, kept in some draw­er in some office, now they are sur­prised that we make an inven­to­ry of their ges­tures and their eyes, and a metic­u­lous record of their abuses.
 Health update, Novem­ber
15
I have regained my capac­i­ty to walk on two legs, aban­doned the crutch and returned to my dai­ly life. My thanks go to all of you who of­fered your hands in sol­i­dar­i­ty, the balm of sup­port and the effec­tive med­i­cine of your friendship.
Ane­mic argu­ments, Decem­ber
12
On Decem­ber 10 a mob assault­ed women who had only glad­i­oli flow­ers in their hands. With fists raised – urged on by plain­clothes police – they sur­round­ed these moth­ers, wives and daugh­ters of those impris­oned since the Black Spring of 2003. Sev­er­al of the attack­ers learned the script on the run, and they mixed cur­rent polit­i­cal slo­gans with those pop­u­lar almost three decades ago. They were shock troops with license to insult and beat, grant­ed by pre­cise­ly those whose job it is to main­tain order and pro­tect all cit­i­zens. On Friday's news­cast, the announc­er said that those who berat­ed the Women in White rep­re­sent­ed an ​"enraged peo­ple," but on the screen there was no hint of spon­tane­ity or real convic­tion. It just looked like fanat­ics who were afraid, very afraid.
I'm ashamed to say it, but in my coun­try the demons of intol­er­ance were hav­ing a par­ty on Human Rights Day. Those who long ago lost the abil­i­ty to con­vince and win us over with a new and just idea had incit­ed them. They don't even have an ide­ol­o­gy any more, they just keep their hands on the reins of fear and call for ​"exem­plary" acts of repu­di­a­tion to stem grow­ing dis­con­tent. On the faces of those sum­moned to do the social lynch­ing, one could see doubt alter­nat­ing with rage, exal­ta­tion with a fear of being observed and judged. As painful as it may be, it's easy to fore­see that per­haps one day a mul­ti­tude just as blind and unthink­ing might direct their anger against those who, to­day, pit some Cubans against others.
Lack­ing eco­nom­ic open­ness, more food on the plate, struc­tur­al changes, or long-await­ed relax­ations, Raúl Cas­tro's gov­ern­ment seems to have cho­sen pun­ish­ment as the for­mu­la for self-preser­va­tion. There are no oth­er tan­gi­ble results of his man­age­ment. Rather, there are the sounds of the rusty instru­ments of con­trol and the old tech­niques of punishment.
They haven't even put forth promis­es of projects or announced plans with impre­cise dates. Rather, they reach for their belt, not to tight­en it in a ges­ture of aus­ter­i­ty and sav­ings, but to use it as author­i­tar­i­an par­ents do, on the hides of their chil­dren. n
Sánchez con­tin­ues to blog at www​.des​de​cu​ba​.com/​g​e​n​e​r​a​ciony. An Eng­lish trans­la­tion of the web­site is at www​.des​de​cu​ba​.com/​g​e​n​e​r​a​tiony.