For six years, Athens' City Plaza hotel sat desert­ed, a casu­al­ty of the Euro­pean finan­cial cri­sis. Today, the sev­en-sto­ry build­ing is again bustling with occu­pants — but not the busi­ness trav­el­ers who once fre­quent­ed it. Instead, the hotel is home to hun­dreds of refugees who have fled to Greece from coun­tries such as Syr­ia, Iraq and Afghanistan. It's the largest of a dozen pre­vi­ous­ly aban­doned build­ings in Athens that activists have occu­pied and repur­posed as havens for migrants fac­ing increas­ing­ly hos­tile circumstances.
Though activists say City Plaza is a lifeline for refugees, squats across Greece are under threat from an unlikely source: the left-wing Syriza government.
Activists with the Sol­i­dar­i­ty Ini­tia­tive for Polit­i­cal and Eco­nom­ic Refugees, an umbrel­la of groups attempt­ing a bot­tom-up response to the refugee cri­sis, first took over the shut­tered hotel in April 2016. Since then, City Plaza has housed some 1,500 refugees and migrants; it can house 400 at a time and rarely has vacan­cies. The hotel is at the cen­ter of a deep­en­ing inter­sec­tion between the polit­i­cal tra­di­tion of squat­ting, which has deep roots in Greece, and the grow­ing refugee sol­i­dar­i­ty movement.
The clean, mod­ern hotel — built in 2004 to accom­mo­date tourists vis­it­ing Athens for the sum­mer Olympics — looks noth­ing like a stereo­typ­i­cal refugee camp. Res­i­dents stay in fur­nished rooms equipped with pri­vate bath­rooms and bal­conies. Vol­un­teer lawyers help asy­lum seek­ers with their cas­es, and nurs­es and doc­tors vis­it the squat to per­form checkups.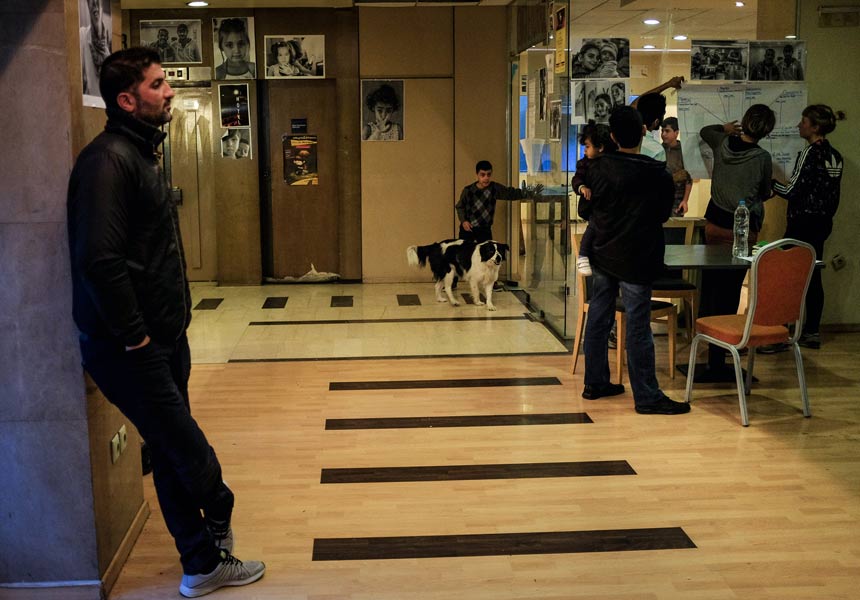 Res­i­dents and vol­un­teers gath­er in the lob­by of the for­mer City Plaza hotel. (Nick Paleologos)
Refugees in NGO- and gov­ern­ment-run camps often have lit­tle con­trol over the essen­tials of their lives. They may be housed in tents with strangers or sub­ject­ed to long food queues each day. One of the Greek squat­ting movement's aims is to pro­vide refugees with greater auton­o­my. The migrant ​"guests" of the City Plaza hotel also col­lec­tive­ly play the role of man­ag­er, tend­ing to day-to-day oper­a­tions such as food prepa­ra­tion, secu­ri­ty and run­ning the café. All deci­sions — from how to resist unjust migra­tion poli­cies to what to make for din­ner — are made by consensus.
These con­di­tions con­trast stark­ly with those in the near­by Elliniko refugee camp, where an aban­doned air­port ter­mi­nal and two desert­ed Olympic sta­di­ums house hun­dreds of refugees. Clus­ters of tents, sep­a­rat­ed from each oth­er only by cur­tains and sheets, line the airport's domes­tic arrivals cor­ri­dor. Ill­ness­es spread rapid­ly because of the over­crowd­ing, and basic health­care and oth­er ser­vices are limited.
"A lot of women [who are] preg­nant [bear chil­dren] in the tent," says Elliniko res­i­dent Masoud Qahar, 40, who fled his native Afghanistan after receiv­ing death threats from the Taliban.
After liv­ing in the Elliniko camp for more than a year, Qahar grew angry with the decrepit con­di­tions and, with the help of local sol­i­dar­i­ty activists, orga­nized a mass protest dur­ing a vis­it from Greek Migra­tion Min­is­ter Yian­nis Mouza­las in February.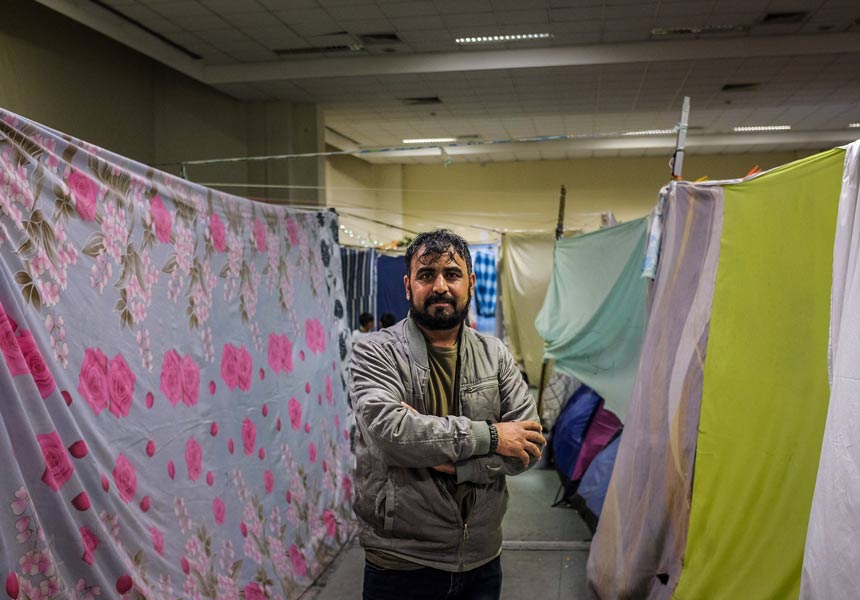 Masoud Qahar, 40, an Afghan refugee liv­ing in Greece. (Nick Paleologos)
Hamed Gan­ji, 26, also lived in Elliniko for three months last year. Born in Iran to a fam­i­ly of Afghan refugees, Gan­ji grew up with the dai­ly hard­ships of life as an undoc­u­ment­ed refugee in Tehran — includ­ing the risks of sum­ma­ry depor­ta­tion to Afghanistan and forcible con­scrip­tion into the armed ser­vices. He left in 2014, trav­el­ing across heav­i­ly policed bor­ders, moun­tains, land and sea to reach Europe, and even­tu­al­ly mak­ing his way to Athens.
But upon arriv­ing, he found only ​"a shit life" in the Elliniko camp, he says. The tents were over­crowd­ed, and sec­tar­i­an and eth­nic ten­sions between res­i­dents some­times turned to vio­lence. Now liv­ing in City Plaza, he still longs for a home of his own. But ​"Elliniko [is] like hell, and here's like par­adise" in com­par­i­son, he says. He hopes either to obtain asy­lum, which would allow him to remain in Greece, or to be per­mit­ted to move else­where in Europe.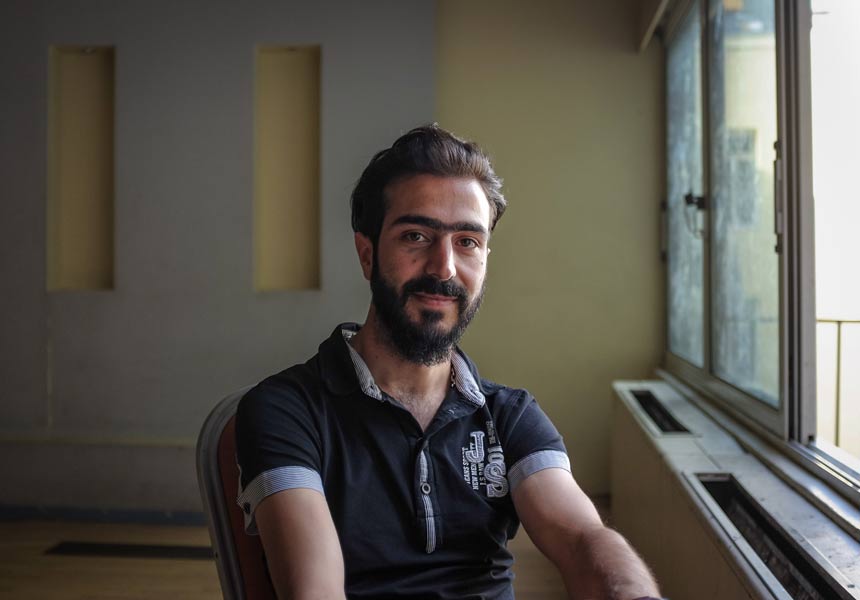 Hamed Gan­ji, 26, says the squat at City Plaza is ​"par­adise" com­pared to life in a refugee camp. (Nick Paleologos)
Syriza cracks down on squats
Though activists say City Plaza is a life­line for refugees, squats across Greece are under threat from an unlike­ly source: the left-wing Syriza government.
The Jan­u­ary 2015 vic­to­ry of Syriza, a par­ty formed from a coali­tion of small­er left par­ties and orga­ni­za­tions, breathed life into rad­i­cal move­ments across Europe and stoked hopes for an alter­na­tive to the Euro­pean Union's neolib­er­al pro­gram. Upon tak­ing pow­er, Syriza promised a rad­i­cal over­haul of the country's immi­gra­tion poli­cies. In addi­tion to grant­i­ng cit­i­zen­ship to migrants born in the coun­try, the new gov­ern­ment pledged to shut down immi­grant deten­tion cen­ters on the Greek islands, where thou­sands of new refugees were stopped after arriv­ing from Turkey each day.
Instead, the gov­ern­ment has built more deten­tion cen­ters on the islands and fast-tracked depor­ta­tions of reject­ed asy­lum seek­ers. In March 2016 sev­er­al Balkan coun­tries closed their bor­ders with Greece, leav­ing more than 50,000 migrants trapped inside the coun­try. The same month, the E.U. reached an agree­ment with Turkey: Now, refugees who arrive in Greece with­out per­mis­sion are deport­ed back to Turkey to apply for asy­lum. Under increas­ing pres­sure from the E.U. to com­ply with this deal, the Syriza-led gov­ern­ment aban­doned its ear­li­er promises.
Seraphim Sefe­ri­ades, a pro­fes­sor of pol­i­tics at the Pan­teion Uni­ver­si­ty, argues that Syriza has ​"capit­u­lat­ed" to the E.U.'s neolib­er­al pro­gram, includ­ing its refugee poli­cies. ​"What has remained of the old Syriza is pre­cise­ly nom­i­nal ges­tures here and there," he argues.
By attempt­ing to main­tain their tra­di­tion­al left-wing base while also appeal­ing to cen­trists and even the Right, Syriza is ​"play­ing a bal­anc­ing game like all old-fash­ioned social democ­rats used to do," he says, Sefe­ri­ades. ​"They are try­ing to … pro­mote this old-fash­ioned law-and-order agenda."
This about-face has pro­voked wide­spread anger. The Syriza-led gov­ern­ment took a hands-off approach toward squats ini­tial­ly. But gov­ern­ment offi­cials have more recent­ly called for refugees and migrants to be con­fined to state-sanc­tioned camps. The may­or of Athens, Gior­gos Kamin­is, has called on the gov­ern­ment to emp­ty all the squats.
Before sun­rise on March 13, Greek police raid­ed a pair of squats in Athens — one that pro­vid­ed hous­ing for refugees and anoth­er that was inhab­it­ed by anar­chist activists. About 200 peo­ple were detained for sev­er­al hours.
City Plaza res­i­dents wor­ry they could be next. The hotel own­er, who shut­tered the busi­ness in 2010 and left the build­ing stand­ing vacant, has stat­ed in Greek-lan­guage media that she is work­ing with author­i­ties to have the res­i­dents evict­ed as soon as pos­si­ble. There have report­ed­ly been court rul­ings allow­ing for the evic­tion of three squats in cen­tral Athens: City Plaza, Papouchadiko and Zoodochou Pigis 119.
On June 23, City Plaza res­i­dents and vol­un­teers plan to protest against the impend­ing evic­tions. A peti­tion to the Greek gov­ern­ment says City Plaza offers refugees ​"the kind of life not pos­si­ble in the for­mal camps and deten­tion centers."
Sit­ting in the hotel's for­mer account­ing office, Nasim Lomani, a 36-year-old mem­ber of the Sol­i­dar­i­ty Ini­tia­tive who came to Greece near­ly two decades ago after flee­ing his native Afghanistan, argues that City Plaza's fate is tied to that of squats and asy­lum seek­ers through­out the country.
When raid­ing oth­er squats, armed police have evict­ed res­i­dents forcibly. Lomani hopes that such a stand­off will not take place at City Plaza, as about half of res­i­dents are chil­dren and sev­er­al preg­nant women also reside there.
Yet ​"we are prepar­ing for [self] defense," he says. ​"Our demand is to close the camps [and] to treat peo­ple in a much dif­fer­ent way."
The Greek Min­istry of Migra­tion did not respond to sev­er­al requests to com­ment on liv­ing con­di­tions in refugee camps or the ongo­ing efforts to evict squat­ters. May­or Kamin­is told the New York Times in May that the squats com­pro­mised ​"the qual­i­ty of life of the refugees."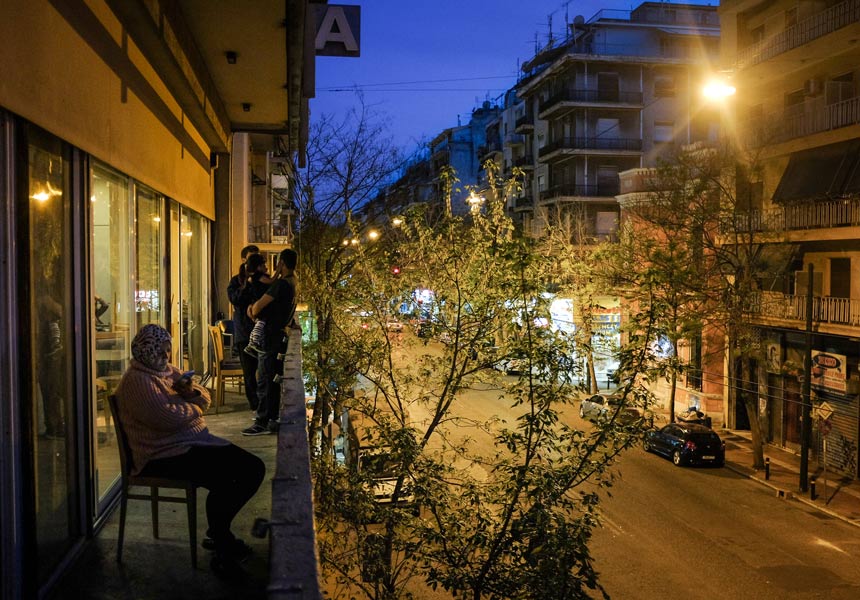 Refugees liv­ing in the hotel sit and stand on their bal­conies. (Nick Paleologos)
"

We are not afraid"

The Sol­i­dar­i­ty Initiative's Ilias Chronopou­los says that each day, the hotel receives dozens of vis­i­tors seek­ing to learn about its model.

"City Plaza is the biggest refugee accom­mo­da­tion project," explains Chronopou­los. If its res­i­dents are forced to leave, it will demor­al­ize the move­ment by show­ing ​"that [the gov­ern­ment and police] are in charge and they can enforce their policies."

He says that City Plaza activists and res­i­dents will con­tin­ue their project, hold­ing protests and open assem­blies to show ​"that we are not afraid."

Ulti­mate­ly, the refugee sol­i­dar­i­ty move­ment is call­ing for the clo­sure of state-run camps and access to the nation­al health­care, edu­ca­tion and wel­fare sys­tems. Giv­en that Athens alone has thou­sands of unin­hab­it­ed build­ings, Chronopou­los argues, there's no need to seg­re­gate refugees and migrants in remote camps.

With Greece in the throes of deep­en­ing aus­ter­i­ty, the idea of spend­ing state mon­ey on refugees is con­tro­ver­sial. But the move­ment has found sup­port in unlike­ly places. In April, City Plaza activists launched a new cam­paign aimed at build­ing a direct con­nec­tion between the squat move­ment and the strug­gles of work­ing Greeks: a fundrais­er for for­mer hotel employ­ees who lost their jobs when the hotel shut down and were denied sev­er­ance by the own­er. In the recep­tion area, a let­ter from for­mer employ­ees, express­ing sup­port for the refugees and the squat, now hangs on the wall.

This show of sol­i­dar­i­ty means much to Hamed Gan­ji, who says that while con­di­tions in the hotel aren't per­fect, it's become his home.

"I didn't choose my coun­try," he says. ​"I just came here for a life."