Greek Squatters Transformed a Deserted Hotel Into a Sanctuary for Refugees. Now, They Face Eviction.
The left-wing Syriza government is cracking down on squats that house thousands of migrants in Athens.
For six years, Athens' City Plaza hotel sat deserted, a casualty of the European financial crisis. Today, the seven-story building is again bustling with occupants — but not the business travelers who once frequented it. Instead, the hotel is home to hundreds of refugees who have fled to Greece from countries such as Syria, Iraq and Afghanistan. It's the largest of a dozen previously abandoned buildings in Athens that activists have occupied and repurposed as havens for migrants facing increasingly hostile circumstances.
Though activists say City Plaza is a lifeline for refugees, squats across Greece are under threat from an unlikely source: the left-wing Syriza government.
Activists with the Solidarity Initiative for Political and Economic Refugees, an umbrella of groups attempting a bottom-up response to the refugee crisis, first took over the shuttered hotel in April 2016. Since then, City Plaza has housed some 1,500 refugees and migrants; it can house 400 at a time and rarely has vacancies. The hotel is at the center of a deepening intersection between the political tradition of squatting, which has deep roots in Greece, and the growing refugee solidarity movement.
The clean, modern hotel — built in 2004 to accommodate tourists visiting Athens for the summer Olympics — looks nothing like a stereotypical refugee camp. Residents stay in furnished rooms equipped with private bathrooms and balconies. Volunteer lawyers help asylum seekers with their cases, and nurses and doctors visit the squat to perform checkups.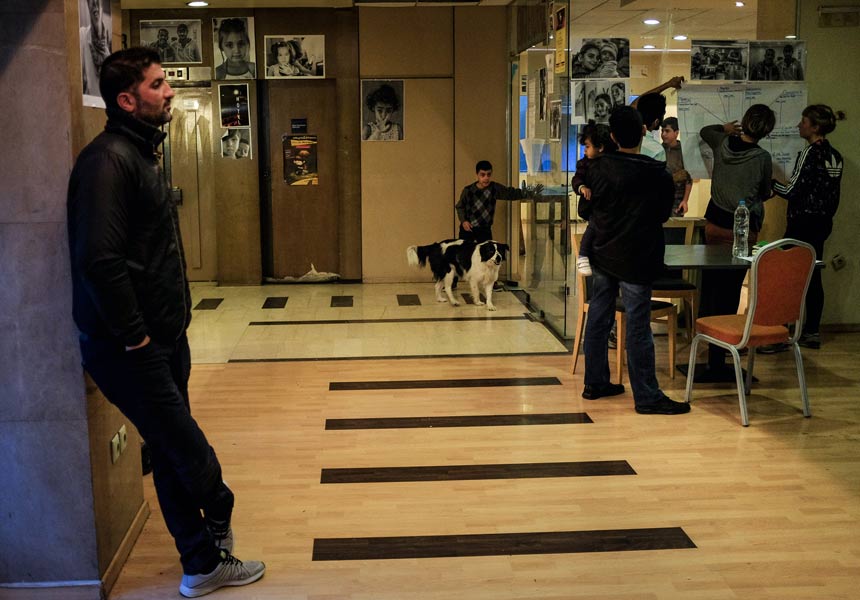 Residents and volunteers gather in the lobby of the former City Plaza hotel. (Nick Paleologos)
Refugees in NGO- and government-run camps often have little control over the essentials of their lives. They may be housed in tents with strangers or subjected to long food queues each day. One of the Greek squatting movement's aims is to provide refugees with greater autonomy. The migrant ​"guests" of the City Plaza hotel also collectively play the role of manager, tending to day-to-day operations such as food preparation, security and running the café. All decisions — from how to resist unjust migration policies to what to make for dinner — are made by consensus.
These conditions contrast starkly with those in the nearby Elliniko refugee camp, where an abandoned airport terminal and two deserted Olympic stadiums house hundreds of refugees. Clusters of tents, separated from each other only by curtains and sheets, line the airport's domestic arrivals corridor. Illnesses spread rapidly because of the overcrowding, and basic healthcare and other services are limited.
"A lot of women [who are] pregnant [bear children] in the tent," says Elliniko resident Masoud Qahar, 40, who fled his native Afghanistan after receiving death threats from the Taliban.
After living in the Elliniko camp for more than a year, Qahar grew angry with the decrepit conditions and, with the help of local solidarity activists, organized a mass protest during a visit from Greek Migration Minister Yiannis Mouzalas in February.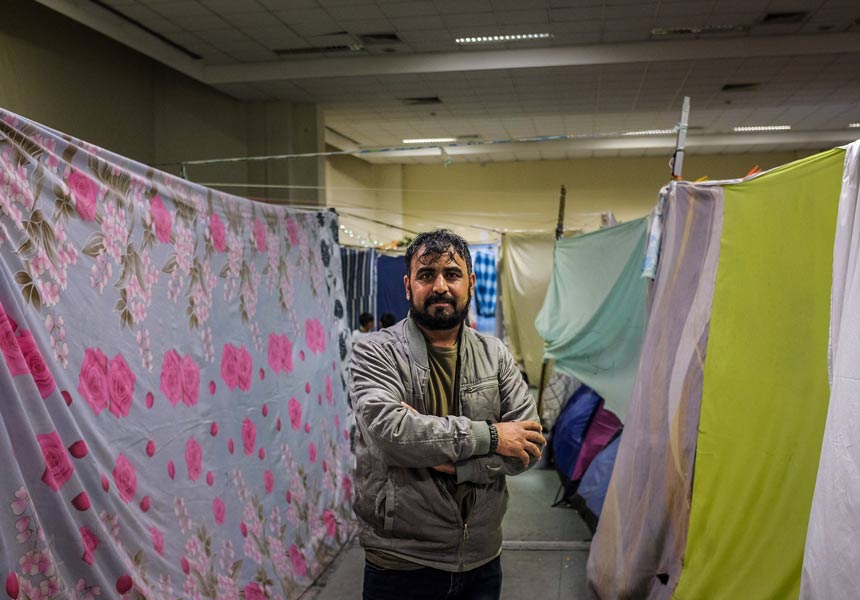 Masoud Qahar, 40, an Afghan refugee living in Greece. (Nick Paleologos)
Hamed Ganji, 26, also lived in Elliniko for three months last year. Born in Iran to a family of Afghan refugees, Ganji grew up with the daily hardships of life as an undocumented refugee in Tehran — including the risks of summary deportation to Afghanistan and forcible conscription into the armed services. He left in 2014, traveling across heavily policed borders, mountains, land and sea to reach Europe, and eventually making his way to Athens.
But upon arriving, he found only ​"a shit life" in the Elliniko camp, he says. The tents were overcrowded, and sectarian and ethnic tensions between residents sometimes turned to violence. Now living in City Plaza, he still longs for a home of his own. But ​"Elliniko [is] like hell, and here's like paradise" in comparison, he says. He hopes either to obtain asylum, which would allow him to remain in Greece, or to be permitted to move elsewhere in Europe.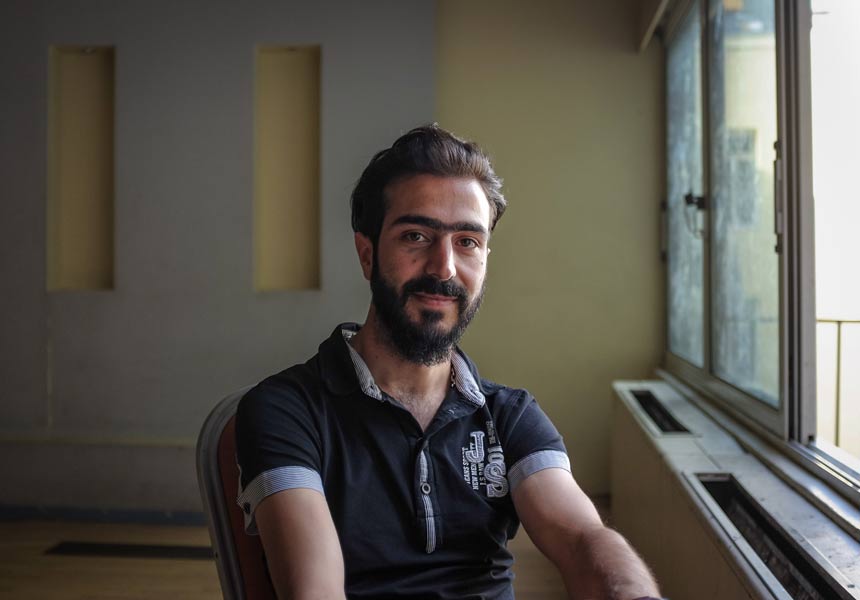 Hamed Ganji, 26, says the squat at City Plaza is ​"paradise" compared to life in a refugee camp. (Nick Paleologos)
Syriza cracks down on squats
Though activists say City Plaza is a lifeline for refugees, squats across Greece are under threat from an unlikely source: the left-wing Syriza government.
The January 2015 victory of Syriza, a party formed from a coalition of smaller left parties and organizations, breathed life into radical movements across Europe and stoked hopes for an alternative to the European Union's neoliberal program. Upon taking power, Syriza promised a radical overhaul of the country's immigration policies. In addition to granting citizenship to migrants born in the country, the new government pledged to shut down immigrant detention centers on the Greek islands, where thousands of new refugees were stopped after arriving from Turkey each day.
Instead, the government has built more detention centers on the islands and fast-tracked deportations of rejected asylum seekers. In March 2016 several Balkan countries closed their borders with Greece, leaving more than 50,000 migrants trapped inside the country. The same month, the E.U. reached an agreement with Turkey: Now, refugees who arrive in Greece without permission are deported back to Turkey to apply for asylum. Under increasing pressure from the E.U. to comply with this deal, the Syriza-led government abandoned its earlier promises.
Seraphim Seferiades, a professor of politics at the Panteion University, argues that Syriza has ​"capitulated" to the E.U.'s neoliberal program, including its refugee policies. ​"What has remained of the old Syriza is precisely nominal gestures here and there," he argues.
By attempting to maintain their traditional left-wing base while also appealing to centrists and even the Right, Syriza is ​"playing a balancing game like all old-fashioned social democrats used to do," he says, Seferiades. ​"They are trying to … promote this old-fashioned law-and-order agenda."
This about-face has provoked widespread anger. The Syriza-led government took a hands-off approach toward squats initially. But government officials have more recently called for refugees and migrants to be confined to state-sanctioned camps. The mayor of Athens, Giorgos Kaminis, has called on the government to empty all the squats.
Before sunrise on March 13, Greek police raided a pair of squats in Athens — one that provided housing for refugees and another that was inhabited by anarchist activists. About 200 people were detained for several hours.
City Plaza residents worry they could be next. The hotel owner, who shuttered the business in 2010 and left the building standing vacant, has stated in Greek-language media that she is working with authorities to have the residents evicted as soon as possible. There have reportedly been court rulings allowing for the eviction of three squats in central Athens: City Plaza, Papouchadiko and Zoodochou Pigis 119.
On June 23, City Plaza residents and volunteers plan to protest against the impending evictions. A petition to the Greek government says City Plaza offers refugees ​"the kind of life not possible in the formal camps and detention centers."
Sitting in the hotel's former accounting office, Nasim Lomani, a 36-year-old member of the Solidarity Initiative who came to Greece nearly two decades ago after fleeing his native Afghanistan, argues that City Plaza's fate is tied to that of squats and asylum seekers throughout the country.
When raiding other squats, armed police have evicted residents forcibly. Lomani hopes that such a standoff will not take place at City Plaza, as about half of residents are children and several pregnant women also reside there.
Yet ​"we are preparing for [self] defense," he says. ​"Our demand is to close the camps [and] to treat people in a much different way."
The Greek Ministry of Migration did not respond to several requests to comment on living conditions in refugee camps or the ongoing efforts to evict squatters. Mayor Kaminis told the New York Times in May that the squats compromised ​"the quality of life of the refugees."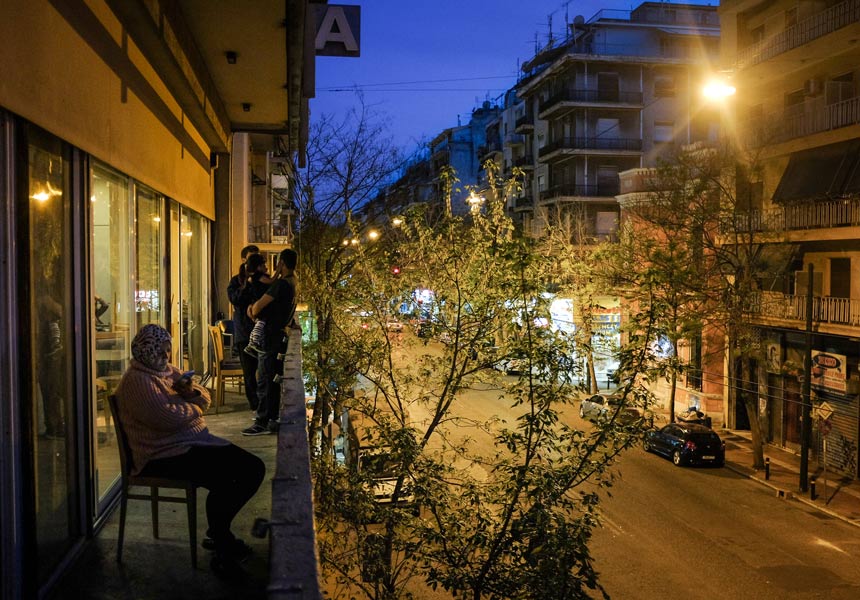 Refugees living in the hotel sit and stand on their balconies. (Nick Paleologos)
"

We are not afraid"

The Solidarity Initiative's Ilias Chronopoulos says that each day, the hotel receives dozens of visitors seeking to learn about its model.

"City Plaza is the biggest refugee accommodation project," explains Chronopoulos. If its residents are forced to leave, it will demoralize the movement by showing ​"that [the government and police] are in charge and they can enforce their policies."

He says that City Plaza activists and residents will continue their project, holding protests and open assemblies to show ​"that we are not afraid."

Ultimately, the refugee solidarity movement is calling for the closure of state-run camps and access to the national healthcare, education and welfare systems. Given that Athens alone has thousands of uninhabited buildings, Chronopoulos argues, there's no need to segregate refugees and migrants in remote camps.

With Greece in the throes of deepening austerity, the idea of spending state money on refugees is controversial. But the movement has found support in unlikely places. In April, City Plaza activists launched a new campaign aimed at building a direct connection between the squat movement and the struggles of working Greeks: a fundraiser for former hotel employees who lost their jobs when the hotel shut down and were denied severance by the owner. In the reception area, a letter from former employees, expressing support for the refugees and the squat, now hangs on the wall.

This show of solidarity means much to Hamed Ganji, who says that while conditions in the hotel aren't perfect, it's become his home.

"I didn't choose my country," he says. ​"I just came here for a life."
For a limited time:
Donate $20 or more to In These Times and we'll send you a copy of Let This Radicalize You.
In this new book, longtime organizers and movement educators Mariame Kaba and Kelly Hayes examine the political lessons of the Covid-19 pandemic and its aftermath, including the convergence of mass protest and mass formations of mutual aid. Let This Radicalize You answers the urgent question: What fuels and sustains activism and organizing when it feels like our worlds are collapsing?
We've partnered with the publisher, Haymarket Books, and 100% of your donation will go towards supporting In These Times.
Patrick O. Strickland
is a freelance journalist whose writing has appeared in Al Jazeera English, Middle East Monitor, GlobalPost, International Socialist Review, and elsewhere. He can be followed on Twitter: p_strickland_