America's Great Strike Waves Have Shaped the Country. We Can Unleash Another.
Erik Loomis' "A History of America in Ten Strikes" is a powerful reminder of the need for worker militancy.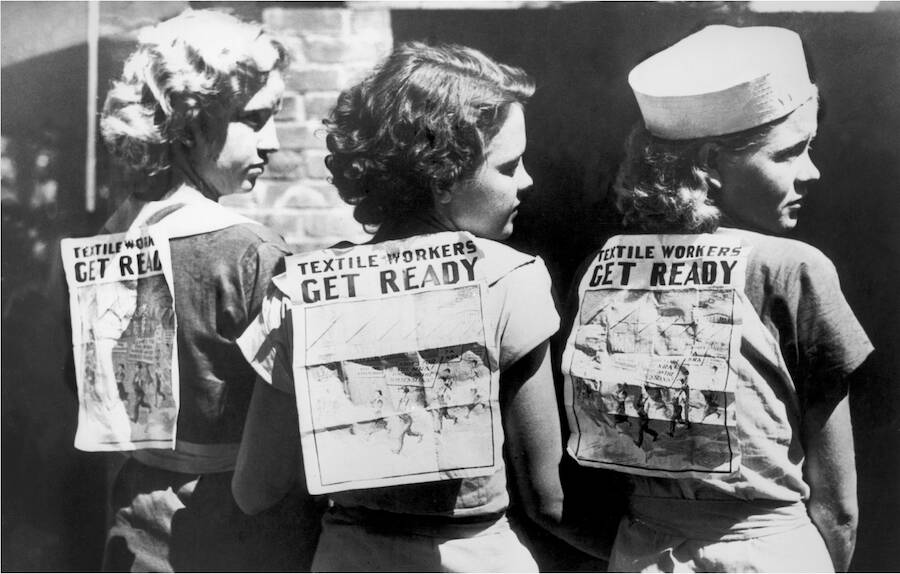 Work­ers' pow­er is root­ed in the work we do and our occa­sion­al refusal to do it. But, until recent­ly, that refusal had become rare: Work stop­pages have declined to his­tor­i­cal­ly low lev­els over the past four decades.
Strikes are once again a strategic option for some unions—and that could become contagious.
There were 187 major strikes in 1980, involv­ing 795,000 work­ers. In 2017, there were just sev­en, with 25,000 workers.
How then do we revive the strike when so few work­ers have seen one, let alone participated?
For one, that may be chang­ing. Teach­ers in West Vir­ginia shut down all of the state's pub­lic schools for nine days in Feb­ru­ary and March, win­ning a 5 per­cent pay increase, stop­ping pro­posed health­care cuts, and inspir­ing statewide teacher walk­outs in four more states and Puer­to Rico. Four­teen thou­sand AT&T tech­ni­cians then walked off in May, fol­lowed by strikes by thou­sands of oth­er telecom­mu­ni­ca­tions work­ers against Fron­tier in Vir­ginia and Spec­trum in New York. There are ongo­ing one-day strikes staged by the Fight for $15, and pris­on­ers across the coun­try waged a 19-day strike for bet­ter con­di­tions and against slave wages this past sum­mer. As we go to press, 6,000 Chica­go hotel work­ers are stag­ing the industry's first city­wide strike in a century.
If the cur­rent pace con­tin­ues, 2018 will see the largest num­ber of strikes by U.S. work­ers in the 21st cen­tu­ry. Strikes are once again a strate­gic option for some unions — and that could become contagious.
Still, this is not what a his­to­ri­an would call a ​"strike wave" — yet. Strike waves involve hun­dreds of thou­sands of work­ers across thou­sands of work­places. In his clas­sic text, Strike!, Jere­my Brech­er explains that peri­ods of mass strike — of which there have been only six or sev­en in our nation's his­to­ry — go beyond wage-and-hour demands and often chal­lenge cap­i­tal­ist deci­sion-mak­ing author­i­ty. That in turn threat­ens the fun­da­men­tal rules of capitalism.
A time­ly book by pro­fes­sor and blog­ger Erik Loomis, A His­to­ry of Amer­i­ca in Ten Strikes, details strike waves of pre­vi­ous eras, recast­ing U.S. his­to­ry as a con­tin­u­um of work­er protest. Dri­ving both inspi­ra­tion and lessons from this his­to­ry is essen­tial to turn­ing the cur­rent upswelling of strikes in a wave.
Take the gen­er­al strike of slaves dur­ing the Civ­il War, recount­ed by Loomis in chap­ter two. As soon as the Con­fed­er­ate Army mobi­lized, as many slaves as were able escaped to Union lines to offer sup­port. Those who remained behind stopped work­ing for their absent mas­ters and turned plan­ta­tions toward food pro­duc­tion for their own needs. This self-eman­ci­pa­tion is a his­tor­i­cal frame­work first sug­gest­ed by W.E.B. Dubois and only recent­ly embraced by a new gen­er­a­tion of his­to­ri­ans. (Brech­er, for exam­ple, did not include it in Strike!) It puts the human agency of work­ers who gained their free­dom front and cen­ter. Sud­den­ly revealed is the great­est strike wave in Amer­i­can his­to­ry, hid­ing in plain sight!
The most sto­ried strike wave is the surge of sit-down strikes of the 1930s that com­pelled the fed­er­al gov­ern­ment to inter­vene with new labor laws that made unions a fact of eco­nom­ic life.
But even that win con­tained the seeds for our cur­rent age of inequal­i­ty. In the 1938 Mack­ay v. NLRB Supreme Court deci­sion uphold­ing the con­sti­tu­tion­al­i­ty of the new legal pro­tec­tions for strik­ers, the Court breezi­ly hol­lowed out that same right. If an employ­er had not oth­er­wise bro­ken the law, the Court invent­ed the ​"right to pro­tect and con­tin­ue his busi­ness [while work­ers are on strike] by sup­ply­ing places left vacant by strik­ers" and to put scabs ahead of the line for jobs when the strike is over.
Under the Rea­gan admin­is­tra­tion, cor­po­ra­tions weaponized the Mack­ay Doc­trine. The era's most noto­ri­ous strike may be the 1981 air traf­fic con­trollers strike (which Loomis cov­ers), but its impor­tance was most­ly sym­bol­ic — Reagan's sig­nal to cor­po­rate Amer­i­ca that it was game on for union-bust­ing. It was the 1983 Steel­work­ers' strike at the Phelps-Dodge cop­per mine in Ari­zona that actu­al­ly cre­at­ed the mod­ern blue­print for cor­po­rate union-bust­ing, set­ting the stage for our cur­rent slide in work stop­pages. The com­pa­ny bar­gained the Steel­work­ers to impasse over pay cuts, reduced ben­e­fits and weak­ened job secu­ri­ty, basi­cal­ly forc­ing them out. Phelps-Dodge got the Nation­al Guard to vio­lent­ly remove the strik­ers from its mine and then bused in scabs from out of state. When enough time had tran­spired, the scabs vot­ed to legal­ly decer­ti­fy the union.
This shred­ding of con­tracts to dare unions out on eco­nom­ic strikes remains the basic union-bust­ing play­book. This year's Spec­trum strike in New York City, for exam­ple, has its ori­gins in March 2017 when the com­pa­ny tore up the IBEW con­tract it inher­it­ed from the pur­chase of anoth­er cable company.
Work­ers' right to strike needs to include the right to return to work after­ward. That means chal­leng­ing the Mack­ay doc­trine, start­ing with demand­ing that the labor board enforce the actu­al stan­dard — that the deci­sion to per­ma­nent­ly replace strik­ing work­ers can­not be moti­vat­ed by anti-union ani­mus and must be nec­es­sary to ​"pro­tect and con­tin­ue" busi­ness. A $64 bil­lion cor­po­ra­tion that shred­ded its work­ers' col­lec­tive bar­gain­ing agree­ment fails both tests.
The Rea­gan and H.W. Bush labor boards took a dive and nev­er seri­ous­ly inves­ti­gat­ed cor­po­ra­tions' union-bust­ing motives and finan­cial bot­tom lines, which should have deter­mined whether each instance of per­ma­nent­ly replac­ing strik­ing work­ers was just. Unions haven't pressed for Demo­c­rat-appoint­ed labor boards to revis­it the rules. Any time that an employ­er adver­tis­es for scabs, the union should file an unfair labor prac­tice, demand­ing that the employ­er prove the eco­nom­ic neces­si­ty of hir­ing per­ma­nent replacements.
Unions should start doing so now, antic­i­pat­ing the Trump labor board will dis­miss every com­plaint. We must make this a con­tro­ver­sy so the next Demo­c­ra­t­ic labor board knows it must restore work­ers' right to strike and then return to their jobs.
We have to use these strikes to shore up the very pow­er to strike. Only that will ensure strikes aren't rel­e­gat­ed to the his­to­ry books.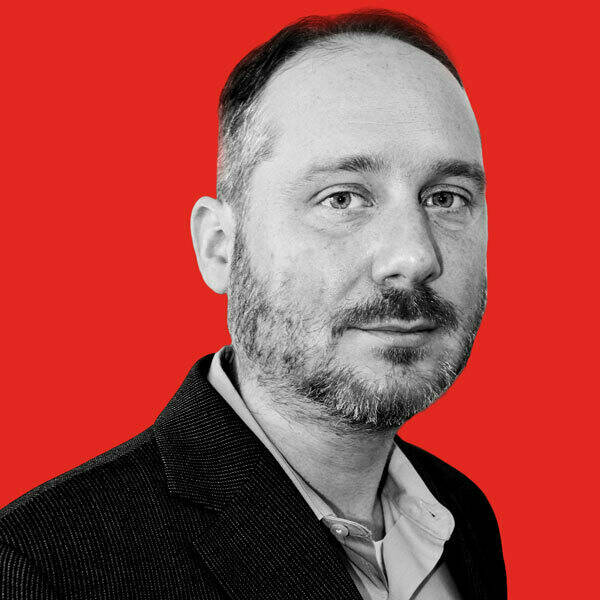 Shaun Rich­man
is an In These Times con­tribut­ing writer and the Pro­gram Direc­tor of the Har­ry Van Ars­dale Jr. School of Labor Stud­ies at SUNY Empire State Col­lege. His Twit­ter han­dle is @Ess_Dog.