A Kinder, Gentler, Bisexual Great Ape
Dominique Morel's quest to save the bonobo.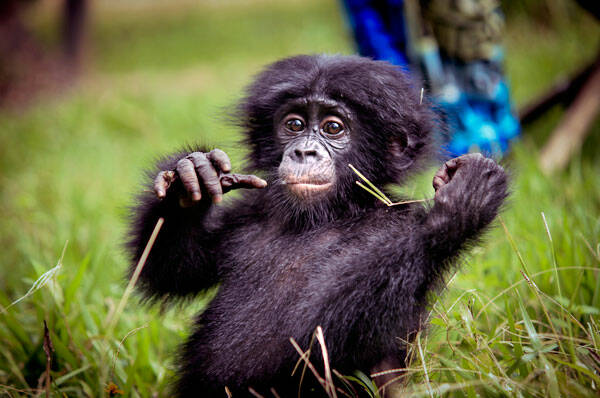 When Dominique Morel arrived in the Demo­c­ra­t­ic Repub­lic of Con­go in 1997, she had no back­ground in ani­mal pro­tec­tion. Nor had she heard of bono­bos, one of two great ape species most close­ly relat­ed to humans. But after her first vis­it to the bonobo sanc­tu­ary found­ed by the Con­golese non­prof­it Amis de Bono­bos du Con­go (ABC), Morel fell in love with the peace­ful matri­ar­chal crea­tures. Although they share 98.7 per­cent of humans' DNA, bono­bos have cre­at­ed a soci­ety – unlike that of chimps and peo­ple – with­out vio­lence, in which sex is a form of mediation.
Morel vol­un­teered week­ends as a sur­ro­gate moth­er for the young ani­mals and began help­ing with the trans­la­tion of the ABC's newslet­ter. She has steadi­ly ded­i­cat­ed more of her life to bono­bos, secur­ing grants and oth­er fund­ing for Lola Ya Bonobo, the only bonobo sanc­tu­ary in the world. Care­tak­ers there pro­tect around 60 bono­bos and pre­pare the ani­mals for release back into the wild.
Bono­bos are one of the planet's most endan­gered species; sci­en­tists esti­mate 5,000 to 15,000 bono­bos remain. They can be found only in the Con­go, where they are thought to have evolved in rel­a­tive iso­la­tion south and east of the Con­go Riv­er, as chim­panzees evolved north of the riv­er in Ugan­da and the Cen­tral African Republic.
Morel, who is French, is cur­rent­ly based in Islam­abad, where she works for Catholic Relief Ser­vices, though she still serves as vice pres­i­dent of ABC and is pres­i­dent of the Amer­i­can chap­ter of the orga­ni­za­tion, Friends of Bonobos.
How did the evo­lu­tion­ary split between chim­panzees and bono­bos affect their development?
The the­o­ry goes that south of the Con­go Riv­er, the bonobo species was the only tree-dwelling, fruit-eat­ing species that remained. With­out com­pe­ti­tion for food, the bono­bos remained in groups and became more tol­er­ant. Mean­while, north of the riv­er, the chim­panzees were com­pet­ing with goril­las for the same nour­ish­ment. So they formed small­er par­ties and had to for­age indi­vid­u­al­ly and away from the oth­er groups. Nat­u­ral­ly, the chimps didn't devel­op the same social­ly coop­er­a­tive behav­iors as the bonobos.
Why are so few bono­bos left?
Researchers start­ed to work in the Con­go in the ​'30s, and by the ​'70s, civ­il war made it very dif­fi­cult to track and research bono­bos. Twen­ty years ago, sci­en­tists work­ing in the wild esti­mat­ed that about 100,000 bono­bos were left, but this was an esti­mate. Because bono­bos tend to come togeth­er when they are afraid, dur­ing the war bush­meat hunters were like­ly to encounter and kill entire groups of bonobos.
How do the social struc­tures of bono­bos and chim­panzees differ?
Chimps have one dom­i­nant male rul­ing a group. In bonobo groups, females are the dom­i­nant indi­vid­u­als. They keep the peace. We had one inci­dent when a young adult male bonobo, Tatan­go, kept pro­vok­ing an old­er male, Max, a very peace­ful twen­ty-some­thing adult. Every time Tatan­go would charge Max, con­fu­sion and shout­ing ensued. After sev­er­al days of this, the five young adult females joined ranks and attacked the trou­ble­mak­ers. They attacked both males, as if to teach them both a les­son, and it was enough to bring back peace in the group.
Many stud­ies com­par­ing bono­bos and chim­panzees refer to the ele­ment of tol­er­ance. Tol­er­ance is what allows bono­bos to be more coop­er­a­tive than chim­panzees. There's no ten­sion; every­body can col­lab­o­rate with each other.
Chimps are known to kill mem­bers of oth­er chimp groups. There can be a lot of intim­i­da­tion and aggres­sion of younger males by the alpha males. Bonobo groups are much more peace­ful, and while there is some­times ten­sion among indi­vid­u­als, there is lit­tle violence.
How can the dif­fer­ence between bono­bos and chimps help us under­stand ourselves?
These dif­fer­ences give anoth­er per­spec­tive to our evo­lu­tion­ary path and under­stand­ing of what it is that makes us human. For a long time, we only thought chimps could help us under­stand human evo­lu­tion. Many peo­ple still don't know that bono­bos and chimps are equal­ly our two clos­est relatives.
It is cer­tain­ly not a coin­ci­dence that the image of our ances­tors empha­sizes the aggres­sive and vio­lent nature of humans – ​"brutish and short" – while more peace­ful, altru­is­tic, empa­thet­ic human char­ac­ter­is­tics are some­times con­sid­ered a result of evo­lu­tion or even a ​"social var­nish" over our ​"true nature." This is a misconception.
Under­stand­ing that we are as close genet­i­cal­ly to bono­bos as to chimps sug­gests that paci­fism, play­ful­ness, empa­thy, and col­lab­o­ra­tion may also be part of human nature and not mere­ly cul­tur­al or learned behaviors.
What is it with bono­bos and sex?
Sex­u­al activ­i­ty is the key fac­tor in appeas­ing ten­sion in bonobo groups. Bono­bos engage in sex­u­al activ­i­ty – most often just sex­u­al con­tact – every time they are stressed, both when they are excit­ed and when they are upset or jealous.
It is not unusu­al for young bono­bos to throw tantrums. Usu­al­ly, anoth­er bonobo comes to embrace and rub gen­i­tals with the cry­ing bonobo until he or she has calmed down.
And then there's the ​"bonobo hand­shake." When we intro­duce a new bonobo into a group, every one of the bono­bos will come and offer them­selves for a quick sex­u­al con­tact with the newcomer.
Why should we save bono­bos from extinction?
The most impor­tant rea­son to save bono­bos is that they are one of our clos­est rel­a­tives, but prob­a­bly one of the least under­stood of the Great Apes. If we are try­ing to under­stand our evo­lu­tion, we need to under­stand bonobos.
Under­stand­ing more of what is unique about bono­bos – their sex­u­al ten­sion res­o­lu­tions, peace­ful nature and female lead­er­ship – could help us learn why humans are who we are. How can we be more like bono­bos and less like chim­panzees? How can we be more peace­ful? Under­stand­ing bono­bos can help us answer these questions.
What does Friends of Bono­bos do to ensure the species' survival?
We have a three-fold strat­e­gy. The first part is the sanc­tu­ary, Lola Ya Bono­bos. It is ille­gal to hunt bono­bos, ille­gal to trade bono­bos, and ille­gal to eat bonobo meat. But for the [Congolese]Ministry of Envi­ron­ment, it's very dif­fi­cult to con­fis­cate bono­bos and enforce these laws unless they have a place to put them. … Bono­bos are psy­cho­log­i­cal­ly frag­ile, they can't live in zoos. They need a lot of affec­tion and a lot of con­tact to survive.
The sanc­tu­ary in itself is not enough. We also need to pre­vent the bush­meat trade. We tar­get urban envi­ron­ments, because the res­i­dents of the urban areas tend to be the con­sumers, both of bono­bos as pets and bush­meat. We try to encour­age Con­golose peo­ple to appre­ci­ate bono­bos for what they are. It's work­ing well, as peo­ple who have learned that it is ille­gal to eat, kill or keep bono­bos bring the ani­mals to the sanctuary.
How does edu­ca­tion play a role in bonobo preservation?
I remem­ber vivid­ly the first day I saw bono­bos in per­son. One of the bono­bos, a young female named Osh­we, approached my hus­band, took his hand and pulled him toward one side of the gar­den. When they arrived near a tree cov­ered in small fruit, she climbed all over him and onto his shoul­ders and his head, until she could reach the branch­es cov­ered in fruit, and then start­ed to eat. After a while, she climbed down the same way, took his hand again and led him back to the group.
I could tell hun­dreds of sim­i­lar sto­ries of bonobo behav­iors that seem so human – demon­strat­ing empa­thy to one anoth­er, hug­ging each oth­er, infants look­ing to their sur­ro­gate moth­ers to cud­dle, young­sters hav­ing a tantrum or play­ing tricks on one anoth­er, or adults mourn­ing a dead bonobo.
We use these human-like behav­iors in our efforts to pro­tect bono­bos in the Con­go. It is very dif­fi­cult to see bono­bos in the wild when they move around on tree­tops. The hunters who kill them to sell as bush­meat have prob­a­bly nev­er seen a live bonobo, and it's even less like­ly the mer­chants and the peo­ple who pur­chase the meat to eat would have seen one. By mak­ing the orphan bono­bos acces­si­ble for direct obser­va­tion by so many Con­golese peo­ple, Lola Ya Bonobo Sanc­tu­ary, and now the release site at Eko­lo Ya Bonobo, play a key role in con­ser­va­tion edu­ca­tion. Once peo­ple have seen bono­bos in per­son, almost every­one is adamant that they'll nev­er eat bonobo meat any­more – it would be like eat­ing one's cousins or ancestors.