The Long Trail North Turns Deadly for Migrants Hungry for Work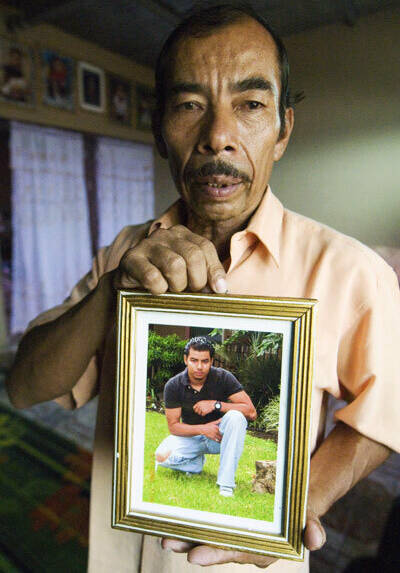 Mex­i­can gangs, lack of U.S. jobs make jour­ney even more perilous
Many of the 72 migrants found dead recent­ly in a drug hide­out in Mex­i­co were prob­a­bly like the rest of those mov­ing at this moment some­where along one of the world's longest job shape-ups.
If you are read­ing this in the morn­ing, they have been mov­ing all night since there's less chance of get­ting caught in the dark. If it is the after­noon, they are rest­ing. But their eyes don't.
They are look­ing northward.
The line-up begins at the south­ern U.S. bor­der and stretch­es across Mex­i­co and Cen­tral Amer­i­ca and on down through Latin Amer­i­ca. Some­times it also picks up job­seek­ers from oth­er con­ti­nents, who are as des­per­ate to join the Amer­i­can dream.
Most of these peo­ple head­ed north are a cut slight­ly above those around them. That's because it takes guts and ambi­tion to make such a dead­ly trip. It also has become extreme­ly expen­sive late­ly, espe­cial­ly for those com­ing from beyond Mex­i­co. To pay the smuggler's fees, they will have to bor­row thou­sands of dol­lars and agree to pay it back with hefty inter­est soon after start­ing work in the U.S.
Men used to be the only ones on this long gru­elling line-up, but late­ly there are more and more women. They have joined it because poor women across Latin Amer­i­ca are increas­ing­ly tak­ing on the bur­den to sup­port their fam­i­lies when their hus­bands can't. Indeed, 14 of the 72 mur­dered migrants were women.
Despite the deaths and abuse along the way, despite the mes­sage from count­less offi­cials in their home coun­tries that the Amer­i­can dream has become the Amer­i­can night­mare for migrants, they keep coming.
Peo­ple like the 17-year-old Ecuado­ran who was the only sur­vivor of the migrants' slaugh­ter in a gang hide­out about 100 miles south of the U.S. bor­der. The migrants, appar­ent­ly nabbed by the gangs as they head­ed north, report­ed­ly couldn't come up with their ran­soms and they didn't agree to work for the nacro­traf­fcantes.
Back home, his 17-year-old girl­friend, who is four months preg­nant, told AFP that he had head­ed north from their moun­tain­top vil­lage, hop­ing to find work in Los Ange­les so they could get mar­ried and build a home. He paid $15,000 to the coy­otes (smug­glers) for this trip, she said.
Like every­one else, these job seek­ers are prey for the Mex­i­can gangs that con­trol the roads and rail­roads, the two ways migrants slow­ly snake their way north­ward. Mexico's Nation­al Human Rights com­mis­sion esti­mat­ed last year that almost 20,000 migrants are kid­napped while try­ing to make their way north. And offi­cials with the agency told the Mex­i­can news­pa­per La Jor­na­da soon after the slaugh­ter that there's been a rise in kidnapping.
In April Amnesty Inter­na­tion­al called the route ​"one of the dan­ger­ous in the world," and said num­bers of migrants van­ish with­out a word about their fate. (Here is a video from Amnesty Inter­na­tion­al that talks about the situation.)
But this is a lucra­tive busi­ness for the drug gangs who charge fees for cross­ing their turfs and lay down their own laws for the smug­glers. They even have the mox­ie to re-cap­ture migrants who had been freed from their clutch­es by Mex­i­can officials.
We are wit­ness­ing the stun­ning col­lapse of Mexico's law and order at the hands of the worst of its own. At the same time, a human tragedy is tak­ing place across North and South Amer­i­ca. In many ways the cru­el­ty and abuse suf­fered by the work­ers, and the devel­op­ment of the traf­fick­ing and hir­ing par­al­lels the slave trade that once crossed the Atlantic.
But there's a great difference.
Near­ly all of the time, these work­ers step for­ward, and pick up their place in this line that snaps them up and takes them to the backs of restau­rants in Man­hat­tan or crip­pling jobs at Iowa pack­ing­hous­es or the mor­tu­ary in Tuc­son, as did a record num­ber of migrants in July in the Ari­zona desert.
Not too many years ago, I spoke with a moth­er in north­ern Hon­duras, whose daugh­ter was tak­en by gangs and sold for food and clothes once they got to north­ern Mex­i­co. That is all her daugh­ter was worth to them.
I met a young woman near the Mex­i­co-Guatemala bor­der who lost her job in a fac­to­ry in El Sal­vador and who left her three chil­dren to find work in Amer­i­ca. She lost both her legs try­ing to climb aboard the trains the migrants cling to on their way north from the border.
I met a woman in a U.S. deten­tion facil­i­ty on the Ari­zona bor­der, who was caught swim­ming in the sew­er link­ing an Ari­zona town with its Mex­i­can neigh­bor. She told me she was going to get nailed into a wood­en box, and hauled across the bor­der on a truck loaded with freight. She was head­ed for a job in Phoenix and noth­ing could stop her.
On the Mex­i­can side of the bor­der, an offi­cial from Grupo Beta, the Mex­i­can agency that assists migrants, cried as she explained how smug­glers, eager to recruit large num­bers so they could earn more, reg­u­lar­ly encour­age men to rape the women trav­el­ing in their groups.
I nev­er met any­one along the many miles and bor­ders, who said they doubt­ed if they would find work in the Unit­ed States. That, after all, was the rea­son for their long trip, they said. And until recent­ly they were prob­a­bly right.
But what they didn't know was whether they would sur­vive it.
Stephen Franklin is a for­mer labor and work­place reporter for the Chica­go Tri­bune, was until recent­ly the eth­nic media project direc­tor with Pub­lic Nar­ra­tive in Chica­go. He is the author of Three Strikes: Labor's Heart­land Loss­es and What They Mean for Work­ing Amer­i­cans (2002), and has report­ed through­out the Unit­ed States and the Mid­dle East.