A Massacre in 3/4 Time
Waltz with Bashir is hallucinatory, relentless, and amazing.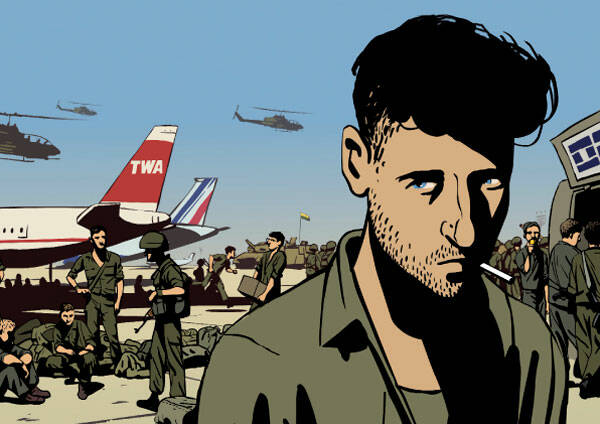 Arguably the most unique film to come out of any glob­al cor­ner in 2008, film­mak­er Ari Folman's Waltz with Bashir can be defined, just on its sur­face, as a head-shak­ing fugue between social doc­u­men­tary and dig­i­tal­ly ani­mat­ed epic.
But as you'd expect, giv­en the inher­ent con­tra­dic­tions, it is sig­nif­i­cant­ly more: It's Israeli, for one thing, and it's a direct cin­e­mat­ic address of the 1982 mas­sacre of Pales­tin­ian civil­ians in the West Beirut refugee camps of Sabra and Shati­la, for another.
And can a doc­u­men­tary be ani­mat­ed? The moment you cre­ate a film frame by frame, out of the stressed cloth of mem­o­ry, how close could it be to the truth?
"Which truth?" Fol­man would sure­ly ask right back, and Waltz with Bashir bril­liant­ly echoes its cul­tur­al inves­ti­ga­tions with its for­mal contradictions.
The aspect of the film that hits you first, in the eye­balls, is its visu­al torque. From the open­ing, of a pack of rav­en­ous, fanged dogs run­ning through the Tel Aviv streets under a stormy yel­low sky – drawn and ani­mat­ed with high-con­trast, night­mar­ish sur­re­al­i­ty – it becomes clear that Bashir looks and feels unlike any oth­er film. It is dif­fi­cult to pin down exact­ly how the film – which began its U.S. run on Christ­mas Day – was man­u­fac­tured, and the dis­arm­ing, soli­tary visu­al tide of it is enough to brand it upon your brain. For a sub­jec­tive por­trait of the lyser­gic expe­ri­ence of war, it's relent­less­ly amazing.
The dogs are part of a dream – the dream of an Israeli sol­dier who, dur­ing the 1982 inva­sion of Lebanon, couldn't shoot peo­ple, so he was giv­en the thank­less task of shoot­ing watch­dogs, all 26 of which hunt him in his dreams. The sol­dier is just one com­pa­tri­ot sought out by Fol­man, who, 25 years after serv­ing in the Israeli army and being present for the ​'82 mas­sacre, can­not remem­ber a thing about it.
So he inter­viewed friends from that time, and friends of friends, to find out what hap­pened and, by exten­sion, why he has sup­pressed the mem­o­ries. The inter­views became the ful­crum of the fea­ture, as ani­mat­ed ver­sions of very real peo­ple speak with an ani­mat­ed Fol­man about the inva­sion and about the heady days of Israeli empow­er­ment under for­mer Prime Min­is­ter Men­achem Begin.
Most of Folman's film visu­al­izes those rem­i­nis­cences, vivid­ly cap­tured in a daz­zling, almost exhaust­ing cataract of visu­al inven­tion. The tableaux – entire land­scapes scorched by bomb­ings, a downed pilot's lost-at-sea hal­lu­ci­na­tion of a giant naked woman, an inter­na­tion­al air­port wrecked and aban­doned after an aer­i­al attack, a lin­ger­ing stream of blood run­ning from the back door of an armored vehi­cle – could hard­ly have been ren­dered so ener­get­i­cal­ly, or indeed ren­dered at all, in a mod­est­ly bud­get­ed live-action film. Points of view are always shift­ing, time frames meld, what the sol­diers think they saw sup­plants the reality.
Man­ners of see­ing – and of inter­pre­ta­tion – are at the heart of the movie's many recur­ring metaphors. Folman's own repeat­ed dream image (one of the few that per­sist) is of fiery lights falling soft­ly from the night sky. Var­i­ous char­ac­ters remem­ber the lights as rock­et fire and a mete­or show­er, but only lat­er do we (and Folman's avatar) under­stand what they are: flares the Israeli sol­diers shot to illu­mi­nate the sky above the Sabra and Shati­la refugee camps, pas­sive­ly allow­ing the Lebanese mem­bers of the right-wing Pha­lange Par­ty to car­ry out their bloody work.
Giv­en a lit­tle thought, pro­found Israeli guilt seeps out of the film's title. The his­to­ry behind it plays like an esca­la­tion par­a­digm: Less than a month after Israel had invad­ed Lebanon in 1982 to assault Pales­tine Lib­er­a­tion Orga­ni­za­tion (PLO) strong­holds, Syr­i­an oper­a­tives assas­si­nat­ed the new­ly and nar­row­ly elect­ed Chris­t­ian mili­tia leader (and Israel glad-han­der) Bashir Gemayel. As ret­ri­bu­tion, two days lat­er, Gemayel's Pha­langist mili­tias, with the coop­er­a­tion of the occu­py­ing Israelis, slaugh­tered 2,000 Pales­tin­ian refugees – an act that dwarfed the PLO's car bomb­ings in every way and drew inter­na­tion­al scorn. Like a waltz part­ner, the Israeli army (all young, naïve con­scripts) was close but did not touch, lead­ing but oth­er­wise mere­ly fol­low­ing the music and the pro­scribed dance steps.
After too many recent Israeli films (includ­ing quite a few good ones) that waf­fle about the Israeli-Pales­tin­ian ques­tion, and that too often adopt a Crash-like, can't‑we-just-get-along cen­trism, it's exhil­a­rat­ing to see a polit­i­cal­ly aware film in full attack mode, using dis­ori­ent­ing cin­e­mat­ic tools but emerg­ing as an unfet­tered cri­tique of militarism.
As Stu­art Klawans recent­ly point­ed out in Film Com­ment mag­a­zine, it may seem dis­pro­por­tion­ate to hang the film on the ret­ro­spec­tive angst of Jew­ish sol­diers and not on the mas­sacre vic­tims them­selves. But Folman's film is much more of an inter­ro­ga­tion than a plea for sym­pa­thy. (In fact, I sus­pect that Fol­man didn't actu­al­ly for­get all that much, and invent­ed his own for­get­ful­ness to abet the film's structure.)
In any case, the cli­mac­tic pas­sage reverts to stock footage of the dead refugees – includ­ing children's body parts jut­ting out of rub­ble, exact­ly as dis­cussed by the ani­mat­ed char­ac­ters ear­li­er – and our ques­tions, about where our empa­thy is sup­posed to land, sim­ply dry up and blow away.
It may not, in the end, be a doc­u­men­tary at all, but as rev­e­la­to­ry a social doc­u­ment as Mid­dle East­ern cin­e­ma has ever pro­duced. It cer­tain­ly could not have arrived at a more pun­gent moment, as Gaza explodes and Pales­tin­ian civil­ians again face mon­strous reprisals.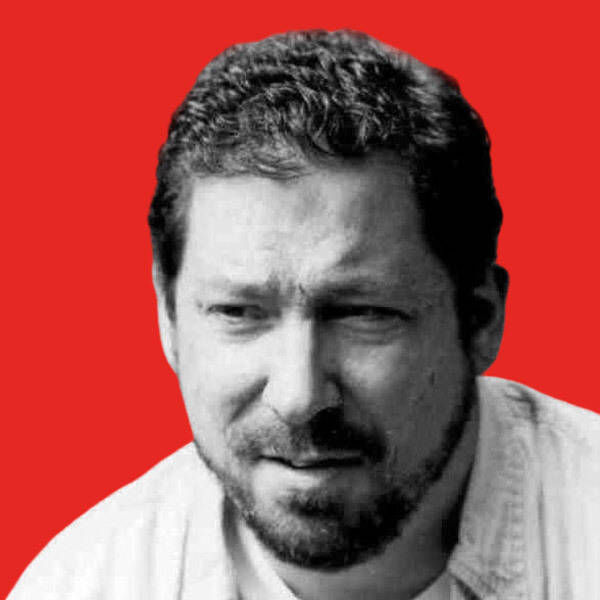 Michael Atkin­son
is a film review­er for
In These Times.
He has writ­ten or edit­ed many books, includ­ing
Exile Cin­e­ma: Film­mak­ers at Work Beyond Hol­ly­wood
(
2008
) and the mys­tery nov­els
Hem­ing­way Dead­lights
(
2009
) and
Hem­ing­way Cut­throat
(
2010
). He blogs at
Zero For Con­duct
.