A Mumbai Slum's Quest for Dignity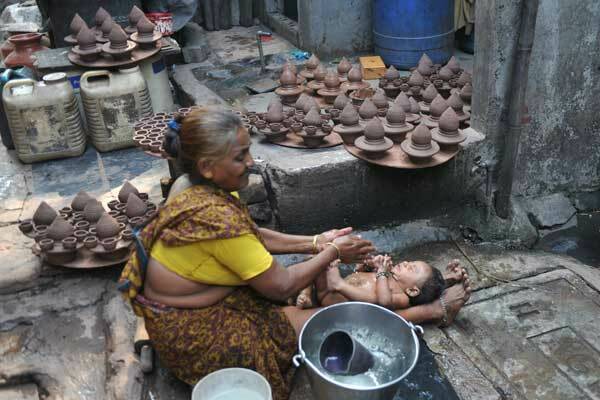 MUM­BAI, INDIA — In the breath­less heat, Fahim Vora begins his tour of India's largest slum with a plea to under­stand its oth­er reality.
This sprawl­ing slum of over a mil­lion, he says, is more than just a world of drunks and crime and des­per­a­tion. The Dhar­avi slum, he says in an enthu­si­as­tic burst of num­bers, is an eco­nom­ic dynamo, recy­cling most of Mumbai's garbage, churn­ing out most ot the city's leather goods and gar­ments and stuffed with an end­less seem­ing num­ber of met­al and chem­i­cal factories.
You are moved by this effort to offer dig­ni­ty to a place where so lit­tle exists, where shacks made of chunks of thrown away met­al and wood and plas­tic now spawl on top of old­er rick­ety shacks push­ing the slum's bor­ders far­ther and wider. And you are touched by the enter­prise of the 23-year-old col­lege stu­dent, who lives in the slum, and who has set up this tour busi­ness to help him and oth­ers like him with their education.
There's a resi­lence here, a will to sur­vive, to cre­ate, to earn today's bread in drench­ing sweat and bone-tir­ing exhaus­tion; a will to escape the dread­ed pover­ty that is every­where you look. You admire Vora's ambi­tion and the work­ers he prais­es. But then you won­der about the oth­er real­i­ty, the lives of the peo­ple who work here.
Work­ers, whose start­ing wage in the cramped, sti­fling work­places, is about 25 cents a day. They are most­ly vil­lagers drawn from across India. Many sleep beside the machines where they work all day.
The peo­ple recy­cling plas­tics often work with­out gloves or masks, because some boss­es don't think they need them or they them­selves think they can work with­out them. But they suf­fer for the lack of protections.
So do the fac­to­ry work­ers, like a young man just down an alley­way who is doing some major sol­der­ing with only a hand-held mask against the sparks fly­ing at him.
Down the next alley there are gar­ment work­ers whose bod­ies are cov­ered with the dyes that they use to col­or the clothes. They are near­ly naked because they have to work in and out of the vats and because the heat is so suf­fo­cat­ing in the workplace.
Just around the bend there's noth­ing stop­ping someone's hand from slip­ping into the press­es that mash the leather. A young­ster feed­ing leather into one of the press­es in the small, dim­ly lit work­shop looks to be in his ear­ly teens. He is sit­ting right next to the press.
You learn from a doc­tor with a con­stant­ly busy clin­ic in the slum that many of the chem­i­cal work­ers suf­fer from the fumes they breathe and many res­i­dents, whether work­ers or not, suf­fer from asth­ma and oth­er breath­ing problems.
As you walk the alleys you real­ize that they are nar­row­er than a door­way. If you stretch your arms out you can touch both sides of the alley. This is one rea­son why a fire recent­ly raced so quick­ly through anoth­er Mum­bai slum, wip­ing out all of the shacks. There was no way for fire­fight­ing equip­ment to pass through the alleys.
As you walk, you del­i­cate­ly bal­ance between the ani­mals, the heaps of garbage and refuse from the work­shops and the wide open sewers.
Because if you slip, the sew­er touch­es you like every­one else here.
Stephen Franklin is a for­mer labor and work­place reporter for the Chica­go Tri­bune, was until recent­ly the eth­nic media project direc­tor with Pub­lic Nar­ra­tive in Chica­go. He is the author of Three Strikes: Labor's Heart­land Loss­es and What They Mean for Work­ing Amer­i­cans (2002), and has report­ed through­out the Unit­ed States and the Mid­dle East.