A New Deal for Asia
Under Roh, South Korea's democracy deepens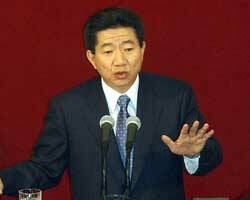 "I have always tried to live my life putting values and principle above immediate interests," South Korean President Roh Moo-Hyun told a Western audience in Seoul in January. Roh's statement was nothing new to Korean voters. But never have the words rung so true for their president. Coming at a crossroads in U.S.-Korea relations, Roh's election was more than the latest sign of Korea's deepening democracy. It was another global vote of no confidence in a Bush administration emboldened by Iraq but still depending on cowed allies as much as evil regimes in its pell-mell pursuit of American interests abroad.

After decades of rule under U.S.-supported dictators, Roh is only South Korea's third democratically elected civilian president. Billed as a political battle between the left and right, and a generational battle between citizens scarred by the Korean War and postwar baby boomers, December's presidential election drew over half of Korea's total population to the polls. With 62 percent of the under-30 crowd voting Roh, and 59 percent of Koreans over 50 voting for conservative Bush favorite Lee Hoi Chang, experts called the election a "war of the generations" in which shifting values and habits—along with ideology and politics—rocked the Korean vote.

But talk of a generation gap obscures the increasing alienation of Koreans of all ages since Bush took office. In a recent Pew Global Attitudes Project report, favorable attitudes toward the United States among Koreans surveyed had slipped only 5 percent since 2000—but 72 percent opposed Bush's war on terror. Three out of four see U.S. foreign policy as unilateral and unconcerned with Korean interests. Not content with registering their dissent at the polls, tens of thousands of protesters across the country joined the worldwide marches against war throughout the spring. "Dismissing these protesters as left-wing riffraff shouldn't be done anymore," says Tim Shorrock, a veteran Korea watcher. "Korea is now a democracy, these people are part of a broad quilt of opinion, and a lot of top U.S. military brass used to the old Korea can't seem to adjust."

Despite overwhelming public opposition, the South Korean government has strained to support Bush's war in Iraq. Forty years after Seoul sent 300,000 crack troops to Vietnam to fight for its ailing U.S. ally, Roh's much agonized decision to send 700 medics and military engineers to Iraq was ratified in early April after lawmakers, pressured by the same constituencies that swept Roh into office, delayed the vote twice. "Critical sentiment toward U.S. policy is now a mainstream, middle-class reality in Korea," says Katharine Moon, a Wellesley College professor who spent years tracking Korean civic movements.

Even Lee Hoi Chang snapped at his would-be patrons in Washington after the drivers of the 60-ton vehicle that crushed two Korean girls last year were acquitted in November. "America still does not comprehend," Lee said early in his campaign, stunning Korean conservatives. "Their leader, President Bush, should directly apologize to our people."

Following the elections of Gerhard Schröder in Germany and Luiz Inacio "Lula" da Silva in Brazil, Roh's victory was, at first, another bitter pill to swallow for the Bush administration. But war with Iraq and the specter of war with North Korea have brought two governments in need of each other's support closer together. No longer the unquestioning Cold War dependent it once was, Roh is leading Korea toward "a more reciprocal and equitable relationship" in which Seoul no longer kowtows to Washington. U.S. and Korean officials have launched long-term consultations largely in response to Roh's exhortations for a "mature" alliance. On the table are wartime command over 700,000 Korean troops and the relocation of a 630-acre U.S. garrison from downtown Seoul, two anachronisms long chafing Korean leaders as chunks of sovereignty Washington seized to wage a Cold War that ended 14 years ago.

————–

After this winter's wave of "anti-American" vigils, which Moon says reflect "a new democracy trying to find its way," Roh got a mandate to initiate much-needed reforms and personnel shakeups in Korea's rigidly hierarchical government. Korean big business and the conservative opposition have accepted Roh's class-action lawsuit system aimed at boosting corporate transparency and shareholder rights. Trust-busting measures and tighter restrictions on the debt-ridden conglomerates whose reckless fiscal habits drew Korea into the 1997 Asian financial crisis are also underway.

To help him promote constructive labor-management relations, social welfare and other progressive reforms, Roh appointed a reformist cabinet that included more women and more balanced regional representation than previous administrations. Each move reflects his genuine commitment to making Korea's evolving economy work for every class during his five-year term, a period economists view as crucial to the nation's long-term growth.

A self-educated lawyer from a family of farmers, Roh has always been more of a populist than a politician. By all accounts, he is keenly intelligent, fiercely determined, and optimistic about Korea's future. He compares his unlikely rise to the presidency to Abraham Lincoln's—and Roh's 22-year career warrants the comparison. After losing a case for student dissidents whose toenails were torn off by government agents, Roh spent the early '80s defending activists and organizers at great personal risk before joining the 1987 pro-democracy struggles that toppled South Korea's last dictator. Earning renown as an outspoken parliament reformer in 1988, Roh's opposition to a party merger in 1990 between pro-democracy forces and former authoritarians led to a string of election defeats through 2000.

"Roh's not a politician," says Bruce Cumings, a Korea expert at the University of Chicago. "Politicians say they put principles before their interests and don't mean it, but it's true for Roh. He got elected in a way that a similar person from the '60s, with his commitments, could not get elected in this country—and I'd be very surprised if he doesn't prove a very independent thinker, better than [former President] Kim Dae Jung from the standpoint of the liberal-left."

Now serving, in an uncanny coincidence, as 16th president of the Republic of Korea, Roh vows to turn government agencies that once functioned as instruments of power into democratic institutions serving the people. Plans are underway to shrink his office by two-thirds to make it more accessible to the public. In April, Roh's justice minister proposed abolishing Korea's National Security Law, a 55-year-old draconian sedition law used by past governments to smother internal dissent. Several executive ministries are experimenting with an expanded ombudsman system—already, tens of thousands of proposals have been sent by constituents answering Roh's call for "politics that respect our citizens as a genuine source of power."

————–

Still, the greatest challenge to Roh's ambitious domestic agenda lies 30 miles north. Korean stock market prices are plunging and soaring on the wings of war, destabilizing an already sluggish economy. The announcement of three-way talks between China, North Korea and the United States marks the first progress in a six-month stalemate that skittered toward the brink when four North Korean MiGs engaged a U.S. spy plane in March. But far from a vindication of Bush's hard-line policy, the quasi-multilateral talks represent a victory for Roh's long-standing insistence on dialogue with his northern neighbors.

To preserve a leading role in the inevitably long and arduous negotiations ahead, Roh must restrain a Bush administration far better at lopsided wars than painstaking diplomacy. "If Bush's people go in there making unilateral demands again without talking about the whole relationship [with North Korea], these talks will go nowhere," Shorrock says. "The confrontation will resume, and relations with South Korea will suffer."

Meanwhile, the battle in Washington still rages between the State Department and the Pentagon, heady from its victories in Iraq. Days before Bush gave the green light for the ongoing talks, Defense Secretary Donald Rumsfeld circulated a confidential memo, leaked to the New York Times, recklessly advocating "regime change" in North Korea.

If the negotiations become deadlocked, Roh will face the debate of his life when he meets Bush in mid-May for a summit in Washington. To realize his Lincoln-esque vision of North-South Korean unity, and even bigger dreams of Northeast Asian peace and prosperity, Roh will have to win over a U.S. president famous for ignoring and trampling on other people's opinions. "The administration is going to have a lot of trouble agreeing with Roh until it understands that South and North Korea belong to Korea," Cumings says. "They don't belong to us."

At stake is not just U.S. national security and regional credibility, but increasingly thin transpacific alliances and the fate of Asia's latest deepening democracy.
The Rise of a New Left
"An engrossing, behind-the-scenes account of our decade's breakout political movement." –Atossa Araxia Abrahamian
For a limited time, when you donate $30 or more to support In These Times, we'll send you a copy of the new book, The Rise of a New Left: How Young Radicals Are Shaping the Future of American Politics, by Raina Lipsitz.

Kevin Y. Kim
is a writer in New York. His work has appeared in
The Nation, L.A. Weekly, Far Eastern Economic Review,
and elsewhere.
More articles by Kevin Y. Kim