Restaurant Opportunity Center Offers Ray of Hope in Dire Times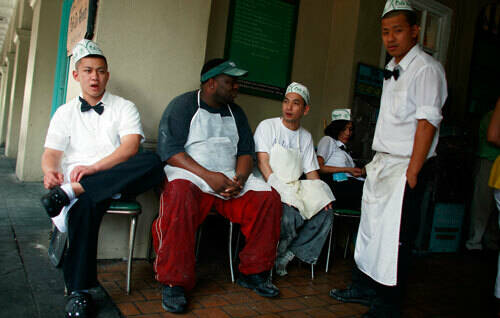 Jose Oli­va wait­ed till close to clos­ing time when he went up to the three work­ers and polite­ly intro­duced himself.
They were dump­ing garbage in back of a New Orleans restau­rant where Oliva's group, the Restau­rant Oppor­tu­ni­ty Cen­ter (ROC) has been talk­ing to work­ers for the last year. But the work with the restaurant's Span­ish-speak­ing staff had been going slow, so Oli­va was on hand to help out.
"They react­ed to me like I was a threat," he recalls. ​"They said ​'We don't want to get in trou­ble' and ​'please leave.''' But just as he was walk­ing away, one of them shout­ed out for Oli­va to come back when the French Quar­ter restau­rant was shut, and they would talk with him then.
Their reac­tion was very dif­fer­ent when he came back.
"They said they couldn't believe there is a group out here who cares about restau­rant work­ers and immi­grants," Oli­vo says.
ROC does indeed care about work­ers like those in New Orleans, as well as the rest of the nation's 13 mil­lion restau­rants work­ers, the largest sin­gle group of work­ers in pri­vate industry.
Amid the dark skies that have been clos­ing over orga­nized labor for some time, Oliva's group is a ray of hope and a reminder of how inno­va­tion and grit can bring success.
Oli­va, based in Chica­go, is the nation­al pol­i­cy coor­di­na­tor for sev­en ROC loca­tions across the Unit­ed States. They are linked togeth­er by ROC Unit­ed, which got its start among the sur­viv­ing work­ers on the Win­dows on the World restau­rant at the World Trade Center.
The first ROC start­ed in New York City as a sup­port group for the restau­rant work­ers who were strug­gling to get back on their feet. UNITE-HERE offi­cials sup­port­ed the idea of form­ing the group and a mem­ber of the union sits on the organization's board of direc­tors, accord­ing to Oli­va. But his group is not fund­ed by the union, he adds.
Since its found­ing, the group has relied on its links with reli­gious and labor groups to apply pres­sure to restau­rants where work­ers face trou­bles. It has signed set­tle­ments stip­u­lat­ing bet­ter work­ers con­di­tions with recal­ci­trant restau­rants and begun also to form a nation­al cadre of so-called high road restau­rants, where the work­ers are treat­ed well.
Oli­va, born in Guatemala, gained his orga­niz­ing expe­ri­ence work­ing local­ly in Chica­go and nation­al­ly with the Inter­faith Work­er Jus­tice organization.
His con­clu­sion from his years work­ing in Chica­go and nation­al­ly is that the labor move­ment goes through cycles. In the 1930s, he says, immi­grants from East­ern Europe added dri­ve to orga­nized labor's push for recognition.
So, too, immi­grants nowa­days are the force behind orga­ni­za­tions like his. Even in tough times like these.
Which gets back to his encounter with the work­ers in the back of the New Orleans restaurant.
"The dire sit­u­a­tion makes orga­niz­ing hard­er. You come up to work­ers and they are scared," he says. ​"But it not a par­a­lyz­ing fear. That is what makes me hopeful."
Stephen Franklin is a for­mer labor and work­place reporter for the Chica­go Tri­bune, was until recent­ly the eth­nic media project direc­tor with Pub­lic Nar­ra­tive in Chica­go. He is the author of Three Strikes: Labor's Heart­land Loss­es and What They Mean for Work­ing Amer­i­cans (2002), and has report­ed through­out the Unit­ed States and the Mid­dle East.