A Real-Life Fairytale
Chris and Don examines a love that dared to speak its name.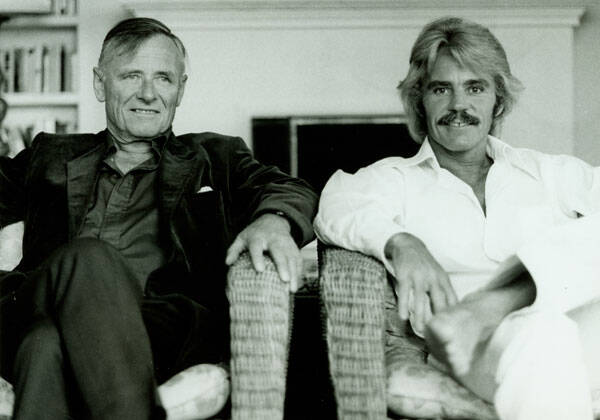 Since the dawn of the movie business, Hollywood's bread-and-butter has revolved around people's idealized notions of love: The nerd can get the princess, and Cinderella can have it all. In other words, nothing else matters when two hearts are meant for each other.
Real life is rarely like that, though. In 1950s Hollywood, accepted notions of love and partnership meant being straight. It also meant, as it still does now, that partners often looked and dressed alike, were about the same age and shared class and cultural attributes.
But one remarkable couple broke those rules. In fact, they acted as though the rules didn't exist at all. In documenting the more than 30-year relationship between author Christopher Isherwood and artist Don Bachardy, Chris & Don: A Love Story makes people question their assumptions and prejudices about love.
The documentary – first released in 2007 and out on DVD Feb. 24 – confronts the audience's biggest prejudice from the start. At age 48, Isherwood was already a leading figure in the literary and movie world when he and Bachardy met on a Southern California beach in 1952. Bachardy was just 18 at the time, and looked even younger.
"Chris knew exactly what to do with me," Bachardy says in the film's opening scene. ​"He took this young boy and he warped him to his mold. He taught him all sorts of wicked things. It was exactly what the boy wanted."
Despite the disapproval of some friends, Isherwood pressed the relationship, declaring in his diary that he ​"didn't feel guilty of anything."
"I did feel awed by the emotional intensity of our relationship right from the start," Isherwood wrote.
The British-born Isherwood had settled into a comfortable life in Southern California a dozen years before he met Bachardy. He was making a good living writing movie scripts and had already published the literary masterpiece Goodbye to Berlin–which was the basis for the famed musical Cabaret. He traveled in an elite circle of movie stars and cultural giants, including actor Montgomery Clift, director John Ford, writer Tennessee Williams and his childhood friend, writer W. H. Auden.
Isherwood was used to being open about his homosexuality. At Auden's urging, Isherwood had moved to Berlin in the early ​'30s, where he frequented the many openly gay nightspots. But one young German lover broke his heart, deserting him and joining the German army after Hitler's rise to power, and Isherwood despaired that he would never find love again. He later wrote of how he desperately longed for a committed relationship that would endure.
With Bachardy, he found it. The film uses photos, home movies and recollections, mostly by Bachardy, to tell how the partnership developed. Images from the early years emphasize the 30-year age difference between Bachardy and Isherwood. Isherwood looks fit, even handsome for his age, but still comfortably middle-aged. By contrast, in sunny California style, Bachardy looks like a teen hunk pulled off an Abercrombie & Fitch catalogue page.
Bachardy confesses that he often felt lost, that he, as well as Isherwood, knew that many people at the Hollywood parties they attended saw Bachardy as little more than Isherwood's boy-toy, some disapproving quite openly, though not when Isherwood was within earshot.
Soon, though, Bachardy began to develop his talent for drawing people, and Isherwood encouraged him like a proud father. Slowly, through his art, Bachardy developed his own persona, even as he grew more like Isherwood, right down to the British accent.
By the early ​'60s, Bachardy had finished four years of art school and was holding his own art exhibits. He was on his way to becoming a noted artist. That personal development almost wrecked the relationship, as Bachardy matured enough to not only have his own professional life separate from Isherwood, but also began to wonder openly if he should go out on his own romantically.
At one point, Bachardy details, Isherwood even left for three months, accepting a teaching job in San Francisco. The separation – and a few flings with other men – were enough to convince Bachardy that he and Isherwood belonged together, and the two were never separated again.
It's a testament to the mastery of filmmakers Guido Santi and Tina Mascara that as the story moves through the years of the couple's life, and as the facets of their relationship deepen, so, too, does the audience's appreciation for their love.
Viewers grow up with Bachardy and grow old with Isherwood. At the same time, the film weaves more of Bachardy's portraits of Isherwood into the script.
In Goodbye to Berlin , in one of literature's more memorable opening lines, Isherwood declares, ​"I am a camera, with its shutter open, quite passive, recording, not thinking."
In Chris & Don, though, it is Bachardy who becomes the camera, as he leafs through the daily portraits he drew of Isherwood in the months before he died in 1986. It's an emotionally wrenching but beautiful finale: As Isherwood's life wanes, it is Bachardy, by then middle-aged, gray and wrinkled himself, who gives meaning to his lover's dwindling days. Both men knew Isherwood was dying, but through his portraits, Bachardy says, ​"In a way it became more and more like something we were doing together."
In the end, as Bachardy holds his sketches of his lifeless lover, drawn in the moments after death, there is nothing so much as a sense of life fulfilled and of true love expressed, purely and completely.
Theirs may not have been a typical Hollywood love story, but thanks to this poignant film, it will live on. That's a fairytale ending most Hollywood movies can only dream of.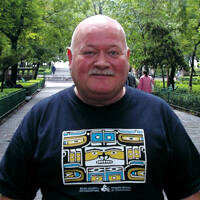 Gary Barlow
is a Chicago-based writer. He is a former managing editor and staff reporter for the
Chicago Free Press
, the
Dallas Voice
and
Windy City Times
. In the
1990
s, before becoming a full-time writer, he helped organize campaigns that defeated anti-gay ballot initiatives in Florida and Idaho, and worked as well on environmental and HIV/AIDS issues.