A 'Stewards Army' Uprising Brings Regime Change to CWA Local 1101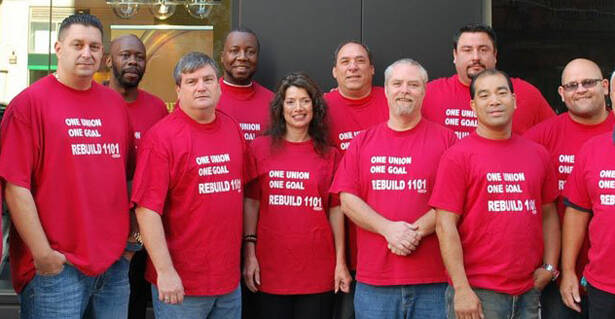 ​'Rebuild' slate takes over in NYC, after years of cor­rupt mismanagement
My first con­tact with union reform­ers in New York City was near­ly 35 years ago. Like many rank-and-file dis­si­dents, before and since, these crit­ics of cor­rupt labor offi­cials were prophets with­out hon­or in their own local.
IBT Local 282 was, at the time, one of the most mobbed-up affil­i­ates of a nation­al union noto­ri­ous for its orga­nized crime ties. My friends in 282, who drove trucks full of cement to build­ing sites around the city, dis­played enor­mous, almost reck­less, courage. They were, after all, tan­gling with some of the best friends a ​"wise guy" ever had inside a big city con­struc­tion local — and in real life, not on The Sopranos.
Under­stand­ably, most ​"ready mix" dri­vers were too afraid to go any­where near foes of the Team­ster lead­er­ship, much less join their oppo­si­tion group. In fact, well-con­nect­ed 282 mem­bers actu­al­ly looked down on those who chal­lenged IBT asso­ciates of the Gam­bi­no Fam­i­ly. To them, would-be reform­ers were just a bunch of ​"Boy Scouts" or ​"ene­mies of the union" work­ing for ​"the feds."
The cul­ture of Big Apple union­ism has become slight­ly more dis­si­dent-friend­ly in recent years. (For more on elec­tion vic­to­ries by reform-mind­ed NYC team­sters, tran­sit work­ers and reg­is­tered nurs­es, see here and here.)
But insti­tu­tion­al loy­al­ty, where it still exists, tends to run deep. When grifters, gang­sters and auto­crats hold union office in the five bor­oughs, they're usu­al­ly smart enough to deflect any mem­ber­ship crit­i­cism of them­selves by re-cast­ing it as an ​"attack" on the union itself. Plus, there's a deep well of local cyn­i­cism, for incum­bents to tap, about the inevitabil­i­ty of cor­rup­tion in pol­i­tics, busi­ness, and labor.
After all, this is the city where Bri­an McLaugh­lin, a big play­er at the inter­sec­tion of all three fields, man­aged to steal more than $3 mil­lion while serv­ing simul­ta­ne­ous­ly as a N.Y. State Assem­bly­man and leader of the nation's largest Cen­tral Labor Coun­cil (CLC). The vic­tims of his shake­downs or thiev­ery includ­ed the state of New York, the CLC, var­i­ous IBEW con­trac­tors, his own re-elec­tion com­mit­tee and a union-spon­sored Lit­tle League team in Queens!
In a reveal­ing dis­play of out­er-bor­ough sol­i­dar­i­ty (of the wrong kind), Bronx-born John Sweeney, then nation­al pres­i­dent of the AFL-CIO, urged the fed­er­al judge sen­tenc­ing McLaughlin's to be lenient. He cit­ed his friend Brian's ​"long record of ser­vice to the work­ing men and women of New York City." The judge demurred, send­ing the defen­dant away for 10 years because his ​"brazen" mis­con­duct and ​"abuse of trust" lent cre­dence to ​"the harsh­est crit­ics of orga­nize labor who accuse the lead­er­ship of corruption."
The ​'rebel rank and file' ris­es again
On the job in low­er Man­hat­tan, Ver­i­zon tech­ni­cians like Kevin Condy and Al Rus­so often encoun­tered mem­bers of IBEW Local 3, whose Lit­tle League team lost $95,000, thanks to McLaugh­lin. While Broth­er Bri­an await­ed sen­tenc­ing three years ago, Condy and Rus­so were more con­cerned about offi­cial mis­be­hav­ior in the Com­mu­ni­ca­tions Work­ers of Amer­i­ca (CWA), their own union.
The 7,000-member Local 1101 is the largest tele­com local in the north­east. In its youth as a CWA affil­i­ate, 1101 exem­pli­fied labor insur­gency in the 1970s. As Aaron Bren­ner reports in Rebel Rank and File: Labor Mil­i­tan­cy and Revolt from Below (Ver­so Books, 2010) tele­phone work­ers in New York bat­tled man­age­ment and, at times, their own nation­al union dur­ing a sev­en month work stoppage:
​"The 1971 – 2 strike expe­ri­ence uni­fied one of the most impor­tant CWA locals in the coun­try, mak­ing it much more effec­tive in pro­tect­ing work­ers' rights and improv­ing their wages and ben­e­fits. A few rank-and-file activists main­tained their orga­ni­za­tion and con­tin­ued to push the union toward more mil­i­tan­cy, but over time they either inte­grat­ed into the union appa­ra­tus or joined the ranks of the apathetic."
Four decades lat­er, the entrenched polit­i­cal clique run­ning 1101 had been around so long that 11 out of 13 exec­u­tive board mem­bers were now retired from Ver­i­zon. This meant they were col­lect­ing their pen­sions from the com­pa­ny, plus six-fig­ure union salaries. In some cas­es, they were also enjoy­ing addi­tion­al forms of per­son­al enrich­ment, at com­pa­ny and/​or union expense — a mat­ter now under active inves­ti­ga­tion by the U.S. Depart­ment of Labor.
In 2008, Condy and Rus­so decid­ed to ral­ly ​"the ranks of the apa­thet­ic" and over­throw the ​"old guard" in 1101. Both were chief stew­ards and Condy was a ​"mem­ber orga­niz­er." In fact, they con­sid­ered them­selves to be char­ter mem­bers of the CWA ​"stew­ards army" that new nation­al union pres­i­dent Lar­ry Cohen tried to sum­mon into being after tak­ing office in 2005. In con­trast, most Local 1101 offi­cials only paid lip-ser­vice to the idea of ​"mem­ber mobi­liza­tion," pre­fer­ring instead to run the union in cal­ci­fied, top-down fashion.
Condy and Rus­so start­ed out with a full slate in 2008 — but end­ed up run­ning just by them­selves. Every­one else, among the fel­low stew­ards that Kevin and Al orig­i­nal­ly recruit­ed to run with them, decid­ed to drop out. The threats of retal­i­a­tion and/​or patron­age promis­es made by incum­bent offi­cials were sim­ply too persuasive.
Both oppo­si­tion can­di­dates lost by about 400 votes out of 1,800 cast. They were up against a well-financed polit­i­cal machine, which con­trolled the local union elec­tion process, from start to fin­ish. As addi­tion­al job pro­tec­tion, the incum­bents had man­aged to implant two Local 1101 alum­ni in the top CWA nation­al union posi­tions in New York City. These Dis­trict 1 offi­cials had friends or rel­a­tives in the 1101 hierarchy.
All of these ​"friends of 1101" could be count­ed on to do very lit­tle when rank-and-fil­ers com­plained about unfair elec­tion prac­tices, inad­e­quate rep­re­sen­ta­tion of new­ly orga­nized AT&T wire­less work­ers, or, more recent­ly, the abuse of mem­ber­ship dues money.
Build­ing a broad­er caucus
After their elec­tion defeat three years ago, Condy and Rus­so didn't just lay low and lick their wounds. They left their cam­paign web­site up, stayed in touch with out­side helpers like Labor Notes and the Asso­ci­a­tion for Union Democ­ra­cy, and steadi­ly expand­ed their net­work of rank-and-file contacts.
None of this was easy to jug­gle with a full-time phone com­pa­ny job, fam­i­ly and com­mu­ni­ty respon­si­bil­i­ties, labor edu­ca­tion class­es at night, and a spot high on the ​"shit-list" of Ver­i­zon man­agers and 1101 busi­ness agents. But, over time, Condy and Rus­so were able to involve more stew­ards and chief stew­ards in a broad­er reform group­ing called ​"Rebuild 1101."
By late 2010, the rebuilders had enough polit­i­cal juice to turn out more than 800 fel­low work­ers, two days before Thanks­giv­ing, to chal­lenge the 1101 lead­er­ship about by-laws reform. Three months after that rare mem­ber­ship meet­ing quo­rum, some dis­senters in the local lead­er­ship blew the whis­tle on their sticky-fin­gered (and now estranged) colleagues.
They asked CWA Pres­i­dent Cohen to put the local under trustee­ship, a request that trig­gered an inves­ti­ga­tion, con­duct­ed by an upstate NY CWA offi­cial and an audi­tor from CWA head­quar­ters. In March, it was dis­closed that 1101 lead­ers had grant­ed them­selves unap­proved perks like un-receipt­ed week­ly expense allowances that were cost­ing the trea­sury $156,000 a year.
These and oth­er finan­cial abus­es led some in 1101 to call for a nation­al union take-over of the local. But the trustee­ship record of CWA Dis­trict 1 was not con­fi­dence inspir­ing. Just three years ago, Dis­trict 1 removed the leader of a CWA-affil­i­at­ed news­pa­per union who embez­zled $375,000 in dues mon­ey; the staffer appoint­ed by D‑1 to run the local, under trustee­ship, pro­ceed­ed to steal anoth­er $60,000, lead­ing to two embar­rass­ing scan­dals (and jail sen­tences) instead of one.
Some rebuilders also real­ized that a trustee­ship would just post­pone the 1101 elec­tion, sched­uled for this month — instead of giv­ing mem­bers the chance to clean up the local them­selves. Cohen and the CWA exec­u­tive board decid­ed to install a ​"mon­i­tor" in the local, a retired nation­al union staffer, not con­nect­ed with Dis­trict 1. His man­date was finan­cial over­sight and insur­ing the fair vote that Condy and Rus­so didn't get last time.
In the mon­i­tor-super­vised mail bal­lot that end­ed Novem­ber 21, turnout was very high — more 3,000 mem­bers par­tic­i­pat­ed. After an expen­sive and exhaust­ing cam­paign, the entire 12-mem­ber Rebuild 1101 slate, head­ed by Kei­th Purce, was elect­ed, most by a two-to-one mar­gin. Condy is the local's new sec­re­tary-trea­sur­er and Rus­so will serve as one of 1101's three vice-presidents.
Rebuilder sup­port­er Pam Galpern told Labor Notes that the vote vin­di­cat­ed ​"the prin­ci­ple that an edu­cat­ed mobi­lized mem­ber­ship is the back­bone of a strong union."
Anoth­er mem­ber of the local, a hard-bit­ten vet­er­an of CWA's sev­en-month strike against N.Y. Tel 40 years ago, saw the results this way: ​"It was a reaf­fir­ma­tion for all of us that, if you rob the mem­bers and try to stock the lead­er­ship with rel­a­tives and friends, the mem­bers will turn against you."
But as Kevin Condy, Al Rus­so, and Rebuild 1101 learned, a rank-and-file revolt against deeply entrenched, self-serv­ing offi­cials doesn't occur spon­ta­neous­ly, no mat­ter how egre­gious their abuse of pow­er. Mobi­liz­ing mem­bers to restore union democ­ra­cy and lost work­place pow­er requires one-on-one orga­niz­ing by peo­ple who real­ly believe in CWA's ​"steward's army."
Steve Ear­ly was a CWA nation­al staff mem­ber for 27 years. He has been a strong sup­port­er of the Local 1101 Rebuilders and oth­er CWA reform cam­paigns. He is the author, most recent­ly, of The Civ­il Wars in U.S. Labor (Hay­mar­ket Books, 2011).
Steve Ear­ly worked for 27 years as an orga­niz­er and inter­na­tion­al rep­re­sen­ta­tive for the Com­mu­ni­ca­tions Work­ers of Amer­i­ca. He is the author of sev­er­al books, includ­ing Refin­ery Town: Big Oil, Big Mon­ey, and the Remak­ing of an Amer­i­can City (Bea­con Press).