When Janus Backfires: A Test Case In Labor Solidarity After Fair Share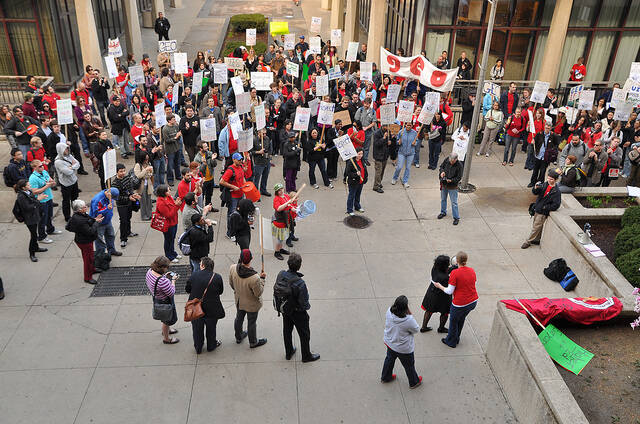 In the after­math of this summer's Janus v. AFSCME Supreme Court deci­sion attack­ing pub­lic-sec­tor unions, the Uni­ver­si­ty of Illi­nois at Chica­go is rapid­ly becom­ing a bell­wether for how those unions might sink or swim in a world with­out fair share.
UIC prides itself on being one of the most diverse col­lege cam­pus­es in the coun­try and one of the most wel­com­ing to work­ing-class stu­dents. The city's only pub­lic research uni­ver­si­ty and home to a vast hos­pi­tal sys­tem, UIC employs a cross sec­tion of pub­lic-sec­tor work­ers includ­ing nurs­es, teach­ers, cler­i­cal work­ers, and main­te­nance work­ers, near­ly all of whom are unionized.
In recent years, uni­ver­si­ty offi­cials have right­ly issued pub­lic state­ments crit­i­cal of gov­ern­ment actions that harm mem­bers of the cam­pus com­mu­ni­ty, includ­ing Trump's Mus­lim ban, the Illi­nois state bud­get impasse, and the House GOP's failed attempt to tax grad­u­ate stu­dent tuition waivers. But since the Supreme Court issued its anti-union deci­sion in the Janus case this June — threat­en­ing the col­lec­tive bar­gain­ing rights of thou­sands of uni­ver­si­ty employ­ees — the admin­is­tra­tion has been silent. Instead, through their actions, admin­is­tra­tors have indi­cat­ed a will­ing­ness to use Janus to engage in union busting.
In the first month after the rul­ing came down, the uni­ver­si­ty pay­roll office failed to deduct dues from hun­dreds of card-signed union mem­bers from sev­er­al unions on cam­pus, includ­ing UIC Unit­ed Fac­ul­ty (UICUF), the Illi­nois Nurs­es Asso­ci­a­tion (INA), SEIU Local 73, and my own union, the UIC Grad­u­ate Employ­ees Orga­ni­za­tion (GEO). In the case of GEO, this cost our rel­a­tive­ly small local of grad­u­ate stu­dent work­ers a whop­ping $10,000.
UIC's fail­ure to deduct mem­ber dues in July was not only ille­gal, but it also effec­tive­ly silenced work­ers who actu­al­ly want to pay dues because they enjoy hav­ing work­place rights. The admin­is­tra­tion open­ly admit­ted they hadn't deduct­ed dues, but said they weren't going to do any­thing to rem­e­dy this obvi­ous legal vio­la­tion. Instead, they've forced the unions into a pro­tract­ed griev­ance and arbi­tra­tion dis­pute, appar­ent­ly hop­ing they can sim­ply tire us out or out­spend us in legal fees.
Fur­ther, the admin­is­tra­tion is claim­ing the right to uni­lat­er­al­ly process mem­ber­ship revo­ca­tions with­out noti­fy­ing the unions, which goes against uni­ver­si­ty HR's own pol­i­cy. They also refuse to pro­vide us with time­ly infor­ma­tion about which employ­ees are in our respec­tive bar­gain­ing units, which is espe­cial­ly harm­ful for GEO since our bar­gain­ing unit changes dra­mat­i­cal­ly every semes­ter. Not know­ing exact­ly who we rep­re­sent at all times makes it dif­fi­cult to sign up new mem­bers and impos­si­ble to ensure UIC is deduct­ing dues correctly.
In August, GEO dis­cov­ered that the uni­ver­si­ty had mis­tak­en­ly deduct­ed dues from six­ty non­mem­bers, indi­vid­u­als we had nev­er claimed were union mem­bers in the first place. Mis­takes like this put the union at legal risk, since the erro­neous­ly deduct­ed mon­ey goes into our local's bank account and makes the local liable for ​"tak­ing" it. We alert­ed the admin­is­tra­tion imme­di­ate­ly and they quick­ly cor­rect­ed the error. What we still haven't been able to fig­ure out is why a hand­ful of grad work­ers, over­whelmed with our nor­mal teach­ing and research respon­si­bil­i­ties and rep­re­sent­ing our union as vol­un­teers, have to tell well-paid admin­is­tra­tors at a multi­bil­lion-dol­lar insti­tu­tion like UIC how to do their jobs.
All of this comes as our unions are in the mid­dle of con­tract nego­ti­a­tions. Even before Janus, UIC was already prone to bul­ly­ing cam­pus work­ers at the bar­gain­ing table and push­ing us into going on strike. In 2014, fac­ul­ty with UICUF had to strike to win their first con­tract. Last fall, the INA-rep­re­sent­ed staff nurs­es and admin­is­tra­tive nurs­es at the UI Hos­pi­tal came with­in a hair's breadth of walk­ing off the job before an eleventh-hour agree­ment was reached. This past spring, grad work­ers at the Urbana-Cham­paign cam­pus had to strike for near­ly two weeks in order to safe­guard tuition waivers.
It comes as no sur­prise, then, that the admin­is­tra­tion has tried to exploit the post-Janus con­fu­sion around dues deduc­tions to gain an advan­tage in bar­gain­ing, pre­sum­ably to pres­sure us into mak­ing con­ces­sions on issues that mat­ter to our mem­bers in exchange for the con­tin­ued exis­tence of our unions. When GEO first ques­tioned why the admin­is­tra­tion had not deduct­ed July mem­ber dues, they said they would only dis­cuss it with us in con­tract nego­ti­a­tions — nev­er mind that abid­ing by exist­ing con­tract lan­guage and exist­ing law is non-negotiable.
UIC grad work­ers — whose base­line pay is only $18,000 and who are forced to pay up to $2,000 in fees every year — are fight­ing for liv­ing wages and fee waivers. UIC's tenured and non­tenured fac­ul­ty are fight­ing for increased job secu­ri­ty, shared gov­er­nance, and rais­es. That should be the focus of nego­ti­a­tions, not bureau­crat­ic pro­ce­dures around dues deductions.
The admin­is­tra­tion is wag­ing its most vicious attack on the under­paid Licensed Prac­ti­cal Nurs­es (LPNs) with INA at the UI Hos­pi­tal, who have also been in bar­gain­ing since Janus came down. Short­ly after the rul­ing was issued, the uni­ver­si­ty decid­ed to bring in a new lead nego­tia­tor, who pro­ceed­ed to tear up pre­vi­ous­ly agreed-upon arti­cles and intro­duce extreme­ly regres­sive pro­pos­als in their place. Among oth­er things, UIC is demand­ing LPNs sur­ren­der their right to engage in vir­tu­al­ly any kind of con­cert­ed activ­i­ty at the work­place, while demand­ing INA pub­licly dis­avow any kind of protest car­ried out by its mem­bers and threat­en­ing to sin­gle out union lead­ers for discipline.
UIC admin­is­tra­tors seem to have assumed that Janus would leave our unions weak­ened and afraid, allow­ing them to ride roughshod over us and impose ter­ri­ble con­tracts. But they miscalculated.
Thanks to the administration's han­dling of Janus, the cam­pus unions are work­ing togeth­er close­ly. In late July, mem­bers of INA, UICUF, SEIU Local 73, and GEO held a joint march on the boss, show­ing up unex­pect­ed­ly at the office of the head of uni­ver­si­ty Labor Rela­tions to demand account­abil­i­ty around the fail­ure to deduct dues. Clear­ly rat­tled by this, the admin­is­tra­tion has since been far more care­ful around pro­cess­ing deduc­tions and cor­rect­ing errors when we point them out.
Mean­while, all of our unions have filed or plan to file both griev­ances and Unfair Labor Prac­tice charges. GEO and UICUF are ramp­ing up our respec­tive con­tract cam­paigns, both build­ing towards pos­si­ble strikes next spring which might eas­i­ly coin­cide. This week, the LPNs will be going out on an indef­i­nite ULP strike, and mem­bers from all four of our unions will hold a uni­fied protest and ral­ly as the UIC Board of Trustees gath­ers on cam­pus for a meeting.
The bud­ding coali­tion of UIC unions should be on every labor activist's radar, as it's emblem­at­ic of what a post-Janus world can look like for pub­lic-sec­tor unions: a huge uptick in hos­til­i­ty from the boss met with more sol­i­dar­i­ty, more orga­niz­ing, more direct action, more strikes, and a deep­er deter­mi­na­tion to fight for our rights as pub­lic sec­tor work­ers to ensure our stu­dents get the edu­ca­tion they deserve, and our patients get the care they deserve.
This piece first appeared in Jacobin.
Jeff Schuhrke has been a Work­ing In These Times con­trib­u­tor since 2013. He has a Ph.D. in His­to­ry from the Uni­ver­si­ty of Illi­nois at Chica­go and a Master's in Labor Stud­ies from UMass Amherst. Fol­low him on Twit­ter: @JeffSchuhrke