A Trailblazing New Law in Illinois Will Dramatically Expand Temp Workers' Rights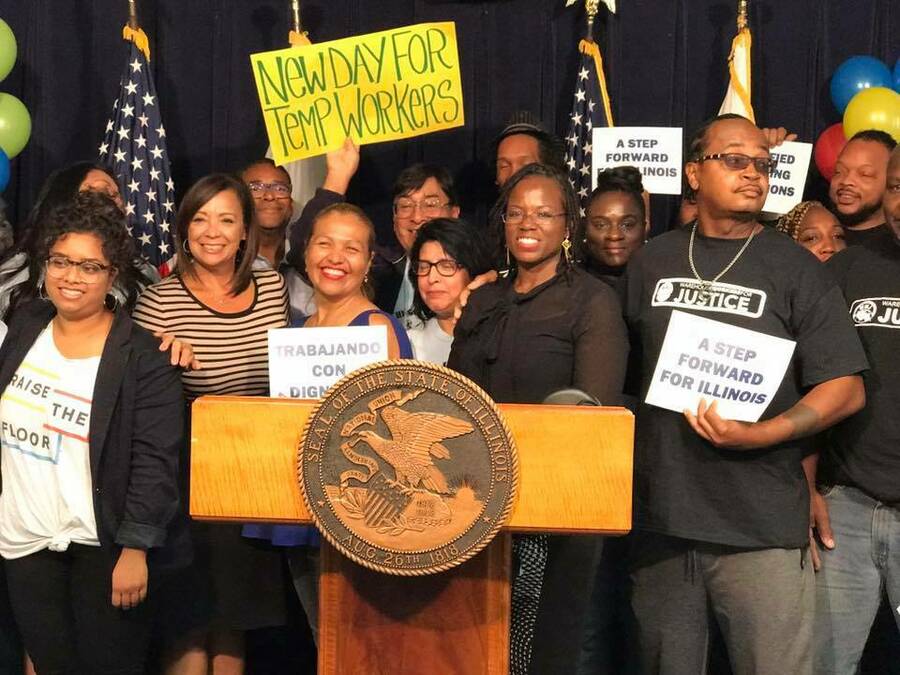 Begin­ning next sum­mer, a sweep­ing new law will take effect in Illi­nois, end­ing many of the rou­tine injus­tices suf­fered by the state's near­ly 850,000 temp employ­ees who often work under mis­er­able conditions.
The Respon­si­ble Job Cre­ation Act, or HB690, rep­re­sents the most ambi­tious attempt to date by any state to reg­u­late the grow­ing tem­po­rary staffing indus­try. Intro­duced in Jan­u­ary, the bill gained bipar­ti­san sup­port in the Illi­nois Gen­er­al Assem­bly and was signed into law by Repub­li­can Gov. Bruce Rauner in late Sep­tem­ber. The law will take effect June 1, 2018.
The leg­is­la­tion, which address­es job inse­cu­ri­ty, hir­ing dis­crim­i­na­tion and work­place safe­ty, was cham­pi­oned by the Chica­go Work­ers' Col­lab­o­ra­tive (CWC) and Ware­house Work­ers for Jus­tice (WWJ), as well as the Illi­nois AFL-CIO and Raise the Floor Alliance, a coali­tion of eight Chica­go work­er centers.
The law will require staffing agen­cies to make an effort to place temp work­ers into per­ma­nent posi­tions as they become avail­able — a step for­ward in the fight to end ​"per­ma-temp­ing." To address racial bias in hir­ing, the new law requires tem­po­rary staffing agen­cies record and report the race and gen­der of all job appli­cants to the Illi­nois Depart­ment of Labor. And in an effort to reduce the work­place injuries that temps fre­quent­ly suf­fer, agen­cies will also now have to noti­fy work­ers about the kinds of equip­ment, train­ing and pro­tec­tive cloth­ing required to per­form a job.
State Rep. Car­ol Ammons — a Demo­c­rat from Cham­paign-Urbana who sup­port­ed Bernie Sanders' pres­i­den­tial cam­paign — was the bill's chief spon­sor. Activists cred­it her with get­ting the bill to the governor's desk.
"Leg­is­la­tors don't always get down into the deep part of the process, but this was so per­son­al to me," Ammons tells In These Times. After her son told her about the prob­lems he had expe­ri­enced as a temp work­er in anoth­er state, she began look­ing into the temp indus­try in Illi­nois and became con­vinced that it need­ed reform.
"HB690 won sup­port from both Democ­rats and Repub­li­cans, who heard the voic­es of work­ers who came to Spring­field to edu­cate us about the temp indus­try," state Sen. Iris Mar­tinez, a Demo­c­rat who joined Ammons in back­ing the bill, said at a press con­fer­ence last Thurs­day. ​"When you have two strong women of col­or lead­ing the charge on this kind of bill, things get done."
Bakari Whit­field, a WWJ activist, says the most impor­tant aspect of HB690 for him is ​"the oppor­tu­ni­ty to get a built-in per­ma­nent job, as opposed to a sea­son­al temp job." Whit­field has been a temp work­er for over ten years in a ware­hous­es out­side of Joli­et. ​"It's just a revolv­ing door," he says. ​"They hire you and fire you around the same time every year. Every six months you have to go get anoth­er job,"
The trans­paren­cy pro­vi­sions come in response to a pat­tern of sys­temic racial and gen­der dis­crim­i­na­tion in the temp indus­try. In Illi­nois, whistle­blow­ers have alleged that African-Amer­i­can temp work­ers are rou­tine­ly passed over for jobs in favor of Lati­nos, whom employ­ers con­sid­er eas­i­er to exploit on the job.
A pre­vi­ous Illi­nois bill that would have required temp agen­cies to report the demo­graph­ics of job appli­cants, SB47, was killed in 2015 after temp indus­try lob­by­ists spread mis­in­for­ma­tion and fos­tered divi­sions between Lati­no and black law­mak­ers, as report­ed by the Cen­ter for Inves­tiga­tive Report­ing.
Accord­ing to Ammons, lob­by­ists sim­i­lar­ly tried to sink HB690 this year. A com­mu­ni­ty orga­niz­er before enter­ing pol­i­tics, Ammons says she relied on con­ver­sa­tions and per­son­al rela­tion­ships with fel­low law­mak­ers to counter the indus­try lob­by and advance the bill.
Months before even intro­duc­ing the bill, ​"I start­ed talk­ing to leg­is­la­tors about what was hap­pen­ing in the indus­try and what was hap­pen­ing to the work­ers," Ammons explains. ​"We start­ed real­ly push­ing our leg­is­la­tors in a way that maybe they had not expe­ri­enced from anoth­er leg­is­la­tor, ask­ing them to take the moral high ground on the issue. They real­ized we weren't going to let it go and decid­ed they had to work with us."
The Respon­si­ble Job Cre­ation Act also requires staffing agen­cies to bear the costs of back­ground checks, drug tests and cred­it reports for job appli­cants — costs work­ers cur­rent­ly have to incur themselves.
CWC activist Fred­dy Amador, who worked as a temp for five years at a fac­to­ry in Waukegan, told In These Times that he's had to pay up to $95 in such fees for a sin­gle job appli­ca­tion. ​"You pay and some­times you're not even going to get the job," he says.
"Work­ing folks should nev­er have to be penal­ized with these fees just to apply for a job," Ammons said at Thursday's press con­fer­ence. ​"The temp agen­cies are a busi­ness, so they are to bear the costs asso­ci­at­ed with doing busi­ness, not the workers."
HB690 also requires staffing agen­cies to pro­vide work­ers with trans­porta­tion back from a job site if they were giv­en a ride. Under the cur­rent sys­tem, temp work­ers are fre­quent­ly left strand­ed with no way to get home.
Ammons has promised to track how the law is being enforced, includ­ing whether temp agen­cies are actu­al­ly plac­ing temps into per­ma­nent posi­tions, but admits there's still more work to be done. In par­tic­u­lar, Ammons hopes to pass a trail­er bill that would end the prac­tice of staffing agen­cies pay­ing temp work­ers through cred­it or deb­it cards, which car­ry fees.
"That's dou­ble tax­a­tion on the work­er. They should be able to get a paper check," Ammons says.
"We now have to ensure there is enforce­ment [of HB690], not that we cre­ate a law and for­get about it," Mar­tinez insists. She has encour­aged the temp work­er lead­ers with CWC and WWJ to hold leg­is­la­tors account­able. ​"It's up to you to let us know that the law is being act­ed out respon­si­bly, and if not, don't be afraid of com­ing back to us and mak­ing sure that we do the right thing."
The author has worked as a research con­sul­tant with WWJ in the past on issues relat­ed to the temp industry.
Jeff Schuhrke has been a Work­ing In These Times con­trib­u­tor since 2013. He has a Ph.D. in His­to­ry from the Uni­ver­si­ty of Illi­nois at Chica­go and a Master's in Labor Stud­ies from UMass Amherst. Fol­low him on Twit­ter: @JeffSchuhrke