Abandon Hope, All Who Enter Here
A falsely accused "enemy combatant" describes his imprisonment in Guantanamo.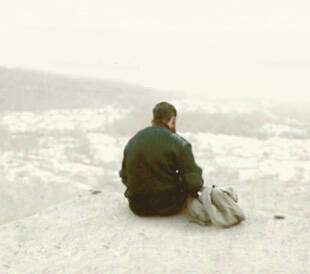 Moaz­zam Begg is a sec­ond-gen­er­a­tion British Mus­lim. In 2002, he was arrest­ed in Pak­istan and held for two years by the Unit­ed States as an ​"ene­my com­bat­ant." Below, he describes his arrival and inter­ro­ga­tion in Guan­tanamo after being held at both Kan­da­har and Bagram. He was released in 2005, and now lives in Birm­ing­ham, Eng­land, with his fam­i­ly. Today, Begg can lec­ture only in Britain because, despite the absence of charges against him, his pass­port was with­drawn as a con­di­tion of his release. He hopes to be able to trav­el and lec­ture more wide­ly in the future.
It is con­sid­ered a sin in Islam to despair, but in Bagram, dur­ing the worst days of May 2002, I had been unable to hold despair at bay. Here in Guan­tanamo, in this steel cage with its mesh sides, steel roof and floor, steel bed, steel toi­let, all inside a white, new-look­ing bright­ly lit room, I felt despair return­ing as I took in my sur­round­ings for the first time.
All I had in the cell was a sheet and a roll of toi­let paper, not even my glass­es. I asked for some­thing that I could use as a prayer mat, and they brought a thin camp­ing mat, which became my mat­tress for the next two years.
I want­ed to pray imme­di­ate­ly. I asked the MPs which direc­tion was east, but they weren't sure. That told me there were no oth­er pris­on­ers here, oth­er­wise the guards would have known, since all the detainees would have asked the same ques­tion. Or was it that they feared my knowl­edge of direc­tions could allow me to cal­cu­late my posi­tion on the island – a poten­tial breach of secu­ri­ty? I per­formed my prayer, and then I sat for a while, think­ing. Look­ing at the paint­work and clean linoleum floor out­side, I thought it was obvi­ous that this place was recent­ly con­struct­ed, and prob­a­bly had nev­er been used before.
Then I lay down. I was still feel­ing quite hazy from the drugs on the plane. They gave me some­thing which they said was a blan­ket, but which was made of a plas­tic-type mate­r­i­al. There was no cot­ton or wool or any­thing like that in it, and it couldn't keep me warm with the air-con­di­tion­ing on – which was how the guards kept the room most of the time.
Lat­er on I was told it was a sui­cide blan­ket – mean­ing it could not be torn up to make a noose. I didn't under­stand why they gave me that. I didn't think they under­stood either. I think they didn't under­stand a lot of their rules and pro­ce­dures; they just fol­lowed them because, as many would say, ​'It says so in the SOP' (Stan­dard Oper­at­ing Pro­ce­dure manual).
I lay there, won­der­ing why I was in this place, sep­a­rat­ed from every- one else. I real­ized I was com­plete­ly alone, but I nev­er imag­ined it would last for almost two years – nev­er allowed to see anoth­er pris­on­er. I thought that they still saw me as a prize catch. They had stud­ied me in all that time in Bagram: I wasn't a trou­ble­mak­er, I didn't go on hunger strikes, I didn't swear, shout,or hurl things at the guards, but they saw me as very influ­en­tial amongst the pris­on­ers. They did not under­stand that because I spoke Eng­lish, Ara­bic, and Urdu, and had some edu­ca­tion, it was nat­ur­al that the col­lec­tion of peo­ple they had in Bagram – vil­lagers, young boys, peo­ple who had nev­er had con­tact with West­ern­ers – would look to me to help them nego­ti­ate all kinds of things. This time, how­ev­er, they weren't keep­ing me with others.
I slept heav­i­ly, the drugs from the plane still in my sys­tem. The next morn­ing a guard brought me the first cooked food I'd seen in a year: break­fast. I'd been told to expect cooked meals in Guan­tanamo. It was a big dis­ap­point­ment. There was tea and awful pow­dered milk in poly­styrene cups. Both were cold. The cooked break­fast was revolt­ing. Rice, green mushy peas, and a boiled egg, all mixed togeth­er. I couldn't eat it. I told the guard, ​'I'd rather just have the cup of tea and that's all.'
On the evening of the sec­ond day the per­son who had told me that I was going to Guan­tanamo, Jay, turned up, with anoth­er man called George. Jay was an inter­roga­tor in Bagram, the one I'd giv­en that long let­ter to, for the author­i­ties. He had told me, ​'Your let­ter man­aged to get fur­ther up the lad­der than you real­ize.' I was pleased to see him, a famil­iar face, and with­out the mal­ice I'd encoun­tered from oth­ers. When two oth­ers came in, how­ev­er, my heart sank. It was Mar­ti and Niel, the two FBI agents from Bagram.
The guards locked them all into the out­er part of the room, then came to my cell, shack­led me with the three-piece suit, and brought me out.
I sat down at a table the guards had brought in, fac­ing Jay and George; Mar­ti and Niel. The lat­ter two were both huge, obese, with the style of New York street cops, per­haps Irish American.
Rob, a col­league of theirs, had told me in Bagram how they boast­ed a com­bined mass of over 500lb – not some­thing to adver­tise, I thought. They may have known pre­cise­ly how to oper­ate on the streets of New York, but they were out of their league here. Also, they knew they weren't sub­ject to any checks and bal­ances; they didn't have to wor­ry too much about scruti­ny from supe­ri­ors, or Inter­nal Affairs, as they would have back in the US. They had auton­o­my to do what­ev­er they want­ed; they could extract infor­ma­tion from peo­ple in any way they liked. That was the way with all of the law-enforce­ment and intel­li­gence agen­cies I'd expe­ri­enced in Kan­da­har and Bagram. The CIA's unscrupu­lous meth­ods rubbed off onto the oth­ers. Much lat­er, the FBI tried to paint them­selves as the squeaky clean ones, who saw all of this tor­ture going on, and start­ed speak­ing about it as though they were not involved. From my expe­ri­ence, they were an inte­gral part of the process.
This time I knew these two would not threat­en me with Egypt­ian tor­ture tech­niques, because Jay was there. In Bagram, when a new batch of MPs had arrived and heard about the Cana­di­an boy, Omar, accused of killing an elite US sol­dier, it had been Jay's inter­ven­tion that pre­vent­ed them from con­tin­u­ing the abuse they had already met­ed out to him. In fact ​'Jay gave me a lit­tle hope once, say­ing, ​'Guan­tanamo is going to be the begin­ning of the end for you. ​'But even my opti­mism knew better.
'You're nev­er going to see your fam­i­ly again.' Marti's words in Bagram came back when I saw his face. ​'You could be fac­ing exe­cu­tion by fir­ing squad, lethal injec­tion, or gas chamber.'
In fact they did threat­en me again. ​'We want you to read and sign these doc­u­ments,' they said, plac­ing six typed pages in front of me on the table. They had writ­ten my confessions.
There were three copies – one for me, and on their side of the table, one for Jay and George, and one for Niel and Mar­ti. They told me that if I didn't sign, sev­er­al dif­fer­ent things could hap­pen, none of them good. They includ­ed sit­ting in Guan­tá­namo for many years before any­body even looked at my case, then a sum­ma­ry tri­al – a for­mal­i­ty before con­vic­tion. ​'It's going to be one very short tri­al, they're going to look at the evi­dence we present, and they're going to take that on face val­ue. That means you'll be impris­oned for life, or you could face exe­cu­tion, or both – exe­cu­tion after a very long time.'
I read through the pages in utter dis­be­lief. My first reac­tion was, ​'This is ter­ri­ble. The Eng­lish used here is ter­ri­ble. Nobody could ever believe that I would write such a doc­u­ment.' Then I thought, ​'This could actu­al­ly be good – any­body who knows my style of writ­ing would know that I am not the author, I don't write like this.' It sound­ed unin­formed and adven­tur­ous, more like the ram­blings of a hys­ter­i­cal six­teen-year-old col­lege dropout than what one would expect from the Fed­er­al Bureau of Inves­ti­ga­tion. I recalled that dur­ing one of the inter­ro­ga­tions Mar­ti had said to me, ​'Stop, already! Stop using big words.' Besides the pathet­ic Eng­lish, I read the ​'facts' with com­plete amaze­ment. It was full of exag­ger­a­tions, lies, and pre­sump­tions. There were names in there that I hadn't even heard of, which they knew only too well. The doc­u­ment claimed, amongst oth­er things, that I was a long-stand­ing mem­ber of al-Qa'idah; I had trained and taught in their camps; I had financed them, includ­ing giv­ing funds that had gone to the 9⁄11 attack­ers. When I asked how they had reached this con­clu­sion, they told me that I had already admit­ted attend­ing and send­ing finan­cial sup­port to ​'the camps'.
It was mad­den­ing to hear them refer to ​'the camps', as if every train­ing camp in the recent his­to­ry of the Mus­lim world had been under al-Qa'idah's umbrel­la. Log­ic and rea­son, again, seemed to have got lost under an avalanche of assump­tions. I actu­al­ly laughed as I read through the ter­ri­bly writ­ten papers that were so poten­tial­ly damning.
They were obsessed with the word ​'al-Qa'idah.' Their doc­u­ment sug­gest­ed that almost every­body I'd ever met in my life was a mem­ber of al-Qa'idah. It said that I'd attend­ed and spon­sored ​'al-Qa'idah's Jamat-e-Isla­mi camp…' Were they real­ly igno­rant enough to assume that Jamat-e-Isla­mi, the third largest polit­i­cal par­ty in Pak­istan, was a sub­sidiary of al-Qa'idah? Had they, maybe, mis­tak­en it for al-Gam'ah al-Islamiyyah of Egypt? Both were part of the Islam­ic revival­ist move­ments in their respec­tive coun­tries. Both had sup- port­ed mujahideen forces in the eight­ies, against the Sovi­ets. But that could be said of hun­dreds of groups and par­ties, includ­ing the CIA. Or was it a delib­er­ate exploita­tion of the igno­rance of most Amer­i­cans, a few of whom would be look­ing at state­ments like this, but couldn't tell the difference?
The state­ment also claimed that I had financed a man I'd nev­er even heard of – involved in a plot to bomb a US air­port, in 2000 – but omit­ted to men­tion how, where and when I'd met him. It said that I had pro­vid­ed ​'hous­ing for ter­ror­ist sus­pects and their fam­i­lies, whilst bel­liger­ent acts were com­mit­ted against the US', but again failed to men­tion who these peo­ple were, or exact­ly what they were accused of. I, of course, knew they were refer­ring to an answer I'd giv­en pre­vi­ous­ly to one of their ques­tions, when I told them that some women and chil­dren, whose men were pre­sumed miss­ing, had stayed with my fam­i­ly for a few days in Pak­istan. They includ­ed some of the Kur­dish peo­ple who had helped evac­u­ate my own fam­i­ly. The state­ment gave no expla­na­tion how these women and chil­dren were mem­bers of al-Qa'idah, or had been hos­tile to the US.
Also, it was alleged that my book­shop in Eng­land was a recruit­ing cen­tre for al-Qa'idah, who was our spon­sor; though I had thought it was sup­posed to be the oth­er way round. Hadn't they just said that I was fund­ing al-Qa'idah? It was ridicu­lous. Read­ing it, I thought, this is cloud-cuck­oo-land. And then they asked me to sign it.
I looked at Jay, picked it up and said, ​'Have you read this nonsense?'
'If you'd seen the draft before, Moaz­zam, you'd have thought we were nuts.'
'There is no way I'm going to agree to sign this rub­bish,' I protest­ed. ​'First of all, it's full of lies, and sec­ond­ly I don't write like this. These are not my words. So if you want my sig­na­ture on this, then let me make cor­rec­tions, add some expla­na­tions, remove all the incor­rect state­ments and absolute mis­rep­re­sen­ta­tions.' They allowed me to make some select­ed alter­ations, but kept in the most bla­tant untruths, like being a front-line fight­er with al-Qa'idah, and, mon­ey I had sent to Kash­miris in 1994 being used in the Sep­tem­ber 11th attacks.
I felt sur­pris­ing­ly calm. I was imag­in­ing the dam­age this state­ment could do them in court; it would expose much of their tac­tics too. How­ev­er, I didn't know what the para­me­ters of the law were any­more: every­one had said that after 9⁄11, new laws had tak­en imme­di­ate effect in the US, and that was fright­en­ing. How could Amer­i­can laws apply, in ret­ro­spect, to a British cit­i­zen, who had nev­er trav­elled west of Dublin, for crimes that nev­er exist­ed in the first place? Were they going to judge me on what Nathan had said in Kan­da­har: ​'We're deter­min­ing cas­es based on what we think were your inten­tions, and on our intel­li­gence reports.'
My mind was whirling, but I still believed there was no way that any com­pe­tent court in the world was going to look past the first sen­tence of the confession.
It was com­fort­ing that Jay knew exact­ly how bad it was…and he was pre­pared to say this in front of the FBI.I real­ly despised those two for the demean­ing job they were pre­pared to do, and this was just more of the same from them. I'd noticed the insid­i­ous way that they'd come in: late at night, ask­ing the guards to leave the room, so there would be no wit­ness­es. It was all sup­posed to be very fast, ​'Here's the paper and here's the pen, quick­ly read through it and sign.'
They took it away after I'd made the cor­rec­tions. They must have had a com­put­er and a print­er in the vehi­cle, because there was no oth­er build­ing around Camp Echo, as far as I under­stood. They all went out and told the guards to come. They locked me in the cell again. Then the four were back with­in ten min­utes. They put a new doc­u­ment in front of me, and I went through it again. I made cor­rec­tions, but this time they wouldn't allow any. They were get­ting agi­tat­ed. ​'Stop play­ing games with us, we know what you…'I could see the same anger ris­ing that these men had had when they ordered my pun­ish­ment back in Bagram. I couldn't for­get for a moment that these were the same men.
'You could be shot by fir­ing squad, Moaz­zam, do you under­stand?' Mar­ti said, seem­ing like he was con­trol­ling himself.
'They've built an exe­cu­tion cham­ber here, I've seen it,' Niel followed.
'Have you for­got­ten about your kids, your…'
'OK, OK, just give me a minute.'
I'd thought about this before, many times, since the last time I saw them. Final­ly I resigned myself to what­ev­er would come. Despite the insin­u­a­tion, there still wasn't a crime in the state­ment, cer­tain­ly not one that I could see. ​'You know what, it doesn't make any dif­fer­ence, I'll sign what­ev­er you want, but I have to do some­thing first.'
I told them I want­ed to go into the cell. I prayed that this would be my way out. I asked Allah for this doc­u­ment to be a means to expose their lies. The prayer is called al-Istikharah in Ara­bic: the prayer of ask­ing guid­ance for the right choice. After­wards I signed. I asked them for a copy but they wouldn't give me one. That was it. I nev­er saw any of them ever again.
It must have been real­ly late by the time they left; the lights weren't as bright, but still on, as always. I felt I'd tak­en a huge step, which would affect every­thing in the future for me, for the fam­i­ly. I felt that I'd lit­er­al­ly signed my life away. I began to make end­less notes to present as argu­ments for the defence attor­ney and the court that I now expect­ed would mate­ri­al­ize with­in days, as they'd told me. They were expect­ing me to plead guilty to what­ev­er charge was alleged. But I had oth­er plans.
I only had a blunt two-inch pen­cil to write with, and it soon wore down as the mass of argu­ment accu­mu­lat­ed into twen­ty pages of rebuttals.
I start­ed to write home too, begin­ning every let­ter with, ​'In the Name of Allah, Most Com­pas­sion­ate, Most Mer­ci­ful', and ​'My beloved wife'. I told Zaynab that I thought of her and the chil­dren every sin­gle hour. I felt ambiva­lent think­ing of home: I didn't want its mem­o­ry of warmth and gen­tle­ness taint­ed by this sor­did scene around me, but I did need that soft­ness and famil­iar­i­ty to retain hope.
I wrote Zaynab a nine-page let­ter – small writ­ing on lined A4 paper – after about six weeks. I gave her advice on all the minu­ti­ae of fam­i­ly life, which she had had to orga­nize with­out me. I tried to help with the choice of schools, and the strug­gle against her own and Umamah's asth­ma, I encour­aged her to make a rou­tine for her­self includ­ing exer­cise, join­ing a fit­ness club, swim­ming, or doing stretch­es at home, and some study project for her­self. I tried hard to encour­age her to feel proud of her­self: ​'You said that you have achieved lit­tle in your life. That is not true. What sac­ri­fices you have made, and dif­fi­cul­ties endured (and con­tin­ue to do so) have made you an extra­or­di­nar­i­ly rare per­son. Your inten­tions have been pure (to please Allah and to keep me hap­py). What­ev­er mis­takes, mis­cal­cu­la­tions etc.– they have been mine – for which I am pay­ing the price. In my sight, and the sight of the Lord, I believe, your sta­tion has been raised immense­ly, and think you have helped secure your own place in the Here­after – the Gar­den. I know you want things to change when I am released. But they already have – Big time. I want it all to be dif­fer­ent, spend­ing all my spare time with my fam­i­ly – pur­su­ing our wel­fare in light of the time lost and uncer­tain future.'
I wrote again after about anoth­er six weeks: ​'I love you so much and miss you ter­ri­bly. I look for­ward so much to your let­ters, yet, short­ly after­wards I feel gloomy and mis­er­able … I have to be hon­est and admit that I try my best not to think of you and the chil­dren, as it is so painful think­ing about how you are all liv­ing your lives with­out me now, and all of our times togeth­er in the past. There is so much more I want to share with you in life, as well as the chil­dren, and I want more than any­thing to have the oppor­tu­ni­ty to make amends for the mis­takes that I have made – par­tic­u­lar­ly in rela­tion to you – my fam­i­ly. I have it all planned in my head; I don't know what will become of them (the plans), but they include some major read­just­ments to my/​our for­mer life-style.'
Once, I wrote to my father using terms I doubt­ed the Amer­i­cans under­stood, like say­ing I was ​'sent to Coven­try', imply­ing iso­la­tion; or that I was ​'liv­ing like She­ba', after the name of the Ger­man shep­herd dog I had when I was a child. But he nev­er got the let­ter any­way. I felt I nev­er want­ed Dad to see the pet­ty humil­i­a­tions of how I was liv­ing, like the sil­ly lit­tle tooth­brush, mea­sur­ing no more than an inch, that I attached to my index fin­ger­tip to clean my teeth, and the tiny translu­cent tube of tooth­paste about two inch­es long; or the food, like the ground meat made into a leath­ery steak, which was so repul­sive that I vom­it­ed when I tried to eat it; or the water bot­tles from which they removed the tops in case I'd use them to squirt water, or worse, at the MPs.
I made a cal­en­dar in those ear­ly days of 2003,sketching it out on a piece of paper. One of the ICRC work­ers in Kan­da­har had told me not to think in terms of days passed, par­tic­u­lar­ly, I think, since he'd thought those days would turn into weeks, months, and years. But mark­ing off days on a cal­en­dar also gave me days to look for­ward to, hop­ing for relief.
I soon began to see that here noth­ing was con­sis­tent – except incon­sis­ten­cy. Noth­ing that was true in Bagram would nec­es­sar­i­ly be true in Guan­tanamo. Rules, pro­ce­dures, were dif­fer­ent. Any­thing that I'd gained over there, I would not auto­mat­i­cal­ly get here. I couldn't under­stand that, and it became sym­bol­ic for me, of Amer­i­can mil­i­tary atti­tudes and behav­iour. Empa­thet­ic guards had told me how they too were con­found­ed by strict mil­i­tary rigid­i­ty and mean­ing­less pro­to­col. ​'There's the right way, the wrong way, and the army way,' they used to say. They had tak­en my glass­es again – like the ear­ly days of Kan­da­har. They took away my let­ters – the few I'd had in Bagram, pic­tures of my chil­dren, and notes that I'd man­aged to make. I nev­er saw them again until the day I was released.
Copy­right 2006 by Moaz­zam Begg and Vic­to­ria Brit­tain. This piece orig­i­nal­ly appears in Moaz­zam Begg's Ene­my Com­bat­ant: My Impris­on­ment at Guan­tanamo, Bagram, and Kan­da­har (The New Press, Sep­tem­ber 11, 2006). Pub­lished with the per­mis­sion of The New Press and avail­able at good book stores everywhere.