The ACA Could Be the Death Knell for Chicago's Public Mental Health Clinics
In 2012, Mayor Emanuel's budget forced half the city's public mental health clinics to close; now the remaining six are in danger, too.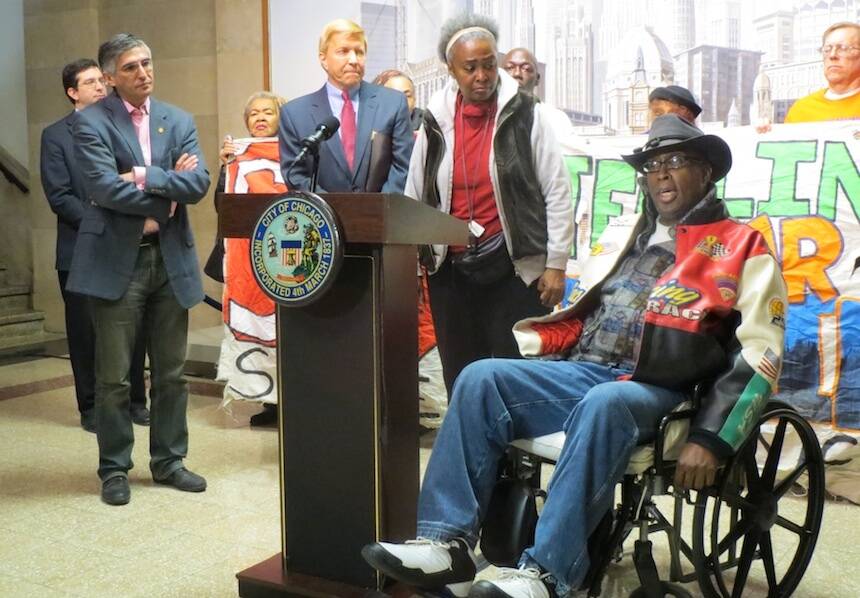 Thanks to the Afford­able Care Act's expan­sion of Med­ic­aid, many more Chicagoans will have access to men­tal health care in the near future. But iron­i­cal­ly, the increased avail­abil­i­ty of health insur­ance could starve Chicago's six remain­ing pub­lic men­tal health clin­ics of resources — and cause hav­oc for the city res­i­dents who depend on them.
Mental health and labor advocates ... fear that city officials are trying to divert insured clients from the remaining clinics because they ultimately want to close them. They suspect reducing the client population and the number of employees at the clinics is a way to lay the groundwork for shuttering them altogether.
In addi­tion to serv­ing those with­out insur­ance, the clin­ics have long pro­vid­ed care to locals with insur­ance who could have gone else­where, but saw the facil­i­ties as their most acces­si­ble and sup­port­ive option.
Over the past year, how­ev­er, city offi­cials report­ed­ly start­ed direct­ing peo­ple with exist­ing insur­ance to pri­vate or coun­ty men­tal health providers instead. And as for­mer­ly unin­sured Chicagoans get new cov­er­age from the Afford­able Care Act, some say they, too, are being dis­cour­aged from attend­ing the city clin­ics. While they the­o­ret­i­cal­ly could get care else­where, men­tal health advo­cates say that in real­i­ty, many are like­ly to fall through the cracks rather than mov­ing to a provider they don't trust.
Mem­bers of the grass­roots coali­tion Men­tal Health Move­ment say that start­ing in 2013, pub­lic clin­ic staff mem­bers began pres­sur­ing unin­sured clients to enroll in Coun­ty­Care, part of the state's expand­ed Med­ic­aid pro­gram. In turn, the clients say they've been told that once they have Coun­ty­Care or oth­er insur­ance cov­er­age, they will no longer be able to receive care at the pub­lic clinics.
A March 14 memo, obtained by In These Times and sent from Chica­go Depart­ment of Pub­lic Health deputy com­mis­sion­er Edie Bam­berg­er, says that peo­ple with insur­ance and men­tal health needs ​"will be edu­cat­ed" about the ​"ben­e­fits of access­ing inte­grat­ed health care ser­vices through their insur­ance net­work," which would not include the city clin­ics. If the client wants to attend a city clin­ic, the memo directs, pub­lic health staff should con­sult the clin­ic direc­tor; such requests will be con­sid­ered on a case-by-case basis. Peo­ple already attend­ing a city clin­ic will be allowed to con­tin­ue attend­ing the clin­ic once they get insured, it con­tin­ues, but the clin­ic direc­tor ​"must be made aware of this request."
In oth­er words, insured peo­ple who are already clients won't be express­ly pro­hib­it­ed from attend­ing the city clin­ics, but staff are sup­posed to make an effort to divert them to oth­er providers. And new insured clients won't be express­ly pro­hib­it­ed from the pub­lic clin­ics, but their atten­dance will have to be specif­i­cal­ly approved. Pre­vi­ous­ly, the DPH had a more stri­dent ban on insured peo­ple obtain­ing ser­vices from the clin­ics; the shift in pol­i­cy appar­ent­ly came after the depart­ment faced a wave of crit­i­cism.
On April 2, alder­men who are part of the Chica­go City Council's Pro­gres­sive Cau­cus will intro­duce a res­o­lu­tion call­ing for pub­lic hear­ings before the Council's Health and Envi­ron­men­tal Pro­tec­tion Com­mit­tee on the state of men­tal health care in the city. At a press con­fer­ence at City Hall on March 27, Alder­men Robert Fioret­ti and Scott Wagues­pack explained that the issue of whether and to what extent the pub­lic clin­ics will accept clients with insur­ance would be a cen­tral talk­ing point at those hearings.
Chica­go res­i­dent and Men­tal Health Move­ment mem­ber Horace Howard, who attend­ed the press con­fer­ence, says he has been receiv­ing ser­vices from the pub­lic Greater Grand Boule­vard clin­ic on the South Side since the Wood­lawn clin­ic closed in 2012; he was part of the high-pro­file occu­pa­tion at Wood­lawn in April of that year. He claims that after sev­er­al months going to Greater Grand, he still hasn't been able to get an appoint­ment with a doc­tor. (Clients at the pub­lic clin­ics typ­i­cal­ly meet with ther­a­pists on a reg­u­lar basis and have less fre­quent meet­ings with psy­chi­a­trists.) But Howard still feels at home at the pub­lic clin­ics and doesn't want to switch to anoth­er provider.
​"We're being kicked out because of man­aged care," says Howard, 56, sport­ing a T‑shirt bear­ing a por­trait of Helen Mor­ley, the Men­tal Health Move­ment mem­ber who died in 2012 of heart com­pli­ca­tions after famous­ly telling May­or Rahm Emanuel, ​"If you close my clin­ic, I will die." Howard says the city should reopen the Wood­lawn clin­ic ​"in memo­r­i­al to Helen."
Men­tal Health Move­ment mem­ber Ronald ​"Cow­boy" Jack­son says he knows sev­er­al for­mer clients of pub­lic clin­ics who were told since obtain­ing Coun­ty­Care cov­er­age that they should go to the coun­ty hos­pi­tal in Chica­go instead. But peo­ple have had trou­ble get­ting appoint­ments at the over-crowd­ed coun­ty sys­tem, Jack­son says; as a con­se­quence, they have grown frus­trat­ed and stopped try­ing to get care.
Alder­man Fioret­ti argues the changes to the sys­tem are only mak­ing it hard­er for Chicagoans in need. ​"They're cre­at­ing con­fu­sion out there," he says. ​"For years, peo­ple have been going to these clin­ics. Now they're being told they can't … it's adding more con­fu­sion, more dis­ori­en­ta­tion for peo­ple in need of care."
Because the Chica­go Depart­ment of Pub­lic Health has so far not joined a health­care provider net­work, includ­ing Coun­ty­Care, the pub­lic men­tal health clin­ics can­not be reim­bursed under Med­ic­aid as the state switch­es to man­aged care in com­ing weeks, mean­ing their fund­ing will be put in dan­ger. Just why the city hasn't joined a net­work yet, how­ev­er, remains unclear. (The depart­ment did not respond to an inter­view request for this sto­ry.) The March 14 memo claims that the depart­ment is encour­ag­ing insured peo­ple to go else­where because it ​"remains focused on pre­serv­ing our lim­it­ed capac­i­ty to serve unin­sured res­i­dents with more lim­it­ed options."
A fact sheet hand­ed out at the press con­fer­ence rebuts that state­ment, though. It reads:
Turn­ing away peo­ple with insur­ance means turn­ing away mon­ey — rev­enue that could help strength­en the city clin­ics for every­body. Turn­ing away that rev­enue will low­er the num­ber of peo­ple at the city clin­ics, low­er the fund­ing com­ing into them and like­ly end up caus­ing more of them to close.
Men­tal health and labor advo­cates — includ­ing AFSCME, the union rep­re­sent­ing pub­lic clin­ic staff — fear that city offi­cials are try­ing to divert insured clients from the remain­ing clin­ics because they ulti­mate­ly want to close them. They sus­pect that reduc­ing the client pop­u­la­tion and the num­ber of employ­ees at the clin­ics is a way to lay the ground­work for shut­ter­ing them altogether.
​"Once you have no one going to the clin­ic because they don't accept insur­ance, then you can jus­ti­fy clos­ing it because you have an emp­ty build­ing," says N'Dana Carter, a leader of the Men­tal Health Movement.
Fioret­ti said that in clos­ing and sidelin­ing the clin­ics, Chicago's lead­ers ​"throw our hands up and say we're not going to do this ser­vice anymore."
He and oth­er alder­men have apol­o­gized for vot­ing in 2011 for May­or Emanuel's 2012 bud­get, which closed six of the city's 12 men­tal health clin­ics. ​"We made a big mis­take," he says.
Though Emanuel ini­tial­ly claimed the clinic's clo­sures would lead to an esti­mat­ed $2.3 mil­lion in sav­ings, Fioret­ti and his fel­low pro­gres­sive alder­men argue that this num­ber ​"failed to account for the addi­tion­al costs of increased emer­gency room vis­its, hos­pi­tal­iza­tions, police inter­ven­tions and incarcerations."
Alder­man Wagues­pack says he has been dis­ap­point­ed by the city's mis­placed spend­ing pri­or­i­ties. ​"You look at an $8 bil­lion bud­get, and we can't find $2.3 mil­lion?" he scoffs. ​"The city says we're going to take away the safe­ty net for such a small [sav­ings]?"
Jack­son, mean­while, points to the mid-March stand­off along Lake Shore Dri­ve as an exam­ple of how unad­dressed men­tal health crises can cause wide­spread trau­ma and cost tax­pay­ers mil­lions down the line. In that inci­dent, a man with a his­to­ry of men­tal ill­ness who was sus­pect­ed of killing his wife engaged police in an eight-hour show­down, clos­ing off the major city thor­ough­fare along with near­by businesses.
​"There's a real effect on fam­i­lies and com­mu­ni­ties and schools" when peo­ple lack men­tal health care, Jack­son says.
At a March 31 sem­i­nar on incar­cer­a­tion called ​"The $2 Bil­lion Ques­tion" spon­sored by the Chica­go Com­mu­ni­ty Trust and oth­er groups, var­i­ous speak­ers agreed that unavail­able resources can have an enor­mous­ly detri­men­tal impact on indi­vid­u­als and their net­works. They described, for instance, how a lack of men­tal health care can lead to the impris­on­ment of peo­ple who real­ly need treat­ment, not punishment.
​"We have a grow­ing men­tal­ly ill pop­u­la­tion, both at the coun­ty and state lev­el, that we're strug­gling with how to deal with," says Cook Coun­ty Sheriff's senior advi­sor Cara Smith.
At the sem­i­nar, she gave one exam­ple of the type of sit­u­a­tions that land peo­ple with men­tal health issues in jail: A man grabbed a set of sheets or tow­els from a North Side Wal­greens, walked out the door and told the clerk to ​"charge it."
"$29.99 was the val­ue of the item that he did not suc­cess­ful­ly steal," Smith recounts. ​"And he was with us [in jail] for quite a long time … He had a very sig­nif­i­cant crim­i­nal his­to­ry, most­ly com­mit­ting crimes of what I would call ​'sur­vival' — crim­i­nal tres­pass­ing, retail theft — things to get shelter."
​"Because of the lack of ser­vices in the com­mu­ni­ty, I can sit here and say many peo­ple are bet­ter off in the jail when they have severe men­tal ill­ness because they're get­ting care," Smith con­tin­ues. ​"Which is an awful thing to have to say."
AFSCME is a web­site spon­sor of In These Times. Spon­sors have no role in edi­to­r­i­al content.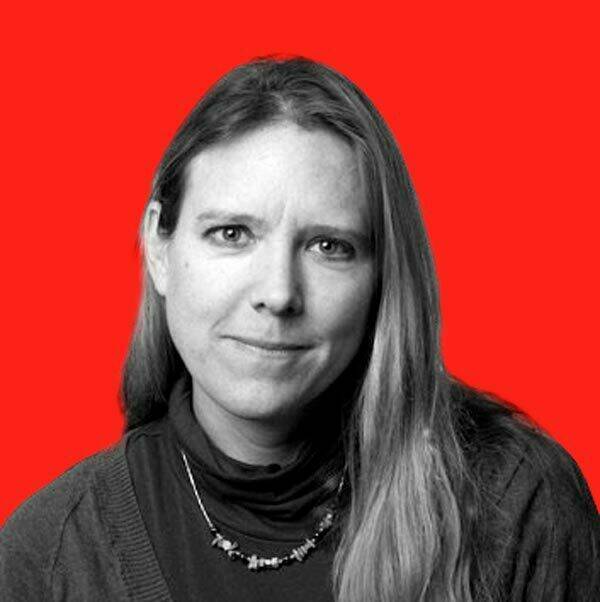 Kari Lyder­sen
is a Chica­go-based reporter, author and jour­nal­ism instruc­tor, lead­ing the Social Jus­tice
&
amp; Inves­tiga­tive spe­cial­iza­tion in the grad­u­ate pro­gram at North­west­ern Uni­ver­si­ty. She is the author of May­or
1
%: Rahm Emanuel and the Rise of Chicago's
99
%.