Is China's Labor Federation Willing to Stand Up for Workers Against Walmart?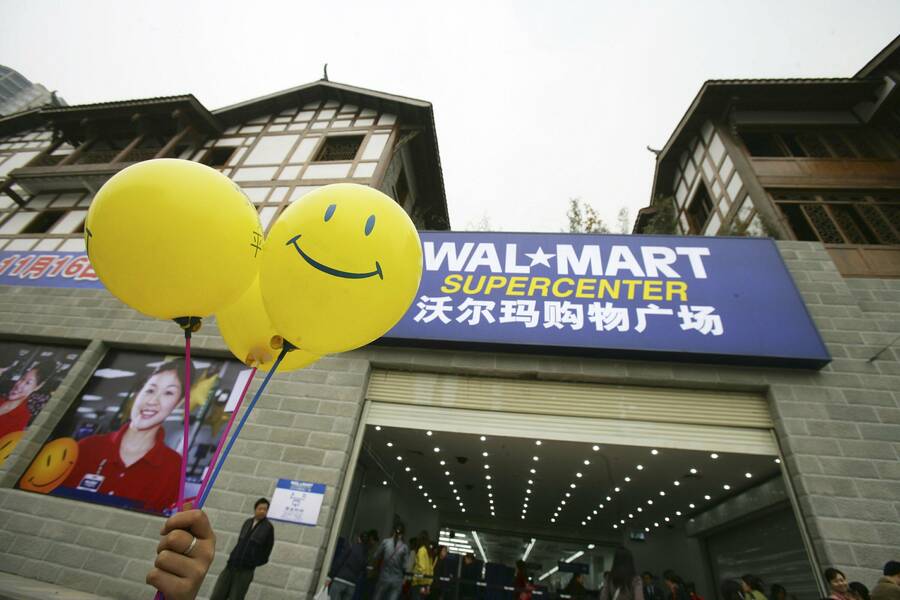 The flare-up of labor protests among Chi­nese retail work­ers at Wal­mart has cooled con­sid­er­ably over the last year, but the under­ly­ing issues are as hot as ever. Pres­sure is mount­ing on local labor unions to take a more active role in con­fronting the U.S.-based giant, accord­ing to a new report from the Chi­na Labour Bul­letin (CLB), a Hong Kong-based work­er advo­ca­cy group that keeps a close eye on multi­na­tion­al cor­po­ra­tions active in the country.
Wild­cat strikes and oth­er protests rip­pled through Walmart's more than 400 Chi­nese stores in 2016, catch­ing the atten­tion of glob­al media out­lets like Reuters, Finan­cial Times, The Asso­ci­at­ed Press and The New York Times. While pub­lic­i­ty around the protests slowed in 2017, Walmart's poor treat­ment of work­ers has con­tin­ued, accord­ing to CLB Exec­u­tive Direc­tor Han Dongfang.
Han says that recent labor actions were trig­gered by two events: the elim­i­na­tion of jobs at a small num­ber of stores slat­ed for clo­sure, and the intro­duc­tion of a new work-hours-sched­ul­ing sys­tem designed to trim the earn­ings of many of Walmart's rough­ly 100,000 Chi­nese employ­ees. A com­mon prob­lem high­light­ed in both events is that the union rep­re­sent­ing the work­ers, the All-Chi­na Fed­er­a­tion of Trade Unions (ACF­TU), failed to pro­vide any lead­er­ship or sup­port for the aggriev­ed Wal­mart workers.
ACF­TU has indeed failed the work­ers, agreed Li Qiang, exec­u­tive direc­tor of Chi­na Labor Watch (CLW), a New York-based group with a sim­i­lar name but unre­lat­ed to Hong Kong's Labour Bul­letin. Since Wal­mart stores were union­ized at gov­ern­ment direc­tion in 2006, the work­ers have seen lit­tle ben­e­fit, he tells In These Times. ACF­TU, the only legal labor orga­ni­za­tion in the coun­try, is essen­tial­ly an arm of the Chi­nese gov­ern­ment, he says, and its local units are con­trolled by the employ­ers — not the rank-and-file members.
Walmart's rela­tion­ship with ACF­TU is of a piece with its glob­al rep­u­ta­tion as a fierce oppo­nent of unions, crit­ics say.
Accord­ing to the CLB report, ​"In most coun­tries, it would be the trade union that leads the work­ers in the bat­tle against a cor­po­rate giant like Wal­mart. But in Chi­na, where Wal­mart does actu­al­ly allow unions to estab­lish branch­es in their stores, the All-Chi­na Fed­er­a­tion of Trade Unions was con­spic­u­ous­ly absent. Apart from some super­fi­cial ges­tures of sup­port, the ACT­FU failed to stand with Walmart's work­ers. For the most part, the ACF­TU viewed the work­ers' online orga­ni­za­tions with sus­pi­cion and pri­or­i­tized social and eco­nom­ic sta­bil­i­ty over all else — even to the point of sid­ing with man­age­ment at the first sign of col­lec­tive resistance."
Online orga­ni­za­tions oper­at­ing inde­pen­dent­ly of the ACF­TU were key to the lim­it­ed suc­cess­es of the 2016 labor agi­ta­tion, CLB says. One such group, the Wal­mart Chi­nese Work­ers Asso­ci­a­tion (WCWA), even col­lab­o­rat­ed with the U.S. labor orga­niz­ers asso­ci­at­ed with the Unit­ed Food & Com­mer­cial Work­ers union in an effort to make the protests more effec­tive. U.S. involve­ment is not cred­it­ed with any spe­cif­ic suc­cess, but CLB says Wal­mart did back down in a num­ber of cas­es when con­front­ed by well-orga­nized actions at spe­cif­ic store locations.
These suc­cess­es form the basis of hopes that the work­ers can build a larg­er and more pow­er­ful orga­ni­za­tion to con­front Wal­mart, CLB con­cludes, but only if the ACF­TU can be acti­vat­ed in their sup­port. Accord­ing to CLB, ​"the ACT­FU as a nation­al orga­ni­za­tion remains large­ly inert. There is, how­ev­er, some rea­son for opti­mism in this regard too. The pres­sure on the ACF­TU to reform is not just com­ing from work­ers. In 2015, China's Pres­i­dent and Par­ty Sec­re­tary Xi Jin­ping ordered the ACF­TU to come up with a plan to improve work­place rep­re­sen­ta­tion. The ACF­TU has so far man­aged to pro­cras­ti­nate and sim­ply issue more plat­i­tudes pledg­ing its alle­giance to the Par­ty and Xi Jin­ping in par­tic­u­lar, but the pres­sure on the ACF­TU to get its act togeth­er and real­ly serve the inter­ests of China's work­ers is not going away."
Any opti­mism about the ACF­TU is prob­a­bly mis­placed, argues Li from the New York office of CLW. Speak­ing through an inter­preter, Li tells In These Times that ​"Right now, we don't real­ly see that hope" that it will step for­ward as an effec­tive advo­cate for work­ers. Protests have dropped off in 2017, although Wal­mart has not made any thor­ough labor pol­i­cy reforms, he says. ​"Wal­mart actu­al­ly hasn't done any­thing to respond to work­ers," oth­er than to set­tle a rel­a­tive­ly small num­ber of law­suits charg­ing the com­pa­ny with indi­vid­ual vio­la­tions of Chi­nese labor law, he says.
Ani­ta Chan, co-edi­tor of The Chi­na Jour­nal and vis­it­ing fel­low at Aus­tralian Nation­al Uni­ver­si­ty, echoed this bleak assess­ment. ​"The ACF­TU did noth­ing to help despite repeat­ed appeals by work­ers activists for help at dif­fer­ent lev­els," she tells In These Times.
Rebec­ca Lui, a Wal­mart spokesper­son, refused to answer ques­tions about ACF­TU from In These Times, declin­ing even to esti­mate the num­ber of union­ized work­ers in Chi­na. The com­pa­ny is con­tin­u­ing to expand, she says, open­ing 30 to 40 new Chi­nese stores this year. But much of the company's expan­sion efforts are con­cen­trat­ed in online sales where new job oppor­tu­ni­ties are large­ly avail­able with third-par­ty logis­tics providers (or Uber-style on-demand employ­ment), so the total num­ber of Wal­mart employ­ees in Chi­na has actu­al­ly fall­en over the last two years.
In These Times was unable to reach the ACF­TU for comment.
Whether China's unions can rise to the task of becom­ing a more grass­roots rep­re­sen­ta­tive of the work­ers is far from clear, offers Nel­son Licht­en­stein, an expert on Walmart's labor devel­op­ment and a pro­fes­sor of his­to­ry at the Uni­ver­si­ty of Cal­i­for­nia-San­ta Bar­bara. ​"ACF­TU is not always a total­i­tar­i­an crea­ture of the Chi­nese Com­mu­nist Par­ty … At the local lev­el, there are some legit­i­mate work­er activists," he says. Unlike in the Unites States, Wal­mart retail­ing is still con­sid­ered a ​"good job" in Chi­na (as com­pared to indus­tri­al work) so there will be pres­sure for labor reforms that will allow work­ers to main­tain good incomes."
Wages are ris­ing all across Chi­na, and there isn't any rea­son why Wal­mart should be exempt­ed from that, par­tic­u­lar­ly in rela­tion to its Chi­na-based com­peti­tors. ​"There are a lot of good rea­sons for ACF­TU to take a more pro-active approach," to rep­re­sent­ing Wal­mart work­ers, Licht­en­stein concludes.
Bruce Vail
is a Bal­ti­more-based free­lance writer with decades of expe­ri­ence cov­er­ing labor and busi­ness sto­ries for news­pa­pers, mag­a­zines and new media. He was a reporter for Bloomberg BNA's Dai­ly Labor Report, cov­er­ing col­lec­tive bar­gain­ing issues in a wide range of indus­tries, and a mar­itime indus­try reporter and edi­tor for the Jour­nal of Com­merce, serv­ing both in the newspaper's New York City head­quar­ters and in the Wash­ing­ton, D.C. bureau.