Anti-Trump Activists Form a Human Wall Outside the RNC
Pro-immigrant groups and other progressive protesters rebuke the Republican nominee.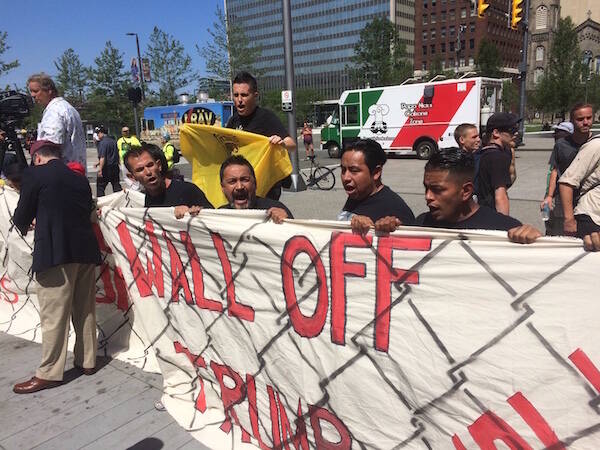 CLEVELAND — The morning after Donald J. Trump officially became the Republican candidate for President of the United States on a platform promising a wall along the U.S.-Mexico border, activists in Cleveland, Ohio built a wall of their own.
'I think this is a great action. Maybe the best action I've seen. It's visual and impactful. Things went just the way they should be going.'
About 150 protestors arrived in Public Square and distributed canvas tarps painted with bricks and fencing, with the words ​"Wall Off Trump." The canvas, which stretched 2,000 feet, was cut into both long chunks and individual ponchos that participants draped over themselves.
From the square they marched, chanting and singing, to the convention, surrounded by a swarm of media that threatened to outnumber the activists themselves. Upon arriving near the barricaded entrance to the convention, they stretched out into a single file line and held hands or linked arms and formed a painted human wall that stretched down the block.
The action was primarily organized by Ruckus Society, a nonprofit direct action organizer, and Mijente, a Latinx activism organization. (Latinx is a gender-neutral term for people of Latin American descent used by Mijente and others.) Representatives from other groups like Iraq Veterans Against the War, Grassroots Global Justice, United We Dream Youth Action, and other social justice organizations helped form the wall. About fifty other activists already in Cleveland heard about the march and joined in solidarity.
"This was beautiful. This was wildly successful," LJ Amsterdam, a contractor with Ruckus who helped keep the wall together and coordinate the march, said. ​"We had frontline people step up and be super brave, we got everyone back safely, we deployed beautiful art, and we got fucktons of press."
Ohioan activists like Organize! Ohio executive director Larry Bresler were impressed with the action. He formed part of the wall and amidst chants of ​"Wall off Trump!" and ​"Trump equals hate, there is no debate!" he told In These Times, ​"I think this is a great action. Maybe the best action I've seen. It's visual and impactful. Things went just the way they should be going."
There were very few pro-Trump activists present and the marchers faced no resistance from police or counter-protestors.
Organizers raised over $15,000 on Indiegogo to fund the project and they created the wall over the course of seven days and nights in the Cleveland Masonic Temple. ​"Most of the money went towards buying the materials, the canvas and paint, which is pretty expensive," Tania Unzueta, Mijente's policy director and the lead organizer for the action, said.
The rest of the money went to helping about 20 of the activists arrange travel and housing. Everyone else came on their own dime. Only a small core of people painted most of the 2000 feet of canvas. ​"We only had four people for the first half of the week, but we gradually grew to about twenty-five people," Unzueta said.
Seamus, 25, and Tisha, 35, traveled from Iowa to protest the RNC and helped paint the wall for a few hours. ​"There was no air conditioning where they were painting and a lot of those guys were working all day. They were putting in serious work," Seamus said.
The participants came from a variety of organizations, some advocating specific immigration policies ranging from the moribund DREAM Act to a reinstatement of President Obama's 2014 executive action. The executive action, recently blocked by the Supreme Court, sought to at least temporarily shield from deportation all undocumented immigrants who have lived in the United States since at least 2010, have no criminal record and have children who are U.S. citizens or lawful permanent residents. Others present emphasized different causes like environmentalism, reproductive rights, and Black Lives Matter.
It was a diverse group, old and (mostly) young, Latinx, black, white and LGBT, a small representation of the nationwide coalition determined to deny Trump the White House.
But everyone was, for this march, united in their rebuke of the Republican nominee's hateful rhetoric towards immigrants and Latinxs.
"The wall was symbolic of our communities, including documented and undocumented immigrants, coming together to protect ourselves from the hatred, the xenophobia that Trump represents," Unzueta said.
For a limited time: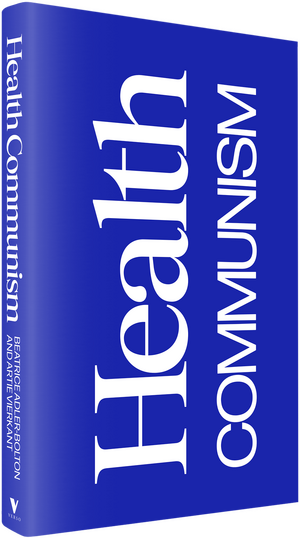 Donate $25 or more to support In These Times and we'll send you a copy of Health Communism.
A searing analysis of health and illness under capitalism from hosts of the hit podcast "Death Panel," Health Communism looks at the grave threat capitalism poses to global public health, and at the rare movements around the world that have successfully challenged the extractive economy of health.
"This is a book you should read before you die, because the ideas synthesized by Adler-Bolton and Vierkant could save our collective lives." –Jon Shaffer